Abstract
Context
After wildfire, surviving trees are of major ecological importance as they can help in the post-fire regeneration process. Although these trees may be damaged, they may also benefit from reduced fuel hazard and competition. However, little is known about the long-term growth response of surviving trees.
Aims
This study aims to explain short- to long-term variations in the postfire growth of surviving black pines in an area burnt in 1994, focusing on levels of fire severity and tree sizes.
Methods
Relative basal area increments were used to detect time-course variations in postfire radial tree growth depending on fire severity. Linear mixed-effects models were used to describe the factors affecting postfire ring growth.
Results
In the short term, fire caused stronger reduction in growth in small trees with increasing bole char height. However, as time since fire increased, a positive effect of fire on growth due to reduced competition counteracted the short-term fire impacts. Indeed, small surviving trees demonstrated a surge in growth 15 years after the fire.
Conclusion
It was concluded that reduced competition might offset the short-term negative effects of fire in surviving black pines.
Access options
Buy single article
Instant access to the full article PDF.
USD 39.95
Price excludes VAT (USA)
Tax calculation will be finalised during checkout.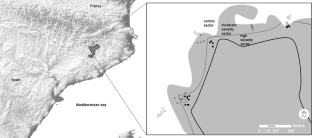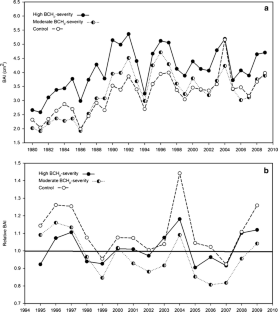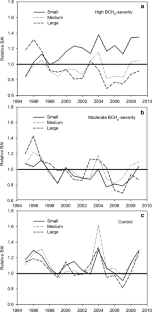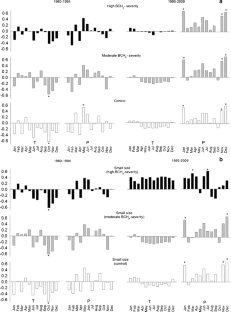 References
Andreu L, Gutiérrez E, Macias M, Ribas M, Bosch O, Camarero JJ (2007) Climate increases regional tree-growth variability in Iberian pine forests. Glob Change Biol 13:1–12

Beghin R, Cherubini P, Battipaglia G, Siegwolf R, Saurer M, Bovio G (2011) Tree-ring growth and stable isotopes (13C and 15N) detect effects of wildfires on tree physiological processes in Pinus sylvestris L. Trees Struct Funct 25:627–636

Botelho HS, Fernandes P, Loureiro C (1998) Growth response of maritime pine (Pinus pinaster) trees to high-intensity prescribed fires. In: Viegas DX (ed) Proceedings of the 3rd International Conference on Forest Fire Research & 14th Fire and Forest Meteorology Conference ADAI. University of Coimbra, pp 1863–1873

Busse MD, Simon SA, Riegel GM (2000) Tree-growth and understory responses to low-severity prescribed burning in thinned Pinus ponderosa forests of central Oregon. For Sci 46:258–268

Certini G (2005) Effects of fire on properties of forest soils: a review. Oecologia 143:1–10

Cook ER, Holmes RL (1984) Users manual for program ARSTAN. Laboratory of Tree-Ring Research, Tucson

Fernandes PM, Botelho H (2003) A review of prescribed burning effectiveness in fire hazard reduction. Int J Wildland Fire 12:117–128

Fernandes PM, Fernandes MM, Loureiro C (2012) Survival to prescribed fire of plantation-grown Corsican black pine in northern Portugal. Ann Forest Sci 69:813–820

Fritts HC (1976) Tree rings and climate. Academic, London

Fule PZ, Ribas M, Gutierrez E, Vallejo R, Kaye MW (2008) Forest structure and fire history in an old Pinus nigra forest, eastern Spain. For Ecol Manage 255:1234–1242

Gonzalez JR, Pukkala T (2007) Characterization of wildfire events in Catalonia (north-east Spain). Eur J Forest Res 126:421–429

Gonzalez-Olabarria JR, Palahi M, Pukkala T, Trasobares A (2008) Optimising the management of Pinus nigra Arn. stands under endogenous risk of fire in Catalonia. Inv Agrar Sist Recur For 17:10–17

Gonzalez-Rosales A, Rodriguez-Trejo DA (2004) Effect of crown scorch on diameter growth of Pinus hartwegii Lindl. at the Distrito Federal, Mexico. Agrociencia 38:537–544

Holmes RL (1983) Computer-assisted quality control in tree ring dating and measurement. Tree-Ring Bull 43:69–75

Keeling EG, Sala A (2011) Changing growth response to wildfire in old-growth ponderosa pine trees in montane forests of north central Idaho. Glob Change Biol 18:1117–1126

Keyser TL, Smith FW, Shepperd WD (2010) Growth response of Pinus ponderosa following a mixed-severity wildfire in the Black Hills, South Dakota. West J Appl For 25:49–54

Kutiel P, Shaviv A (1992) Effects of soil type, plant composition and leaching on soil nutrients following a simulated forest fire. For Ecol Manage 53:329–343

Lilieholm RJ, Hu SC (1987) Effect of crown scorch on mortality and diameter growth of 19-year-old loblolly pine. South J Appl For 11:209–211

Martínez-Vilalta J, López BC, Loepfe L, Lloret F (2012) Stand and tree level determinants of the drought response of Scots pine radial growth. Oecologia 163:877–888

Moritz MA, Stephens SL (2008) Fire and sustainability: considerations for California's altered future climate. Clim Change 87:265–271

Mutch LS, Swetnam TW (1995) Effects of fire severity and climate on ring-width growth of giant sequoia after burning. In: Brown JK, Murch RW, Spoon CW, Wakimoto RH (eds) Proceedings: Symposium on Fire in Wilderness and Park Management. USDA Forest Service Intermountain Research Station, Missoula, pp 241–246

Pausas JG, Ouadah N, Ferran A, Gimeno T, Vallejo R (2003) Fire severity and seedling establishment in Pinus halepensis woodlands, eastern Iberian Peninsula. Plant Ecol 169:205–213

Pinol J, Beven K, Viegas D (2005) Modelling the effect of fire-exclusion and prescribed fire on wildfire size in Mediterranean ecosystems. Ecol Model 183:397–409

Reinhardt ED, Ryan KC (1988) Eight-year tree growth following prescribed under-burning in a western Montana Douglas-fir/western larch stand. Research Note - USDA Forest Service Intermountain Research Station

Retana J, Espelta JM, Habrouk A, Ordonez JL, de Sola-Morales F (2002) Regeneration patterns of three Mediterranean pines and forest changes after a large wildfire in northeastern Spain. Ecoscience 9:89–97

Rinn F (1996) TSAP-reference manual. Version 4.67. Rinntech, Heidelberg

Stokes MA, Smiley TL (1968) An introduction to tree-ring dating. University of Chicago Press, Chicago

Sumner GN, Romero R, Homar V, Ramis C, Alonso S, Zorita E (2003) An estimate of the effects of climate change on the rainfall of Mediterranean Spain by the late twenty first century. Clim Dyn 20:789–805

Sutherland EK, Covington WW, Andariese S (1991) A model of ponderosa pine growth-response to prescribed burning. For Ecol Manage 44:161–173

Waldrop TA, Van Lear D (1984) Effect of crown scorch on survival and growth of young loblolly pine. South J Appl For 8:35–40

Wigley TML, Briffa KR, Jones PD (1984) On the average value of correlated time series, with applications in dendroclimatology and hydrometeorology. J Appl Meteorol 23:201–213

Wyant JG, Laven RD, Omi PN (1983) Fire effects on shoot growth characteristics of ponderosa pine in Colorado. Can J For Res 13:620–625

Woolley T, Shaw DC, Ganio LM, Fitzgerald F (2012) A review of logistic regression models used to predict post-fire tree mortality of western North American conifers. Int J Wildland Fire 21:1–3
Acknowledgments
We thank Dr. Miquel de Cáceres and Dr. J.J Camarero for their useful comments and Mario Beltrán for producing some of the figures. We are also grateful to Asier Larrañaga and the GRAF team for their help in identifying the study zone, and Martín Muller and Marta Vegas who assisted in the field work. This study was funded by the Spanish Ministry of Economy and Competitiveness under the framework of the ForBurn project (AGL2012-40098-C03-01). José-Ramón González-Olabarria also acknowledges the Ramon y Cajal program of the Spanish Ministry for Economy for providing financial support.
Additional information
Handling Editor: Eric Rigolot
Contribution of the co-authors
Míriam Piqué coordinated the research project, contributed in the design of the experiment, and supervised the work. Bernat C. López aided with the data analysis and the supervision of the manuscript. José Ramón González-Olabarria contributed in designing the experiment, running the data analysis, and writing the paper.
About this article
Cite this article
Valor, T., Piqué, M., López, B.C. et al. Influence of tree size, reduced competition, and climate on the growth response of Pinus nigra Arn. salzmannii after fire. Annals of Forest Science 70, 503–513 (2013). https://doi.org/10.1007/s13595-013-0284-x
Received:

Accepted:

Published:

Issue Date:

DOI: https://doi.org/10.1007/s13595-013-0284-x
Keywords
Postfire growth

Black pine

Low-intensity fire

Surface fire

Dendrochronology

Fire effects

Long-term growth