Abstract
Context
Short rotation coppice (SRC) of hybrid Eucalyptus has been developed in France for almost 30 years for the production of pulp and paper and, since a few years, for energy purposes. In the traditional pulp production, only the stems are harvested, whereas the whole biomass may be harvested for energy purposes. Thus, a range of different harvest scenarios need to be considered with higher plantation densities or younger age of harvest for example.
Aims
The objective of this study was to build models to estimate biomass and nutrient content of eucalyptus at different ages and so to estimate the production and the nutrient exportation of a SRC, depending on the different harvest scenarios.
Methods
Over 250 trees were sampled in 16 stands at ages from 1 to 15 years. For each tree, biomass of different compartments and nutrient contents were recorded.
Results
A complete set of equations for the four compartments (wood, bark, branches, and leaves) of aboveground biomass and for nutrient concentration was set up.
Conclusion
Biomass and its allocation to different compartments and nutrient concentrations depended on the dimension and/or the age of the tree. In particular, nutrient concentration decreased with increasing tree diameter.
Access options
Buy single article
Instant access to the full article PDF.
USD 39.95
Price excludes VAT (USA)
Tax calculation will be finalised during checkout.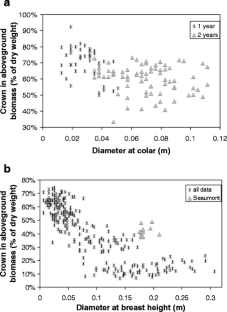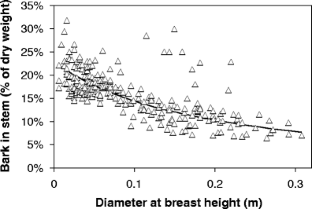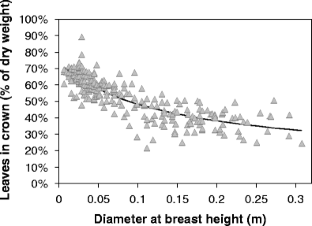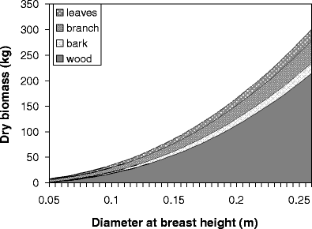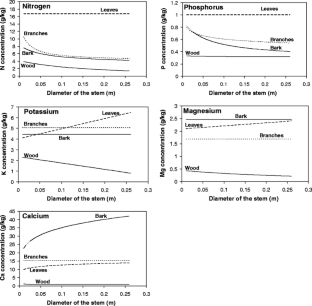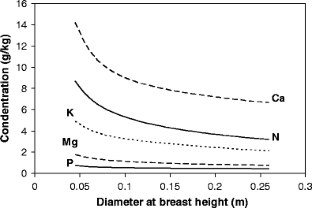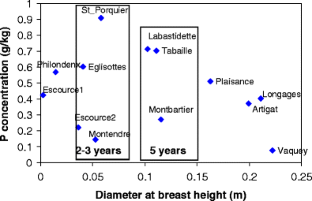 References
Antonio N, Tomé M, Tomé J, Soares P, Fontes L (2007) Effect of tree, stand, and site variables on the allometry of Eucalyptus globulus tree biomass. Can J For Res 37:895–906. doi:10.1139/X06-276

Attiwil PM, Adams MA (1996) Nutrition of eucalyptus. CSIRO, Collingwood, 440 pp. ISBN 0-643-057579

Augusto L, Meredieu C, Bert D, Trichet P, Porte A, Bosc A, Lagane F, Loustau D, Pellerin S, Danjon F, Ranger J, Gelpe J (2008) Improving models of forest nutrient export with equations that predict the nutrient concentration of tree compartments. Ann For Sci 65:808. doi:10.1051

Cauvin B, Melun F (1994) Guide de culture du TCR Eucalyptus. AFOCEL, Fiche Informations-Forêt no. 486

De Morogues F, Nguyen-The N, Berthelot A, Melun F (2011) Réflexions sur la rentabilité des taillis à courte et à très courte rotation d'Eucalyptus et de Peuplier. Rev For Fr 63:705–721

Furnival GM (1961) An index for comparing equations used in constructing volume tables. For Sci 7:337–341

Hernandez J, Del Pino A, Salvo L, Arrarte G (2009) Nutrient export and harvest residue decomposition patterns of a Eucalyptus dunnii Maiden plantation in temperate of Uruguay. For Ecol Manage 258:92–99

Iglesias-Trabado G, Wisterman D (2008) Eucalyptus universalis. Global cultivated eucalyptus forest map. In: GIT Forestry Consulting's Blog EUCALYPTOLOGICS Information Resources on Eucalyptus Cultivation Worldwide. Available at http://git-forestry.com/download_git_eucalyptus_map.htm

Judd TS, Attiwil PM, Adams MA (1996) Nutrient concentrations in eucalyptus: a synthesis in relation to differences between taxa, sites and components. In: Attiwil PM, Adams M (eds) Nutrition of eucalyptus. CSIRO, Australia. ISBN 0-643-057579

Laclau JP, Bouillet JP, Ranger J (2000) Dynamics of biomass and nutrient accumulation in a clonal plantation of Eucalyptus in Congo. For Ecol Manage 128:181–196

Laclau JP, Bouillet JP, Ranger J, Joffre R, Gouma R, Saya A (2001) Dynamics of nutrient translocation in stemwood across an age series of a Eucalyptus hybrid. Ann Bot 88:1079–1092

Laclau JP, Deleporte P, Ranger J, Bouillet JP, Kazotti G (2003) Nutrient dynamics throughout the rotation of Eucalyptus clonal stands in Congo. Ann Bot 91:879–892

Melun F, Nguyen-The N (2006) Fiches clonales eucalyptus—E. gundal. AFOCEL, 4 pp

Melun F, Nguyen-The N (2012) L'eucalyptus en France: une espèce remarquable pour la production de biomasse. Revue forestière française no. 1-2012

Merino A, Balboa MA, Rodriguez Soalleiro R, Alvarez Gonzalez JG (2005) Nutrient exports under different harvesting regimes in fast-growing forest plantations in southern Europe. For Ecol Manage 207:325–339

Moreaux V, O'Grady AP, Nguyen-The N, Loustau D (2012) Water use of young maritime pine and Eucalyptus stands in response to climatic drying in south-western France. Plant Ecol Divers. doi:10.1080/17550874.2012.668228

Mulugeta Z (2008) Temporal changes of biomass production, soil properties and ground flora in Eucalyptus globulus plantations in the central highlands of Ethiopia. Ph.D. thesis, Swedish University of Agricultural Sciences, Uppsala

Nguyen-The N, Da Sylva Perez D, Melun F, Bouvet A (2010) Evaluating the potential of biomass production, nutrient export and woodchips quality by eucalyptus in a perspective of culture in VSRC. In: 18th European Biomass Conference and Exhibition Proceedings, 3–7 May, Lyon, France. ISBN 978-8889407561

Nouvellon Y, Laclau JP, Epron D, Kinana A, Mabiala A, Roupsard O, Bonnefond JM, Le Maire G, Marsden C, Bontemps JD, Saint-André L (2010) Within-stand and seasonal variations of specific leaf area in a clonal Eucalyptus plantation in the Republic of Congo. For Ecol Manage 259:1796–1807

Potts BM, Potts WC (1986) Eucalypt breeding in France. Aust Fors 49:210–218

Razakamanarivo H, Razakavololona A, Razafindrakoto MA, Vieilledent G, Albrecht A (2011) Below-ground biomass production and allometric relationships of eucalyptus coppice plantation in the central highlands of Madagascar. Biomass Bioenergy 2012:1–10

Saint-André L, Thongo M'Bou A, Mabiala A, Mouvondy W, Jourdan C, Roupsard O, Deleporte P, Hamel O, Nouvellon Y (2005) Age-related equations for above- and below-ground biomass of a Eucalyptus hybrid in Congo. For Ecol Manage 205:199–214
Acknowledgments
The team is grateful to all landowners who allowed the section of some trees for this study and to Fibre Excellence for its continuous support to research projects on eucalyptus in France.
Funding
This work was supported by The Tuck foundation [in the framework of the OPTIMAL project (the majority of the field data were collected in this framework)] and ADEME [convention 0501c0136 (data of year 2000)].
Additional information
Handling Editor: Erwin Dreyer
Contribution of the co-authors
Alain Bouvet: data analysis and writing the paper.
Nicolas Nguyen-The: coordination of the research project and writing the paper.
Francis Melun: field and biomass measurements.
About this article
Cite this article
Bouvet, A., Nguyen-The, N. & Melun, F. Nutrient concentration and allometric models for hybrid eucalyptus planted in France. Annals of Forest Science 70, 251–260 (2013). https://doi.org/10.1007/s13595-012-0259-3
Received:

Accepted:

Published:

Issue Date:

DOI: https://doi.org/10.1007/s13595-012-0259-3
Keyword
Eucalyptus

Biomass

Nutrient concentration

Allometry