Abstract
• Context
Teak's wood color is considered an important attribute in the marketing phase and it has been influenced by environmental setting, stand conditions and management, plant genetic source, and age. However, there is a lack of understanding about how the environmental factors might affect the teak's wood color planted in short-rotation forest plantations.
• Aims
The aim of this study is to understand the relationship, gathered from generated information, between edaphic and climatic variables and their effects in the wood color variation of Tectona grandis from trees in forest plantations.
• Methods
Twenty-two plots were grouped in five cluster sites that shared similar climatic and soil conditions. Data about soil's physical–chemical properties and climatic variables were collected and analyzed. Representative trees were harvested next to each plot in order to obtain a wood sample per tree at a diameter breast height. Wood color was measured using standardized CIELab's chromaticity system.
• Results
After comparing the wood change color index (∆E*) in the five studied clusters, it was found that heartwood produced from drier and fertile sites had more yellowish-brown color. The heartwood b* color index resulted with significant correlations (R > 0.5, P < 0.05) among nine climatic and eight edaphic variables.
• Conclusion
It was concluded that climatic variables should be considered as the first-order causal variables to explain wood color variation. Hence, darker b* wood color was associated with dry climates; also, with deeper and fertile sites.
Access options
Buy single article
Instant access to the full article PDF.
USD 39.95
Price excludes VAT (USA)
Tax calculation will be finalised during checkout.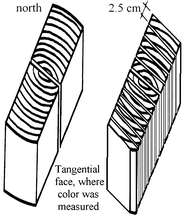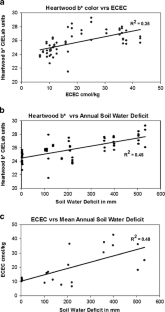 References
Alvarado A (2006) Nutrición y fertilización de la teca. Universidad de Costa Rica. Infor Agr 61:1–8

Alvarado A, Fallas JL (2004) La saturación de acidez y el encalado sobre el crecimiento de la teca (Tectona grandis L.f.) en suelos ácidos de Costa Rica. Rev Agr Costarricense 28:81–87

Bermejo I, Cañellas I, San Miguel A (2004) Growth and yield models for teak plantations in Costa Rica. For Ecol Manage 189:97–110

Bertsch F (1986) Manual para interpretar la fertilidad de los suelos de Costa Rica. Editorial Universidad de Costa Rica, San José, Costa Rica

Bertsch F (1995) La Fertilidad de los suelos y su manejo. Asociación Costarricense de la Ciencia del Suelo - UCR, San José, Costa Rica

Bhat KM (1999) Is fast grown teak inferior in wood quality—an appraisal of wood figure (colour, grain, texture) from plantations of high input management. Wood News 9:48–49

Bhat KM, Thulasidas PK, Florence EJL (2005) Wood durability of home-garden teak against brown-rot and white-rot fungi. Trees Struc Funt 9:654–660

Buol S, Hole F, MacCracken R (1980) Soil genesis and classification, 2nd edn. The Iowa State University Press, Ames, Iowa

Burtin P, Jay-Allemand C, Charpentier J, Janin G (1998) Natural wood colouring process in Juglans sp. (J. regia and hybrid J. nigra 23 x J. regia) depends on native phenolic compounds accumulated in the transition zone between sapwood and heartwood. Trees Struc Funt 12:258–264

BYK-Gardner (2004) CIE L*a*b* system. Color-guide 45/0 operating instructions, MD, USA.

Cui W, Kamdem P, Rypstra T (2004) Diffuse reflectance infrared fourier transform spectroscopy (DRIFT) and color changes of artificial weathered wood. Wood Fiber Sci 36:291–301

Cutter BE, Coggeshall MV, Phelps JE, Stokke DD (2004) Impacts of forest management activities on selected hardwood wood quality attributes: a review. Wood Fiber Sci 36:84–97

Datta SK, Kumar A (1987) Histochemical studies of the transition from sapwood to heartwood in Tectona grandis. IAWA Bull 8:363–368

Derkyi NSA, Bailleres H, Chaix G, Thevenon MF, Oteng-Amoako AA, Adu-Bredu S (2009) Colour variation in Teak (Tectona grandis) wood from plantations across the ecological zones of Ghana. Ghana J For 25:40–49

FAO (2006) Global planted forest thematic study: results and analysis, by Del Lungo, J.B., Carle, J. Planted Forests and trees: Working paper 38. Rome. Italy.

Gierlinger N, Jacques D, Grabner M, Wimmer R, Schwanninger M, Rozenberg P, Pâques LE (2004) Colour of larch heartwood and relationships to extractives and brown-rot decay resistance. Trees Struc Funt 18:102–108

Gonnet JF (1993) CIELab measurement, a precise communication in flower colour: an example with carnation (Dianthus caryophyllus) cultivars. J Hort Sci 68:499–510

Holdridge L (1967) Life zone ecology. Published by Tropical Science Center, San Jose, Costa Rica, 206 p

HunterLab (1995). The measurement of apparence. In: Richard S, Hunter R, Richard W. Harold (eds). Wiley, New York, pp. 411–456.

ITCR (2004) Atlas digital de Costa Rica. Laboratorio de Sistemas de Información geográfica, Escuela de Ingeniería Forestal, Instituto Tecnológico de Costa Rica (ITCR), Cartago, Costa Rica

Johansson D, Morén T (2006) The potential of colour measurement for strength prediction on thermally treated wood. Holz Roh Werkst 64:104–110

Johnson RA, Wichern DW (1992) Applied multivariate statistical analysis. 3rd edn. MacGraw-Hill, New York.

Kamdem DP, Grelier S (2005) Surface roughness and color change of copper-amine treated red maple (Acer rubrum) exposed to artificial ultraviolet light. Holzforschung 56:473–478

Keey RB (2005) Colour development on drying. Maderas: Ciencia Tecnol 7:3–16

Kokutse AD, Stokes A, Baillères H, Kokou K, Baudasse C (2006) Decay resistance of Togolese teak (Tectona grandis) heartwood and relationship with colour. Trees Struc Funt 20:219–223

Kokutse AD, Amusant N, Boutahar N, Chaix G (2010a) Influence of soil properties on the natural durability, extractive content and colour of teak (Tectona grandis L.f) wood in Togo. Annales de l'Université de Parakou: Série Sciences Naturelles et Agronomie 1:28–29

Kokutse AD, Stokes A, Kokutse NK, Kokou K (2010b) Which factors most influence heartwood distribution and radial growth in plantation teak? Ann For Sci 67:407–420

Liu S, Loup C, Gril J, Dumonceaud O, Thibaut A, Thibaut B (2005) Studies on European beech (Fagus sylvatica L.). Part 1. Variations of wood color parameters. Ann For Sci 62:625–632

Maeglin RR, Nelson ND (1970) Surface soil properties of black walnut sites in relationship to wood color. Soil Sci Soc Am J 34:142–146

Mazet JF, Janin G (1990) La qualité de l'aspect des placages de Chênes (Quercus petraea and Quercus robur): mesures de couleur et critères de d'appréciation des professionnels français et italiens. Ann For Sci 47:255–268

Möttönen V, Alvila L, Pakkanen TT (2002) CIEL*a*b* measurements to determine the role of felling season, log storage and kiln drying on coloration of silver birch wood. Scand J For Res 17:179–191

Moya R, Berrocal A (2010) Wood colour variation in sapwood and heartwood of young trees of Tectona grandis and its relationship with plantation characteristics, site, and decay resistance. Ann For Sci 67:109

Moya R, Pérez D (2007) Processing and marketing of teakwood products from fast-grown teak plantations in Costa Rica. In: Nair K, Bhat KV, Anitha V (eds) Abstracts Products and Marketing of teak wood products of planted forest. Regional Workshop Products and Marketing of teak wood products of planted forest. 25–28. September 2007. KFRI, Peechi, India, pp 25–28

Moya R, Pérez D (2008) Effect of physical and chemical soil properties on wood characteristics of Tectona grandis plantations in Costa Rica. J Trop For Sci 20:147–155

Nishino Y, Janin G, Chanson B, Détienne P, Gril J, Thibaut B (1998) Colorimetry of wood specimens from French Guiana. J Wood Sci 44:3–8

Nishino Y, Janin G, Yamada G, Kitano D (2000) Relations between the colometric values and densities of sapwood. J Wood Sci 46:267–272

Pal, M. and Husen, M. 2003. Effect of nitrogen, phosphorous and potassium application to stock plants on nutrient status of coppice shoots of teak (Tectona grandis Linn. f.). Silave Genetica 52: 249-254.

Perez D, Kanninen M (2005) Stand growth scenarios for Tectona grandis plantations in Costa Rica. For Ecol Manage 210:425–441

Phelps JE, McGinnes EJr, Garrett HE, Cox GS (1983) Growth-quality evaluation of black walnut wood. Part II—color analyses of veneer produced on different sites. Wood Fiber Sci 15:177–185

Rawlings J (1988) Applied regression analysis. A research tool. Wadsworth and Brooks/Cole Advanced Books and Software, NY, USA, NY, USA

Rigatto PA, Dedecek RA, Monteiro de Matos JL (2004) Influência dos atributos do solo sobre a qualidade da madeira de Pinus taeda para produção de celulose kraft. Revista árvore 28:267–273

Rink G, Phelps JE (1989) Variation in heartwood and sapwood properties among 10-year-old black walnut trees. Wood Fiber Sci 21:177–182

Rudman P, Da Costa WB (1959) Variation in extractive content and decay resistance in the heartwood of Tectona grandis L.f. J Inst Wood Sci 3:33–42

Sánchez P (1976) Properties and management of soils in the tropics. John Wiley and Sons, New York, USA

Saranpää P (2003) Word density and growth. In: Jeronimidis G (ed) Wood quality and its biological basis. Blackwell Publishing Ltd., Oxford, UK

Sotelo-Montes C, Hernández RE, Beaulieu J, Weber J (2008) Genetic variation in wood color and its correlations with tree growth and wood density of Calycophyllum spruceanum at an early age in the Peruvian Amazon. New forest 35:57–73

Tewari DN (1999) A monograph on teak (Tectona grandis). International Book Distrutors. Dehra Dun, India

Thornthwaite CW, Mather JR (1957) Instructions and tables for computing potential evapotranspiration and the water balance. Climatology 10:183–311

Thulasidas PK, Bhat KM (2007) Chemical extractive compounds determining the brown-rot decay resistance of teak wood. Holz Roh Werkst 65:121–124

Thulasidas PK, Bhat KM, Okuma T (2006) Heartwood colour variation in home garden teak (Tectona grandis) from wet and dry localities of Kerala, India. J Trop For Sci 18:51–54

Ugalde L, Alvarado A, Verjans JM, Mollinedo M, Rudy LC (2005) Soil-tree relationship and site factors in young teak (Tectona grandis) plantations in the Western zone of the Panama Canal. Rev Agr Costarricense 28:81–87

Vetter RE, Coradin VR, Martino EC, Camargos J (1990) Wood colour—a comparison between methods. IAWA Bull 11:429–124

Webb MJ, Reddell P, Nath S, Srivastava RJ (2006) Determining P and N status of a tropical timber species (teak): assessment of 'quick' chemical tests and a root phosphatase assay. Develop Plant Soil Sci 92:706–707

Zobel B, Van Buijtenen B (1989) Wood variation: its causes and control. Springer Verlag, New York. USA
Acknowledgments
This project was supported by the Instituto Tecnológico de Costa Rica and by the Centro de Investigación Integración Bosque-Industria de la Escuela Forestal. Special thanks to all teak reforestation companies that collaborated in this study: Precious Woods of Central America (MACORI), Ecodirecta Groups, and Panamericans Woods. Special recognitions to the Vicerectoria de Investigación de Instituto Tecnológico de Costa Rica (ITCR) for their support throughout all the phases of this study.
Additional information
Handling Editor: Jean-Michel Leban
Contribution of the co-authors
Moya contributed with designing the experiment, sampling of tree, determining of wood, running the data analysis, and coordinating the research project.
Calvo-Alvarado contributed with designing the experiment, writing the paper, and running the data analysis.
About this article
Cite this article
Moya, R., Calvo-Alvarado, J. Variation of wood color parameters of Tectona grandis and its relationship with physical environmental factors. Annals of Forest Science 69, 947–959 (2012). https://doi.org/10.1007/s13595-012-0217-0
Received:

Accepted:

Published:

Issue Date:

DOI: https://doi.org/10.1007/s13595-012-0217-0
Keywords
Wood color

CIELab's color system

Wood properties

Tree environmental factors