Abstract
Context
To increase the wood supply to its industry, the government of Québec has allocated dead and sound wood (recently dead merchantable stems, DSW) to the wood supply chain in addition to the annual allowable cut of living trees. However, DSW is often criticized by sawmillers for its perceived poor quality and lower value.
Aims
The objective of this study was to compare the lumber visual grade yield and value from live and recently dead merchantable trees in three different states of wood decomposition.
Methods
In total, 162 black spruce trees [Picea mariana (Mill.) BSP] were felled from three different sites comprising three different states of wood decomposition and three diameter classes. The state of decomposition of each standing tree was categorized following Hunter's classification (decay stages 1 & 2, 3 and 4) and the DSW classification developed by the Government of Québec.
Results
Large trees (> 20 cm) of the Hunter 4 class have a lower value as a result of inferior quality.
Conclusion
Considering the current economic difficulties facing the forest industry and the requirements of ecosystem-based management, we recommend leaving in the forest trees that have reached such a state of deterioration.
Access options
Buy single article
Instant access to the full article PDF.
US$ 39.95
Tax calculation will be finalised during checkout.
Subscribe to journal
Immediate online access to all issues from 2019. Subscription will auto renew annually.
US$ 79
Tax calculation will be finalised during checkout.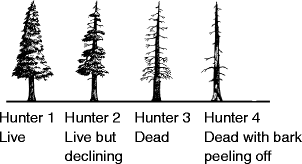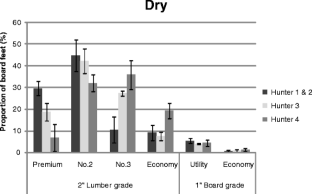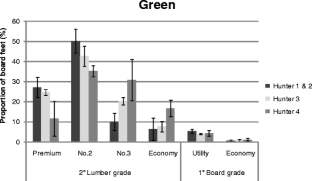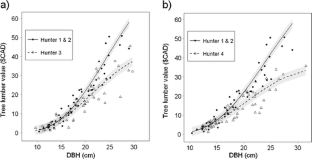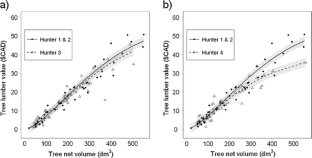 References
Abramoff MD, Magelhaes PJ, Ram SJ (2004) Image Processing with Image. J Biophotonics International 11:36–42

Avery TE, Burkhart HE (2001) Forest measurements, 5th edn. McGraw-Hill, New York, 456 pp

Basham JT (1991) Stem decay in living trees in Ontario's forests: a user's compendium and guide. Forestry Canada, Ontario region, Sault Ste-Marie, 69 pp incl.appendices

Bouchard M, Pothier D, Gauthier S (2008) Fire return intervals and tree species succession in the North Shore region of eastern Quebec. Can J Forest Res 38:1621–1633

Boucher D, De Grandpré L, Gauthier S (2003) Développement d'un outil de classification de la structure des peuplements et comparaison de deux territoires de la pessière à mousses du Québec. For Chron 79:318–328

Byrne T, Stonestreet C, Peter B (2005) Current knowledge of characteristics and utilization of post-mountain pine beetle wood in solid wood products. Mountain Pine Beetle Initiative Working Paper 2005–2008, 18pp

Bureau du Forestier en Chef (2006) Résultats des calculs de la possibilité forestière. Synthèse provinciale. Présentation. Possibilité forestière 2008–2013. Résultats provinciaux, 77 pp

Côté G, Bouchard M, Pothier D, Gauthier S (2010) Linking stand attributes to cartographic information for ecosystem management purposes in the boreal forest of eastern Quebec. For Chron 86:511–519

De Grandpré L, Archambault L, Morissette J (2000) Early understory successional changes following clearcutting in the balsam fir–yellow birch forest. Ecoscience 7:92–100

R Development Core Team, 2011. R: A language and environment for statistical computing. In: Computing R. F. f. S. (Ed.), Vienna, Austria. ISBN 3-900051-07-0, URL http://www.R-project.org/.

Fahey TD (1977) Market values and problems associated with utilization of dead timber. Forest Product Journal 27:74–79

Franklin JF, Shugart HH, Harmon ME (1987) Tree death as an ecological process. Bioscience 37:550–556

Graham SA, Knight FB (1965) Principles of forest entomology. McGraw-Hill, New York

Hadfield J, Magelssen R (2006) Wood changes in fire-killed tree species in eastern Washington. USDA Forest Service, Okanogan and Wenatchee National Forests, Wenatchee WA, 49 pp

Hunter ML Jr (1990) Wildlife, forests, and forestry: principles of managing forests for biological diversity. Prentice Hall, Englewood Cliffs NJ, 370 pp

Lavallée A (1965) Modes d'entrées des caries du tronc de l'épinette noire. Phytoprotection 46:163–168

Lewis KJ, Hartley ID (2006) Rate of deterioration, degrade, and fall of trees killed by mountain pine beetle. JEM 7:11–19

Lowe J, Pothier D, Savard J-PL, Rompré G, Bouchard M (2011) Snag characteristics and cavity nesting birds in the unmanaged post-fire northeastern Canadian boreal forest. Silva Fenn 45:55–67

Lowell EC, Parry DL (2007) Value loss in ponderosa pine logs from beetle activity following fire in southern Oregon. For Prod J 57:68–72

Lowell EC, Willits SA, Krahmer RL (1992) Deterioration of fire-killed timber in the western United States. USDA Forest Service, Pacific Northwest Research Station, Portland Oregon, 27 pp

Lowell EC, Rapp VA, Haynes RW, Cray C (2010) Effects of fire, insect, and pathogen damage on wood quality of dead and dying western conifers. USDA Forest Service, Pacific Northwest Research Station, Portland Oregon, 77 pp

MacLean DA (2007) Does the Canadian forest sector have a viable future? Is current forest management acceptable to the general public? Would you advise your kids to take forestry? For Chron 83:54–60

Mancini AJ (1978) Manufacturing and marketing older dead lodgepole pine. In:The dead softwood lumber resource: proceedings of symposium held May 22-24, 1978 inSpokane, WA, USA. Washington State Univ., Pullman, WA, USA, pp 193–196

McCarthy J (2001) Gap dynamics of forest trees: A review with particular attention to boreal forests. Environ Rev 9:1–59

MRNFQ (2005). Estimation des volumes de bois affectés par les opérations de récolte—Instructions. Ministère des Ressources naturelles et de la Faune, Québec, p 28

Nader J (2007) Impacts des bois secs et sains sur les coûts de récolte. Advantage 8(4):8

NLGA (2008) Standard grading rules for Canadian lumber. National Lumber Grades Authority, Vancouver, BC

Panshin AJ, Zeeuw C de (1980) Textbook of wood technology, 4th ed. McGraw-Hill, New York, 722 pp

Pischedda D (2004) Guide technique sur la récolte et la conservation des chablis. CTBA/Stodafor, Paris

Québec Forest Industry Council (2002 to 2007) The Yearbook, Economics & Markets Department, Québec Forest Industry Council, Québec, Canada

Ruel J-C, Achim A, Espinoza Herrera R, Cloutier A, Brossier B (2010) Wood degradation after windthrow in a Northern environment. Forest Prod J 60:200–206

Sinclair SA, Ifju G (1977) Processing beetle-killed southern pine—an opinion survey in Virginia. Southern Lumberman 235(2916):11–14

Snellgrove TA, Cahill JM (1980) Dead western white pine: characteristics, product recovery, and problems associated with utilization (Research Paper PNW-270). USDA Forest Service, Pacific Northwest Research Station, Portland Oregon, 63 pp

Sprugel DG (1983) Correcting for bias in log-transformed allometric equations. Ecology 64:209–210

Willits S, Woodfin RO, Snellgrove TA (1990) Lumber recovery from dead ponderosa pine in the Colorado Front Range (research paper PNW-RP-428). USDA Forest Service, Pacific Northwest Forest and Range Experiment Station, Portland Oregon, 63 pp

Woo KL, Watson P, Mansfield SD (2005) The effects of mountain pine beetle and associated bluestaining fungi on wood morphology and chemistry: Implications for wood and fiber quality. Wood Fiber Sci 37:112–126
Acknowledgments
We are grateful to people involved in the field work: Eugénie Arsenault, Jean-Philippe Gagnon, Julie Gravel-Grenier and, Frauke Lenz. We would also like to thank Luc Bédard, Francis Tanguay, Ghislain Veilleux (FPInnovations), and Emmanuel Duchateau and Filip Havreljuk (Laval University) for their help during the sawmill trial. Our gratitude also goes to the Boisaco forest and sawmill staff for their valued collaboration in this project.
Funding
Financial support for this project came from FQRNT and the NSERC–Université Laval industrial research chair in silviculture and wildlife.
Additional information
Contribution of the co-authors
Julie Barrette was the first author on the manuscript, and carried out the main data analyses. She was principal investigator in the both the design and the implementation of the experiment.
David Pothier was the second author and contributed substantially to the manuscript. He was involved in the experimental design and data analysis, and was the main supervisor for the project.
David Auty helped to revise the manuscript, and contributed to the interpretation and presentation of the statistical results.
Alexis Achim helped to revise the manuscript, and contributed to the interpretation of the statistical results.
Isabelle Duchesne helped revising the manuscript. She was also involved in the design of the experiment and in the supervision of this project.
Nancy Gélinas made valuable comments on the manuscript, and was involved with the design of the experiment.
Handling Editor:
Jean-Michel Leban
Appendix 1
Appendix 1
About this article
Cite this article
Barrette, J., Pothier, D., Auty, D. et al. Lumber recovery and value of dead and sound black spruce trees grown in the North Shore region of Québec. Annals of Forest Science 69, 603–615 (2012). https://doi.org/10.1007/s13595-011-0178-8
Received:

Accepted:

Published:

Issue Date:
Keywords
Recently dead merchantable trees

Lumber value

Product recovery

Volume recovery

Wood degradation