Abstract
• Introduction
For large trees without a continuous sequence of growth rings in their trunk, such as the African baobab (Adansonia digitata L.), the only accurate method for age determination is radiocarbon dating. As of today, this method was limited to dating samples collected from the remains of dead specimens.
• Methods
Our research extends significantly the dating of such trees to large live specimens with inner cavities. The new approach is based on collecting samples from the cavities and their subsequent radiocarbon dating.
• Results
The giant two-stemmed Platland tree, also known as Sunland baobab, was investigated by using this new approach. AMS radiocarbon dates of the oldest sample segments originating from the two inner cavities indicate that the large stem I (364.5 m3) is 750 ± 75 years old, while the much smaller stem II (136.7 m3) has 1,060 ± 75 years. Results also show that stem I is still growing very fast, while the older stem II slowed down consistently its growth over the past 250 years. The complete mapping of Platland tree determined an overall wood volume of 501.2 m3.
• Conclusions
Dating results demonstrate that the size–age relation cannot be used for estimating accurately the age of African baobabs.
This is a preview of subscription content, log in to check access.
Access options
Buy single article
Instant access to the full article PDF.
US$ 39.95
Price includes VAT for USA
Subscribe to journal
Immediate online access to all issues from 2019. Subscription will auto renew annually.
US$ 99
This is the net price. Taxes to be calculated in checkout.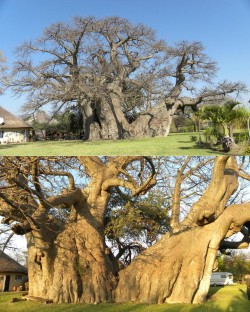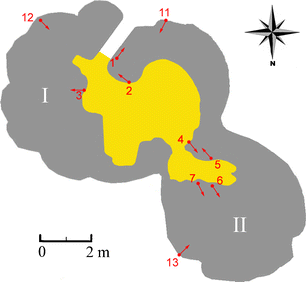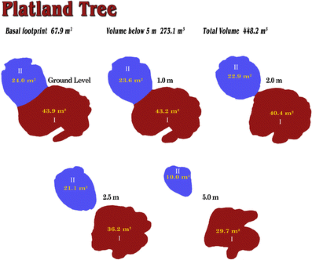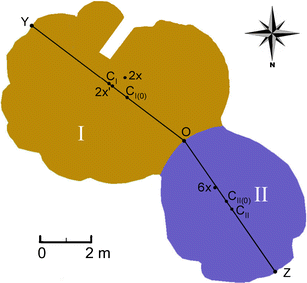 References
Bronk Ramsey C (2009) Bayesian analysis of radiocarbon dates. Radiocarbon 51:337–360

von Breitenbach F (1985) Aantekeninge oor die groeitempo van aangeplante kremeteartbome (Adansonia digitata) en opmerkinge ten opsigte van lewenstyd, groeifases en genetiese variasie van die spesie. J Dendrology 5:1–21

Department of Water Affairs and Forestry (South Africa) (2008) List of champion trees. Available at http://www2.dwaf.gov.za

Esterhuyse N, von Breitenbach J, Sőhnge H (2001) Remarkable trees of South Africa. Briza, Pretoria, pp 155–161

Hartesveldt RJ, Harvey HT, Shellhammer HS (1975) The giant sequoias of the Sierra Nevada. National Park Service, Washington, pp 57–59

Martínez-Ramos M, Alvarez-Buylla ER (1998) How old are tropical rain forest trees? Trends in Plant Science 3:400–405

McCormack FG, Hogg AG, Blackwell PG, Buck CE, Higham TFG, Reimer PJ (2004) SHCal04 Southern Hemisphere calibration, 0–11.0 cal kyr bp. Radiocarbon 46:1087–1092

Olsson IU (1986) Radiometric Methods. In: Berglund B (ed) Handbook of Holocene palaeoecolgy and palaeohydrology. Wiley, Chichester, pp 273–312

Patrut A, von Reden K, Lowy DA, Alberts AH, Pohlman JW, Wittmann R, Gerlach D, Xu L, Mitchell CS (2007) Radiocarbon dating of a very large African baobab. Tree Physiol 27:1569–1574

Patrut A, Mayne DH, von Reden KF, Lowy DA, Van Pelt R, McNichol AP, Roberts ML, Margineanu D (2010a) Fire history of a giant African baobab evidenced by radiocarbon dating. Radiocarbon 52:717–726

Patrut A, Mayne DH, von Reden KF, Lowy DA, Venter S, McNichol AP, Roberts ML, Margineanu D (2010b) Age and growth rate dynamics of an old African baobab determined by radiocarbon dating. Radiocarbon 52:727–734

Patrut A, von Reden KF, Lowy DA, Mayne DH, Elder KE, Roberts ML, McNichol AP (2010c) Comparative AMS radiocarbon dating of pretreated versus non-pretreated tropical wood samples. Nucl Instr Methods B 268:910–913

Poussart PM, Mynemi SCB, Lanzirotti A (2006) Tropical dendrochemistry: a novel approach to estimate age and growth from ringless trees. Geophys Res Lett 33:L17711

Reimer PJ, Baillie MGL, Bard E, Bayliss A, Beck JW, Blackwell PG, Bronk RC, Buck CE, Burr GS, Edwards RL, Friedrich M, Grootes PM, Guilderson TP, Hajdas I, Heaton TJ, Hogg AG, Hughen KA, Kaiser KF, Kromer B, McCormac FG, Manning SW, Reimer RW, Richards DA, Southon JR, Talamo S, Turney CSM, van der Plicht J, Weyhenmeyer CE (2009) IntCal09 and Marine09 radiocarbon age calibration curves, 0–50,000 years cal bp. Radiocarbon 51:1111–1150

Roberts ML, Burton JR, Elder KL, Longworth BE, McIntyre CP, von Reden KF, Han BX, Rosenheim BE, Jenkins WJ, Galutschek E, McNichol AP (2010) A high-performance 14C accelerator mass spectrometry system. Radiocarbon 52:228–235

Sillett SC, Van Pelt R, Koch GW, Ambrose AR, Carroll AL, Antoine ME, Mifsud BF (2010) Increasing wood production through old age in tall trees. For Ecol Manag 259:976–994

Sofer Z (1980) Preparation of carbon dioxide for stable carbon isotope analysis of petroleum fractions. Anal Chem 52:1389–1391

Swart ER (1963) Age of the baobab tree. Nature 198:708–709

Vogel JS, Southon JR, Nelson DE, Brown TA (1984) Performance of catalytically condensed carbon for use in accelerator mass spectrometry. Nucl Instr Methods B 5:289–293

von Reden KF, Schneider RJ, Cohen GJ, Jones GA (1994) Performance characteristics of the 3MV Tandetron AMS system at the National Ocean Sciences AMS Facility. Nucl Instr Methods B 92:7–11

Wickens GE, Lowe P (2008) The baobabs: pachycauls of Africa, Madagascar and Australia. Springer, Dordrecht, pp 141–142

Woodborne S, Hall G, Basson S, Zambatis G, Zambatis N (2010) The death of a giant: on the age of baobabs. Savanna Network Meeting, Skukuza

Worbes M, Junk WJ (1999) How old are tropical trees? The persistence of a myth. IAWA J 20:255–260

Worbes M (2002) One hundred years of tree-ring research in the tropics: a brief history and an outlook to future challenges. Dendrochronologia 20:217–231
Acknowledgements
This work was fully funded by the Romanian Authority CNCSIS-UEFISCDI under grant PN II-IDEI 2354, Nr. 1092. AMS radiocarbon dating at the NOSAMS Facility is supported by the U.S. National Science Foundation under Cooperative Agreement OCE-0753487. We would like to thank Heather and Doug van Heerden, the owners of Sunland Nursery, for granting permission for on-site investigation and also for sampling the Platland tree.
Additional information
Handling Editor: Erwin Dreyer
About this article
Cite this article
Patrut, A., von Reden, K.F., Van Pelt, R. et al. Age determination of large live trees with inner cavities: radiocarbon dating of Platland tree, a giant African baobab. Annals of Forest Science 68, 993–1003 (2011). https://doi.org/10.1007/s13595-011-0107-x
Received:

Accepted:

Published:

Issue Date:
Keywords
Adansonia digitata

Radiocarbon dating

Age determination

Growth rate

Accelerator mass spectrometry