Abstract
By-products from olive culture provided to camel could modify the fatty acid composition of its milk. The present experiment involving ten lactating she-camels divided in two groups aimed to evaluate the effect of enriched diet with crude olive cake on the milk production, milk fat excretion and fatty acid composition. The control group received diet including alfalfa, barley and concentrate. In the treated group, barley was partially substitute by olive cake (3 kg.day−1 as fed) for more than 3 months. There was no negative or positive impact on milk production, the fat and protein content in milk. However, a significant increase of total quantity of fat and protein excreted in milk was observed in treated group. Some changes were observed in fatty acid composition with a decrease of medium-chain fatty acids (C15:0 iso, C15:0, C16:0 iso, C17:1) but also vaccenic acid (C18:1ω-7). At reverse an increase of palmitic (C16:0) and γ-linolenic acid (C18:3ω-6) was observed after 3 months of olive cake distribution. As for other ruminants, it is possible to modulate the fatty acid composition of camel milk by the diet, but further trials for longer period and highest quantity of olive cake have to be implemented in camel.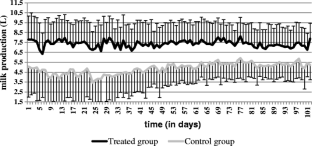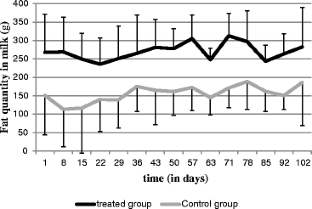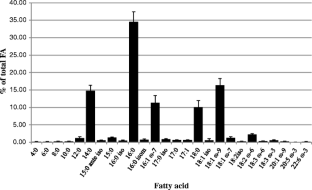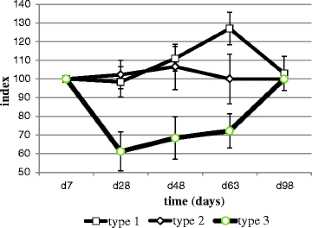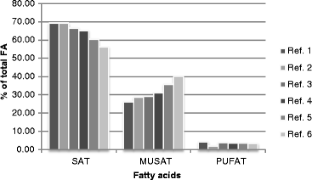 References
Abdeddou S, Rischkowsky B, Richter EK, Hess HD, Kreuzer M (2011) Modification of milk fatty acid composition by feeding forages and agro-industrial by-products from dry areas to Awassi sheep. J Dairy Sci 94:4657–4668

Abo-Omar JM, Daya R, Ghaleb A (2012) Effects of different forms of olive cake on the performance and carcass quality of Awassi lambs. Anim Feed Sci Technol 171:167–172

Alburquerque JA, Gonzalvez J, Garcia D, Cegarra J (2004) Agrochemical characterisation of alperujo, a solid by-product of the two-phase centrifugation method for olive oil extraction. Bioresour Technol 91:195–200

Bernard L, Shingfield KJ, Rouel J, Ferlay A, Chilliard Y (2009) Effect of plant oils in the diet on performance and milk fatty acid composition in goats fed based on grass hay or maize silage. Brit J Nutr 101:213–224

Browse J, McCourt P, Somerville CR (1986) Fatty acid composition of leaf lipids determined after combined digestion and fatty acid methyl ester formation from fresh tissue. Anal Bioch 152(1):141–145

Caparra P, Foti F, Scerra M, Postorino S, Vottari G, Cilione C, Scerra V, Sinatra MC (2005) Effects of olive cake, citrus pulp and wheat silage on milk fatty acid composition of Comisana ewes. Options Méditerranéennes, Ser A 74:101–105

Cattaneo D, Dell'Orto V, Varisco G, Agazzi A, Savoini G (2006) Enrichment in n—3 fatty acids of goat's colostrum and milk by maternal fish oil supplementation. Small Rum Res 64:22–29

Chilliard Y, Ferlay A (2004) Dietary lipids and forages interactions on cow and goat milk fatty acid composition and sensory properties. Reprod Nutr Dev 44:467–492

Chilliard Y, Glasser F, Ferlay A, Bernard L, Rouel J, Doreau M (2007) Diet, rumen biohydrogenation and nutritional quality of cow and goat milk fat. Eur J Lipid Sci Technol 109:828–855

Chilliard Y, Martin C, Rouel J, Doreau M (2009) Milk fatty acids in dairy cows fed whole crude linseed, extruded linseed, or linseed oil, and their relationship with methane output. J Dairy Sci 92:5199–5211

Chiofalo B, Liotta L, Zumbo A, Chiofalo V (2002) Olive cake for ewe feeding: effect on the milk acidic composition. In: Proceedings of the 15th National Cong SIPAOC, Cagliari, Italy, pp. 136–137

Contarini G, Povolo M, Bonfitto E, Berardi S (2002) Quantitative analysis of sterols in dairy products: experiences and remarks. Int Dairy J 12:573–578

Dreiucker J, Vetter W (2011) Fatty acids patterns in camel, moose, cow and human milk as determined with GC/MS after silver ion solid phase extraction. Food Chem 126:762–771

Everitt BS, Landau S, Leese M (2001) Cluster analysis, 4th edn. Arnold publishing, London

Faye B, Konuspayeva G, Narmuratova M, Loiseau G (2008) The comparative fatty acid composition of milk of Bactrian camel, dromedary, mare and goat. J Camelid Sci 1:49–54

Ferlay A, Martin B, Lersch S, Gobert M, Pradel P, Chilliard Y (2010) Effects of supplementation of maize silage diets with extruded linseed, vitamin E and plant extracts rich in polyphenols, and morning vs evening milking on milk fatty acid profiles in Holstein and Montbeliarde cows. Animal 4:627–640

Hadjipanayiotou M (1999) Feeding ensiled crude olive cake to lactating Chios ewes, Damascus goats and Friesian cows. Livest Prod Sci 59:61–66

Jirimutu B, Li J, Alam MS, Li H, Guo M, Zhang H (2010) Fatty acid and protein profiles, and mineral content of milk from the wild Bactrian camel (Camelus bactrianus ferus) in Mongolia. Milchwissenschaft 65:21–25

Jouany JP (2000) La digestion chez les camelidés: comparaison avec les ruminants. INRA Prod Anim 13:165–176

Kamal AM, Salama OA (2009) Lipid fraction and fatty acid composition of colostrums, transitional and mature she-camel milk during the first month of lactation. Asian J Clin Nutr 1:23–30

Konuspayeva G, Lemarie E, Faye B, Loiseau G, Montet D (2008) Fatty acid and cholesterol composition of camel's (Camelus dromedarius, Camelus bactrianus and hybrids) milk in Kazakhstan. Dairy Sci Technol 88:327–340

Loor JJ, Doreau M, Chradigny JM, Ollier A, Sebedio JL, Chilliard Y (2005) Effects of ruminal or duodenal supply of fish oil on milk fat excretion and profiles of trans-fatty acids and conjugated linoleic acid isomers in dairy cows fed maize silage. Anim Feed Sci Technol 119:227–246

Matsuhita M, Tazinafo NM, Padre RG, Oliveira CC, Souza NE, Visentainer JV, Macedo FA, Ribas NP (2007) Fatty acid profile of milk from Saanen goats fed a diet enriched with three vegetable oils. Small Rum Res 72:127–132

Molina-Alcaide E, Yañez-Ruiz DR (2008) Potential use of olive by-products in ruminant feeding: a review. Anim Feed Sci Technol 147:247–264

Molina-Alcaide E, Moumen A, Martın-Garcıa I, Carro MD (2008) Comparison of bacterial pellets and microbial markers for the estimation of the microbial nitrogen and amino acids flows from single flow continuous culture fermenters fed diets containing two-stage olive cake. Anim Physiol Anim Nutr 94:227–236

Musaad A, Faye B, Abu Nikheila A (2012) Lactation curves of dairy camels in an intensive system. Trop Anim Hlth Prod. doi:10.1007/s11250-012-0331-x

Narmuratova M, Konuspayeva G, Loiseau G, Serikbaeva A, Barouh N, Montet D, Faye B (2006) Fatty acids composition of dromedary Bactrian camel milk in Kazakhstan. J Camel Pract Res 13:45–50

Owaimer AN, Kraidees MS, Al-Saiady M, Zahran S, Abouheif MA (2004) Effect of feeding cake in complete diet on performance and nutrient utilization of lambs. Asian-Aust J Anim Sci 17:491–496

Reynolds CK, Cannon VL, Loerch SC (2006) Effect of forage source and supplementation with soybean and marine alga oil on milk fatty acid composition of ewes. Anim Feed Sci Technol 131:333–357

Sancoucy R (1984) Utilisation des sous-produits de l'olivier en alimentation animale dans le bassin Méditerranéen. Etude FAO Production et santé animale. Synthèse no. 43, FAO Pub., Rome

Shibani M, Ringseis R, Alkazali M, Kerfakh M, Eder (2011) Concentrations of conjugated linoleic acids in milk and tissues from single-humped camel (Camelus dromedarius) kept under intensive standardized management. Afr J Agric Res 6:3470–3474

Stoop WM, Bovenhuis H, Heck JM, Van Arendonk JA (2009) Effect of lactation stage and energy status on milk fat composition of Holstein–Friesian cows. J Dairy Sci 92:1469–1478

Thériez M, Boule G (1970) Valeur alimentaire du tourteau d'olive. Ann Zoot 19:143–157

Zaidi F, Hassissene N, Boubekeur N, Bouaiche A, Bouabdellah M, Grongnet JF, Bellal M, Youyou A (2008) Etude in vitro de facteurs limitant la valeur nutritive du grignon d'olive : effets des matières grasses et des métabolites secondaires. Livest Res Rural Dev 20 Article no. 46.

Zhang RH, Mustafa AF, Zhao X (2006) Effects of feeding oilseeds rich in linoleic and linolenic acids to lactating ewes on cheese yield and on fatty composition of milk and cheese. Anim Feed Sci Technol 127:220–223
Acknowledgements
This study has been achieved within FAO camel project UTF/SAU/021/SAU in collaboration with the FAO olive project UTF/SAU/016/SAU and with the support of Camel and Range Research Center (CRRC). The authors thank Mr. Sallal Issa Al-Mutairi, head of the CRRC for his encouragements and support. We thank also the staff of the camel farm (Mrs. Hassan and Surish) for the monitoring of the camel feeding. Thanks also to FAO team leader at Riyadh, Dr. A. Oihabi and the FAO regional officer, Dr. Bengoumi who supported this project from the beginning. Finally, we thank Mr. G. Piombo from the UMR IATE-lipotechnie (CIRAD, France) for the analysis of fatty acids in milk.
About this article
Cite this article
Faye, B., Konuspayeva, G., Narmuratova, M. et al. Effect of crude olive cake supplementation on camel milk production and fatty acid composition. Dairy Sci. & Technol. 93, 225–239 (2013). https://doi.org/10.1007/s13594-013-0117-6
Received:

Revised:

Accepted:

Published:

Issue Date:
Keywords
Camel milk

Olive cake

Fatty acids

Milk fat