Abstract
In sub-Saharan Africa, urban farmers have recently intensified the production of vegetables to cope with the increasing food demand. As a consequence, such an intensification may lead to potential risks for the environment and human health. There is therefore a need for an integrated evaluation of urban agricultural practices. Here, we studied tomato production in Benin cities. We measured performances and the environmental risks. We have monitored 12 cropping systems during 6 months and we calculated the pesticide treatment frequency index (TFI), the nutrient budgets, and the field emissions. Our results show that yields were low and variable, averaging at 9,533 kg.ha−1 and ranging from 0 to 21,163 kg.ha−1. The average TFI for pesticides was 8.9. The maximum TFI of 25 was observed for an insecticide applied weekly at 2.3 times the official rate. We observed an excess of the average nutrient budget of 120 kg N and 84 kg P. ha−1. In conclusion, our study of urban tomato production revealed poor practices and high risks for health and the environment.
Access options
Buy single article
Instant access to the full article PDF.
US$ 39.95
Tax calculation will be finalised during checkout.
Subscribe to journal
Immediate online access to all issues from 2019. Subscription will auto renew annually.
US$ 79
Tax calculation will be finalised during checkout.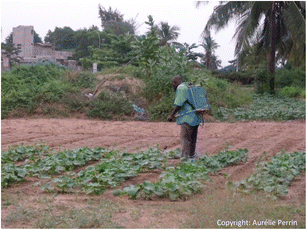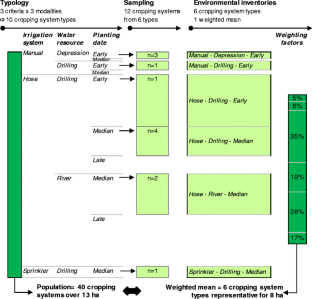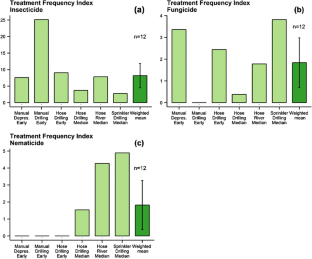 References
Abdulkadir A, Dossa LH, Lompo D-P et al (2012) Characterization of urban and peri-urban agroecosystems in three West African cities. Int J Agric Sustain 10:289–314. doi:10.1080/14735903.2012.663559

Ahouangninou C, Fayomi BE, Martin T (2011) Évaluation des risques sanitaires et environnementaux des pratiques phytosanitaires des producteurs maraîchers dans la commune rurale de Tori-Bossito (Sud-Bénin). Cah Agric 20:216–222

Ahouangninou C, Martin T, Edorh P et al (2012) Characterization of health and environmental risks of pesticide use in market-gardening in the rural city of Tori-Bossito in Benin, West Africa. J Environ Prot 3:241–248. doi:10.4236/jep.2012.33030

Asgedom S, Struik PC, Heuvelink E, Araia W (2011) Opportunities and constraints of tomato production in Eritrea. Afr J Agric Res 6:956–967

Atidegla S, Agbossou E, Huat J, Glele Kakai R (2012) Contamination métallique des légumes des périmètres maraîchers urbains et péri urbains: cas de la commune de Grand–Popo au Bénin. Int J Biol Chem Sci 5:2351–2361. doi:10.4314/ijbcs.v5i6.15

Bouwman AF, Van Der Hoek KW (1997) Scenarios of animal waste production and fertilizer use and associated ammonia emission for the developing countries. Atmos Environ 31:4095–4102. doi:10.1016/s1352-2310(97)00288-4

Brentrup F, Küsters J, Lammel J, Kuhlmann H (2000) Methods to estimate on-field nitrogen emissions from crop production as an input to LCA studies in the agricultural sector. Int J Life Cycle Assess 5:349–357. doi:10.1007/BF02978670

Brock B, Foeken D (2006) Urban horticulture for a better environment: a case study of Cotonou, Benin. Habitat Int 30:558–578. doi:10.1016/j.habitatint.2005.02.001

Bussink DW, Oenema O (1998) Ammonia volatilization from dairy farming systems in temperate areas: a review. Nutr Cycl Agroecosyst 51:19–33. doi:10.1023/a:1009747109538

Cellura M, Longo S, Mistretta M (2012) Life cycle assessment (LCA) of protected crops: an Italian case study. J Clean Prod 28:56–62. doi:10.1016/j.jclepro.2011.10.021

Cissé I, Tandia AA, Fall ST (2003) Usage incontrôlé des pesticides en agriculture périurbaine: cas de la zone des Niayes au Sénégal. Cah Agric 12:181–186

Commission E (2010) International Reference Life Cycle Data System (ILCD) Handbook—general guide for life cycle assessment—detailed guidance. Joint Research Centre-Institute for Environment and. Sustainability, Luxembourg

De Bon H, Parrot L, Moustier P (2010) Sustainable urban agriculture in developing countries. A review. Agron Sustain Dev 30:21–32. doi:10.1051/agro:2008062

De Bon H, Huat J, Parrot L et al (2014) Pesticide risks from fruit and vegetable pest management by small farmers in sub-Saharan Africa. A review. Agron Sustain Dev Online First Artic. doi:10.1007/s13593-014-0216-7

Diogo RC, Buerkert A, Schlecht E (2010) Horizontal nutrient fluxes and food safety in urban and peri-urban vegetable and millet cultivation of Niamey, Niger. Nutr Cycl Agroecosyst 87:81–102. doi:10.1007/s10705-009-9315-2

Drechsel P, Zimmermann U (2005) Factors influencing the intensification of farming systems and soil-nutrient management in the rural–urban continuum of SW Ghana. J Plant Nutr Soil Sci 168:694–702. doi:10.1002/jpln.200521775

E-phy (2013) Catalogue des produits phytopharmaceutiques et de leurs usages des matières fertilisantes et des supports de culture homologués en France. In: Ministère l'agriculture l'agro-alimentaire, Organ. Natl. la Prot. des Végétaux. http://e-phy.agriculture.gouv.fr/. Accessed 13 Jun 2013

Haas G, Wetterich F, Geier U (2000) Life cycle assessment framework in agriculture on the farm level. Int J Life Cycle Assess 5:345–348. doi:10.1007/BF02978669

Ingwersen WW (2012) Life cycle assessment of fresh pineapple from Costa Rica. J Clean Prod 35:152–163. doi:10.1016/j.jclepro.2012.05.035

IPCC (2006) Chapter 11: N2O emissions from managed soils, and CO2 emissions from lime and urea application. In: Eggleston S, Buendia L, Miwa K et al (eds) IPCC guidelines for national greenhouse gas inventories. Institute for Global Environmental Strategies, Hayama, Japan, pp 11.1–11.54

ISO 14040 (2006) Environmental management - Life cycle assessment - Principles and framework. International Organization for Standardization, ISO 14040:2006

ISO 14044 (2006) Environmental management-life cycle assessment-requirements and guidelines. International Standards Organization, 14044:2006 (E)

Lompo DJ-P (2012) Matter flows and balances in urban vegetable gardens of Bobo Dioulasso, Burkina Faso (West Africa). PhD thesis, University of Kassel

Lompo DJ-P, Sangaré SAK, Compaoré E et al (2012) Gaseous emissions of nitrogen and carbon from urban vegetable gardens in Bobo-Dioulasso, Burkina Faso. J Plant Nutr Soil Sci 175:846–853. doi:10.1002/jpln.201200012

Mila i Canals L, Muñoz I, Hospido A, et al. (2008) Life Cycle Assessment of domesctic vs. imported vegetables. Case studies on broccoli, salad crops and grean beans. Working paper n°01/08. Center for environmental strategy University of Surrey, Guilford, UK

Mouron P, Nemecek T, Scholz RW, Weber O (2006) Management influence on environmental impacts in an apple production system on Swiss fruit farms: combining life cycle assessment with statistical risk assessment. Agric Ecosyst Environ 114:311–322. doi:10.1016/j.agee.2005.11.020

Nemecek T, Kägi T (2007) Life Cycle Inventories of Agricultural Production Systems. Final report ecoinvent n°15. Swiss Centre for Life Cycle Inventories Ecoinvent - ART, Zürich and Dübendorf, Switzerland

Predotova M, Gebauer J, Diogo RVC et al (2010) Emissions of ammonia, nitrous oxide and carbon dioxide from urban gardens in Niamey, Niger. F Crop Res 115:1–8. doi:10.1016/j.fcr.2009.09.010

Predotova M, Bischoff W-A, Buerkert A (2011) Mineral-nitrogen and phosphorus leaching from vegetable gardens in Niamey, Niger. J Plant Nutr Soil Sci 174:47–55. doi:10.1002/jpln.200900255

Rosendahl I, Laabs V, Atcha-Ahowe C et al (2009) Insecticide dissipation from soil and plant surfaces in tropical horticulture of southern Benin, West Africa. J Environ Monit 11:1157–1164. doi:10.1039/b903470f

Sangare S, Compaore E, Buerkert A et al (2012) Field-scale analysis of water and nutrient use efficiency for vegetable production in a West African urban agricultural system. Nutr Cycl Agroecosyst 92:207–224. doi:10.1007/s10705-012-9484-2

Sim S, Barry M, Clift R, Cowell SJ (2007) The relative importance of transport in determining an appropriate sustainability strategy for food sourcing. Int J Life Cycle Assess 12:422–431. doi:10.1065/lca2006.07.259

Stehfest E, Bouwman L (2006) N2O and NO emission from agricultural fields and soils under natural vegetation: summarizing available measurement data and modeling of global annual emissions. Nutr Cycl Agroecosyst 74:207–228. doi:10.1007/s10705-006-9000-7

UN-HABITAT (2013) UN-Habitat Global Activities Report 2013. United Nations Human Settlements Programme, Available at www.unhabitat.org

Van Bol V, Claeys S, Debongnie P et al (2003) Pesticide indicators. Pestic Outlook 14:159. doi:10.1039/b308507b

Yadouleton AWM, Asidi A, Djouaka RF et al (2009) Development of vegetable farming: a cause of the emergence of insecticide resistance in populations of Anopheles gambiae in urban areas of Benin. Malar J 8:103. doi:10.1186/1475-2875-8-103
About this article
Cite this article
Perrin, A., Basset-Mens, C., Huat, J. et al. High environmental risk and low yield of urban tomato gardens in Benin. Agron. Sustain. Dev. 35, 305–315 (2015). https://doi.org/10.1007/s13593-014-0241-6
Accepted:

Published:

Issue Date:
Keywords
Urban agriculture

Life-cycle inventory

Typology

Cropping system data

Treatment frequency index

Nutrient budget