Abstract
Green roofs recover green spaces in urban areas and benefit the public, farmers, and wildlife by providing many environmental, ecological, and economic advantages. Green roofs reduce stormwater runoff, mitigate urban heat island effects, absorb dust and smog, sequester carbon dioxide, produce oxygen, create space for food production, and provide natural habitat for animals and plants. Here, we studied the environmental impact of green roofs in terms of runoff quality and greenhouse gas CO2 sequestration. We screened more than 650 scientific papers and we reviewed detailed findings from 52 publications. There are two major points: (1) Concerning pollution, the concentrations of minor pollutants, such as heavy metals, biochemical oxygen demand (BOD), total suspended solids (TSS), and turbidity, are small and thus do not pose an immediate threat to the environment. However, the concentrations of major pollutants, such as nitrogen of 0.49–9.01 mg/l and phosphorus of 0.04–25 mg/l, vary highly for different green roofs and can adversely affect runoff quality. Nutrient leaching may be controllable through proper mitigation measures including better design and system management which require further research. According to both laboratory experiments and field monitoring data, the main factors affecting runoff quality are precipitation properties, growth media composition and depth, plant species, and maintenance protocols. Research gaps exist in quantifying how these factors affect leachate pollutant load. Systematic studies are needed for improving green roof designs to reduce adverse impacts. (2) Concerning CO2 sequestration, studies reveal that green roofs directly sequester substantial amounts of carbon in plants and soils through photosynthesis. Green roofs reduce ambient CO2 concentrations in the vicinities. Green roofs also indirectly reduce CO2 releases from power plants and furnaces by reducing demand for heating and cooling, suggesting long-term economic and environmental benefits of green roofs.
Access options
Buy single article
Instant access to the full article PDF.
USD 39.95
Price excludes VAT (USA)
Tax calculation will be finalised during checkout.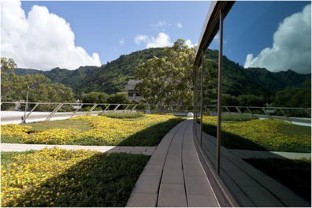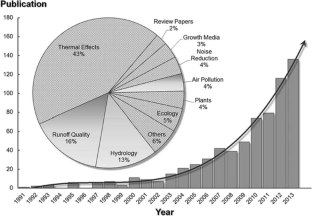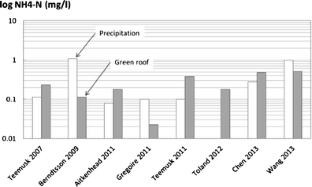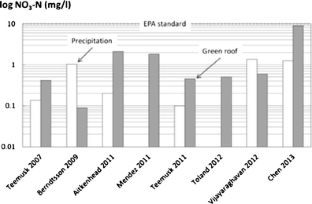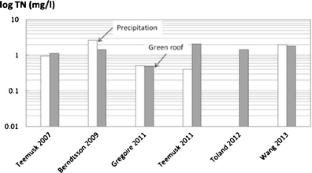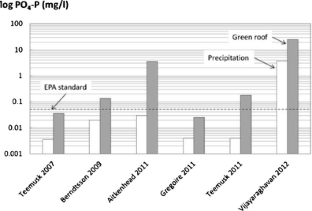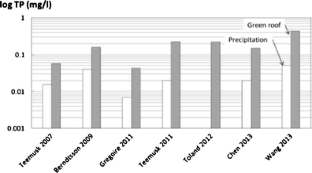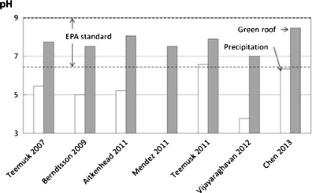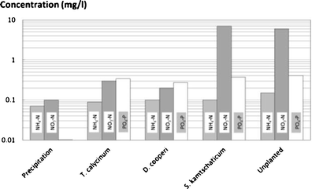 References
Aitkenhead-Peterson JA, Dvorak BD, Voider A, Stanley NC (2011) Chemistry of growth medium and leachate from green roof systems in south-central Texas. Urban Ecosys 14(1):17–33. doi:10.1007/s11252-010-0137-4

Alsup SE, Ebbs SD, Battaglia LL, Retzlaff WA (2011) Heavy metals in leachate from simulated green roof systems. Ecological Engineering 37(11):1709–1717. doi:10.1016/j.ecoleng.2011.06.045

Alsup S, Ebbs S, Battaglia L, Retzlaff W (2013) Green roof systems as sources or sinks influencing heavy metal concentrations in runoff. J Environ Eng-Asce 139(4):502–508. doi:10.1061/(Asce)Ee.1943-7870.0000601

Al-Yaseri I, Morgan S, Retzlaff W (2013) Using turbidity to determine total suspended solids in storm-water runoff from green roofs. J Environ Eng-Asce 139(6):822–828. doi:10.1061/(Asce)Ee.1943-7870.0000685

Beck DA, Johnson GR, Spolek GA (2011) Amending greenroof soil with biochar to affect runoff water quantity and quality. Environ Pollut 159(8–9):2111–2118. doi:10.1016/j.envpol.2011.01.022

Berndtsson JC (2010) Green roof performance towards management of runoff water quantity and quality: a review. Ecol Eng 36(4):351–360. doi:10.1016/j.ecoleng.2009.12.014

Berndtsson JC, Bengtsson L, Jinno K (2008) First flush effect from vegetated roofs during simulated rain events. Hydrol Res 39(3):171–179. doi:10.2166/nh.2008.044

Berndtsson JC, Bengtsson L, Jinno K (2009) Runoff water quality from intensive and extensive vegetated roofs. Ecol Eng 35(3):369–380. doi:10.1016/j.ecoleng.2008.09.020

Berndtsson JC, Emilssonb T, Bengtsson L (2006) The influence of extensive vegetated roofs on runoff water quality. Sci Total Environ 355(1–3):48–63. doi:10.1016/j.scitotenv.2005.02.035

Bliss DJ, Neufeld RD, Ries RJ (2009) Storm water runoff mitigation using a green roof. Environ Eng Sci 26(2):407–417. doi:10.1089/ees.2007.0186

Cahn MD, Bouldin DR, Cravo MS, Bowen WT (1993) Cation and nitrate leaching in an oxisol of the Brazilian amazon. Agron J 85(2):334–340. doi:10.2134/agronj1993.00021962008500020032x

Chan ALS , Chow TT (2013) Energy and economic performance of green roof system under future climatic conditions in Hong Kong. Energ Buildings 64:182–198. doi:10.1016/j.enbuild.2013.05.015

Chen CF (2013) Performance evaluation and development strategies for green roofs in Taiwan: a review. Ecol Eng 52:51–58. doi:10.1016/j.ecoleng.2012.12.083

Chen XP, Cui ZL, Vitousek PM, Cassman KG, Matson PA, Bai JS, Meng QF, Hou P, Yue SC, Romheld V, Zhang FS (2011) Integrated soil-crop system management for food security. Proc Natl Acad Sci U S A 108(16):6399–6404. doi:10.1073/pnas.1101419108

Cook-Patton SC, Bauerle TL (2012) Potential benefits of plant diversity on vegetated roofs: a literature review. J Environ Manage 106:85–92. doi:10.1016/j.jenvman.2012.04.003

Dvorak B, Volder A (2010) Green roof vegetation for North American ecoregions: a literature review. Landsc Urban Plan 96(4):197–213. doi:10.1016/j.landurbplan.2010.04.009

Emilsson TU, Berndtsson JC, Mattson JE, Rolf K (2007) Effect of using conventional and controlled release fertilizer on nutrient runoff from various vegetated roof systems. Ecol Eng 29:260–271. doi:10.1016/j.ecoleng.2006.01.001

Getter KL, Rowe DB, Robertson GP, Cregg BM, Andresen JA (2009) Carbon sequestration potential of extensive green roofs. Environ Sci Technol 43(19):7564–7570. doi:10.1021/Es901539x

Gnecco I, Palla A, Lanza LG, La Barbera P (2013) The role of green roofs as a source/sink of pollutants in storm water outflows. Water Resour Manag 27(14):4715–4730. doi:10.1007/s11269-013-0414-0

Gregoire BG, Clausen JC (2011) Effect of a modular extensive green roof on stormwater runoff and water quality. Ecol Eng 37(6):963–969. doi:10.1016/j.ecoleng.2011.02.004

He HM, Jim CY (2010) Simulation of thermodynamic transmission in green roof ecosystem. Ecol Model 221(24):2949–2958. doi:10.1016/j.ecolmodel2010.09.002

Heijerick DG, Janssen CR, Karlen C, Wallinder IO, Leygraf C (2002) Bioavailability of zinc in runoff water from roofing materials. Chemosphere 47(10):1073–1080. doi:10.1016/s0045-6535(02)00014-0

Hong T, Kim J, Koo C (2012) LCC and LCCO2 analysis of green roofs in elementary schools with energy saving measures. Energy Buildings 45:229–239. doi:10.1016/j.enbuild.2011.11.006

Jim CY, Tsang SW (2011) Modeling the heat diffusion process in the abiotic layers of green roofs. Energ Buildings 43(6):1341–1350. doi:10.1016/j.enbuild.2011.01.012

Kim J, Hong T, Koo CW (2012) Economic and environmental evaluation model for selecting the optimum design of green roof systems in elementary schools. Environ Sci Technol 46(15):8475–8483. doi:10.1021/Es2043855

Li JF, Wai OWH, Li YS, Zhan JM, Ho YA, Li J, Lam E (2010) Effect of green roof on ambient CO2 concentration. Building Environ 45(12):2644–2651. doi:10.1016/j.buildenv.2010.05.025

Lye DJ (2009) Rooftop runoff as a source of contamination: a review. Sci Total Environ 407(21):5429–5434. doi:10.1016/j.scitotenv.2009.07.011

Mendez CB, Klenzendorf JB, Afshar BR, Simmons MT, Barrett ME, Kinney KA, Kirisits MJ (2011) The effect of roofing material on the quality of harvested rainwater. Water Res 45(5):2049–2059. doi:10.1016/j.watres.2010.12.015

Molineux CJ, Fentiman CH, Gange AC (2009) Characterising alternative recycled waste materials for use as green roof growing media in the UK. Ecol Eng 35(10):1507–1513. doi:10.1016/j.ecoleng.2009.06.010

Morgan S, Alyaseri I, Retzlaff W (2011) Suspended solids in and turbidity of runoff from green roofs. Int J Phytoremediat 13:179–193. doi:10.1080/15226514.2011.568547

Morgan S, Celik S, Retzlaff W (2013) Green roof storm-water runoff quantity and quality. J Environ Eng-Asce 139(4):471–478. doi:10.1061/(Asce)Ee.1943-7870.0000589

Nagase A, Dunnett N (2011) The relationship between percentage of organic matter in substrate and plant growth in extensive green roofs. Landsc Urban Plan 103(2):230–236. doi:10.1016/j.landurbplan.2011.07.012

Niu H, Clark C, Zhou J, Adriaens P (2010) Scaling of economic benefits from green roof implementation in Washington, DC. Environ Sci Technol 44(11):4302–4308. doi:10.1021/Es902456x

Oberndorfer E, Lundholm J, Bass B, Coffman RR, Doshi H, Dunnett N, Gaffin S, Kohler M, Liu KKY, Rowe B (2007) Green roofs as urban ecosystems: ecological structures, functions, and services. Bioscience 57:823–833. doi:10.1641/B571005

Ouldboukhitine SE, Belarbi R, Djedjig R (2012) Characterization of green roof components: measurements of thermal and hydrological properties. Build Environ 56:78–85. doi:10.1016/j.buildenv.2012.02.024

Rowe DB (2011) Green roofs as a means of pollution abatement. Environ Pollut 159(8–9):2100–2110. doi:10.1016/j.envpol.2010.10.029

Rowe DB, Getter KL, Durhman AK (2012) Effect of green roof media depth on Crassulacean plant succession over seven years. Landsc Urban Plan 104(3–4):310–319. doi:10.1016/j.landurbplan.2011.11.010

Saadatian O, Sopian K, Salleh E, Lim CH, Riffat S, Saadatian E, Toudeshki A, Sulaiman MY (2013) A review of energy aspects of green roofs. Renew Sust Energ Rev 23:155–168. doi:10.1016/j.rser.2013.02.022

Sailor DJ (2008) A green roof model for building energy simulation programs. Energ Buildings 40(8):1466–1478. doi:10.1016/j.enbuild.2008.02.001g

Schroll E, Lambrinos J, Righetti T, Sandrock D (2011) The role of vegetation in regulating stormwater runoff from green roofs in a winter rainfall climate. Ecol Eng 37(4):595–600. doi:10.1016/j.ecoleng.2010.12.020

Seidl M, Gromaire MC, Saad M, De Gouvello B (2013) Effect of substrate depth and rain-event history on the pollutant abatement of green roofs. Environ Pollut 183:195–203. doi:10.1016/j.envpol.2013.05.026

Sempel F, Gorbachevskaya O, Mewis I, Ulrichs C (2013) Fine dust binding potential of extensive roof top greening systems compared to roof gravel cover. Gesunde Pflanz 65(3):113–118. doi:10.1007/s10343-013-0305-6

Song U, Kim E, Bang JH, Son DJ, Waldman B, Lee EJ (2013) Wetlands are an effective green roof system. Build Environ 66:141–147. doi:10.1016/j.buildenv.2013.04.024

Teemusk A, Mander U (2007) Rainwater runoff quantity and quality performance from a greenroof: the effects of short-term events. Ecol Eng 30(3):271–277. doi:10.1016/j.ecoleng.2007.01.009

Teemusk A, Mander U (2011) The influence of green roofs on runoff water quality: a case study from Estonia. Water Resour Manag 25(14):3699–3713. doi:10.1007/s11269-011-9877-z

Toland DC, Haggard BE, Boyer ME (2012) Evaluation of nutrient concentrations in runoff water from green roofs, conventional roofs, and urban streams. Trans Asabe 55(1):99–106

USEPA (2013a), Basic information, Climate Change. http://www.epa.gov/climatechange/basics. Last accessed 28 February 2014

USEPA (2013b), Carbon dioxide capture and sequestration, Climate Change, http://www.epa.gov/climatechange/ccs/index.html. Last accessed 28 February 2014

Vijayaraghavan K, Joshi UM, Balasubramanian R (2012) A field study to evaluate runoff quality from green roofs. Water Res 46(4):1337–1345. doi:10.1016/j.watres.2011.12.050

Wang XC, Zhao XH, Peng CR, Zhang XB, Wang JH (2013) A field study to evaluate the impact of different factors on the nutrient pollutant concentrations in green roof runoff. Water Sci Technol 68(12):2691–2697. doi:10.2166/Wst.2013.547

Whittinghill LJ, Rowe DB, Cregg BM (2013) Evaluation of vegetable production on extensive green roofs. Agroecol Sust Food 37(4):465–484. doi:10.1080/21683565.2012.756847

Wong NH, Cheong DKW, Yan H, Soh J, Ong CL, Sia A (2003) The effects of rooftop garden on energy consumption of a commercial building in Singapore. Energ Build 35(4):353–364. doi:10.1016/S0378-7788(02)00108-1

World Green Infrastructure Network Statistics (2009) http://www.worldgreenroof.org/Statistics.html. Last accessed 28 February 2014

Yang J, Yu Q, Gong P (2008) Quantifying air pollution removal by green roofs in Chicago. Atmos Environ 42(31):7266–7273. doi:10.1016/j.atmosenv.2008.07.003

Ye JJ, Liu CY, Zhao ZC, Li YQ, Yu SX (2013) Heavy metals in plants and substrate from simulated extensive green roofs. Ecol Eng 55:29–34. doi:10.1016/j.ecoleng.2013.02.012

Zhen J, Shoemaker L, Riverson J, Alvi K, Cheng MS (2006) BMP analysis system for watershed-based stormwater management. J Environ Sci Health Part a-Toxic/Hazard Subst Environmental Eng 41(7):1391–1403. doi:10.1080/10934520600657172
About this article
Cite this article
Li, Y., Babcock, R.W. Green roofs against pollution and climate change. A review. Agron. Sustain. Dev. 34, 695–705 (2014). https://doi.org/10.1007/s13593-014-0230-9
Accepted:

Published:

Issue Date:

DOI: https://doi.org/10.1007/s13593-014-0230-9
Keywords
Green roof

Nitrogen

Phosphorus

Runoff quality

CO2 sequestration

Pollution mitigation