Abstract
Rice production needs to rise substantially without increasing inputs such as chemical fertilizers to feed the world's growing population in a sustainable manner. In this regard, plant growth-promoting microorganisms, formulated as inoculant biofertilizers, show strong potential by improving nutrient use efficiency. However, the practical use of biofertilizers by farmers remains limited because of inconsistent results under field conditions. We hypothesized that biofertilizer performance depends on the amount and type of chemical fertilizer applied in concert with the biofertilizer and that such knowledge can improve inoculation efficacy. Farmer participatory field experiments were conducted at 20 different farms from two localities in the Vietnamese Mekong Delta over four growing seasons. On each farm, one half of a split-plot was treated with chemical fertilizer at conventional rates. The remaining area was given only 50–80 % of the usual chemical fertilizer rates but supplemented with the commercial biofertilizer BioGro containing four plant growth-promoting microorganisms. Our results demonstrate that the biofertilizer can replace between 23 and 52 % of nitrogen (N) fertilizer without loss of yield but cannot substitute for phosphorus (P) fertilizer. In addition, we found that up to 45 % of the variability in biofertilizer performance is related to the amount and timing of N, P, and K fertilizers applied to the crop. Importantly, the yield response to both biofertilizer and N fertilizer is strongly affected by the seasonal growing conditions. Overall, our findings show for the first time that farmer participatory experiments can be used to increase the efficacy of biofertilizers through manipulating chemical fertilizer inputs. This new information will accelerate the uptake of biofertilizer technology if managed correctly.
Access options
Buy single article
Instant access to the full article PDF.
USD 39.95
Price excludes VAT (USA)
Tax calculation will be finalised during checkout.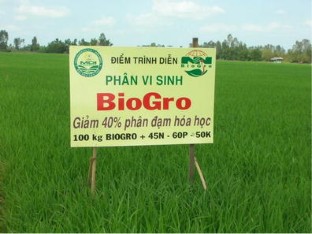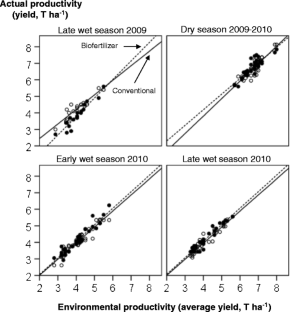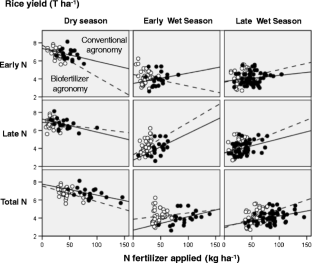 References
Adesemoye AO, Kloepper JW (2009) Plant-microbes interactions in enhanced fertilizer-use efficiency. Appl Microbiol Biotechnol 85:1–12. doi:10.1007/s00253-009-2196-0

Adesemoye AO, Torbert HA, Kloepper JW (2009) Plant growth-promoting rhizobacteria allow reduced application rates of chemical fertilizers. Microb Ecol 58:921–929. doi:10.1007/s00248-009-9531-y

Avis TJ, Gravel V, Antoun H, Tweddell RJ (2008) Multifaceted beneficial effects of rhizosphere microorganisms on plant health and productivity. Soil Biol Biochem 40:1733–1740. doi:10.1016/j.soilbio.2008.02.013

Choudhury ATMA, Kennedy IR (2005) Nitrogen fertilizer losses from rice soils and control of environmental pollution problems. Commun Soil Sci Plant Anal 36:1625–1639. doi:10.1081/CSS-200059104

Cong PT, Dung TD, Hien NT, Choudhury A, Rose MT, Kecskes ML, Deaker R, Kennedy IR (2011) Effects of a multistrain biofertilizer and phosphorus rates on nutrition and grain yield of paddy rice on a sandy soil in southern Vietnam. J Plant Nutr 34:1058–1069. doi:10.1080/01904167.2011.555587

de Freitas JR, Banerjee MR, Germida JJ (1997) Phosphate-solubilizing rhizobacteria enhance the growth and yield but not phosphorus uptake of canola (Brassica napus L). Biol Fertil Soil 24:358–364. doi:10.1007/s003740050258

Deaker R, Kecskes ML, Rose MT, Amprayn K, Krishnen G, Tran CKT, Vu NT, Phan CT, Nguyen HT, Kennedy IR (2011) Practical methods for the quality control of inoculant biofertilisers. Australian Centre for International Agricultural Research, Canberra, Australia

Diaz-Zorita M, Fernandez-Canigia MV (2009) Field performance of a liquid formulation of Azospirillum brasilense on dryland wheat productivity. Eur J Soil Biol 45:3–11. doi:10.1016/j.ejsobi.2008.07.001

Dobbelaere S, Croonenborghs A, Thys A, Ptacek D, Vanderleyden J, Dutto P, Labandera-Gonzalez C, Caballero-Mellado J, Aguirre JF, Kapulnik Y, Brener S, Burdman S, Kadouri D, Sarig S, Okon Y (2001) Responses of agronomically important crops to inoculation with Azospirillum. Aust J Plant Physiol 28:871–879. doi:10.1071/PP01074

Dobermann A, Fairhurst TH (2000) Rice: nutrient disorders & nutrient management. Potash and Phosphate Institute (PPI), Potash and Phosphate Institute of Canada (PPIC) and International Rice Research Institute (IRRI)

González I, Lê Cao K-A, Déjean S (2010) MixOmics: Omics data integration project. http://www.math.univ-toulouse.fr/~biostat/mixOmics/. Accessed 6 Jul 2013

Govindarajan M, Balandreau J, Kwon SW, Weon HY, Lakshminarasimhan C (2008) Effects of the inoculation of Burkholderia vietnamensis and related endophytic diazotrophic bacteria on grain yield of rice. Microb Ecol 55:21–37. doi:10.1007/s00248-007-9247-9

Grover KK, Karsten HD, Roth GW (2009) Corn grain yields and yield stability in four long-term cropping systems. Agron J 101:940–946. doi:10.2134/agronj2008.0221x

Hildebrand PE (1984) Modified stability analysis of farmer managed, on-farm trials. Agron J 76:271–274. doi:10.2134/agronj1984.00021962007600020023x

Hungria M, Campo RJ, Souza EM, Pedrosa FO (2010) Inoculation with selected strains of Azospirillum brasilense and A. lipoferum improves yields of maize and wheat in Brazil. Plant Soil 331:413–425. doi:10.1007/s11104-009-0262-0

Kennedy IR, Choudhury ATMA, Kecskes ML, Rose MT (2008) Efficient nutrient use in rice production in Vietnam achieved using inoculant biofertilisers. Australian Centre for International Agricultural Research, Canberra, Australia

Lucy M, Reed E, Glick BR (2004) Applications of free living plant growth-promoting rhizobacteria. Antonie Van Leeuwenhoek 86:1–25. doi:10.1023/B:ANTO.0000024903.10757.6e

Martinez-Viveros O, Jorquera MA, Crowley DE, Gajardo G, Mora ML (2010) Mechanisms and practical considerations involved in plant growth promotion by rhizobacteria. J Soil Sci Plant Nutr 10:293–319. doi:10.4067/S0718-95162010000100006

Nguyen HT, Deaker R, Kennedy IR, Roughley RJ (2003) The positive yield response of field-grown rice to inoculation with a multi-strain biofertiliser in the Hanoi area, Vietnam. Symbiosis 35:231–245

Okon Y, Labanderagonzalez CA (1994) Agronomic applications of Azospirillum—an evaluation of 20 years worldwide field inoculation. Soil Biol Biochem 26:1591–1601. doi:10.1016/0038-0717(94)90311-5

Peng SB, Buresh RJ, Huang JL, Zhong XH, Zou YB, Yang JC, Wang GH, Liu YY, Hu RF, Tang QY, Cui KH, Zhang FS, Dobermann A (2010) Improving nitrogen fertilization in rice by site-specific N management. A review. Agron Sustain Dev 30:649–656. doi:10.1051/agro/2010002

Phan TC, Tran DD, Tran MH, Nguyen TH, Choudhury ATMA, Kecskes ML, Kennedy IR (2009) Inoculant plant growth-promoting microorganisms enhance utilisation of urea-N and grain yield of paddy rice in southern Vietnam. Eur J Soil Biol 45:52–61. doi:10.1016/j.ejsobi.2008.06.006

R Development Core Team (2008). R: a language and environment for statistical computing. R Foundation for Statistical Computing, Vienna, Austria. http://www.R-project.org. Accessed 7 Nov 2013

Raman A, Ladha JK, Kumar V, Sharma S, Piepho HP (2011) Stability analysis of farmer participatory trials for conservation agriculture using mixed models. Field Crop Res 121:450–459. doi:10.1016/j.fcr.2011.02.001

Richardson AE, Barea JM, McNeill AM, Prigent-Combaret C (2009) Acquisition of phosphorus and nitrogen in the rhizosphere and plant growth promotion by microorganisms. Plant Soil 321:305–339. doi:10.1007/s11104-009-9895-2

Rose MT, Deaker R, Potard S, Cuc KTT, Vu NT, Kennedy IR (2011) The survival of plant growth promoting microorganisms in peat inoculant as measured by selective plate counting and enzyme-linked immunoassay. World J Microbiol Biotechnol 27:1649–1659. doi:10.1007/s11274-010-0619-9

Sasaki K, Ikeda S, Eda S, Mitsui H, Hanzawa E, Kisara C, Kazama Y, Kushida A, Shinano T, Minamisawa K, Sato T (2010) Impact of plant genotype and nitrogen level on rice growth response to inoculation with Azospirillum sp. strain B510 under paddy field conditions. Soil Sci Plant Nutr 56:636–644. doi:10.1111/j.1747-0765.2010.00499.x

Shaharoona B, Naveed M, Arshad M, Zahir ZA (2008) Fertilizer-dependent efficiency of pseudomonads for improving growth, yield, and nutrient use efficiency of wheat (Triticum aestivum L.). Appl Microbiol Biotechnol 79:147–155. doi:10.1007/s00253-008-1419-

Smyth EM, McCarthy J, Nevin R, Khan MR, Dow JM, O'Gara F, Doohan FM (2011) In vitro analyses are not reliable predictors of the plant growth promotion capability of bacteria; a Pseudomonas fluorescens strain that promotes the growth and yield of wheat. J Appl Microbiol 111:683–692. doi:10.1111/j.1365-2672.2011.05079.x

Tan PS, Tuyen TQ, Huan TT, Khuong TQ, Hoai NT, Diep LN, Dung HT, Phung CV, Lai NX, Dobermann A (2004) Site-specific nutrient management in irrigated rice systems of the Mekong Delta, Vietnam. In: Dobermann A, Witt C, Dawe D (eds) Increasing productivity of intensive rice systems through site-specific nutrient management. Science, Inc., Enfield, pp 193–215

Van VT, Berge O, Ke SN, Balandreau J, Heulin T (2000) Repeated beneficial effects of rice inoculation with a strain of Burkholderia vietnamiensis on early and late yield components in low fertility sulphate acid soils of Vietnam. Plant Soil 218:273–284. doi:10.1023/A:1014986916913

Veresoglou SD, Menexes G (2009) Impact of inoculation with Azospirillum spp. on growth properties and seed yield of wheat: a meta-analysis of studies in the ISI Web of Science from 1981 to 2008. Plant Soil 337:469–480. doi:10.1007/s11104-010-0543-7

Vessey JK (2003) Plant growth promoting rhizobacteria as biofertilizers. Plant Soil 255:571–586. doi:10.1023/A:1026037216893

Yang J, Kloepper JW, Ryu CM (2009) Rhizosphere bacteria help plants tolerate abiotic stress. Trends Plant Sci 14:1–4. doi:10.1016/j.tplants.2008.10.004

Yanni YG, Dazzo FB (2010) Enhancement of rice production using endophytic strains of Rhizobium leguminosarum bv. trifolii in extensive field inoculation trials within the Egypt Nile delta. Plant Soil 336:129–142. doi:10.1007/s11104-010-0454-7
Acknowledgments
We are grateful to the World Bank's Development Marketplace and the Australian Centre for International Agricultural Research for financial assistance. We would also like to acknowledge the hard work and technical assistance of staff from the Mekong Delta Development Research Institute, especially Nguyen Kim Chung. We also thank the anonymous reviewers and editors for providing valuable comments and suggestions that improved the quality of this manuscript.
Electronic supplementary material
Below is the link to the electronic supplementary material.
Soil chemical analyses from participating farms prior to the establishment of field experiments. (DOCX 16 kb)
PLS regression model fits. Yield ratios > 1 indicate higher yield of rice from BF treatment compared to FP; yield ratios < 1 indicate higher yield of rice from FP. (DOCX 58 kb)
Linear regression model fits for the data presented in Figure 3. Values in bold are statistically significant (P < 0.05). (DOCX 11 kb)
About this article
Cite this article
Rose, M.T., Phuong, T.L., Nhan, D.K. et al. Up to 52 % N fertilizer replaced by biofertilizer in lowland rice via farmer participatory research. Agron. Sustain. Dev. 34, 857–868 (2014). https://doi.org/10.1007/s13593-014-0210-0
Accepted:

Published:

Issue Date:

DOI: https://doi.org/10.1007/s13593-014-0210-0
Keywords