Abstract
It is widely assumed that agricultural practices have a major impact on soil living organisms. However, the impact of agricultural practices on soil microbes is poorly known, notably for species richness, evenness, and taxonomic composition. The taxonomic diversity and composition of soil indigenous microbial community can be assessed now using pyrosequencing, a high throughput sequencing technology applied directly to soil DNA. Here, we studied the effect of agriculture management on soil bacterial and fungal diversity in a tropical grassland ecosystem of northeastern Laos using 454 pyrosequencing of 16S and 18S rRNA genes. We studied soil microbial diversity of agricultural soils 3 years after conversion from native grasslands. We compared five systems: one tillage, two no-tillage rotational, one no-tillage improved pasture, and one natural grassland. Our results show first that compared to the natural grassland, tillage decreases fungal richness and diversity by −40 % and −19 %, respectively and increases bacterial richness and diversity by +46 % and +13 %, respectively. This finding evidences an early impact of agricultural management on soil microbial diversity. Such an impact fits with the ecological concept of "intermediate perturbation"—the hump-backed model—leading to classify agricultural practices according to the level of environmental stress they generate. We found also that land use modified soil microbial taxonomic composition. Compared to the natural pasture, tillage decreased notably the relative abundance of Actinobacteria (by −6 %), Acidobacteria (by −3 %) and Delta-proteobacteria (by −4 %) phyla, and by contrast increased the relative abundance of Firmicutes (by +6 %), Gamma-proteobacteria (by +11 %), and Chytridiomycota (+2 %) phyla. We conclude that soil microbial diversity can be modified and improved by selecting suitable agricultural practices. Moreover no-till systems represented intermediate situations between tillage and the natural pasture and appear therefore as a fair trade-off between the need for agriculture intensification and soil ecological integrity preservation.
Access options
Buy single article
Instant access to the full article PDF.
USD 39.95
Price includes VAT (USA)
Tax calculation will be finalised during checkout.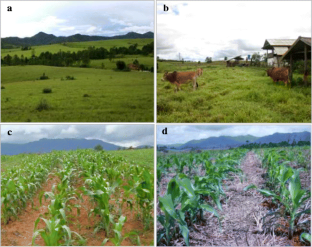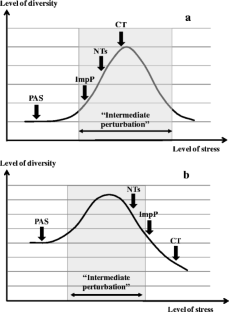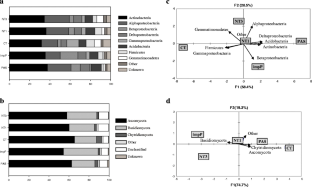 References
Acosta-Martinez V, Dowd S, Sun Y, Allen V (2008) Tag-encoded pyrosequencing analysis of bacterial diversity in a single soil type as affected by management and land use. Soil Biol Biochem 40(11):2762–2770. doi:10.1016/j.soilbio.2008.07.022

Bernard L, Mougel C, Maron P-A, Nowak V, Leveque J, Henault C, FeZ H, Berge O, Marol C, Balesdent J, Gibiat F, Lemanceau P, Ranjard L (2007) Dynamics and identification of soil microbial populations actively assimilating carbon from C-13-labelled wheat residue as estimated by DNA- and RNA-SIP techniques. Environ Microbiol 9(3):752–764. doi:10.1111/j.1462-2920.2006.01197.x

Bressan M, Mougel C, Dequiedt S, Maron P-A, Lemanceau P, Ranjard L (2008) Response of soil bacterial community structure to successive perturbations of different types and intensities. Environ Microbiol 10(8):2184–2187. doi:10.1111/j.1462-2920.2008.01641.x

Buee M, Reich M, Murat C, Morin E, Nilsson RH, Uroz S, Martin F (2009) 454 Pyrosequencing analyses of forest soils reveal an unexpectedly high fungal diversity. New Phytol 184(2):449–456. doi:10.1111/j.1469-8137.2009.03003.x

Bunemann EK, Schwenke GD, Van Zwieten L (2006) Impact of agricultural inputs on soil organisms—a review. Aust J Soil Res 44(4):379–406. doi:10.1071/sr05125

Cleveland CC, Nemergut DR, Schmidt SK, Townsend AR (2007) Increases in soil respiration following labile carbon additions linked to rapid shifts in soil microbial community composition. Biogeochemistry 82:229–240

De Boer W, Folman LB, Summerbell RC, Boddy L (2005) Living in a fungal world: impact of fungi on soil bacterial niche development. FEMS Microbiol Rev 29:795–811, ISSN 0168–6445

Derpsch R, Friedrich T, Kassam A, Hongwen L (2010) Current status of adoption of no-till farming in the world and some of its main benefits. Int J Agric & Biol Eng 3(1):1–25

Fierer N, Bradford MA, Jackson RB (2007) Toward an ecological classification of soil bacteria. Ecology 88(6):1354–1364. doi:10.1890/05-1839

Giller KE, Witler E, McGrath SP (1998) Toxicity of heavy metals to microorganisms and microbial processes in agricultural soils: a review. Soil Biol Biochem 30:1389–1414

Gleason FH, Letcher PM, McGee PA (2004) Some Chytridiomycota in soil recover from drying and high temperatures. Mycol Res 108:583–589. doi:10.1017/s0953756204009736

Govaerts B, Mezzalama M, Unno Y, Sayre KD, Luna-Guido M, Vanherck K, Dendooven L, Deckers J (2007) Influence of tillage, residue management, and crop rotation on soil microbial biomass and catabolic diversity. Appl Soil Ecol 37:18–30. doi:10.1016/j.apsoil.2007.03.006

Jenkins SN, Rushton SP, Lanyon CV, Whiteley AS, Waite IS, Brookes PC, Kemmitt S, Evershed RP, O'Donnell AG (2010) Taxon-specific responses of soil bacteria to the addition of low level C inputs. Soil Biol Biochem 42:1624–1631

Kandeler E (2007) Physiological and biochemical methods for studying soil biota and their function. In: Paul EA (ed) Soil microbiology, ecology, and biochemistry, 3rd edn. Academic Press, Burlington, pp 53–80

Kladivko EJ (2001) Tillage systems and soil ecology. Soil & Tillage Res 61(1–2):61–76. doi:10.1016/s0167-1987(01)00179-9

Lauber CL, Hamady M, Knight R, Fierer N (2009) Pyrosequencing-based assessment of soil pH as a predictor of soil bacterial community structure at the continental scale. Appl Environ Microbiol 75(15):5111–5120. doi:10.1128/aem.00335-09

Lienhard P, Tivet F, Chabanne A, Dequiedt S, Lelièvre M, Sayphoummie S, Leudphanane B, Chemidlin Prévost-Bouré N, Séguy L, Maron P-A, Ranjard L (2013) No-till and cover crops shift soil microbial abundance and diversity in Laos tropical grasslands. Agron Sustain Dev 33(2):375–384. doi:10.1007/s13593-012-0099-4

Mandic-Mulec I, Prosser J (2011) Diversity of endospore-forming bacteria in soil: characterization and driving mechanisms. In: Logan NA, Vos P (eds) Endospore-forming soil bacteria. Springer Berlin Heidelberg 27:31–59. doi:10.1007/978-3-642-19577-8_2

Maron P-A, Mougel C, Ranjard L (2010) Soil microbial diversity: methodological strategy, spatial overview and functional interest. C R Biologies 334(5–6):403–411. doi:10.1016/j.crvi.2010.12.003

Nemergut DR, Costello EK, Hamady M, Lozupone C, Jiang L, Schmidt SK, Fierer N, Townsend AR, Cleveland CC, Stanish L (2007) Global patterns in the biogeography of bacterial taxa. Environ Microbiol 13(1):135–144

Nicolardot B, Bouziri L, Bastian F, Ranjard L (2007) A microcosm experiment to evaluate the influence of location and quality of plant residues on residue decomposition and genetic structure of soil microbial communities. Soil Biol Biochem 39(7):1631–1644. doi:10.1016/j.soilbio.2007.01.012

Nishizawa T, Zhaorigetu KM, Sato Y, Kaneko N, Ohta H (2010) Molecular characterization of fungal communities in non-tilled, cover-cropped upland rice field soils. Microbes Environ 25(3):204–210. doi:10.1264/jsme2.ME10108

Ofek M, Hadar Y, Minz D (2012) Ecology of root colonizing Massilia (Oxalobacteraceae). PloS one 7(7). DOI: e40117.10.1371/journal.pone.0040117

Pascault N, Ranjard L, Kaisermann A, Bachar D, Christen R, Terrat S, Mathieu O, Lévêque J, Mougel C, Henault C, Lemanceau P, Péan M, Boiry S, Fontaine S, Maron PA (2013) Stimulation of different functional groups of bacteria by various plant residues as a driver of soil priming effect. Ecosystems (in press)

Ranjard L, Richaume AS (2001) Quantitative and qualitative microscale distribution of bacteria in soil. Res Microbiol 152(8):707–716. doi:10.1016/s0923-2508(01)01251-7

Roesch LF, Fulthorpe RR, Riva A, Casella G, Hadwin AKM, Kent AD, Daroub SH, Camargo FAO, Farmerie WG, Triplett EW (2007) Pyrosequencing enumerates and contrasts soil microbial diversity. ISME J 1(4):283–290. doi:10.1038/ismej.2007.53

Six J, Frey SD, Thiet RK, Batten KM (2006) Bacterial and fungal contributions to carbon sequestration in agroecosystems. Soil Sci Soc Am J 70(2):555–569. doi:10.2136/sssaj2004.0347

Stackebrandt E, Rainey FA, WardRainey NL (1997) Proposal for a new hierarchic classification system, Actinobacteria classis nov. Int J Syst Bacteriol 47(2):479–491

Terrat S, Christen R, Dequiedt S, Lelievre M, Nowak V, Regnier T, Bachar D, Plassart P, Wincker P, Jolivet C, Bispo A, Lemanceau P, Maron P-A, Mougel C, Ranjard L (2011) Molecular biomass and MetaTaxogenomic assessment of soil microbial communities as influenced by soil DNA extraction procedure. Microb Biotechnol 5(1):135–141. doi:10.1111/j.1751-7915.2011.00307.x

Thioulouse J, Chessel D, Dolédec S, Olivier JM (1997) Ade-4: a multivariate analysis and graphical display software.Statistics and. Computer 7:75–83

Tivet F, de Moraes Sa JC, Lal R, Briedis C, Borszowskei PR, dos Santos JB, Farias A, Eurich G, Hartman DDC, Nadolny Junior M (2013) Aggregate C depletion by plowing and its restoration by diverse biomass-C inputs under no-till in sub-tropical and tropical regions of Brazil. Soil and Tillage Res 126:203–218. doi:10.1016/j.still.2012.09.004

Tripathi BM, Kim M, Singh D, Lee-Cruz L, Lai-Hoe A, Ainuddin AN, Go R, Rahim RA, Husni MHA, Chun J, Adams JM (2012) Tropical soil bacterial communities in Malaysia: pH dominates in the equatorial tropics too. Microb Ecol 64(2):474–484. doi:10.1007/s00248-012-0028-8

Wenzl P, Patino GM, Chaves AL, Mayer JE, Rao IM (2001) The high level of aluminum resistance in signalgrass is not associated with known mechanisms of external aluminum detoxification in root apices. Plant Physiol 125(3):1473–1484. doi:10.1104/pp.%20125.3.1473

Yu Z, Wang G, Jin J, Liu J, Liu X (2011) Soil microbial communities are affected more by land use than seasonal variation in restored grassland and cultivated Mollisols in Northeast China. Eur J Soil Biol 47(6):357–363. doi:10.1016/j.ejsobi.2011.09.001
Acknowledgments
The authors would like to thank the Sector-Based Program in Agroecology (PROSA), the French Development Agency (AFD), the French Global Environment Facility (FFEM), and the French Ministry of Foreign Affairs for their financial support. This work, through the involvement of technical facilities of the GenoSol platform of the infrastructure ANAEE-Services, received a grant from the French state through the National Agency for Research under the program "Investments for the Future" (reference ANR-11-INBS-0001), as well as a grant from the Regional Council of Burgundy.
About this article
Cite this article
Lienhard, P., Terrat, S., Prévost-Bouré, N.C. et al. Pyrosequencing evidences the impact of cropping on soil bacterial and fungal diversity in Laos tropical grassland. Agron. Sustain. Dev. 34, 525–533 (2014). https://doi.org/10.1007/s13593-013-0162-9
Accepted:

Published:

Issue Date:
Keywords
Microbial diversity

Soil metagenomics

Pyrosequencing

Conservation agriculture

Tillage

Acid savannah