Abstract
This article predicts an unexpected positive effect of climate change on cotton production in Cameroon. Global warming could threaten cotton production in Africa due to increasing temperature and CO2, and rainfall uncertainties. This situation is worsened by the fact that most African farmers grow cotton as their cash crop and have few or no possible alternatives. Assessing the impact of climate change on cotton production is therefore critical. Here, we used CROPGRO, a process-based crop model that can simulate the main features of cotton growth and management. We applied this model to two regions in North Cameroon and a set of six regional climate projections combining general climate models and regional climate models from the ENSEMBLES project. The model was calibrated and validated with a data set of observations made in farmer fields from 2001 to 2005 and at an experimental station in 2010. Our results show unexpectedly that climate change from 2005 to 2050 in North Cameroon will have a positive effect on cotton yields with an increase of 1.3 kg ha−1 year−1 in yield, especially if conservation agriculture systems are adopted. The predicted increase of 0.05 °C year−1 in temperature will shorten crop cycles by 0.1 day year−1 with no negative effect on yields. Moreover, the fertilizing effect of CO2 enrichment will increase yields by approximately 30 kg ha−1. The rainfall pattern is likely to change, but the six regional models used to generate future weather patterns did not predict a decrease in rainfall. One model even forecast an increase in rainfall amounts. According to our findings, climate changes in North Cameroon can be anticipated by tailoring alternative cropping systems and adaptation techniques to cope with climate change.
Access options
Buy single article
Instant access to the full article PDF.
USD 39.95
Price excludes VAT (USA)
Tax calculation will be finalised during checkout.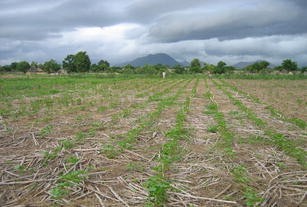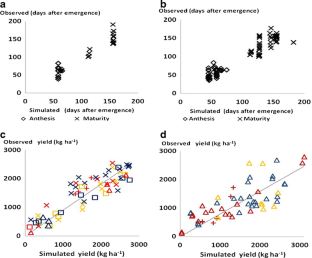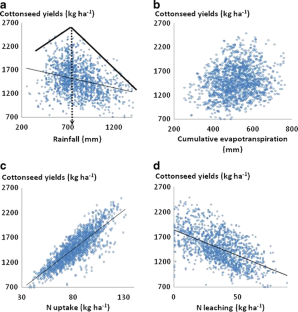 References
Ainsworth E, Leakey A, Ort D, Long S (2008) FACE-ing the facts: inconsistencies and interdependence among field, chamber and modeling studies of elevated [CO2] impacts on crop yield and food supply. New Phytol 179:5–9. doi:10.1111/j.1469-8137.2008.02500.x

Berg A, de Noblet-Ducoudré N, Sultan B, Lengaigne M, Guimberteau M (2012) Projections of climate change impacts on potential C4 crop productivity over tropical regions. Agric For Meteorol. doi:10.1016/j.agrformet.2011.12.003

Biasutti M, Sobel AH (2009) Delayed Sahel rainfall and global seasonal cycle in a warmer climate. Geophys Res Lett. doi:10.1029/2009GL041303, Vol. 36, L23707, 5 pages

Blanc E, Quirion P, Strobl E (2008) The climatic determinants of cotton yields: evidence from a plot in West Africa. Agric For Meteorol 148:1093–1100. doi:10.1016/j.agrformet.2008.02.005

Druyan LM (2011) Studies of 21st-century precipitation trends over West Africa. Int J Climatol 31:1415–1424

Ghannoum O, Caemmerer SV, Ziska LH, Conroy JP (2000) The growth response of C4 plants to rising atmospheric CO2 partial pressure: a reassessment. Plant Cell Environ 23:931–942

He J, Jones JW, Graham WD, Dukes MD (2010) Influence of likelihood function choice for estimating crop model parameters using the generalized likelihood uncertainty estimation method. Agric Syst 103:256–264

IPCC (2007) Climate change 2007: working group I: the physical basis. Cambridge University Press, Cambridge

Jones PG, Thornton PK (2003) The potential impacts of climate change on maize production in Africa and Latin America in 2055. Glob Environ Chang 13:51–59. doi:10.1016/s0959-3780(02)00090-0

Jones JW, Hoogenboom G, Porter CH, Boote KJ, Batchelor WD, Hunt LA, Wilkens PW, Singh U, Gijsman AJ, Ritchie JT (2003) The DSSAT cropping system model. Eur J Agron 18:235–265

Karl TR, Kukla G, Razuvayev VN, Changery MJ, Quayle RG, Heim RR Jr, Easterling DR, Fu CB (1991) Global warming: evidence for asymmetric diurnal temperature change. Geophys Res Lett 18:2253–2256

Leakey ADB (2009) Rising atmospheric carbon dioxide concentration and the future of C4 crops for food and fuel. Proc R Soc B Biol Sci 276:2333–2343. doi:10.1098/rspb.2008.1517

Mbétid-Bessane E, Havard M, Djondang K (2006) Evolution des pratiques de gestion dans les exploitations agricoles familiales des savanes cotonnières d'Afrique centrale. Cah Agric 15:555–561

McGarry D (2006) A methodology of visual-soil field assessment tool to tupport, enhance, and contribute to the LADA program. FAO, Paris

Michelangeli PA, Vrac M, Loukos H (2009) Probabilistic downscaling approaches: application to wind cumulative distribution functions. Geophys Res Lett 36:L11708. doi:10.1029/2009gl038401

Nakicenovic N, Alcamo J, Davis G, de Vries B, Fenhann J, Gaffin S, Gregory K, Grubler A, Jung TY, Kram T, La Rovere EL, Michaelis L, Mori S, Morita T, Pepper W, Pitcher HM, Price L, Riahi K, Roehrl A, Rogner H-H, Sankovski A, Schlesinger M, Shukla P, Smith SJ, Swart R, van Rooijen S, Victor N, Dadi Z (2000) Special report on emissions scenarios: a special report of working group III. IPCC, Geneva

Naudin K, Gozé E, Balarabe O, Giller KE, Scopel E (2010) Impact of no tillage and mulching practices on cotton production in North Cameroon: a multi-locational on-farm assessment. Soil Tillage Res 108:68–76

Patricola C, Cook K (2010) Northern African climate at the end of the twenty-first century: an integrated application of regional and global climate models. Clim Dyn 35:193–212. doi:10.1007/s00382-009-0623-7

Reddy KR, Hodges HF, McKinion JM (1997) A comparison of scenarios for the effect of global climate change on cotton growth and yield. Funct Plant Biol 24:707–713. doi:10.1071/PP96138

Roudier P, Sultan B, Quirion P, Berg A (2011) The impact of future climate change on West African crop yields: what does the recent literature say? Global Environ Chang 21:1073–1083

Schlenker W, Lobell DB (2010) Robust negative impacts of climate change on African agriculture. Environ Res Lett 5:014010

Scopel E, Silva FAMD, Corbeels M, Affholder F, Maraux F (2004) Modelling crop residue mulching effects on water use and production of maize under semi-arid and humid tropical conditions. Agronomie 24:383–395

Soutou G, Naudin K, Scopel E (2007) Effet du semis sous couvert végétal sur l'infiltration, le ruissellement et simulation du bilan hydrique dans les systèmes de culture à base de coton au Nord Cameroun. In: Terre Malgache (ed) Les sols tropicaux en semis-direct sous couvertures végétales. Antananarivo, p 177–179

Steiner JL (1989) Tillage and surface residue effects on evaporation from soils. Soil Sci Soc Am J 53:911–916

Sultan B, Bella-Medjo M, Berg A, Quirion P, Janicot S (2010) Multi-scales and multi-sites analyses of the role of rainfall in cotton yields in West Africa. Int J Climatol 30:58–71. doi:10.1002/joc.1872

Tingem M, Rivington M, Bellocchi G, Azam-Ali S, Colls J (2008) Effects of climate change on crop production in Cameroon. Clim Res 36:65–77

Tingem M, Rivington M, Bellocchi G (2009) Adaptation assessments for crop production in response to climate change in Cameroon. Agron Sustain Dev 29:247–256. doi:10.1051/agro:2008053

Tubiello FN, Amthor JS, Boote KJ, Donatelli M, Easterling W, Fischer G, Gifford RM, Howden M, Reilly J, Rosenzweig C (2007) Crop response to elevated CO2 and world food supply: a comment on "Food for Thought…" by Long et al., Science 312:1918–1921, 2006. Eur J Agron 26:215–223

Turner JH, Ramey HH, Worley S (1975) Influence of environment on seed quality of four cotton cultivars. Crop Sci 16:07–409. doi:10.2135/cropsci1976.0011183X001600030023x

van der Linden P, Mitchell JFB (2009) Ensembles-based predictions of climate changes and their impacts (ENSEMBLES): summary of research from the ENSEMBLE project. Met Office Hadley Centre, Exeter
Acknowledgments
This study is a contribution to the PICREVAT project, funded by the French "Agence Nationale de la Recherche" under its VMCS 2008 program. The authors thank Philippe Letourmy for his assistance in statistics.
About this article
Cite this article
Gérardeaux, E., Sultan, B., Palaï, O. et al. Positive effect of climate change on cotton in 2050 by CO2 enrichment and conservation agriculture in Cameroon. Agron. Sustain. Dev. 33, 485–495 (2013). https://doi.org/10.1007/s13593-012-0119-4
Accepted:

Published:

Issue Date:

DOI: https://doi.org/10.1007/s13593-012-0119-4
Keywords