Abstract
The evolution of long-range pheromonal communication is often facilitated by morphological adaptations in glandular structures. Male carpenter bees (Xylocopa) in four subgenera possess hypertrophied sex pheromone glands responsible for their long-distance mate attraction. The valley carpenter bee (Xylocopa sonorina) is known for its "dispersed lek" mating system, in which males lure females to mating territories by means of a sex pheromone produced in the dorsal mesosomal gland. The gland functions first as secretory tissue and then as a large, setal-lined storage vessel for the sex pheromone blend. Here, we characterized the morphology of this gland by collecting sexually active males and imaging the dorsal mesosomal gland using micro computed tomography (micro-CT) scanning. From these images, we reconstructed a detailed model, representing the first 3D visualization of the gland complex in its entirety, and the first quantification of its morphology. We additionally characterized the ultrastructure of the gland using scanning electron microscopy (SEM), and discuss the possible functional significance of setae lining the gland tubules. We found that the gland can occupy nearly 20% of the thoracic volume, a space typically filled entirely in other bees by large indirect flight muscles. This massive spatial and physiological investment in sex gland tissue reflects the critical importance of long-range pheromonal mate attraction in this lek-mating species.
Access options
Buy single article
Instant access to the full article PDF.
USD 39.95
Price excludes VAT (USA)
Tax calculation will be finalised during checkout.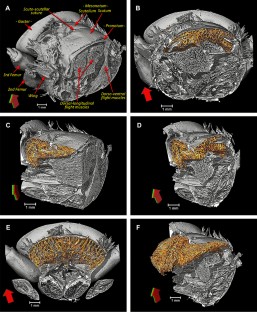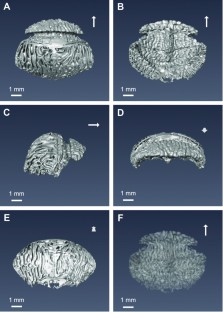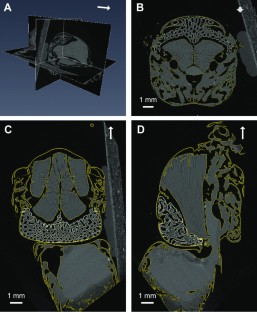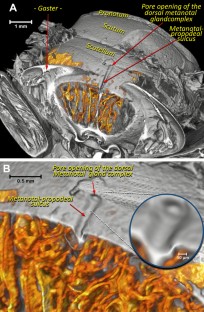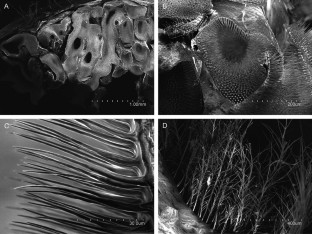 Data availability statement
All data generated or analyzed during this study are included in this published article and its supplementary file.
References
Alba-Tercedor J (2014) From the sample preparation to the volume rendering images of small animals: a step by step example of a procedure to carry out the micro-CT study of the leafhopper insect Homalodisca vitripennis (Hemiptera: Cicadellidae). Bruker Micro-CT Users Meeting 260–288

Alcock J (1993) Differences in site fidelity among territorial males of the carpenter bee Xylocopa-varipuncta (Hymenoptera, Anthophoridae). Behaviour 125:199–217. https://doi.org/10.1163/156853993x00245

Alcock J, Barrows EM, Gordh G, Hubbard LJAN, Kirkendall L, Pyle DW, Ponder TL, Zalom FG (1978) The ecology and evolution of male reproductive behaviour in the bees and wasps. Zool J Linn Soc 64:293–326

Alcock J, Johnson M (1990) Female mate choice in the carpenter bee Xylocopa varipuncta. J Zool Lond 221:195–204

Alcock J, Smith A (1987) Hilltopping, leks and female choice in the Carpenter bee Xylocopa (Neoxylocopa) varipuncta. J Zool Lond 211:1–10

Andersen JF, Buchmann S, Plattner RD, Minckley R (1988) Identification of thoracic gland constituents from male Xylocopa spp. Latreille (Hymenoptera: Anthophoridae) from Arizona. J Chem Ecol 14(4):1153–1162

Choe J, Crespi B (1997) The evolution of mating systems of insects and arachnids. Cambridge University Press

Costa M, Ferreira Nocelli R, Chaud Netto J (2006) The mesosomal gland of Xylocopa frontalis (Hymenoptera, Apidae, Xylocopini). Sociobiology 47(2):543–552

Cruden R (1966) Observations on the behaviour of Xylocopa c. californica and X. tabaniformis orpifex (Hymenoptera: Apidae). Pan-Pac Entomol 42(2):111–119

Emlen S, Oring LW (1977) Ecology, sexual selection, and the evolution of mating systems. Am Assoc Adv Sci 197(4300):215–223

Gerling D, Hermann H (1978) Biology and mating behavior of Xylocopa virginica L. (Hymenoptera, Anthophoridae). Behav Ecol Sociobiol 3(2):99–111

Gerling D, Velthuis HHW, Hefetz A (1989) Bionomics of the large carpenter bees of the genus Xylocopa. Annu Rev Entomol 34(72):163–190

Gibson R, Bradbury J (1985) Sexual selection in lekking sage grouse: phenotypic correlates of male mating success. Behav Ecol Sociobiol 18(2):117–123

Greenfield MD (1981) Moth sex pheromones: an evolutionary perspective. Fla Entomol 64(1):4–17

Hoshino K, Nakaba S, Inoue H, Iwabuchi K (2014) Structure and development of male pheromone gland of longicorn beetles and its phylogenetic relationships within the tribe Clytini. J Exp Zool B Mol Dev Evol 324B:68–76. https://doi.org/10.1002/jez.b.22606

Jefferson R, Shore H, Gaston L (1966) Sex pheromones of noctuid moths. X. The morphology and histology of the female sex pheromone gland of trichoplusia ni (Lepidoptera: Noctuidae). Ann Ent Soc Am 59(6):1166–1169

Kirkpatrick M, Ryan MJ (1991) The evolution of mating preferences and the paradox of the lek. Nature 350(6313):33–38. https://doi.org/10.1038/350033a0

Kodric-Brown A, Brown JH (1984) Truth in advertising: the kinds of traits favored by sexual selection. Am Nat 124(3):309–323

Lebreton S, Borrero-echeverry F, Gonzalez F, Solum M, Wallin EA, Hedenström E, Hansson BS, Gustavsson A, Bengtsson M, Birgersson G, Iii WBW, Dweck HKM, Becher PG, Witzgall P (2017) A Drosophila female pheromone elicits species-specific long-range attraction via an olfactory channel with dual specificity for sex and food. BMC Biol 15:88. https://doi.org/10.1186/s12915-017-0427-x

Leys R, Hogendoorn K (2008) Correlated evolution of mating behaviour and morphology in large carpenter bees (Xylocopa)*. Apidologie 39:119–132. https://doi.org/10.1051/apido:2007044

Marshall D, Alcock J (1981) The evolution of the mating system of the Carpenter bee Xylocopa varipuncta (Hymenoptera: Anthophoridae). J Zool, Lond 193:315–324

Michener C (2007) The bees of the world (2nd ed). Johns Hopkins University Press

Minckley R (1994) Comparative morphology of the mesosomal 'gland' in male large carpenter bees (Apidae: Xylocopini). Biol J Lin Soc 53:291–308

Minckley R, Buchmann S (1990) Territory site selection of male Xylocopa (Neoxylocopa) varipuncta Patton (Hymenoptera: Anthophoridae). J Kansas Entomol Soc 63(2):329–339

Minckley R, Buchmann S, Wcislo W (1991) Bioassay evidence for a sex attractant pheromone in the large carpenter bee, Xylocopa varipuncta (Anthophoridae: Hymenoptera). J Zool. Lond 224:285–291

Ryan M (1988) Constraints and patterns in the evolution of anuran acourstic communication. In The Evolution of the Amphibian Auditory System, pp 637–677

Schindelin J, Arganda-Carreras I, Frise E, Kaynig V, Longair M, Pietzsch T, Preibisch S, Rueden C, Saalfeld S, Schmid B, Tinevez JY, White DJ, Hartenstein V, Eliceiri K, Tomancak P, Cardona A (2012) Fiji: an open-source platform for biological-image analysis. Nat Methods 9(7):676–682. https://doi.org/10.1038/nmeth.2019

Sheffield C, Heron J, Musetti L (2020) Xylocopa sonorina Smith, 1874 from Vancouver, British Columbia, Canada (Hymenoptera : Apidae, Xylocopinae) with comments on its taxonomy. Biodivers Data J 8:e49918. https://doi.org/10.3897/BDJ.8.e49918

Stalling D, Westerhoff M, Hege HC (2005) Amira: a highly interactive system for visual data analysis. In: Hansen CD, Johnson CR (eds) The Visualization Handbook. Elsevier, Amsterdam, pp 749–767

Sower L, Gaston L, Shorey H (1971) Sex pheromones of noctuid moths. XXVI. Female release rate, male response threshold, and communication distance of Trichoplusia ni. Ann Ent Soc America 64:1448–1456

Thornhill R, Alcock J (1983) The evolution of insect mating systems. Oxford University Press

Vinson S (1994) Ultrastructure of the mesosomal gland of Xylocopa micans lepeletier (Hymenoptera : Anthophoridae) associated with pheromone release. Int J Insect Morphol Embryol 23(3):243–252. https://doi.org/10.1016/0020-7322(94)90021-3

Vinson S, Frankie G, Williams H (1986) Description of a new dorsal mesosomal gland in two Xylocopa species (Hymenoptera: Anthophoridae) from Costa Rica. J Kans Entomol Soc 1 59(1):185–189

Werner R (1977) Morphology and histology of the sex pheromone gland of a geometrid, Rheumaptera hasata. Ann Entomol Soc Am 70(2):264–266

Widemo F, Owenst I (1995) Lek size, male mating skew, and the evolution of lekking. Nature 373:148–151

Wiley RH (1991) Lekking in birds and mammals: behavioral and evolutionary issues. Adv Study Behav 20:201–291
Acknowledgements
We thank Brendon Belongia and Greg Groth of Exact Metrology, Madison, WI, for operation of the CT scanner. Our thanks to Zachary Michels for SEM micrographs of the male gland tubules and setae, and for operation of the Hitachi S-3400N scanning electron microscope. We thank Brenda Baggett of the University of Arizona's Cancer Imaging Shared Resource for earlier exploratory micro-CT scans of male carpenter bee glands using an Inveon micro-CT scanner. We thank 3D artist Daniel Hornung of Tucson, AZ, for assistance with cleaning up the 3D model before the final creation of figures. We also thank Dr. Brian Smith and Dr. Hong Lei of Arizona State University for access to their Amira imaging software. A very special thanks to Kathryn Busby and her dragon log sculpture "Felix" that was home to the population of carpenter bees we studied. Finally, we thank two anonymous reviewers whose comments helped improve the manuscript.
Funding
This work was supported by an NSF GRFP award to MMO and by an NSF-EAR award to SLB (2050246) for support of the LaserChron Center at the University of Arizona.
Ethics declarations
Ethics approval
No ethical approval process was required for this study.
Consent to participate
Not applicable.
Consent for publication
Not applicable.
Conflict of interest
The authors declare no competing interests.
Additional information
Manuscript editor: David Tarpy
Publisher's Note
Springer Nature remains neutral with regard to jurisdictional claims in published maps and institutional affiliations.
Supplementary Information
Below is the link to the electronic supplementary material.
Supplementary file1 (MP4 14168 KB)
Rights and permissions
Springer Nature or its licensor holds exclusive rights to this article under a publishing agreement with the author(s) or other rightsholder(s); author self-archiving of the accepted manuscript version of this article is solely governed by the terms of such publishing agreement and applicable law.
About this article
Cite this article
Ostwald, M.M., Alba-Tercedor, J., Minckley, R.L. et al. Three-dimensional morphology of the hypertrophied sex pheromone gland in a lek-mating carpenter bee (Xylocopa sonorina) revealed by micro computed tomography and scanning electron microscopy. Apidologie 53, 60 (2022). https://doi.org/10.1007/s13592-022-00967-w
Received:

Revised:

Accepted:

Published:

DOI: https://doi.org/10.1007/s13592-022-00967-w
Keywords
Sex pheromone gland

Mating strategies

Xylocopa