Abstract
Black soldier fly larvae (Hermetia illucens) were discovered in a weak honey bee colony in Hailey, Idaho. The larvae were localized to the brood area and caused the affected comb to putrefy. Further communication with the beekeeper revealed that the colony recently returned from California and that the larvae likely originated there as well. In California, H. illucens are common and exist sympatrically with honey bees, yet there have been very few reports of damage. We therefore believe H. illucens are unlikely to cause damage to healthy colonies or significantly impact the apiculture industry. This report is the first published observation of H. illucens in Idaho and shows conclusively for the first time that H. illucens associates with honey bee colonies in North America.
Access options
Buy single article
Instant access to the full article PDF.
US$ 39.95
Tax calculation will be finalised during checkout.
Subscribe to journal
Immediate online access to all issues from 2019. Subscription will auto renew annually.
US$ 79
Tax calculation will be finalised during checkout.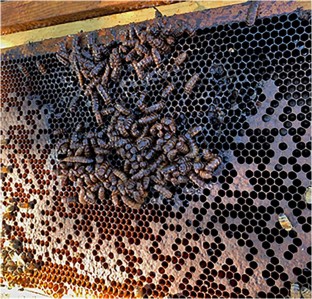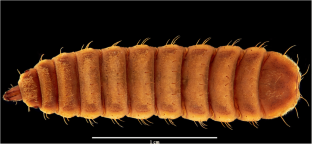 Data availability
The dataset generated during the current study is available from the corresponding author on reasonable request.
References
Barros LM, Gutjahr ALN, Ferreira-Keppler RL, Martins RT (2019). Morphological description of the immature stages of Hermetia illucens (Linnaeus, 1758) (Diptera: Stratiomyidae). Microsc. Res. Tech. 82 (3):178–189.

Borgmeier T (1930). Über das Vorkommen der Larven von Hermetia illucens L. (Dipt., Stratiomyidae) in den Nestern von Meliponiden. Zool. Anz. 90, 225–235.

Bruno D, Bonelli M, De Filippis F, Di Lelio I, Tettamanti G, Casartelli M, Ercolini D, Caccia S (2019). The intestinal microbiota of Hermetia illucens larvae is affected by diet and shows a diverse composition in the different midgut regions. Appl. Environ. Microbiol. 85 (2),1–14.

Copello A (1926). Biology of H. illucens, the fly of Argentine Beehives. Revista De La S.E.A. 1 (2), 23–26.

Devanesan S, Nisha MM, Shailaja KK, Bennet R (2003). Natural enemies of stingless bee Trigona iridipennis Smith in Kerala. Insect Environ. 9 (1), 30.

Diener S, Zurbrügg C, Tockner K (2009). Conversion of organic material by black soldier fly larvae: Establishing optimal feeding rates. Waste Manag. Res. 27 (6), 603–610.

Ivorra T, Hauser M, Low VL, Tomberlin JK, Nur Aliah NA, Cammack JA, Heo CC (2020). Hermetia illucens and Hermetia fenestrata (Diptera: Stratiomyidae) colonization of spoiled stingless bee Geniotrigona thoracica (Hymenoptera: Apidae) hives in Malaysia. Insects. 11 (11), 737.

James MT (1960). The soldier flies or Stratiomyidae of California. Bull. California Insect Survey 6 (5), 72–122.

Kim W, Bae S, Park H, Park K, Lee S, Choi Y, Sangmi H, Koh Y (2010). The larval age and mouth morphology of the black soldier fly, Hermetia illucens (Diptera: Stratiomyidae). Int. J. Ind. Entomol. 21 (2), 185–187.

Nguyen TTX, Tomberlin JK, Vanlaerhoven S (2013). Influence of resources on Hermetia illucens. (Diptera: Stratiomyidae) larval development. J. Med. Entom. 50 (4), 898–906.

Nogueira-neto P (1997). Vida e Criação de Abelhas Indígenas Sem Ferrão. Acta Amaz. (Vol. 34).

Rau P (1933). The Jungle Bees and Wasps of Barro Colorado Island. St. Louis: Von Hoffman Press.

Riley CV, Howard LO (1889). Hermetia mucens infesting bee-hive. Insect Life 1, 353–354.

Rozkošný R (1983). A biosystematic study of the European Stratiomyidae (Diptera). Volume 2. Clitellariinae, Hermetiinae, Pachygasterinae and bibliography. The Hague, Boston, London: Dr. W. Junk.

Schremmer F (1986). Die polymetabole Larval-Entwicklung der Waffenfliegenart Hermetia illucens. Ein Beitrag zur Metamorphose der Stratiomyidae. Ann. Naturhist. Mus. Wien 88/89 (B), 405–429.

Wang YS, Shelomi M (2017). Review of Black Soldier Fly (Hermetia illucens) as Animal Feed and Human Food. Foods 6 (10), 91.

Woodley NE (2001). A World Catalog of the Stratiomyidae (Insecta: Diptera). MYIA 11, 1–473.
Acknowledgments
We gratefully acknowledge William J. Turner for the initial identification of the larvae and for critically reviewing the manuscript. We also thank Scott Razee for notifying Washington State University when he discovered the H. illucens larvae in his hive. Financial support was granted by the American Association of Professional Apiculturists.
Ethics declarations
Conflict of interest
CA, MH, and BH declare that they have no conflict of interests.
Additional information
Une note scientifique sur l'infestation des colonies d'abeille domestique de l'Ouest ( Apis mellifera ) par la mouche-soldat noire Hermetia illucens (Stratiomyidae).
mouche soldat noire / Hermetia illucens / abeille domestique / infestation / larve.
Eine wissenschaftliche Notiz über den Befall von Völkern der westlichen Honigbiene ( Apis mellifera ) durch die Schwarze Soldatenfliege Hermetia illucens (Stratiomyidae).
Schwarze Soldatenfliege / Hermetia illucens / Honigbiene / Befall / Larven.
Publisher's note
Springer Nature remains neutral with regard to jurisdictional claims in published maps and institutional affiliations.
Handling Editor: Bernd Grünewald
About this article
Cite this article
Auth, C.A., Hauser, M. & Hopkins, B.K. A scientific note on a black soldier fly (Stratiomyidae: Hermetia illucens) infestation within a western honey bee (Apis mellifera) colony. Apidologie (2021). https://doi.org/10.1007/s13592-021-00844-y
Received:

Revised:

Accepted:

Published:
Keywords
Black soldier fly

Hermetia illucens

Honey bee

Infestation

Larvae