Abstract
Plastic is pervasive across ecosystems, with polystyrene being a common plastic synthetic material used in buildings. Although polystyrene is used in hive construction for European honeybees and managed megachilids, cavity-nesting colletids have never been documented to nest in such materials. Here, observations of the solitary native bee Hylaeus (Euprosopoides) ruficeps kalamundae mass-nesting in polystyrene insulation boards in a house in Darlington, Western Australia, are reported. This represents the first instance of a Hylaeus species nesting in polystyrene. The abundance of individuals nesting in this material over successive years suggests this behaviour is not detrimental to the fitness of this species; however, experimental studies comparing fitness between polystyrene and natural materials are required. These observations contribute to the recognition that anthropogenic materials are increasingly being used by wild animals.
This is a preview of subscription content, log in to check access.
Access options
Buy single article
Instant access to the full article PDF.
US$ 39.95
Price includes VAT for USA
Subscribe to journal
Immediate online access to all issues from 2019. Subscription will auto renew annually.
US$ 99
This is the net price. Taxes to be calculated in checkout.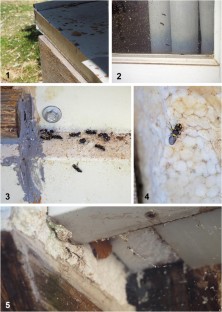 References
Allasino, M. L., Marrero, H. J., Dorado, J., & Torretta, J. P. (2019). Scientific note: first global report of a bee nest built only with plastic. Apidologie, 50(2), 230-233. doi:https://doi.org/10.1007/s13592-019-00635-6

Almeida, E. A. (2008). Colletidae nesting biology (Hymenoptera: Apoidea). Apidologie, 39(1), 16-29.

Australian Honeybee. (2019). 10 Benefits of the Paradise Honey Polystyrene Beehives. Retrieved from https://www.australianhoneybee.com.au/swarmpatrol

Barnes, D. K., Galgani, F., Thompson, R. C., & Barlaz, M. (2009). Accumulation and fragmentation of plastic debris in global environments. Philosophical Transactions of the Royal Society B: Biological Sciences, 364(1526), 1985-1998.

Battin, J. (2004). When good animals love bad habitats: ecological traps and the conservation of animal populations. Conservation Biology, 18(6), 1482-1491.

Dollin, A. (2019a). Are Blue Banded Bees Building in your House? Aussie Bee. Retrieved from https://www.aussiebee.com.au/bluebandedbees-in-house.html

Dollin, A. (2019b). Do you have bees in your house? Aussie Bees. Retrieved from https://www.aussiebee.com.au/bees-in-houses.html

Fairey, D., & Lieverse, J. (1986). Cell production by the alfalfa leafcutting bee (Megachile rotundata F.) in new and used wood and polystyrene nesting materials. Journal of Applied Entomology, 102(1-5), 148-153.

Hartwig, E., Clemens, T., & Heckroth, M. (2007). Plastic debris as nesting material in a Kittiwake (Rissa tridactyla) colony at the Jammerbugt, Northwest Denmark. Marine Pollution Bulletin, 54(5), 595-597.

Houston, T. F. (1981). A revision of the Australian hylaeine bees (Hymenoptera: Colletidae). II. Australian Journal of Zoology Supplementary Series, 29(80), 1-128.

Koelewyn, S. (2019). Mortar Bees. AusInspect. Retrieved from https://www.ausinspect.com.au/mortar-bees.htm

Krombein, K. V. (1967). Trap-nesting wasps and bees: life histories, nests, and associates. Washington, DC: Smithsonian Press.

MacIvor, J. S. (2016). Cavity-nest boxes for solitary bees: a century of design and research. Apidologie, 48(3), 311–327. doi:https://doi.org/10.1007/s13592-016-0477-z

MacIvor, J. S., & Moore, A. E. (2013). Bees collect polyurethane and polyethylene plastics as novel nest materials. Ecosphere, 4(12), 1-6.

McCarthy, G. R. (1988). Leaf cutter bee nest block: Google Patents.

Pickrell, J. (2012). Litter-Loving Crab. Sciencemag.org. Retrieved from https://www.sciencemag.org/news/2002/12/litter-loving-crabs

Pitts-Singer, T. L., & Cane, J. H. (2011). The alfalfa leafcutting bee, Megachile rotundata: the world's most intensively managed solitary bee. Annual review of entomology, 56, 221-237.

Prendergast, K. (2018). Importance of bushland remnants and honeybee competition for native bees in urban Western Australia. Paper presented at the First Australian Native Bee Conference, Gold Coast, QLD. https://australiannativebeeconference.com.au/CONFERENCE-BOOKLET-A4.pdf

Prendergast, K. (2019). Bee Hotels for Native Bees Bee hotel design recommendations, and information on Australian cavity-nesting bees with a focus on bees of south-west Western Australia Retrieved from https://drive.google.com/open?id=1P59uWBfC0NmJGEaSijRk3R4ayAU7OZF2 Retrieved from https://drive.google.com/open?id=1P59uWBfC0NmJGEaSijRk3R4ayAU7OZF2

Richards, K. (1978). Comparisons of nesting materials used for the alfalfa leafcutter bee, Megachile pacifica (Hymenoptera: Megachilidae). The Canadian Entomologist, 110(8), 841-846.

Roberts, A. (2017). Plastic hives save hot bees in central Queensland. ABC Capricornia. Retrieved from https://www.abc.net.au/news/2017-01-17/plastic-hives-save-hot-bees-in-central-queensland/8175952

Zalasiewicz, J., Waters, C. N., do Sul, JAI, Corcoran, P. L., Barnosky, A. D., Cearreta, A., Leinfelder, R. (2016). The geological cycle of plastics and their use as a stratigraphic indicator of the Anthropocene. Anthropocene, 13, 4-17.
Acknowledgements
I would like to thank J. Brain for contacting me and allowing me to make the observations of the nesting activity of these bees at his property. I would also like to thank the reviewers for their constructive feedback.
Ethics declarations
Conflict of interest
The authors declare that they have no conflict of interest.
Additional information
Note scientifique : nidification en masse d'une abeille indigène Hylaeus (euprosopoides) ruficeps kalamundae (Cockerell, 1915) (Hymenoptera : Colletidae : Hylaeinae) dans le polystyrène.
abeilles / plastique / flexibilité adaptative / nidification.
Eine wissenschaftliche Notiz zum massenhaften Nestbau der einheimischen Biene Hylaeus (euprosopoides) ruficeps kalamundae (Cockerell, 1915) (Hymenoptera: Colletidae: Hylaeinae) in Polystyren.
Bienen / Plastik / Hyalaeine / adaptive Flexibilität / Nestbau.
Publisher's note
Springer Nature remains neutral with regard to jurisdictional claims in published maps and institutional affiliations.
Handling editor: Klaus Hartfelder
About this article
Cite this article
Prendergast, K.S. Scientific note: mass-nesting of a native bee Hylaeus (Euprosopoides) ruficeps kalamundae (Cockerell, 1915) (Hymenoptera: Colletidae: Hylaeinae) in polystyrene. Apidologie 51, 107–111 (2020). https://doi.org/10.1007/s13592-019-00722-8
Received:

Revised:

Accepted:

Published:

Issue Date:
Keywords
bees

plastic

hylaeine

adaptive flexibility

nesting