Abstract
Previously, we found three enzyme fractions containing activities for the hydrolysis of royal jelly proteins from honeybee queen larvae. In this study, we identified a honeybee chymotrypsin-like protease (HCLPase) by LC-MS/MS and expressed it as a recombinant protein in Escherichia coli. The protease had an estimated molecular weight of around 26 kDa and showed high specificity for succinyl-Ala-Ala-Pro-Phe p-nitroanilide as a proteolytic substrate. Furthermore, the protease had an optimal pH of 9, and the activity was markedly inhibited by phenylmethylsulfonyl fluoride but not tosyl phenylalanyl chloromethyl ketone, both of which are irreversible inhibitors of chymotrypsin-like serine proteases. These results suggested that this recombinant protease, HCLPase, was a chymotrypsin-like serine protease with different characteristics from mammalian chymotrypsin.
This is a preview of subscription content,
to check access.
Access this article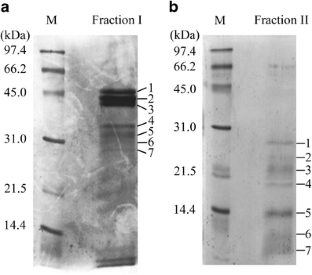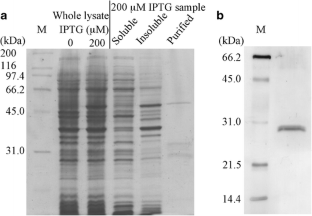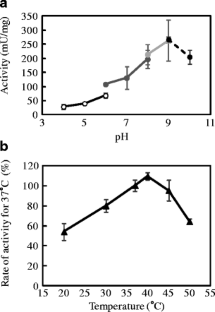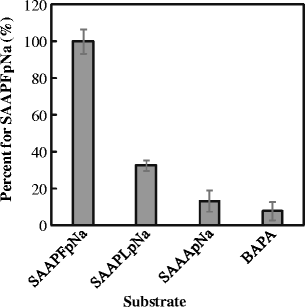 Similar content being viewed by others
References
Botos, I., Meyer, E., Nguyen, M., Swanson, S.M., Koomen, J.M., Russell, D.H., Meyer, E.F. (2000) The structure of an insect chymotrypsin. J. Mol. Biol. 298, 895–901

Brødsgaard, H.F., Brødsgaard, C.J., Hansen, H., Lövei, G.L. (2003) Environmental risk assessment of transgene products using honey bee (Apis mellifera) larvae. Apidologie 34, 139–145

Burgess, E.P.J., Malone, L.A., Christeller, J.T. (1996) Effect of two proteinase inhibitors on the digestive enzymes and survival of honey bees (Apis mellifera). J. Insect Physiol. 42, 823–828

Dahlmann, B., Jany, K.D., Pfleiderer, G. (1978) The midgut endopeptidase of the honey bee (Apis mellifica): comparison of the enzymes in different ontogenetic stages. Insect Biochem. 8, 203–211

Elpidina, E.N., Tsybina, T.A., Dunaevsky, Y.E., Belozersky, M.A., Zhuzhikov, D.P., Oppert, B. (2005) A chymotrypsin-like proteinase from the midgut of Tenebrio molitor larvae. Biochimie 87, 771–779

Giebel, W., Zwilling, R., Pfleiderer, G. (1971) The evolution of endopeptidases-XII. The proteolytic enzymes of the honeybee (Apis mellifica L.). Comp. Biochem. Physiol. 38B, 197–210

Guo, H., Ekusa, A., Iwai, K., Yonekura, M., Takahata, Y., Morimatsu, F. (2008) Royal jelly peptides inhibit lipid peroxidation in vitro and in vivo. J. Nutr. Sci. Vitaminol. 54, 191–195

Guo, H., Kouzuma, Y., Yonekura, M. (2009) Structures and properties of antioxidative peptides derived from royal jelly protein. Food Chem. 113, 238–245

Herbert Jr., E.W., Shimanuki, H. (1983) Effect of diet pH on the consumption, brood rearing, and pH of worker jelly produced by caged honey bees. Apidologie 14, 191–196

Herrero, S., Combes, E., Van Oers, M.M., Vlak, J.M., de Maagd, R.A., Beekwilder, J. (2005) Identification and recombinant expression of a novel chymotrypsin from Spodoptera exigua. Insect Biochem. Mol. Biol. 35, 1073–1082

Hidaka, S., Okamoto, Y., Uchiyama, S., Nakatsuoma, A., Hashimoto, K., Ohnishi, S.T., Yamaguchi, M. (2006) Royal jelly prevents osteoporosis in rats: beneficial effects in ovariectomy model and in bone tissue culture model. eCAM 3, 339–348

Honeybee Genome Sequencing Consortium (2006) Insights into social insects from the genome of the honeybee Apis mellifera. Nature 443, 931–949

Jimenez, D.R., Gilliam, M. (1989) Age-related changes in midgut ultrastructure and trypsin activity in the honey bee, Apis mellifera. Apidologie 20, 287–303

Jones, J.C., Myerscough, M.R., Graham, S., Oldroyd, B.P. (2004) Honey bee nest thermoregulation: diversity promotes stability. Science 305, 402–404

Kamakura, M. (2011) Royalactin induces queen differentiation in honeybees. Nature 473, 478–483

Louati, H., Zouari, N., Miled, N., Gargouri, Y. (2011) A new chymotrypsin-like serine protease involved in dietary protein digestion in a primitive animal, Scorpio maurus: purification and biochemical characterization. Lipids Health Dis. 10, 121

Matsui, T., Yukiyoshi, A., Doi, S., Sugimoto, H., Yamada, H., Matsumoto, K. (2002) Gastrointestinal enzyme production of bioactive peptides from royal jelly protein and their antihypertensive ability in SHR. J. Nutr. Biochem. 13, 80–86

Matsuoka, T., Kawashima, T., Nakamura, T., Kanamaru, Y., Yabe, T. (2012) Isolation and characterization of proteases that hydrolyze royal jelly proteins from queen bee larvae of the honeybee, Apis mellifera. Apidologie 43, 685–697

Moore, S. (1968) Amino acid analysis: aqueous dimethyl sulfoxide as solvent for the ninhydrin reaction. J. Biol. Chem. 243, 6281–6283

Moritz, B., Crailsheim, K. (1987) Physiology of protein digestion in the midgut of honeybee (Apis mellifera L.). J. Insect Physiol. 12, 923–931

Nagai, T., Inoue, R., Suzuki, N., Nagashima, T. (2006) Antioxidant properties of enzymatic hydrolysates from royal jelly. J. Med. Food 9, 363–367

Nakasa, T., Ueda, S., Nakatsuka, M., Okinaka, O. (2003) Effect of protease-treated royal jelly on plasma and liver lipids in rats fed on a high fat plus high cholesterol diet. Nippon Shokuhin Kagaku Kogaku Kaishi 10, 463–467

Niu, K., Guo, H., Guo, Y., Ebihara, S., Asada, M., Ohrui, T., Furukawa, K., Ichinose, M., Yanai, K., Kubo, Y., Arai, H., Okazaki, T., Nagatomi, R. (2013) Royal jelly prevents the progression of sarcopenia in aged mice in vivo and in vitro. J. Gerontol. A Biol. Sci. Med. Sci. 68, 1482–1492

Shevchenko, A., Wilm, M., Vorm, O., Mann, M. (1996) Mass spectrometric sequencing of proteins silver-stained polyacrylamide gels. Anal. Chem. 68, 850–858

Terra, W.R., Ferreira, C. (1994) Insect digestive enzymes: properties, compartmentalization and function. Comp. Biochem. Physiol. 109B, 1–62

Tokunaga, K., Yoshida, C., Suzuki, K., Maruyama, H., Futamura, Y., Araki, Y., Mishima, S. (2004) Antihypertensive effect of peptides from royal jelly in spontaneously hypertensive rats. Biol. Pharm. Bull. 27, 189–192

Tsybina, T.A., Dunaevsky, Y.E., Belozersky, M.A., Zhuzhikov, D.P., Oppert, B., Elpidina, E.N. (2005) Digestive proteinases of yellow mealworm (Tenebrio molitor) larvae: purification and characterization of a trypsin-like proteinase. Biochemistry (Moscow) 70, 370–377

Vinokurov, K.D., Elpidina, E.N., Oppert, B., Prabhakar, S., Zhuzhikov, D.P., Dunaevsky, Y.E., Belozersky, M.A. (2006) Diversity of digestive proteinases in Tenebrio molitor (Coleoptera: Tenebrionidae) larvae. Comp. Biochem. Physiol. B 145, 126–137

Wagner, W., Möhrlen, F., Schnetter, W. (2002) Characterization of the proteolytic enzymes in the midgut of the European cockchafer, Melolontha melolontha (Coleoptera: Scarabaeidae). Insect Biochem. Mol. Biol. 32, 803–814

Whitworth, S.T., Blum, M.S., Travis, J. (1998) Proteolytic enzymes from larvae of the fire ant, Solenopsis invicta: isolation and characterization of four serine endopeptidases. J. Biol. Chem. 273, 14430–14434

Zou, Z., Lopez, D.L., Kanost, M.R., Evans, J.D., Jiang, H. (2006) Comparative analysis of serine protease-related genes in the honey bee genome: possible involvement in embryotic development and innate immunity. Insect Biochem. Mol. Biol. 15, 603–614
Acknowledgments
We wish to thank Dr. Yokichi Hayashi of the Department of Life Science, Asahikawa Medical Collage, for helpful suggestions. We also thank Kenji Ota, Suzuyo Watanabe, Yuri Kashima, and Satoshi Kanematsu of Akitaya Honten Co., Ltd. for their help in the procurement and preparation of larval samples.
Additional information
Handling Editor: Klaus Hartfelder
Expression et caractérisation d'une protéase analogue à la chymotrypsine chez les larves de l'abeille, Apis mellifera
Larve / reine / protéase analogue à la chymotrypsine
Expression und Charakterisierung einer Chymotrypsin-ähnlichen Protease in Larven der Honigbiene, Apis mellifera
Apis mellifera / Königinnenlarven / Chymotrypsin-ähnliche Protease
About this article
Cite this article
Matsuoka, T., Takasaki, A., Mishima, T. et al. Expression and characterization of honeybee, Apis mellifera, larva chymotrypsin-like protease. Apidologie 46, 167–176 (2015). https://doi.org/10.1007/s13592-014-0313-2
Received:

Revised:

Accepted:

Published:

Issue Date:

DOI: https://doi.org/10.1007/s13592-014-0313-2
Keywords