Abstract
Apis mellifera populations are being threatened by several pathogens and parasitosis. Several authors have proposed that honey bee colonies may suffer from a compromised immune system leading to colony loss. This is why the study of A. mellifera immune system has become a topic of pressing concern. Nitric oxide (NO) is a signaling and immune effector molecule that has been proposed as a key molecule in invertebrate immunity, and that plays a part in A. mellifera cellular defenses. This paper deals with NO participation in the response to wounding/encapsulation challenge in A. mellifera fifth instar (L5) larvae. Challenging A. mellifera L5 larvae with nylon implants enhanced NO production and spreading in granulocyte-like hemocytes and increased the number of this NO-producing hemocyte type. However, AmNOS expression levels were not influenced by the insult. These results reveal that NO participates in the wound healing/encapsulation response as a signal molecule, possibly by the activation of a constitutively expressed AmNOS in honey bees.
This is a preview of subscription content,
to check access.
Access this article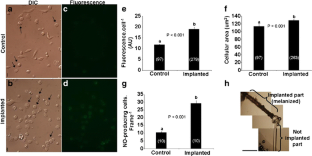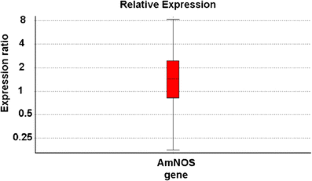 References
Alaux, C., Ducloz, F., Crauser, D., Le Conte, Y. (2010) Diet effects on honey bee immunocompetence. Biol. Lett. 6, 562–565. doi:10.1098/rsbl.2009.0986

Davies, S., Dow, J. (2009) Modulation of epithelial innate immunity by autocrine production of nitric oxide. Gen. Comp. Endocrinol. 162, 113–121

Frank, S., Kämpfer, H., Wetzler, C., Pfeilschifter, J. (2002) Nitric oxide drives skin repair: novel functions of an established mediator. Kidney Int. 61, 882–888

Gätschenberger, H., Azzami, K., Tautz, J., Beier, H. (2013) Antibacterial immune competence of honey bees (Apis mellifera) is adapted to different life stages and environmental risks. PLoS ONE 8(6), e66415. doi:10.1371/journal.pone.0066415

Gregorc, A., Evans, J.D., Scharf, M., James, D., Ellis, J.D. (2012) Gene expression in honey bee (Apis mellifera) larvae exposed to pesticides and Varroa mites (Varroa destructor). J. Insect Physiol. 58, 1042–1049

Hillyer, J., Estévez-Lao, T. (2010) Nitric oxide is an essential component of the hemocyte-mediated mosquito immune response against bacteria. Dev. Comp. Immunol. 34, 141–149

Jefferson, J., Dolstad, H., Sivalingam, M., Snow, J. (2013) Barrier immune effectors are maintained during transition from nurse to forager in the honey bee. PLoS ONE 8(1), e54097. doi:10.1371/journal.pone.0054097

Martin, S.J., Highfield, A.C., Brettell, L., Villalobos, E.M., Budge, G.E., Powell, M., Nikaido, S., Schroeder, D.C. (2012) Global honey bee viral landscape altered by a parasitic mite. Science 336, 1304

Moreno-García, M., Córdoba-Aguilar, A., Condé, R., Lanz-Mendoza, H. (2013) Current immunity markers in insect ecological immunology: assumed trade-offs and methodological issues. Bull. Entomol. Res. 103, 127–139

Nappi, A., Christensen, B. (2005) Melanogenesis and associated cytotoxic reactions: applications to insect innate immunity. Insect Biochem. Mol. Biol. 35, 443–459

Negri, P., Maggi, M., Correa-Aragunde, N., Brasesco, C., Eguaras, M., Lamattina, L. (2013) Nitric oxide participates at the first steps of Apis mellifera cellular immune activation in response to non-self recognition. Apidologie . doi:10.1007/s13592-013-0207-8

Park, J.W., Piknova, B., Huang, P.L., Noguchi, C.T., Schechter, A.N. (2013) Effect of blood nitrite and nitrate levels on murine platelet function. PLoS ONE 8(2), e55699. doi:10.1371/journal.pone.0055699

Richards, E., Jones, B., Bowman, A. (2011) Salivary secretions from the honey bee mite, Varroa destructor: effects on insect hemocytes and preliminary biochemical characterization. Parasitology 138, 602–608. doi:10.1017/S0031182011000072

Rivero, A. (2006) Nitric oxide: an antiparasitic molecule of invertebrates. Trends Parasitol. 22, 219–225

Rosenkranz, P., Aumeier, P., Ziegelmann, B. (2010) Biology and control of Varroa destructor. J. Invertebr. Pathol. 103, 96–119

Strand, M.R. (2008) The insect cellular immune response. Insect science 15, 1–14

Wagoner, K., Boncristiani, H., Rueppell, O. (2013) Multifaceted responses to two major parasites in the honey bee (Apis mellifera). BMC Ecology 13, 26

Wilson-Rich, N., Dres, D., Starks, P. (2008) The ontogeny of immunity: development of innate immune strength in the honey bee (Apis mellifera). J. Insect Physiol. 54, 1392–1399

Yang, X., Cox-Foster, D.L. (2005) Impact of an ectoparasite on the immunity and pathology of an invertebrate: evidence for host immunosuppression and viral amplification. PNAS 21, 7470–7475
Acknowledgments
This research was supported by PICT-2012-0594 granted by the "Agencia Nacional de Promoción Científica y Tecnológica" to M.E. The authors would like to thank CONICET and the UNMdP. Pedro Negri is a doctoral fellow from CONICET, Argentina.
Additional information
Manuscript editor: Klaus Hartfelder
Les hémocytes d'Apis mellifera produisent des quantités accrues d'oxyde nitrique en réponse à une blessure/encapsulation
Abeille domestique/larve/défense immunitaire/réaction de défense
Als Antwort auf eine Verwundungs/Einschlussreaktion produzieren die Hämozyten von Apis mellifera erhöhte Mengen an Stickoxid
Apis mellifera/Stickoxid/Verwundung/Einschlussreaktion
M. Eguaras and L. Lamattina contributed equally as senior authors.
About this article
Cite this article
Negri, P., Quintana, S., Maggi, M. et al. Apis mellifera hemocytes generate increased amounts of nitric oxide in response to wounding/encapsulation. Apidologie 45, 610–617 (2014). https://doi.org/10.1007/s13592-014-0279-0
Received:

Revised:

Accepted:

Published:

Issue Date:

DOI: https://doi.org/10.1007/s13592-014-0279-0
Keywords