Abstract
Bumblebee workers are efficient pollinators. However, despite their flower visits and less intense grooming the role of males as pollen vectors is largely unexplored. We compared the quantity and diversity of pollen on the bodies (pollination-active pollen) of free-foraging workers and males of two bumblebee species (Bombus lapidarius and Bombus terrestris) to assess their pollination potential. In both species, males exhibit worker-like flower constancy, but differ significantly from workers in the predominantly collected pollen types. Mean pollen loads of approximately 10,000 grains/individual suggest that males can contribute to the colony pollination service. Bumblebee males add to the diversity of pollinators, associated to increased crop pollination and facilitate pollen flow in specific ways, worthwhile further investigation.
Access options
Buy single article
Instant access to the full article PDF.
USD 39.95
Price excludes VAT (USA)
Tax calculation will be finalised during checkout.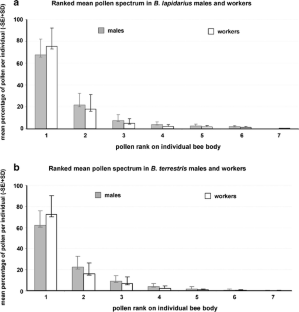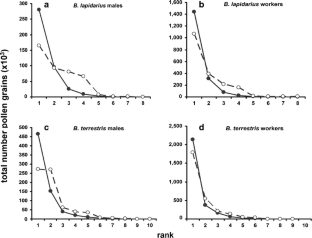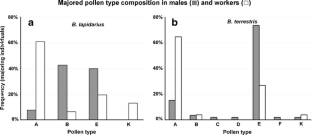 References
Abbott, K.R. (2006) Bumblebees avoid flowers containing evidence of past predation events. Can. J. Zool. 84, 1240–1247

Ackerman, J.D., Mesler, M.R., Lu, K.L., Montalvo, A.M. (1982) Food-foraging behaviour of male Euglossini (Hymenoptera: Apidae)—vagabonds or trap-liners? Biotropica 14(4), 241–248

Aguilar, R., Quesada, M., Ashworth, L., Herrerias-Diego, Y., Lobo, J. (2008) Genetic consequences of habitat fragmentation in plant populations: susceptible signals in plant traits and methodological approaches. Mol. Ecol. 17, 5177–5188

Alcock, J., Barrows, E.M., Gordh, G., Hubbard, L.J., Kirkendall, L., Pyle, D.W., Ponder, T.L., Zalom, F.G. (1978) The ecology and evolution of male reproductive behaviour in the bees and wasps. Zool. J. Linn. Soc. 64, 293–326

Ayasse, M., Paxton, R.J., Tengö, J. (2001) Mating behaviour and chemical communication in the order Hymenoptera. Annu. Rev. Entomol. 46, 31–78

Benatar, S.T., Cobey, S., Smith, B.H. (1995) Selection on a haploid genotype for discrimination learning performance: Correlation between drone honeybees (Apis mellifera) and their worker progeny (Hymenoptera: Apidae). J. Insect Behav. 8(5), 637–652

Bergman, R., Bergström, G. (1996) Scent marking, scent origin, and species specificity in male premating behaviour of two Scandinavian bumblebees. J. Chem. Ecol. 23(5), 1235–1251

Bertsch, A. (1984) Foraging in male bumblebees (Bombus lucorum L.): maximizing energy or minimizing water load? Oecologia 62, 325–336

Biesmeijer, J.C., Roberts, S.P.M., Reemer, M., Ohlemüller, R., Edwards, M., et al. (2006) Parallel declines in pollinators and insect-pollinated plants in Britain and the Netherlands. Science 313, 351–354

Bingham, R.A., Orthner, A.R. (1998) Efficient pollination of alpine plants. Nature 391, 238–239

Campbell, D.R. (1991) Comparing pollen dispersal and gene flow in a natural population. Evolution 45(8), 1965–1968

Carré, S., Badenhausser, I., Taséi, J.N., Le Guen, J., Mesquida, J. (1994) Pollen deposition by Bombus terrestris L. between male-fertile and male-sterile plants in Vicia faba L. Apidologie 25, 338–349

Cartar, R.V. (1991) A test of risk-sensitive foraging in wild bumblebees. Ecology 72(3), 888–895

Cartar, R.V., Dill, L.M. (1990) Colony energy requirements affect the foraging currency of bumblebees. Behav. Ecol. Sociobiol. 27, 377–383

Chase, M.R., Moller, C., Kesseli, R., Bawa, K.S. (1996) Distant gene-flow in tropical trees. Nature 383, 398–399

Chittka, L., Gumbert, A., Kunze, J. (1997) Foraging dynamics of bumblebees: correlates of movements within and between plant species. Behav. Ecol. 8(3), 239–249

Courtney, S.P., Hill, C.J., Westerman, A. (1982) Pollen carried for long periods by butterflies. Oikos 38(2), 260–263

Couvet, D. (2002) Deleterious effects of restricted gene flow in fragmented populations. Conserv. Biol. 16(2), 369–376

Darwin, C.R. (1886) Über die Wege der Hummelmännchen. In: Krause, E. (ed.) Gesammelte kleinere Schriften von Charles Darwin, 2nd edn, pp. 84–88. Germany, Leipzig

Dukas, R. (2001) Effects of predation risk on pollinators and plants. In: Chittka, L., Thomson, J.D. (eds.) Cognitive Ecology of Pollination—Animal Behaviour and Floral Evolution, pp. 214–236. Cambridge University Press, Cambridge

Durrer, S., Schmid-Hempel, P. (1994) Shared use of flowers lead to horizontal pathogen transmission. Proc. R. Soc. Lond. B 258, 299–302

Duvoisin, N., Baer, B., Schmid-Hempel, P. (1999) Sperm transfer and male competition in a bumblebee. Anim. Behav. 58, 743–749

Eickwort, G.C., Ginsberg, H.S. (1980) Foraging and mating behaviour in Apoidea. Annu. Rev. Entomol. 25, 421–446

Free, J.B., Williams, I.H. (1972) The transport of pollen on the body hairs of honeybees (Apis mellifera L.) and bumblebees (Bombus spp. L.). J. Appl. Ecol. 9(2), 609–615

Garibaldi, L.A., Steffan-Dewenter, I., Winfree, R., Aizen, M.A., Bommarco, R., et al. (2013) Wild pollinators enhance fruit set of crops regardless of honeybee abundance. Science 339, 1608–1611

Gegear, R.J., Laverty, T.M. (2005) Flower constancy in bumblebees: a test of the trait variability hypothesis. Anim. Behav. 69, 939–949

GenStat for Windows 14th Edition. VSN International, Hemel Hempstead, UK. Web page: genstat.co.uk.

Ghazoul, J. (2005) Pollen and seed dispersal among dispersed plants. Biol. Rev. 80, 413–443

Gögler, J., Stökl, J., Sramkova, A., Twele, R., Francke, W., Cozzolino, S., Cortis, P., Scrugli, A., Ayasse, M. (2009) Menage à Trois—two endemic species of deceptive orchids and one pollinator species. Evolution 63(9), 2222–2234

Goulson, D. (2003) Bumblebees—Behaviour and Ecology. United Kingdom, Oxford University Press, Oxford

Goulson, D., Hawson, S.A., Stout, J.C. (1997) Foraging bumblebees avoid flowers already visited by conspecifics or by other bumblebee species. Anim. Behav. 55, 199–206

Haas, A. (1949) Arttypische Flugbahnen von Hummelmännchen. Z. Vergl. Physiol. 31, 381–387

Hagbery, J., Nieh, J.C. (2012) Individual lifetime pollen and nectar foraging preferences in bumblebees. Naturwissenschaften 99, 821–832

Harder, L.D. (1985) Morphology as a predictor of flower choice by bumblebees. Ecology 66(1), 198–210

Heinrich, B. (1976) The foraging specializations of individual bumblebees. Ecol. Monogr. 46, 105–128

Heinrich, B. (1979a) "Majoring" and "minoring" by foraging bumblebees, Bombus vagans: an experimental analysis. Ecology 60(2), 245–255

Heinrich, B. (1979b) Bumblebee Economics. Harvard Univ. Press, Cambridge

Herrera, C.M. (1987) Components of pollinator "quality": comparative analysis of a diverse insect assemblage. Oikos 50, 79–90

Inouye, D.W. (1980) The effect of proboscis and corolla tube length son patterns and rates of flower visitation by bumblebees. Oecologia 45, 197–201

Kevan, P.G., Baker, H.G. (1983) Insects as flower visitors and pollinators. Ann. Rev. Entomol. 28, 407–453

Klein, A.M., Steffan-Dewenter, I., Tschantke, T. (2003) Fruit set of highland coffee increases with the diversity of pollinating bees. Proc. R. Soc. Lond. B 270, 955–961

Kraus, F.B., Wolf, S., Moritz, R.F.A. (2009) Male flight distance and population substructure in the bumblebee Bombus terrestris. J. Anim. Ecol. 78, 247–252

Kwak, M.M., Velterop, O., Andel, J. (1998) Pollen and gene flow in fragmented habitats. Appl. Veg. Sci. 1, 37–54

Laloi, D., Sandoz, J.C., Picard-Nizou, A.L., Marchesi, A., Pouvreau, A., Taséi, J.N., Poppy, G., Pham-Delègue, M.H. (1999) Olfactory conditioning of the proboscis extension in bumblebees. Entomol. Exp. Appl. 90, 123–129

Lihoreau, M., Chittka, L., Raine, N.E., Kudo, G. (2011) Trade-off between travel distance and prioritization of high-reward sites in traplining bumblebees. Funct. Ecol. 25(6), 1284–1292

Lihoreau, M., Raine, N.E., Reynolds, A.M., Stelzer, R.J., Lim, K.S., Smith, A.D., Osborne, J.L., Chittka, L. (2012) Radar tracking and motion-sensitive cameras on flowers reveal the development of pollinator multi-destination routes over large spatial scales. PLoS Biol. 10(9), e1001392

Mauss V. (1994) Bestimmungsschlüssel für Hummeln. Hamburg, Germany. Deutscher Jugendbund für Naturbeobachtungen (DJN)

Menzel, R. (2001) Behavioural and neural mechanisms of learning and memory as determinants of flower constancy. In: Chittka, L., Thomson, J.D. (eds.) Cognitive Ecology of Pollination—Animal Behaviour and Floral Evolution, pp. 21–40. Cambridge University Press, Cambridge

Midgley, J.J., Bond, W.J. (1991) Ecological aspects of the rise of angiosperms: a challenge to the reproductive superiority hypotheses. Biol. J. Linn. Soc. 44, 81–92

Moeller, D.A. (2005) Pollinator community structure and sources of spatial variation in plant–pollinator interactions in Clarkia xantiana spp. xantiana. Oecologia 142, 28–37

Nilsson, L.A., Johnsson, L., Ralison, L., Randrianjohany, E. (1987) Angraecoid Orchids and Hawkmoths in Central Madagascar: Specialized Pollination Systems and Generalist Foragers. Biotropica 19(4), 310–318

Osborne, J.L., Martin, A.P., Carreck, N.L., Swain, J.L., Knight, M.E., Goulson, D., Hale, R.J., Sanderson, R.A. (2008) Bumblebee flight distances in relation to the forage landscape. J. Anim. Ecol. 77, 406–415

Ostervik, K.L., Manson, J.S., Thomson, J.D. (2010) Pollination potential of male bumblebees (Bombus impatiens): Movement patterns and pollen transfer efficiency. J. Poll. Ecol. 2(4), 21–26

Pyke, G.H. (1978) Optimal foraging: movement patterns of bumblebees between inflorescences. Theor. Popul. Biol. 13, 72–98

Raine, N.E., Chittka, L. (2005) Comparison of flower constancy and foraging performance in three bumblebee species (Hymenoptera: Apidae: Bombus). Entomol. Gen. 28(2), 81–89

Raine, N.E., Chittka, L. (2007) Flower constancy and memory dynamics in bumblebees (Hymenoptera: Apidae: Bombus). Entomol. Gen. 29(2/4), 179–199

Raine, N.E., Chittka, L. (2008) The correlation of learning speed and natural foraging success in bumblebees. Proc. R. Soc. Lond. B 275, 803–808

Ranta, E., Lundberg, H. (1981) Resource utilization by bumblebee queens, workers and males in a subarctic area. Hol. Ecol. 4, 145–154

Real, L.A. (1991) Animal choice behaviour and the evolution of cognitive architecture. Science 253(5023), 980–986

Sargent, R.D., Ackerly, D.D. (2008) Plant–pollinator interactions and the assembly of plant communities. Trends Ecol. Evol. 23(3), 123–130

Sork, V.L., Nason, J., Campbell, D.R., Fernandez, J.F. (1999) Landscape approaches to historical and contemporary gene flow in plants. Trends Ecol. Evol. 14(6), 219–224

Spaethe, J., Weidenmüller, A. (2002) Size variation and foraging rate in bumblebees (Bombus terrestris). Insectes Soc. 49(2), 142–146

Svensson, B.G. (1979) Patrolling behaviour of bumblebee males (Hymenoptera: Apidae) in a Subalpine/Alpine Area, Swedish Lapland. Zoon. 7, 67–94

Thomson, J.D. (1986) Pollen transport and deposition by bumblebees in Erythronium: Influences of floral nectar and bee grooming. J. Ecol. 74(2), 29–341

Thomson, J.D., Plowright, R.C. (1980) Pollen carryover, nectar rewards, and pollinator behavior with special reference to Diervilla lonicera. Oecologia 46, 68–74

Thorp, R.W. (1979) Structural, behavioural and physiological adaptations of bees (Apoidea) for collecting pollen. Ann. Missouri Bot. Gard. 66(4), 788–812

Von der Ohe, K., von der Ohe, W. (2003) Celle's Melissiopalynological collection, 2nd edn. Niedersächsisches Landesinstitut für Bienenkunde Celle, Celle

Waddington, K.D. (2001) Subjective evaluation and choice behaviour by nectar- and pollen collecting bees. In: Chittka, L., Thomson, J.D. (eds.) Cognitive Ecology of Pollination—Animal Behaviour and Floral Evolution, pp. 41–60. Cambridge University Press, Cambridge

Waser, N.M. (1986) Flower constancy: definition, cause and measurement. Am. Nat. 27(5), 593–603

Weiss, M.R. (2001) Vision and learning in beetles, flies, moth and butterflies. In: Chittka, L., Thomson, J.D. (eds.) Cognitive Ecology of Pollination—Animal Behaviour and Floral Evolution, pp. 171–190. Cambridge University Press, Cambridge

Westerkamp, C. (1991) Honeybees are poor pollinators—why? Plant Syst Evol. 177, 71–75

Wolf, S., Moritz, R.F.A. (2008) Foraging distance in Bombus terrestris L. (Hymenoptera: Apidae). Apidologie 39, 419–427

Wolf, S., Toev, T., Moritz, R.V., Moritz, R.F.A. (2012) Spatial and temporal dynamics of the male effective population size in bumblebees (Hymenoptera: Apidae). Popul. Ecol. 54(1), 115–124

Wolfe, L.M., Barrett, S.C.H. (1989) Patterns of pollen removal and deposition in tristylous Pontederia cordata (Pontederiaceae). Biol. J. Linn. Soc. 36, 317–329
Acknowledgments
We like to thank Susan Brich, Stephanie Gerschke, Diana Oelschlägel, Olga Skljar and Maria Tauber for valuable help during field work. Thanks to F. B. Kraus and two anonymous reviewers for constructive comments that clearly improved the manuscript. This study was funded by the EU—Project ALARM (Assessing LArge scale Risks for biodiversity with tested Methods; Pollinator Module, EU Contract No.: 506675). Rothamsted Research is a national institute of bioscience strategically funded by the UK Biotechnology and Biological Sciences Research Council (BBSRC).
Additional information
Le potentiel de pollinisation des bourdons mâles, Bombus spp. (Hymenoptera: Apidae) butinant pour eux-mêmes
Bourdon / mâle / charge pollinique / rôle pollinisateur d'une colonie/fidélité florale
Das Bestäubungspotential von freifliegenden Hummelmännchen (Bombus spp., Hymenoptera: Apidae)
Hummelmännchen / Pollenladungen / Bestäubungsservice / Blütenstetigkeit
Manuscript editor: James Nieh
About this article
Cite this article
Wolf, S., Moritz, R.F.A. The pollination potential of free-foraging bumblebee (Bombus spp.) males (Hymenoptera: Apidae). Apidologie 45, 440–450 (2014). https://doi.org/10.1007/s13592-013-0259-9
Received:

Revised:

Accepted:

Published:

Issue Date:

DOI: https://doi.org/10.1007/s13592-013-0259-9
Keywords
bumblebee males

pollen loads

colony pollination service

flower constancy