Abstract
Propolis has been proposed to affect honeybee health. To test this hypothesis, we initially evaluated propolis production in 36 honeybee colonies. The three highest (HP) and three lowest propolis-producing (LP) colonies had mean yields of 16.0 and 0.64 g, respectively. Queens and drones from these parental colonies were crossed by artificial insemination to produce five colonies each of the following crosses: HP♀ × HP♂, HP♀ × LP♂, LP♀ × HP♂, and LP♀ × LP♂. Colonies headed by HP♀ × HP♂ queens produced 34 times more propolis than those headed by LP♀ × LP♂ queens and five times more than those from the other two crosses. Newly emerged bees were marked to measure longevity, and egg and brood counts were made to determine brood survival rates. The colonies with queens derived from crosses between high-propolis-producing colonies had significantly higher brood viability and greater worker bee longevity. We conclude that colonies that collect more propolis are healthier and have longer-living bees.
Access options
Buy single article
Instant access to the full article PDF.
USD 39.95
Price excludes VAT (USA)
Tax calculation will be finalised during checkout.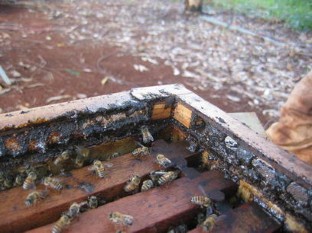 References
Antúnez, K., Harriet, J., Gende, L., Maggi, M., Eguaras, M., Zunino, P. (2008) Efficacy of natural propolis extract in the control of American foulbrood. Vet. Microbiol. 131, 324–331

Azevedo A.L.G. (1996) Estudo de parâmetros relacionados com a produção de geléia real em colméias de Apis mellifera mais e menos produtivas. Doctoral thesis, Faculdade de Ciências Agrárias e Veterinárias, Universidade Estadual Paulista, Jaboticabal, SP, Brazil

Bankova, V., Popova, M., Bogdanov, S., Sabatini, A.G. (2002) Chemical composition of European propolis: expected and unexpected results. Z Naturforsch 57(5–6), 530–533

Bastos, E.M.A.F., Simone, M., Jorge, D.M., Soares, A.E.E., Spivak, M. (2008) In vitro study of the antimicrobial activity of Brazilian propolis against Paenibacillus larvae. J. Invertebr. Pathol. 97(3), 273–281

Behrends, A., Scheiner, R. (2010) Learning at old age: a study on winter bees. Front. Behav. Neurosci. . doi:10.3389/fnbeh.2010.00015

Breyer, H.F.E. (1995) Aspectos de produção, coleta, limpeza, classificação e acondicionamento de própolis bruta de abelhas Apis mellifera L, p. 143. Anais do 7º Simpósio Estadual de Apicultura do Paraná, Prudentópolis

Couto, R.H.N., Couto, L.A. (2006) Apicultura: manejo e produtos. Funep, Jaboticabal

Cremer, S., Sixt, M. (2009) Analogies in the evolution of individual and social immunity. Philos. Trans. R. Soc. Lond. B. Biol. Sci. 364, 129–142

De Jong, D., De Jong, P.H. (1983) Longevity of Africanized honey bees (Hymenoptera: Apidae) infested by Varroa jacobsoni (Parasitiformes: Varroaidae). J. Econ. Entomol. 76(4), 766–768

Doull, K.M. (1980) Relationships between consumption of a pollen supplement, honey production and brood rearing in colonies of honeybees Apis mellifera L. Apidologie 14(4), 362–365

Garófalo, A.C. (1977) Brood viability in normal colonies of Apis mellifera. J. Apic. Res. 16(1), 3–13

Graham, J.M. (1997) The hive and the honey bee. Dadant & Sons, Hamilton

Gramacho, K.P., Gonçalves, L.S. (2009) Comparative study of the hygienic behavior of Carniolan and Africanized honey bees directed towards grouped versus isolated dead brood cells. Genet. Mol. Res. 8(2), 744–750

Inoue, H.T., Sousa, E.A., Orsi, R.O., Funari, S.R.C., Carelli Barreto, L.M.R., Da Silva, D.A.P. (2007) Produção de própolis por diferentes métodos de coleta. Arch. Latinoam. Prod. Anim. 15(2), 65–69

Kulincevic, J.M., Rothenbulher, W.C., Rinderer, T.E. (1982) Disappearing disease. Part 1—Effects of certain protein sources given to honey bee colonies in Florida. Am. Bee. J 122(3), 198–191

Malone, L.A., Giacon, H.A., Newton, M.R. (1995) Comparison of the responses of some New Zealand and Australian honey bees (Apis mellifera L.) to Nosema apis Z. Apidologie 26(6), 495–502

Manrique, A.J., Soares, A.E.E. (2002) Início de um programa de seleção de abelhas Africanizadas para a melhoria na produção de própolis e seu efeito na produção de mel. Interciencia 27(6), 312–316

Marcucci, M.C. (1995) Propolis: chemical composition, biological properties and therapeutic activity. Apidologie 26(2), 83–99

Mlagan, V., Sulimanovic, D. (1982) Action of propolis solutions on Bacillus larvae. Apiacta 17, 16–20

Page, R.E., Peng, Y.S.C. (2001) Aging and development in social insects with emphasis on the honey bee. Apis mellifera L. Exp. Gerontol. 36(4–6), 695–711

Prost-Jean, P. (1985) Apicultura, 2nd edn. Ediciones Mundi-Prensa, Madrid

Remolina, S.C., Hughes, K.A. (2008) Evolution and mechanisms of long life and high fertility in queen honey bees. Age 30(2–3), 177–185

Righi A.A., Negri G., Salatino A. (2013) Comparative Chemistry of Propolis from Eight Brazilian Localities. Evid.-Based Compl. Alt. Article ID 267878; 2013:1–14. doi:10.1155/2013/267878

Rueppell, O., Bachelier, C., Fondrik, M.K., Page Jr., R.E. (2007) Regulation of life history determines lifespan of worker honey bees (Apis mellifera L.). Exp Gerontol 42(10), 1020–1032

Sakagami, S.F., Fukuda, H. (1968) Worker brood survival in honey bees. Res. Pop. Ecol. 10(1), 31–39

SAS Institute– Statistical analysis systems (1993) User's guide: Stat. Version 6, 12. 4. ed. Cary.

Seeley, T.D. (1995) The Wisdom of the Hive. Harvard University Press, Cambridge

Sforcin, J.M., Bankova, V. (2011) Propolis: is there a potential for the development of new drugs? J. Ethnopharmacol. 133(2), 253–260

Simone, M., Evans, J.D., Spivak, M. (2009) Resin collection and social immunity in honey bees. Evolution 63(11), 3016–3022

Simone-Finstrom, M.D., Spivak, M. (2010) Propolis and bee health: the natural history and significance of resin use by honey bees. Apidologie 41(3), 295–311

Simone-Finstrom, M.D., Spivak, M. (2012) Increased resin collection after parasite challenge: a case of self-medication in honey bees? PLoS ONE 7, e34601

Terada, Y., Garófalo, C.A., Sakagami, S.F. (1975) Age-survival curves for workers of two eusocial bees (Apis mellifera and Plebeia droryana) in a subtropical climate, with notes on worker polyethism in P. droryana. J. Apic. Res 14(3/4), 161–170

Weiss, K. (1984) Regulierung des proteinhaushaltes im bienenvolk (Apis mellifica L.) durch brutkannibalismus. Apidologie 15(3), 339–354

Wu, J.Y., Anelli, C.M., Sheppard, W.S. (2011) Sub-lethal effects of pesticide residues in brood comb on worker honey bee (Apis mellifera) development and longevity. PLoS ONE 6, e14720
Acknowledgments
The authors thank CAPES (Coordenação de Aperfeiçoamento de Pessoal de Nível Superior) for a scholarship for D.N. and CNPq (Conselho Nacional de Desenvolvimento Científico e Tecnológico) for financial assistance. Anonymous reviewers made helpful comments that improved the manuscript.
Additional information
Manuscipt editor: Peter Rosenkranz
Viabilité du couvain et durée de vie accrues chez des abeilles sélectionnées pour leur production de propolis
Reproduction contrôlée / propolis / viabilité du couvain / longévité
Höhere Brutüberlebensraten und längere Lebensdauer bei Honigbienen, die auf höhere Propolisproduktion selektiert wurden
Kontrollierte Paarung / Propolis / Brutüberlebensraten / Lebensdauer
About this article
Cite this article
Nicodemo, D., Malheiros, E.B., De Jong, D. et al. Increased brood viability and longer lifespan of honeybees selected for propolis production. Apidologie 45, 269–275 (2014). https://doi.org/10.1007/s13592-013-0249-y
Received:

Revised:

Accepted:

Published:

Issue Date:

DOI: https://doi.org/10.1007/s13592-013-0249-y
Keywords
controlled mating

propolis

brood viability

longevity