Abstract
The honey bee Apis mellifera (Hymenoptera) is being affected by many diseases. The elimination of organisms in the insect hemocoel requires hemocytes recognition and response to the invader. After recognizing a surface as "foreign," hemocytes "spread." Spreading on glass surfaces by insect hemocytes is used as a measure of immune activation. Nitric oxide (NO) is a signaling and immune effector molecule in response to microbial infection that has been proposed as a key molecule in invertebrate immunity. The participation of NO in the hemocytic response of A. mellifera upon recognition of non-self is herein analyzed. Glass-adherent hemocytes produce large amounts of NO. Treatment with NO donor sodium nitroprusside enhanced hemocyte spreading, while NO scavenger carboxyPTIO reduced hemocyte immune activation. These results are indicative of NO participation at the beginning of A. mellifera immune response to non-self.
This is a preview of subscription content,
to check access.
Access this article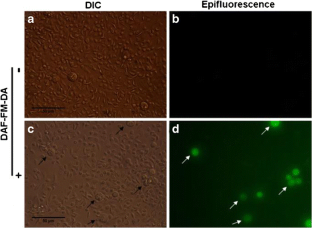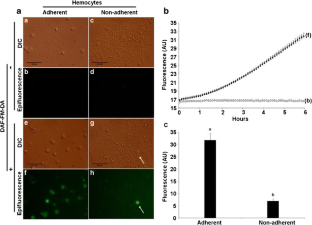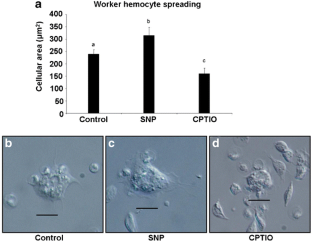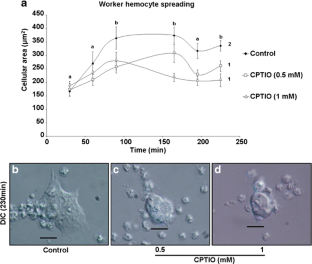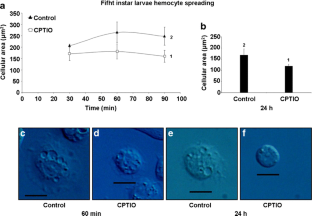 Similar content being viewed by others
References
Clark, K.D., Pech, L.L., Strand, M.R. (1997) Isolation and Identification of a plasmatocyte-spreading peptide from the hemolymph of the Lepidopteran insect Pseudoplusia includens. J. Biol. Chem. 272, 23440–23447

Davies, S., Dow, J. (2009) Modulation of epithelial innate immunity by autocrine production of nitric oxide. Gen. Comp. Endocrinol. 162, 113–121

Dean, P., Richards, E.H., Edwards, J.P., Reynolds, S.E., Charnley, K. (2004) Microbial infection causes the appearance of hemocytes with extreme spreading ability in monolayers of the tobacco hornworm Manduca sexta. Dev. Comp. Immunol. 28, 689–700

Dietemann, V., Pflugfelder, J., Anderson, D., Charrière, J.D., Chejanovsky, N., et al. (2012) Varroa destructor: research avenues towards sustainable control. J Apic Res 51, 125–132

Eleftherianos, I., Xu, M., Yadi, H., Ffrench-Constant, R.H., Reynolds, S.E. (2009) Plasmatocyte-spreading peptide (PSP) plays a central role in insect cellular immune defences against bacterial infection. J. Exp. Biol. 212, 1840–1848

Hendriksma, H.P., Hartel, S., Steffan-Dewenter, I. (2011) Honey bee risk assessment: new approaches for in vitro larvae rearing and data analyses. Met. Ecol. Evol.. doi:10.1111/j.2041-210X.2011.00099.x

Hillyer, J., Estévez-Lao, T. (2010) Nitric oxide is an essential component of the hemocyte-mediated mosquito immune response against bacteria. Dev. Comp. Immunol. 34, 141–149

Gillespie, J.P., Kanost, M.R. (1997) Biological mediators of insect immunity. Annu. Rev. Entomol. 42, 611–643

Levy, S. (2012) What's best for bees. Nature 479, 164–165

Ling, E., Yu, X. (2005) Prophenoloxidase binds to the surface of hemocytes and is involved in hemocyte melanization in Manduca sexta. Insect Biochem. Mol. Biol. 35, 1356–1366

Mandato, C.A., Diehl-Jones, W., Moore, S.J., Downer, R.G.H. (1996) The effects of eicosanoid biosynthesis inhibitors on prophenoloxidase activation. phagocytosis and cell spreading in Galleria mellonella. J. Insect Physiol. 43, 1–8

Marmaras, V.J., Lampropoulou, M. (2009) Regulators and signalling in insect haemocyte immunity. Cell. Signal. 21, 186–195

Martin, S.J., Highfield, A.C., Brettell, L., Villalobos, E.M., Budge, G.E., Powell, M., Nikaido, S., Schroeder, D.C. (2012) Global honey bee viral landscape altered by a parasitic mite. Science 336, 1304

Müller, U., Hildebrandt, H. (1995) The nitric oxide cGMP system in the antennal lobe of Apis mellifera is implicated in integrative processing of chemosensory stimuli. Europ. J. Neurosci 7, 2240–2248

Müller, U. (1996) Inhibition of nitric oxide synthase impairs a distinct form of long-term memory in the honeybee, Apis mellifera. Neuron 16, 541–549

Müller, U., Hildebrandt, H. (2002) Nitric oxide/cGMP-mediated protein kinase A activation in the antennal lobes plays an important role in appetitive reflex habituation in the honeybee. J. Neurosci. 22, 8739–8747

Nardi, J.B., Pilas, B., Bee, M.C., Zhuang, S., Garsha, K., Kanost, M.R. (2006) Neuroglian-positive plasmatocytes of Manduca sexta and the initiation of hemocyte attachment to foreign surfaces. Dev. Comp. Immunol. 30, 47–462

Negri P., Maggi D., Lamattina L., Eguaras M. J. (2012a) Nitric oxide participation in Apis mellifera hemocytic immune activation upon recognition of non-self and encapsulation. 2012 International Congress on Invertebrate Pathology and Microbial Control and 45th Annual Meeting of the Society for Invertebrate Pathology, August 9, Buenos Aires, Argentina.

Negri P., Maggi M. D., Fernandez N., Lamattina L., Eguaras M. J. (2012b) Apis mellifera cellular immune responses in-vitro: qualitative differences before and after the puppae metamorphosis black box. 2012 International Congress on Invertebrate Pathology and Microbial Control and 45th Annual Meeting of the Society for Invertebrate Pathology, August 9, Buenos Aires, Argentina, DBI-06, page 57

Pech, L.L., Strand, M.R. (1995) Encapsulation of foreign targets by hemocytes of the moth Pseudoplusia inchdens (Lepidoptera: Noctuidae) involves an RGD-dependent cell adhesion mechanism. J. Insect Physiol. 41, 481–488

Potts, S.G., Biesmeijer, J.C., Kremen, C., Neumann, P., Schweiger, O., Kunin, W.E. (2010) Global pollinator declines: trends, impacts and drivers. Trends Ecol. Evol. 26, 345–353

Rivero, A. (2006) Nitric oxide: an antiparasitic molecule of invertebrates. Trends Parasitol. 22, 219–225

Rosenkranz, P., Aumeier, P., Ziegelmann, B. (2010) Biology and control of Varroa destructor. J. Invertebr. Pathol. 103, 96–119

Strand, M.R. (2008) The insect cellular immune response. Insect Sci 15, 1–14

Tojo, S., Naganuma, F., Arakawa, K., Yokoo, S. (2000) Involvement of both granular cells and plasmatocytes in phagocytic reactions in the greater wax moth, Galleria mellonella. J. Insect Physiol 46, 1129–1135

Whitten, M.M.A., Tew, I.F., Lee, B.L., Ratcliffe, N.A. (2004) A novel role for an insect apolipoprotein (apolipophorin III) in β-1,3-glucan pattern recognition and cellular encapsulation reactions. J. Immunol. 172, 2177–2185
Acknowledgments
This research was supported by "ANPCyT," Argentina (PICT Redes 2006 no. 00890 Nodo 01 and PICT 2011 2383). The authors would like to thank CONICET and the UNMdP. Pedro Negri is a doctoral fellow from CONICET, Argentina. The authors are very grateful to Dr. Claudia Studdert for E. coli strain and to Lic. Leonardo De Feudis for beekeeping support.
Additional information
Manuscript editor: Klaus Hartfelder
L'oxyde nitrique intervient dans les premières étapes de la réponse immunitaire cellulaire d' Apis mellifera à la reconnaissance du non-soi
Apidae/ immunité / oxyde nitrique/ infection
Stickstoffmonoxid spielt eine Rolle in den ersten Schritten der Aktivierung der zellulären Immunantwort bei Apis mellifera
Apis mellifera / Immunität/ Stickstoffmonoxid
M. Eguaras and L. Lamattina contributed equally as senior authors.
About this article
Cite this article
Negri, P., Maggi, M., Correa-Aragunde, N. et al. Nitric oxide participates at the first steps of Apis mellifera cellular immune activation in response to non-self recognition. Apidologie 44, 575–585 (2013). https://doi.org/10.1007/s13592-013-0207-8
Received:

Revised:

Accepted:

Published:

Issue Date:

DOI: https://doi.org/10.1007/s13592-013-0207-8
Keywords