Abstract
Many factors affect bee diversity and abundance, and knowledge of these is crucial for maintaining healthy bee communities. However, there are few means to fully evaluate the status of bee communities; most are based on monitoring species richness and abundance and do not consider the diverse life histories of bees. We propose that functional diversity of bee communities offers a more consistent means of evaluation and suggest that cleptoparasitic bees in particular show much promise as indicator taxa. Cleptoparasitic bees play a stabilising role within bee communities. They represent the apex of bee communities and are the first guild to respond to disturbances, are easily distinguished as such and are diverse enough to be representative of entire bee communities. The diversity and abundance of cleptoparasites in relation to all bees is indicative of the status of the total bee community, and monitoring them should form an integral part of assessing bee communities.
Access options
Buy single article
Instant access to the full article PDF.
US$ 39.95
Tax calculation will be finalised during checkout.
Subscribe to journal
Immediate online access to all issues from 2019. Subscription will auto renew annually.
US$ 79
Tax calculation will be finalised during checkout.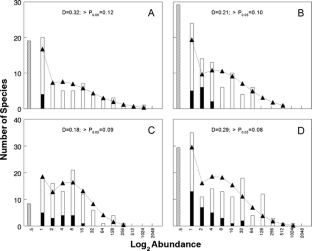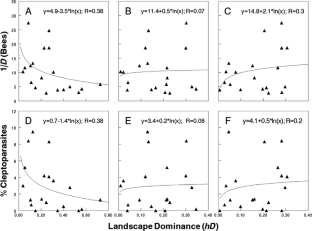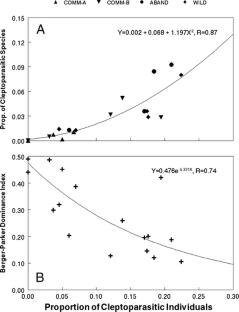 References
Balvanera, P., Pfisterer, A.B., Buchmann, N., He, J., Nakashizuka, T., Raffaelli, D., Schmid, B. (2006) Quantifying the evidence for biodiversity effects on ecosystem functioning and services. Ecol. Lett. 9, 1146–1156

Biesmeijer, J.C., Roberts, S.P.M., Reemer, M., Ohlemüller, R., Edwards, M., et al. (2006) Parallel declines in pollinators and insect-pollinated plants in Britain and The Netherlands. Science 313, 351–354

Blondel, J. (2003) Guilds or functional groups: does it matter? Oikos 100, 223–231

Bogusch, P., Kratochvíl, L., Straka, J. (2006) Generalist cuckoo bees (Hymenoptera: Apoidea: Sphecodes) are species-specialist at the individual level. Behav. Ecol. Sociobiol. 60, 422–429

Cane, J.H., Minckley, R., Roulston, T., Kervin, L.J., Williams, N.M. (2006) Complex responses within a desert bee guild (Hymenoptera: Apiformes) to urban habitat fragmentation. Ecol. Appl. 16, 632–644

Cardinale, B.J., Srivastava, D.S., Duffy, J.E., Wright, J.P., Downing, A.L., Sankaran, M., Jouseau, C. (2006) Effects of biodiversity on the functioning of trophic groups and ecosystems. Nature 443, 989–992

Chiarucci, A., Giovanni, B., Scheiner, S.M. (2011) Old and new challenges in using species diversity for assessing biodiversity. Philos. Trans. R. Soc. London, Ser. B 366, 2426–2437

Combes, C. (1996) Parasites, biodiversity and ecosystem stability. Biodivers. Conserv. 5, 953–962

Duffy, J.E. (2003) Biodiversity loss, trophic skew and ecosystem functioning. Ecol. Lett. 6, 680–687

Duffy, J.E., Cardinale, B.J., France, K.E., McIntyre, P.B., Thébault, E., Loreau, M. (2007) The functional role of biodiversity in ecosystems: incorporating trophic complexity. Ecol. Lett. 10, 522–538

Elmqvist, T., Folke, C., Nyström, M., Peterson, G., Bengtsson, J., Walker, B., Norberg, J. (2003) Response diversity, ecosystem change, and resilience. Front. Ecol. Environ. 1, 488–494

Finke, D.L., Denno, R.F. (2004) Predator diversity dampens trophic cascades. Nature 429, 407–410

Grundel, R., Frohnapple, K.J., Jean, R.P., Pavlovic, N.B. (2011) Effectiveness of bowl trapping and netting for inventory of a bee community. Environ. Entomol. 40, 374–380

Hooper, D.U., Chapin, F.S., Ewel, J.J., Hector, A., Inchausti, P., et al. (2005) Effects of biodiversity on ecosystem functioning: a consensus of current knowledge. Ecol. Monogr. 75, 3–35

Horwitz, P., Wilcox, B.A. (2005) Parasites, ecosystems and sustainability: an ecological and complex systems perspective. Int. J. Parasitol. 35, 725–732

Hubbell, S.P. (2001) The Unified Neutral Theory of Biodiversity and Biogeography. Princeton University Press, Princeton

Hudson, P.J., Dobson, A.P., Lafferty, K.D. (2006) Is a healthy ecosystem one that is rich in parasites? Trends Ecol. Evol. 21, 381–385

Iyengar, E.V. (2008) Kleptoparasitic interactions throughout the animal kingdom and a re-evaluation, based on participant mobility, of the conditions promoting the evolution of kleptoparasitism. Biol. J. Linn. Soc. 93, 745–762

Kevan, P.G., Greco, C.F., Belaoussoff, S. (1997) Log-normality of biodiversity and abundance in diagnosis and measuring of ecosystem health: pesticide stress on pollinators on blueberry heaths. J. Appl. Ecol. 34, 1122–1136

Klein, A.M., Vassiere, B.E., Cane, J.H., Steffan-Dewenter, I., Cunningham, S.A., Kremen, C., Tscharntke, T. (2007) Importance of pollinators in changing landscapes for world crops. Proc. R. Soc. B 274, 303–313

Kremen, C., Williams, N.M., Thorp, R.W. (2002) Crop pollination from native bees at risk from agricultural intensification. Proc. Natl. Acad. Sci. USA 99, 16812–16816

Kremen, C., Williams, N.M., Bugg, R.L., Fay, J.P., Thorp, R.W. (2004) The area requirements of an ecosystem service: crop pollination by native bee communities in California. Ecol. Lett. 7, 1109–1119

Magurran, A.E. (2004) Measuring Biological Diversity. Blackwell, Malden

Marcogliese, D.J. (2004) Parasites: small players with crucial roles in the ecological theater. EcoHealth 1, 151–164

Marcogliese, D.J., Cone, D.K. (1997) Food webs: a plea for parasites. Trends Ecol. Evol. 12, 320–325

Michener, C.D. (1974) The Social Behavior of the Bees. Harvard University Press, Boston

Michener, C.D. (1979) Biogeography of the bees. Ann. Mo. Bot. Gard. 66, 277–347

Michener, C.D. (2007) The Bees of the World, 2nd edn. Johns Hopkins University Press, Baltimore

Morand, S., Gonzalez, E.A. (1997) Is parasitism a missing ingredient in model ecosystems? Ecol. Model. 95, 61–74

Moretti, M., de Bello, F., Roberts, S.P.M., Potts, S.G. (2009) Taxonomical vs. functional responses of bee communities to fire in two contrasting climatic regions. J. Anim. Ecol. 78, 98–108

National Research Council (2007) Status of Pollinators in North America. National Academies Press, Washington

Neame, L.A., Griswold, T., Elle, E. (2012) Pollinator nesting guilds respond differently to urban habitat fragmentation in an oak-savannah ecosystem. Insect Conserv. Diver. 6, 57–66. doi:10.1111/j.1752-4598.2012.00187.x

Nielsen, A., Steffan-Dewenter, I., Westphal, C., Messinger, O., Potts, S.G., et al. (2011) Assessing bee species richness in two Mediterranean communities: importance of habitat type and sampling techniques. Ecol. Res. 26, 969–983

O'Neill, R.V., Krummel, J.R., Gardner, R.H., Sugihara, G., Jackson, B., et al. (1988) Indices of landscape pattern. Landscape Ecol. 1, 153–162

Oertli, S., Muller, A., Dorn, S. (2005) Ecological and seasonal patterns in the diversity of a species-rich bee assemblage (Hymenoptera: Apoidea: Apiformes). Eur. J. Entomol. 102, 53–63

O'Gorman, E.J., Yearsley, J.M., Crowe, T.P., Emmerson, M.C., Jacob, U., Petchey, O.L. (2011) Loss of functionally unique species may gradually undermine ecosystems. Proc. R. Soc. Lond. B 278, 1886–1893

Petchey, O.L., Hector, A., Gaston, K.J. (2004) How do different measures of functional diversity perform? Ecology 85, 847–857

Peterson, G., Allen, C.R., Holling, C.S. (1998) Ecological resilience, biodiversity, and scale. Ecosystems 1, 6–18

Polidori, C., Borruso, L., Boesi, R., Andrietti, F. (2009) Segregation of temporal and spatial distribution between kleptoparasites and parasitoids of the eusocial sweat bee, Lasioglossum malachurum (Hymenoptera: Halictidae, Mutillidae). Entomol. Sci. 12, 116–129

Rosenheim, J.A. (1990) Density-dependent parasitism and the evolution of nesting aggregations in the solitary Hymenoptera. Ann. Entomol. Soc. Amer. 83, 277–286

Roulston, T.H., Smith, S.A., Brewster, A.L. (2007) A comparison of pan trap and intensive net sampling techniques for documenting a bee (Hymenoptera: Apiformes) fauna. J. Kansas Entomol. Soc. 80, 179–181

Rozen Jr., J.G. (2001) A taxonomic key to mature larvae of cleptoparasitic bees (Hymenoptera: Apoidea). Amer. Mus. Nov. 3309, 1–28

Scrosati, R.A., van Genne, B., Heaven, C.S., Watt, C.A. (2011) Species richness and diversity in different functional groups across environmental stress gradients: a model for marine rocky shores. Ecography 34, 151–161

Sheffield, C.S., Kevan, P.G., Westby, S.M., Smith, R.F. (2008) Diversity of cavity-nesting bees (Hymenoptera: Apoidea) within apple orchards and wild habitats in the Annapolis Valley, Nova Scotia. Canada. Can. Ent. 140, 235–249

Sheffield, C.S., Kevan, P.G., Pindar, A., Packer, L. (2013) Bee (Hymenoptera: Apoidea) diversity within apple orchards and old fields habitats in the Annapolis Valley, Nova Scotia, Canada. Can. Ent. 145, 94–114

Tilman, D., Lehman, C. (2001) Biodiversity, composition, and ecosystem processes: theory and concepts. In: Kinzig, A.P., Pacala, S.W., Tilman, D. (eds.) The Functional Consequences Of Biodiversity: Empirical Progress and Theoretical Extensions, pp. 9–41. Princeton University Press, Princeton

Toler, T.R., Evans, E.W., Tepedino, V.J. (2005) Pan-trapping for bees (Hymenoptera: Apiformes) in Utah's West Desert: the importance of color diversity. Pan-Pac. Entomol. 81, 103–113

Walker, B.H. (1992) Biological diversity and ecological redundancy. Conserv. Biol. 6, 18–23

Wcislo, W.T. (1981) The roles of seasonality, host synchrony, and behaviour in the evolutions and distributions of nest parasites in the Hymenoptera (Insecta), with special reference to bees (Apoidea). Biol. Rev. 62, 515–543

Westphal, C., Bommarco, R., Carré, G., Lamborn, E., Morison, N., et al. (2008) Measuring bee diversity in different European habitats and biogeographical regions. Ecol. Mono. 78, 654–671

Williams, N.M., Crone, E.E., Roulston, T.H., Minckley, R.L., Packer, L., Potts, S.G. (2010) Ecological and life-history traits predict bee species responses to environmental disturbances. Biol. Conserv. 143, 2280–2291

Wood, C.L., Byers, J.E., Cottingham, K.L., Altman, I., Donahue, M.J., Blakeslee, A.M.H. (2007) Parasites alter community structure. Proc. Natl. Acad. Sci. USA 104, 9335–9339
Acknowledgements
The initial study was completed as part of the requirements of the doctoral thesis of CSS. We thank the orchardists and land owners that kindly provided CSS access to properties throughout the study, and staff at the Atlantic Food and Horticulture Research Centre, Agriculture & Agri-Food Canada for support. The initial work was funded by several Agri-Focus 2000 Technology Development Project grants and an AgriFutures grant to CSS. Further development of ideas presented here was funded by the National Science and Engineering Research Council (NSERC) Canadian Pollination Initiative (CANPOLIN) to LP and PGK. This is contribution number 68 of the Canadian Pollination Initiative.
Additional information
Le potentiel des abeilles cleptoparasites comme taxa indicateurs dans l'évaluation des communautés d'abeilles
Communauté des pollinisateurs / guilde / santé des écosystèmes / espèces indicatrices
Die Möglichkeit, kleptoparasitische Bienen als Indikatoren zur Beurteilung von Bienengemeinschaften zu verwenden
Bestäubergemeinschaften / Gildenstrukturen / Kleptoparasiten / Indikatortaxa / Ökosystemstatus
Manuscript Editor: David Tarpy
About this article
Cite this article
Sheffield, C.S., Pindar, A., Packer, L. et al. The potential of cleptoparasitic bees as indicator taxa for assessing bee communities. Apidologie 44, 501–510 (2013). https://doi.org/10.1007/s13592-013-0200-2
Received:

Revised:

Accepted:

Published:

Issue Date:
Keywords
pollinator communities

guild structure

cleptoparasites

indicator taxa

ecosystem health