Abstract
Several arthropod pests including the hive beetles Aethina tumida and Oplostomus haroldi and the ectoparasite Varroa destructor have recently been identified as associated with honey bee colonies in Kenya. Here, we report the first documentation of Oplostomus fuligineus in Kenya, a related scarab of O. haroldi, and distribution, diversity and pattern of damage of the two scarab species on honey bee colonies. Sequence analyses of mitochondrial cytochrome oxidase I gene revealed that there was sufficient sequence divergence to separate both Oplostomus beetles. The same molecular marker separated O. haroldi according to place of origin in Kenya. We further show from analysis of feeding behavioural patterns that the two scarab species damaged honey bee combs similarly causing the most damage on brood through feeding; O. haroldi (80%), with O. fuligineus (100%). We discuss our results in relation to the threats these scarabs may pose to bee health in Kenya.
Access options
Buy single article
Instant access to the full article PDF.
USD 39.95
Price excludes VAT (USA)
Tax calculation will be finalised during checkout.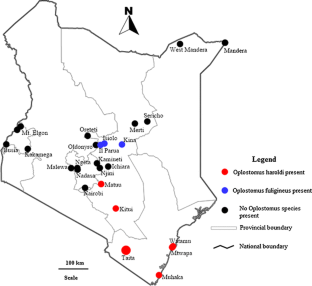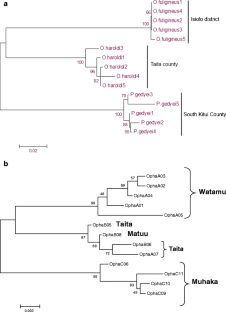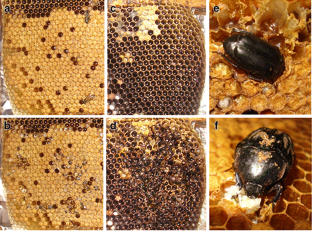 References
Bland, R.G., Jaques, H.E. (1978) How to Know the Insects. Brown, Cincinnati

Crane, E. (1999) The World History of Beekeeping and Honey Hunting. Duckworth, London

Donaldson, J.M.I. (1989) Oplostomus fuligineus (Coleoptera Scarabaeidae): life cycle and biology under laboratory conditions, and its occurrence in bee hives. Coleopt. Bull. 43, 177–182

Folmer, O., Black, M., Hoeh, W., Lutz, R., Vrijenhoek, R. (1994) DNA primers for amplification of mitochondrial cytochrome c oxidase subunit I from diverse metazoan invertebrates. Mol. Mar. Biol. Biotechnol. 3, 294–299

Fombong, A.T., Haas, F., Ndegwa, P.N., Irungu, L.W. (2012) Life history of Oplostomus haroldi (Coleoptera: Scarabaeidae) and a description of its third instar larva. Int. J. Trop. Insect Sci.. doi:10.1017/S1742758412000021

Frazier, M., Muli, E., Coklin, T., Schmel, D., Torto, B., Frazier, J., Tumlinson, J.H., Raina, S. (2011) A scientific note on Varroa destructor found in East Africa: threat or opportunity? Apidologie 41, 463–465

Graham, J.M. (2004) The Hive and the Honey Bee. Dadant, Hamilton

Hall, T.A. (1999) BioEdit: a user friendly biological sequence alignment editor and analysis program for Windows 95/98/NT. Nucleic Acid Symp. Ser. 4, 95–98

Hebert, P.D.N., Cywinske, A., Ball, S.L., DeWaard, J.R. (2003) Biological identifications through DNA barcodes. Proc. R. Soc. B. 270, 313–321

Johannesmeier, M.F. (2001) Beekeeping in South Africa. Plant Protection Research Institute, Pretoria

Kimura, M. (1980) A simple method for estimating evolutionary rates of base substitution through comparative studies of nucleotides sequences. J. Mol. Evol. 16, 111–120

Lundie, A.E. (1940) The small Hive Beetle Aethina tumida. Science bulletin 220, Department of Agriculture and Forestry, Government printer, Pretoria, South Africa.

Monaghan, M.T., Balke, M., Gregory, T.R., Vogler, A.P. (2005) DNA based species delineation in tropical beetles using mitochondrial and nuclear markers. Phil. Trans. R. Soc. B. 360, 1925–1933

Omondi, B.A., Van den Berg, J., Masiga, D., Schulthess, F. (2011) Phylogenetic structure of Teretruis nigrescens (Coleoptera: Histeridae) predator of the invasive harvest pest Prostephanus truncatus (Coleoptera: Bostrichidae). Bull. Entomol. Res. 101, 521–532

Powell, M., Van der Bank, M., Maurin, O., Savolainen, V. (2006) DNA Barcoding: A Practical Guide. Available online at http://acdb.co.za/uploads/File/TreeBol/MOLECULAR%20PROTOCOLS.web.pdf.

R Development Core Team (2011) R: A Language and Environment for Statistical Computing. R Foundation for Statistical Computing, Vienna, Austria. ISBN 3-900051-07-0, URL http://www.r-project.org/.

Raina, S.K. (2006) Role of the commercial insects program, p. 11. In: Proceedings of the International Workshop on Promotion of income Generation Activities in the NENA Region Based on Sericulture and Apiculture organised by IDB/IFAD, 9–10 July, Cairo, Egypt.

Raupach, M.J., Astrin, J.J., Hannig, K., Peters, M.K., Stoeckle, M.Y., Wägele, J.-W. (2010) Molecular species identification of Central European ground beetles (Coleoptera: Carabidae) using nuclear rDNA expansion segments and DNA barcodes. Front. Zool. 7. doi:10.1186/1742-9994-7-26

Reynolds, C. (2004) United States Department of Agriculture Foreign Agriculture Service (USDA–FAS) Commodity Intelligence Report. http://www.pecad.fas.usda.gov/highlights/2008/09/kenya/KenyaAgro-ecologicalZones.htm.

Tamura, K., Nei, M., Kumar, S. (2007) MEGA4: Molecular Evolution Genetics Analysis (MEGA) software version 4.0. Mol. Biol. Evol. 24, 1596–1599

Torto, B., Fombong, A.T., Mutyambi, D.M., Muli, E., Arbogast, R.T., Teal, P.E.A. (2010) Aethina tumida (Coleoptera: Nitidulidae) and Oplostomus haroldi (Coleoptera: Scarabaeidae): occurrence in Kenya, distribution within honey bee colonies and responses to host odors. Ann. Entomol. Soc. Am. 103, 389–396
Acknowledgements
The authors are grateful to J. Kilonzo, N. Onyango, J. Nganga and E. Mokua for their assistance during the inspection of honey bee colonies; M. Mutua (National Museums of Kenya, Nairobi) and Dr M. Barclay (National History Museum, London) for identification of Oplostomus fuligineus. ATF was funded through a studentship provided by the German Academic Exchange Service (DAAD). The authors are also grateful to theBarcode of Life Data systems laboratory hosted at the University of Guelph for generating some beetle barcodes. Lastly, the authors acknowledge the United States Department of Agriculture's Agricultural Research Service (USDA–ARS) for funding this project (SCA-586615-7-119F).
Présence, diversité et types de dégâts des espèces d'Oplostomus (Coleoptera: Scarabaeidae), ennemies des abeilles au Kenya
Abeille / Oplostomus haroldi / Oplostomus fuligineus / gène de la cytochrome oxydase I
Vorkommen, Diversität und Schadbilder verschiedener Oplostomus-Arten (Coleoptera:Scarabaeidae), Schädlinge der Honigbiene in Kenia
Honigbienen / Oplostomus haroldi / Oplostomus fuligineus / Scarabäidae / Cytochromoxidase I Gen
Additional information
Manuscript editor: Stan Schneider
Electronic supplementary material
Below is the link to the electronic supplementary material.
Summary of locations surveyed between February 2010 and May 2011 (DOC 60 kb)
About this article
Cite this article
Fombong, A.T., Mumoki, F.N., Muli, E. et al. Occurrence, diversity and pattern of damage of Oplostomus species (Coleoptera: Scarabaeidae), honey bee pests in Kenya. Apidologie 44, 11–20 (2013). https://doi.org/10.1007/s13592-012-0149-6
Received:

Revised:

Accepted:

Published:

Issue Date:

DOI: https://doi.org/10.1007/s13592-012-0149-6
Keywords
honey bees

Oplostomus haroldi
Oplostomus fuligineus

scarab

cytochrome oxidase I gene