Abstract
Oxalic acid dehydrate (OA) in the application form of trickling (3.5% solution) has shown a good bee tolerance. However, negative long-term effects of the treatment on honeybees are expected. The sublethal effects of OA on division of labour, activity, olfactory learning and the longevity of Apis mellifera were studied. Newly emerged workers were treated with 3.5% OA solution by topical application (dosage 175 μg/bee) and introduced into a colony. Behavioural observations were carried out and the longevity of every worker was recorded. To investigate the learning behaviour, foragers were trained in a classical olfactory conditioning paradigm, the olfactory conditioning of the proboscis extension response. These experiments revealed sublethal effects of OA on Apis mellifera. The treatment caused a significant decrease in worker activity, nursing behaviour and longevity. Treated bees also showed significantly more self-grooming and a higher response in the olfactory conditioning than bees of the control group.
Access options
Buy single article
Instant access to the full article PDF.
US$ 39.95
Tax calculation will be finalised during checkout.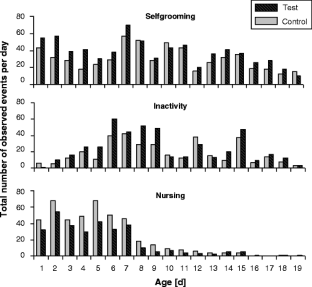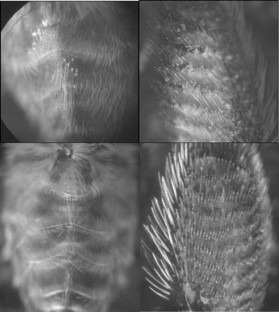 References
Abramson, C.I., Squire, J., Sheridan, A., Mulder, P.G. (2004) The effect of insecticides considered harmless to honey bees (Apis mellifera): Proposcis conditioning studies by using the insect growth regulators tebufenozide and diflubenzuron. Environ. Entomol. 33(2), 378–388

Aliano, N.P., Ellis, M.D., Siegfried, B.D. (2006) Acute contact toxicity of oxalic acid to Varroa destructor (Acari: Varroidae) and their Apis mellifera (Hymenoptera: Apidae) hosts in laboratory bioassays. J. Econ. Entomol. 99(5), 1579–1582

Aliouane, Y., el Hassani, A.K., Gary, V., Armengaud, C., Lambin, M., Gauthier, M. (2009) Subchronic exposure of honeybees to sublethal doses of pesticides: Effects on behavior. Environ. Toxicol. Chem. 28(1), 113–122

Altmann, J. (1984) Observational sampling methods for insect behavioral ecology. Fla. Entomol. 67(1), 50–56

Bacandritsos, N., Papnastasiou, I., Saitanis, C., Nanetti, A., Roinioti, E. (2007) Efficacy of repeated trickle applications of oxalic acid in syrup for varroosis control in Apis mellifera: Influence of meteorological conditions and presence of brood. Vet. Parasitol. 148(2), 174–178

Birnie, L.C. (1997) Sublethal effects of three acaricide treatments on honey bee (Apis mellifera L.) colony development and honey production, Simon Fraser University Library Surrey, [online] http://ir.lib.sfu.ca/handle/1892/8485 (accessed on 9 July 2008)

Bittermann, M.E., Menzel, R., Fietz, A., Schafer, S. (1983) Classical-conditioning of proboscis extension in honeybees (Apis mellifera). J. Comp. Psychol. 97(2), 107–119

Bolli, H.K., Bogdanov, S., Imdorf, A., Fluri, P. (1993) Zur Wirkungsweise von Ameisensäure bei Varroa jacobsoni Oud. und der Honigbiene (Apis mellifera L.). Apidologie 24(1), 51–57

Cox, R.L., Wilson, W.T. (1984) Effects of permethrin on the behavior of individually tagged honey bees, Apis mellifera L. (Hymenoptera: Apidae). Environ. Entomol. 13(2), 375–378

Crailsheim, K., Hrassnigg, N., Stabentheiner, A. (1996) Diurnal behavioural differences in forager and nurse honey bees (Apis mellifera carnica Pollm.). Apidologie 27(4), 235–244

Decourtye, A., Armengaud, C., Renou, M., Devillers, J., Cluzeau, S., Gauthier, A., Pham-Delegue, M.H. (2004) Imidacloprid impairs memory and brain metabolism in the honeybee (Apis mellifera L.). Pestic. Biochem. Physiol. 78(2), 83–92

Desneux, N., Decourtye, A., Delpuech, J.-M. (2007) The sublethal effects of pesticides on beneficial arthropods. Annu. Rev. Entomol. 52, 81–106

El Hassani, A.K., Dacher, M., Gary, V., Lambin, M., Gauthier, M., Armengaud, C. (2008) Effects of sublethal doses of acetamiprid and thiamethoxam on the behavior of the honeybee (Apis mellifera). Arch. Environ. Contam. Toxicol. 54(4), 653–661

Felsenberg, J., Gehring, K., Antemann, V., Eisenhardt, D. (2011) Behavioural pharmacology in classical conditioning of the proboscis extension response in honeybees (Apis mellifera), J. Vis. Exp. 47, [online] http://www.jove.com/index/Details.stp?ID=2282 doi:10.3791/2282

Friedrich, A., Thomas, U., Müller, U. (2004) Learning at different satiation levels reveals parallel functions for the cAMP–protein kinase A cascade in formation of long-term memory. J. Neurosci. 24(18), 4460–4468

Gregorc, A., Smodis Skerl, M.I. (2007) Toxicological and immunohistochemical testing of honeybees after oxalic acid and rotenone treatments. Apidologie 38(3), 296–305

Higes, M., Meana, A., Suárez, M., Llorente, J. (1999) Negative long-term effects on bee colonies treated with oxalic acid against Varroa jacobsoni Oud. Apidologie 30(4), 289–292

Iqbal, J., Mueller, U. (2007) Virus infection causes specific learning deficits in honeybee foragers. Proc. Roy. Soc. B-Biol. Sci. 274(1617), 1517–1521

Martin-Hernandez, R., Higes, M., Perez, J.L., Nozal, M.J., Gomez, L., Meana, A. (2007) Short term negative effect of oxalic acid in Apis mellifera iberiensis. Span. J. Agric. Res. 5(4), 474–480

Mayack, C., Naug, D. (2009) Energetic stress in the honeybee Apis mellifera from Nosema ceranae infection. J. Invertebr. Pathol. 100(3), 185–188

Menzel, R. (1999) Memory dynamics in the honeybee. J. Comp. Physiol. [A] 185, 323–340

Moosbeckhofer, R. (2001) Varroabekämpfung mit Oxalsäure im Träufelverfahren. Bienenvater 12, 7–12

Pfeiffer, K.J., Crailsheim, K. (1999) The behaviour of drifted nurse honey bees. Insectes Soc. 46(1), 34–40

Rademacher, E., Harz, M. (2006) Oxalic acid for the control of varroosis in honey bee colonies—a review. Apidologie 37(1), 98–120

Stollhoff, N., Eisenhardt, D. (2009) Consolidation of an extinction memory depends on the unconditioned stimulus magnitude previously experienced during training. J Neurosci. 29(30), 9644–9650

Thompson, H.M. (2003) Behavioural effects of pesticides in bees—Their potential for use in risk assessment. Ecotoxicology 12(1–4), 317–330

Weick, J., Thron, R.S. (2002) Effects of acute sublethal exposure to coumaphos or diazinon on acquisition and discrimination of odor stimuli in the honey bee (Hymenoptera: Apidae). J. Econ. Entomol. 95(2), 227–236
Acknowledgements
Thanks to Johannes Felsenberg for his support on the olfactory conditioning experiments. I also thank Mr. Friedrichowitz for his support as an apiculturist with the experimental procedure.
Additional information
Effets subléthaux de l'acide oxalique sur Apis mellifera (Hymenoptera: Apidae): modifications du comportement et de la longévité.
Apis mellifera /acide oxalique/effet subléthal/comportement/longévité
Sublethaleffekte von Oxalsäure auf Apis mellifera (Hymenoptera: Apidae): Verhaltensänderungen und Lebenserwartung.
Apis mellifera , Oxalsäure, sublethale Effekte, Verhalten, Lebenserwartung
Manuscript editor: Monique Gauthier
About this article
Cite this article
Schneider, S., Eisenhardt, D. & Rademacher, E. Sublethal effects of oxalic acid on Apis mellifera (Hymenoptera: Apidae): changes in behaviour and longevity. Apidologie 43, 218–225 (2012). https://doi.org/10.1007/s13592-011-0102-0
Received:

Revised:

Accepted:

Published:

Issue Date:
Keywords
Apis mellifera

oxalic acid

sublethal effects

behaviour

longevity