Abstract
Most studies of foraging behavior in bees have been performed under artificial conditions. One highly neglected area is the daily nectar secretion rhythm in flowers including how nectar properties may vary with time of day. As a first step in understanding the connections between forager behavior and nectar presentation under more natural conditions, we examined nectar secretion patterns in flowers of the squash Cucurbita pepo. Under greenhouse conditions, squash flowers exhibit consistent diel changes in nectar volume and concentration through anthesis. These temporal patterns are robust, persisting under field conditions as well as simulated drought conditions in the greenhouse. In the presence of active pollinators, diel patterns are evident but with highly variable, severely reduced volumes. The potential consequences of these factors for pollinator behavior are discussed.
This is a preview of subscription content, log in to check access.
Access options
Buy single article
Instant access to the full article PDF.
US$ 39.95
Tax calculation will be finalised during checkout.
Subscribe to journal
Immediate online access to all issues from 2019. Subscription will auto renew annually.
US$ 99
Tax calculation will be finalised during checkout.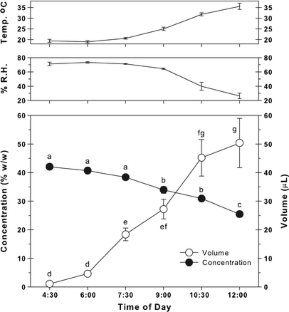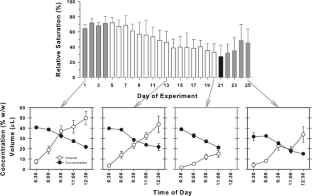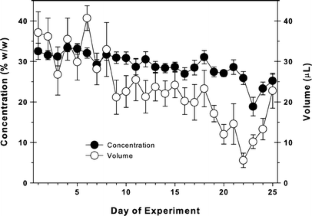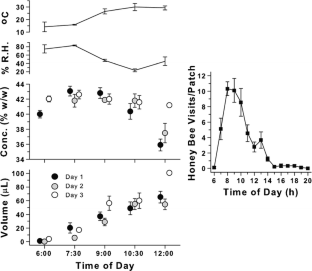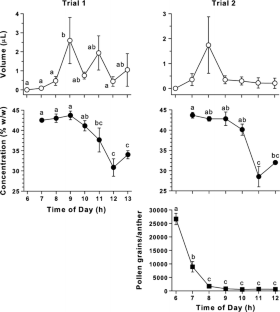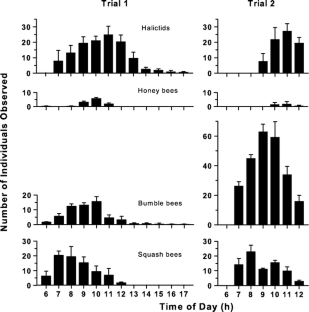 References
Beier, W. (1968) Beeinflussung der inneren Uhr der Bienen durch Phasenverschiebung des Licht-Dunkel-Zeitgebers. Z Bienenforschung 9, 356–378

Beier, W., Lindauer, M. (1970) Der Sonnenstand als Zeitgeber für die Biene. Apidologie 1, 5–28

Beling, I. (1929) Über das Zeitgedächtnis der Bienen. Z. Vergl. Physiol. 9, 259–338

Boch, R. (1956) Die Tänze der Bienen bei nahen und fernen Trachtquellen. Z. Vergl. Physiol. 38, 136–167

Bolten, A.B., Feinsinger, P., Baker, H.G., Baker, I. (1979) On the calculation of sugar concentration in flower nectar. Oecologia 41, 301–304

Butler, C.G. (1945) The influence of various physical and biological factors of the environment on honeybee activity: an examination of the relationship between activity and nectar concentration and abundance. J. Exp. Biol. 21, 5–12

Canto-Aguilar, M.A., Parra-Tabla, V. (2000) Importance of conserving alternative pollinators: assessing the pollination efficiency of the squash bee, Peponapis limitaris in Cucurbita moschata. J. Insect Conserv. 4, 203–210

Corbet, S.A. (1978) Bee visits and the nectar of Echium vulgare L. and Sinapis alba L. Ecol. Entomol. 3, 25–37

Corbet, S.A., Delfosse, E.S. (1984) Honeybees and the nectar of Echium plantagiueum L. in southeastern Australia. Aust. J. Ecol. 9, 125–139

Corbet, S.A., Wilmer, P.G. (1981) The nectar of Justicia and Columnea: composition and concentration in a humid, tropical climate. Oecologia 51, 412–418

Corbet, S.A., Willmer, P.G., Beament, J.W.L., Unwin, D.M., Prys-Jones, O.E. (1979) Post-secretory determinants of sugar concentration in nectar. Plant Cell Environ. 2, 293–308

Frisch, B., Aschoff, J. (1987) Circadian rhythms in honeybees: entrainment by feeding cycles. Physiol. Entomol. 12, 41–49

Giurfa, M., Núñez, J.A. (1992) Foraging by honeybees on Carduus acanthoides: pattern and efficiency. Ecol. Entomol. 17, 326–330

Greggers, U., Kuettner, A., Mauelshagen, J., Menzel, R. (1993) Optimization of honeybees with balanced US-qualities. In: Elsner, N., Heisenberg, M. (eds.) Gene–Brain–Behavior, Proceedings of the 21st Göttingen Neurobiology Conference, p. 841. Georg Thieme, Stuttgart

Kearns, C.A., Inouye, D.W. (1993) Techniques for pollination biologists. University Press of Colorado, Niwot

Kleber, E. (1935) Hat das Zeitgedächtnis der Bienen biologische Bedeutung? Z. Vergl. Physiol. 22, 221–262

Lindauer, M. (1948) Über die Einwirkung von Duft- und Geschmacksstoffen sowie underer Faktoren auf die Tänze der Bienen. Z. Vergl. Physiol. 31, 348–412

Linnaeus, C. (1751) Philosophia botanica. Kiesewetter, Stockholm

Louw, G.N., Nicolson, S.W. (1983) Thermal, energetic, and nutritional considerations in foraging and reproduction of the carpenter bee Xylocopa capitata. J. Ent. Soc. S. Africa 46, 227–240

Moore, D., Doherty, P. (2009) Acquisition of a time-memory in forager honey bees. J. Comp. Physiol. A 195, 741–751

Moore, D., Rankin, M.A. (1983) Diurnal changes in the accuracy of the honeybee foraging rhythm. Biol. Bull. 164, 471–482

Moore, D., Siegfried, D., Wilson, R., Rankin, M.A. (1989) The influence of time of day on the foraging behavior of the honeybee, Apis mellifera. J. Biol. Rhythms 4, 305–325

Naeger, N., Van Nest, B.N., Johnson, J.N., Boyd, S.D., Southey, B.R., Rodriguez-Zas, S.L., Moore, D., Robinson, G.E. (2011) Neurogenomic signatures of spatiotemporal memories in time-trained forager honey bees. J. Exp. Biol. 214, 979–987

Nepi, M., Guarnieri, M., Pacini, E. (2001) Nectar secretion, reabsorption, and sugar composition in male and female flowers of Cucurbita pepo. Int. J. Plant Sci. 162, 353–365

Nieh, J.C., Contrera, F.A.L., Ramirez, S., Imperatriz-Fonseca, V.L. (2003) Variation in the ability to communicate three-dimensional resource location by stingless bees from different habitats. Anim. Behav. 66, 1129–1139

Nuñez, J.A. (1966) Quantitative Beziehungen zwischen den Eigenschaften von Futterquellen und den Verhalten von Sammelbienen. Z. Vergl. Physiol. 53, 142–164

Nuñez, J.A. (1977) Nectar flow by melliferous flora and gathering flow by Apis mellifera ligustica. J. Insect Physiol. 23, 265–275

Parker, R.L. (1925) The collection and utilization of pollen by the honeybee. Cornell University Press, Ithaca

Proctor, M., Yeo, P., Lack, A. (1996) The natural history of pollination. HarperCollins, London

Rabinowitch, H.D., Fahn, A., Meir, T., Lensky, Y. (1993) Flower and nectar attributes of pepper (Capsicum annuum L.) plants in relation to their attractiveness to honeybees (Apis mellifera L.). Ann. Appl. Biol. 123, 221–232

Renner, M. (1955) Über die Haltung von Bienen in geschlossenen, künstlich beleuchteten Räumen. Naturwissenschaften 42, 539–540

Schua, L. (1952) Untersuchungen über den Einfluss meteorlogischer Elemente auf das Verhalten der Honigbiene (Apis mellifica). Z. Vergl. Physiol. 34, 258–277

Seefeldt, S., De Marco, R.J. (2008) The response of the honeybee dance to uncertain rewards. J. Exp. Biol. 211, 3392–3400

Seeley, T.D. (1986) Social foraging by honeybees: how colonies allocate foragers among patches of flowers. Behav. Ecol. Sociobiol. 19, 343–354

Seeley, T.D. (1989) Social foraging in honeybees: how nectar foragers assess their colony's nutritional status. Behav. Ecol. Sociobiol. 24, 181–199

Seeley, T.D. (1995) The wisdom of the hive. Harvard University Press, Cambridge

Seeley, T.D., Camazine, S., Sneyd, J. (1991) Collective decision-making in honey bees: how colonies choose among nectar sources. Behav. Ecol. Sociobiol. 28, 277–290

Silva, E.M., Dean, B.B. (2000) Effect of nectar composition and nectar concentration on honey bee (Hymenoptera: Apidae) visitations to hybrid onion flowers. J. Econ. Entomol. 93, 1215–1221

Tepedino, V.J. (1981) The pollination efficiency of the squash bee (Peponapis pruinosa) and the honey bee on summer squash (Cucurbita pepo). J. Kansas Entomol. Soc. 54, 359–377

Vansell, G.H. (1934) Relation between the nectar concentration in fruit blossoms and the visits of honeybees. J. Econ. Entomol. 2, 943–945

Varju, D., Nuñez, J.A. (1991) What do foraging honeybees optimize? J. Comp. Physiol. A 169, 729–736

Vidal, M.D., De Jong, D., Wien, H.C., Morse, R.A. (2006) Nectar and pollen production in pumpkin (Cucurbita pepo L.). Revista Brasil. Bot. 2, 267–273

Visscher, P.K., Seeley, T.D. (1982) Foraging strategy of honeybee colonies in a temperate deciduous forest. Ecology 63, 1790–1801

von Buttel-Reepen, H.B. (1900) Sind die Bienen Reflexmaschinen? Biol. Zbl. 20, 1–82

von Frisch, K. (1942) Die Werbetänze der Bienen und ihre Auslösung. Naturwissenschaften 30, 269–277

von Frisch, K. (1967) The dance language and orientation of bees. Harvard University Press, Cambridge

Waddington, K.D. (1982) Honeybee foraging profitability and round dance correlates. J. Comp. Physiol. 148, 279–301

Waddington, K.D. (1985) Cost–intake information used in foraging. J. Insect Physiol. 31, 891–897

Wahl, O. (1932) Neue Untersuchungen über das Zeitgedächtnis der Bienen. Z. Vergl. Physiol. 16, 529–589

Wahl, O. (1933) Beitrag zur Frage des biologischen Bedeutung des Zeitgedächtnisses der Bienen. Z. Vergl. Physiol. 18, 709–717

Wainselboim, A.J., Roces, F., Farina, W.M. (2002) Honeybees assess changes in nectar flow within a single foraging bout. Anim. Behav. 63, 1–6

Waller, G.D. (1972) Evaluating responses of honey bees to sugar solutions using an artificial-flower feeder. Ann. Ent. Soc. Am. 65, 857–862

Wolf, S., Lensky, Y., Paldi, N. (1999) Genetic variability in flower attractiveness to honeybees (Apis mellifera L.) with the genus Citrullus. HortScience 34, 860–863

Wyatt, R., Broyles, S.B., Derda, G.S. (1992) Environmental influences on nectar production in milkweeds (Asclepias syriaca and A. exaltata). Am. J. Bot. 79, 636–642
Acknowledgments
We thank Huijing Sun, Caleb Paquette, Curt Gill, Joanna Magner, and Aprele Fitzgerald for valuable assistance with the greenhouse and 2008 field experiments. We very much appreciate the generosity of the ETSU Kingsport Campus for providing garden space and support for the 2008 field studies and Thomas Jones and Allison Mains for garden space and support at their farm in 2009. Financial support was provided by a grant from the United States Department of Agriculture, National Research Initiative, CSREES #2006-35302-17278 (DM).
Additional information
Rythme journalier de la secrétion de nectar chez la courge ( Cucurbita pepo ) et relation avec l'activité des pollinisateurs
Abeilles / butinage / nectar / pollinisateur / comportement
Tagesrhythmik der Nektarsekretion im Kürbis ( Cucurbita pepo ) und seine Beziehung zur Bestäuberaktivität
Bienen / Sammelverhalten / Nektar / Bestäuber / Verhalten
Manuscript editor: Bernd Grünewald
About this article
Cite this article
Edge, A.A., van Nest, B.N., Johnson, J.N. et al. Diel nectar secretion rhythm in squash (Cucurbita pepo) and its relation with pollinator activity. Apidologie 43, 1–16 (2012). https://doi.org/10.1007/s13592-011-0087-8
Received:

Revised:

Accepted:

Published:

Issue Date:
Keywords
bees

foraging

nectar

pollinators

behavior