Abstract
Recent studies have focused on ways to enhance floral availability on arable farmland, but little attention has been paid to the importance of off-farm habitats in providing forage for pollinators within farmed landscapes. We conducted a comparative study to assess bumblebees and flower abundance on farmed and off-farm habitats in two low-intensity systems in the UK, the Somerset Levels and the Outer Hebrides. In both farming systems, both on- and off-farm habitats contributed to the mosaic of bumblebee forage. In the Somerset Levels, track edges and road verges were particularly important sources of forage for long-tongued bumblebees. Cattle-grazed pasture in Somerset and winter-grazed pasture in the Outer Hebrides were also notable sources of bumblebee forage. Non-agricultural habitats need to be integrated into local land management plans to ensure the provision of forage for bumblebees throughout the breeding season.
Access options
Buy single article
Instant access to the full article PDF.
USD 39.95
Price excludes VAT (USA)
Tax calculation will be finalised during checkout.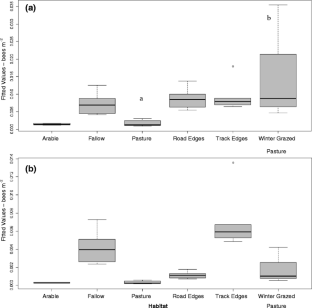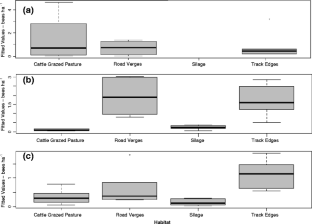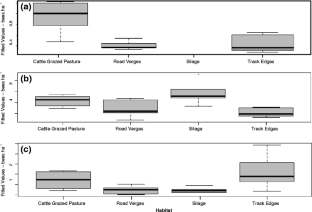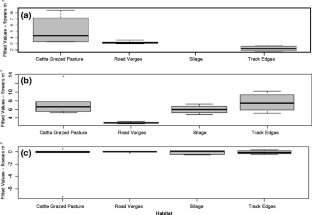 References
Bäckman, J.-P.C., Tiainen, J. (2002) Habitat quality of field margins in a finish farmland area for bumblebees (Hymenoptera: Bombus and Psithyrus). Agr. Ecosyst. Environ. 89, 53–68

Benton, T. (2006) Bumblebees: the Natural History and Identification of the Species Found in Britain. Harper Collins, London

Carvell, C. (2002) Habitat use and conservation of bumblebees (Bombus spp.) under different grassland management regimes. Biol. Conserv. 103, 33–49

Carvell, C., Roy, D.B., Smart, S.M., Pywell, R.F., Preston, C.D., Goulson, D. (2006) Declines in forage availability for bumblebees at a national scale. Biol. Conserv. 132, 481–489

Chamberlain, D.E., Fuller, R.J., Bunce, R.G.H., Duckworth, J.C., Shrubb, M. (2000) Changes in the abundance of farmland birds in relation to the timing of agricultural intensification in England and Wales. J. Appl. Ecol. 37, 771–788

Charman, T. (2007) Ecology and conservation genetics of Bombus distinguendus, the Great Yellow Bumblebee. Ph.D. thesis, University of Cambridge

Croxton, P.J., Carvell, C., Mountford, J.O., Sparks, T.H. (2002) A comparison of green lanes and field margins as bumblebee habitat in an arable landscape. Biol. Conserv. 107, 365–374

Decourtye, A., Mader, E., Desneux, N. (2010) Landscape scale enhancement of floral resources for honey bees in agro-ecosystems. Apidologie. 41, 264–277

Goulson, D. (2003) Bumblebees—behaviour and ecology. Oxford University Press, Oxford

Goulson, D., Darvill, B. (2004) Niche overlap and diet breadth in bumblebees; are rare species more specialized in their choice of flowers? Apidologie. 35, 55–63

Goulson, D., Hanley, M.E., Darvill, B., Ellis, J.S. (2006) Biotope associations and the decline of bumblebees (Bombus spp.). J. Insect Conserv 10, 95–103

Goulson, D., Hanley, M.E., Darvill, B., Ellis, J.S., Knight, M.E. (2005) Causes of rarity in bumblebees. Biol. Conserv. 122, 1–8

Goulson, D., Hughes, W.O.H., Derwent, L.C., Stout, J.C. (2002) Colony growth of the bumblebee, Bombus terrestris, in improved and conventional agricultural and suburban habitats. Oecologia. 130, 267–273

Goulson, D., Lye, G.C., Darvill, B. (2008a) Decline and conservation of bumble bees. Annu. Rev. Entomol. 53, 191–208

Goulson, D., Lye, G.C., Darvill, B. (2008b) Diet breadth, coexistence and rarity in bumblebees. Biodivers. Conserv. 17, 3269–3288

Hopwood, J.L. (2008) The contribution of roadside grassland restorations to native bee conservation. Biol. Conserv. 141, 2632–2640

Landis, D.A., Wratten, S.D., Gurr, G.M. (2000) Habitat management to conserve natural enemies of arthropod pests in agriculture. Annu. Rev. Entomol. 45, 175–201

Love, J. (2003) Machair—Scotland's Living Landscapes. Scottish Natural Heritage, Battleby

Mänd, M., Mänd, R., Williams, I.H. (2002) Bumblebees in the agricultural landscape of Estonia. Agr. Ecosyst. Environ. 89, 69–76

Natural England (2010) Information available to view at: http://www.naturalengland.org.uk/ourwork/farming/funding/closedschemes/esa/somersetlevelsandmoors.aspx

Noordijk, J., Delille, K., Schaffers, A.P., Sýkora, K.V. (2009) Optimizing grassland management for flower-visiting insects in roadside verges. Biol. Conserv. 142, 2097–2103

Pauwels, G., Gulinck, H. (2000) Changing minor rural road networks in relation to landscape sustainability and farming practices in West Europe. Agr. Ecosyst. Environment. 77, 95–99

Pollard, E. (1977) A method for assessing changes in abundance of butterflies. Biol. Conserv. 12, 115–134

Pywell, R.F., Warman, E.A., Carvell, C., Sparks, T.H., Dicks, L.V., Bennett, D., Wright, A., Critchley, C.N.R., Sherwood, A. (2005) Providing foraging resources for bumblebees in intensively farmed landscapes. Biol. Conserv. 121, 479–494

Redpath, N., Osgathorpe, L.M., Park, K., Goulson, D. (2010) Crofting and bumblebee conservation: the impact of land management practices on bumblebee populations in northwest Scotland. Biol. Conserv. 143, 492–500

Robinson, R.A., Sutherland, W.J. (2002) Post-war changes in arable farming and biodiversity in Great Britain. J. Appl. Ecol. 39, 157–176

Rundlöf, M., Nilsson, H., Smith, H.G. (2008) Interacting effects of farming practice and landscape context on bumble bees. Biol. Conserv. 141, 417–426

Saarinen, K., Valtonen, A., Jantunen, J., Saarnio, S. (2005) Butterflies and diurnal moths along road verges: does road type affect diversity and abundance? Biol. Conserv. 123, 403–412

Stoate, C., Boatman, N.D., Borralho, R.J., Rio Carvalho, C., de Snoo, G.R., Eden, P. (2001) Ecological impacts of arable intensification in Europe. J. Environ. Manag. 63, 337–365

The R Foundation for Statistical Computing (2010) R version 2.11.1. (2010-05-31)

Weibull, A., Östman, Ö., Granqvist, A. (2003) Species richness in agroecosystems: the effect of landscape, habitat and farm management. Biodiver. Conserv. 12, 1335–1355

Westphal, C., Steffan-Dewenter, I., Tscharntke, T. (2006) Foraging trip duration of bumblebees in relation to landscape-wide resource availability. Ecol. Entomol. 31, 389–394

Williams, P.H., Osborne, J.L. (2009) Bumblebee vulnerability and conservation world-wide. Apidologie 40(3), 367–387

Zuur, A.F., Ieno, E.N., Walker, N.J., Savaliey, A.A., Smith, G.M. (2009) Mixed Effects Models and Extensions in Ecology with R. Springer Science and Business Media, New York
Acknowledgements
We thank Scottish Natural Heritage for funding this research. We would also like to thank all the landowners in the Outer Hebrides and the Somerset Levels who allowed us access to their land. We also thank the three anonymous referees for comments on the manuscript.
Additional information
Utilisation, par les bourdons, des habitats non-cultivés dans les paysages agricoles: implications dans des aménagements à but de conservation.
Bombus / approvisionnement/ utilisation des habitats/ bord de route/ pâturage
Die Nützlichkeit von Habitaten außerhalb der landwirtschaftlichen Flächen in Agrargebieten für sammelnde Hummeln: Bedeutung für den Artenschutz
Bombus / Sammeln / Habitatnutzung / Straßenrand /Weide
About this article
Cite this article
Osgathorpe, L.M., Park, K. & Goulson, D. The use of off-farm habitats by foraging bumblebees in agricultural landscapes: implications for conservation management. Apidologie 43, 113–127 (2012). https://doi.org/10.1007/s13592-011-0083-z
Received:

Revised:

Accepted:

Published:

Issue Date:

DOI: https://doi.org/10.1007/s13592-011-0083-z
Keywords
Bombus

foraging

habitat use

road verge

grazing