Abstract
Senna is a diverse and paraphyletic genus in the subfamily Caesalpinioideae (Fabaceae Lindl.) comprising various species of industrial and medicinal value. To date, the genome-based taxonomic relationship among several Senna species remains enigmatic. Cytogenetic information is invaluable in deciphering phylogenetic relationships and evolutionary history. However, insufficient chromosomal research for many Senna species impedes comparative cytotaxonomic analyses aimed at understanding their genomic evolution. To provide additional Senna-related molecular cytogenetic information, we karyotyped 11 Senna species by employing triple-color fluorescence in situ hybridization using 5S rDNA, 45S rDNA, and Arabidopsis thaliana-type telomeric pre-labeled oligonucleotide probes. Chromosome numbers were predominantly 2n = 28, but 2n = 22 (S. marilandica) and 2n = 24 (S. uniflora) were also observed. While most species revealed only one interstitial 5S rDNA locus, except for S. uniflora which has two loci, a range of one to three 45S rDNA loci were detected at distal chromosomal regions. Additionally, we observed a hemizygous 45S rDNA locus in S. auriculata. In addition to chromosome termini, weak signals for telomeric repeats were found in interstitial regions in S. hirsuta, S. corymbosa, and S. alexandrina. These cytogenetic data can be integrated with molecular phylogenetic data for more comprehensive Senna cytotaxonomic analyses.
Access options
Buy single article
Instant access to the full article PDF.
US$ 39.95
Tax calculation will be finalised during checkout.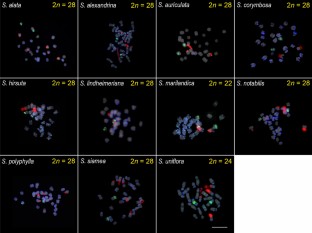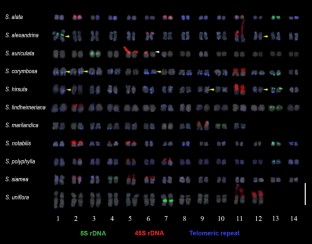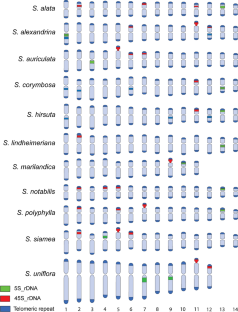 Acknowledgements
This study was funded by projects (NRF 2017R1A2B2004778 and NRF 2020K1A3A1A39112373) from grants of the National Research Foundation of Korea.
Ethics declarations
Conflict of interests
The authors declare that they have no conflicts of interest.
Additional information
Publisher's Note
Springer Nature remains neutral with regard to jurisdictional claims in published maps and institutional affiliations.
Communicated by Cecile Segonzac.
About this article
Cite this article
Nguyen, T.H., Waminal, N.E., Lee, D.S. et al. Comparative triple-color FISH mapping in eleven Senna species using rDNA and telomeric repeat probes. Hortic. Environ. Biotechnol. (2021). https://doi.org/10.1007/s13580-021-00364-9
Received:

Revised:

Accepted:

Published:
Keywords
Cytogenetic markers

FISH

Genome

Karyotype

Senna