Abstract
Red-fleshed radishes (RFRs) are economically important root vegetable in the Brassicaceae family that contain high concentrations of radish-red pigment in their fleshy root. However, the yield of the fleshy root is limited and germplasm resources for radish improvement are lacking. Genome doubling is an effective and efficient breeding tool for the rapid creation of new germplasm resources. Therefore, we aimed to induce tetraploidy in RFRs to improve pigment production. RFR seeds were immersed in aqueous colchicine (0, 0.01, 0.05, 0.10, 0.15, and 0.20% (w/v)) for 24 h followed by cultivation at 25℃ for 7 days, and those with uniform and distinctly swelled and short hypocotyls were selected as putative tetraploids. The putative tetraploids were identified by flow cytometry, and then we further examined the morphological and cytological characteristics of the diploid and tetraploid plants and measured gene expression via reverse transcription quantitative PCR. The results indicated that the most suitable concentration of colchicine (0.05% (w/v)) could induce tetraploidy in RFRs, with a tetraploid-induction rate as high as 34.50%. In addition, tetraploids exhibited a "gigantism" effect in both morphological and cytological traits, including swelled hypocotyls, thicker cotyledons, larger stoma, wider and longer leaves, taller plants, larger flowers, increased pollen size, larger seed pods and seeds, and a larger taproot. Moreover, compared with diploid plants, the pigment content and yield of pigment per plant of tetraploid plants were increased by 65.11% and 216.82%, respectively. Therefore, we present a simple and efficient method for tetraploid induction via soaking radish seeds in 0.05% (w/v) colchicine for 24 h. The results showed that tetraploid plants not only exhibited obvious "gigantism" effects but also significantly enhanced accumulation of anthocyanins, and represent a practical breeding material for improving pigment yield in RFRs.
Access options
Buy single article
Instant access to the full article PDF.
US$ 39.95
Tax calculation will be finalised during checkout.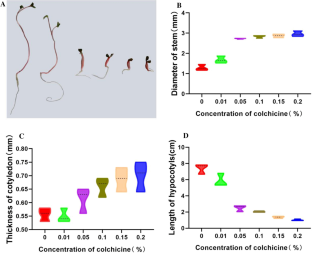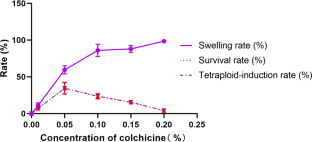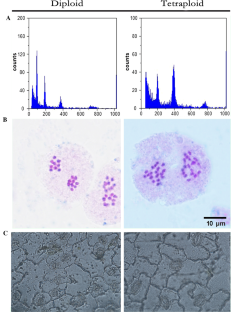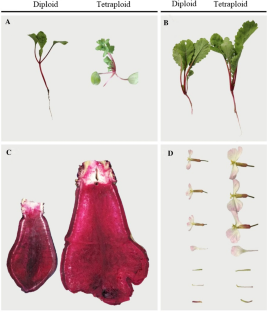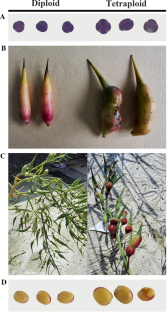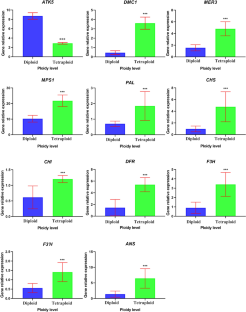 References
Ambrose JC, Cyr R (2007) The kinesin ATK5 functions in early spindle assembly in Arabidopsis. Plant Cell 19:226–236. https://doi.org/10.1105/tpc.106.047613

Blesso CN (2019) Dietary anthocyanins and human health. Nutrients 11:2107. https://doi.org/10.3390/nu11092107

Chen FB, Liu HF, Yao QL, Fang P, Lv FS (2015) Genetic variations and evolutionary relationships among radishes (Raphanus sativus L.) with different flesh colors based on red pigment content, karyotype, and simple sequence repeat analysis. Afr J Biotech 16:3270–3281. https://doi.org/10.5897/AJB2015.14911

Chen FB, Xing CY, Huo SP, Cao CL, Yao QL, Fang P (2016) Red pigment content and expression of genes related to anthocyanin biosynthesis in radishes (Raphanus sativus L.) with different colored flesh. J Agri Sci 8:126–135. https://doi.org/10.5539/jas.v8n8p126

Cohen H, Fait A, Tel-Zur N (2013) Morphological, cytological and metabolic consequences of autopolyploidization in Hylocereus (Cactaceae) species. BMC Plant Biol 13:173. https://doi.org/10.1186/1471-2229-13-173

Dong Y, Hu G, Yu J, Thu SW, Grover CE, Zhu S, Wendel JF (2019) Salt tolerance diversity in diploid and polyploid cotton (Gossypium) species. Plant J 101:14580. https://doi.org/10.1111/tpj.14580

Duan M, Wang J, Zhang X, Yang H, Wang H, Qiu Y, Song J, Guo Y, Li X (2017) Identification of optimal reference genes for expression analysis in radish (Raphanus sativus l.) and its relatives based on expression stability. Front Plant Sci 8:1605. https://doi.org/10.3389/fpls.2017.01605

Guo X, Yang B, Tan J, Jiang J, Li D (2016) Associations of dietary intakes of anthocyanins and berry fruits with risk of type 2 diabetes mellitus: A systematic review and meta-analysis of prospective cohort studies. Eur J Clin Nutr 70:1360–1367. https://doi.org/10.1038/ejcn.2016.142

Harborne JB, Williams CA (2000) Advances in flavonoid research since 1992. Phytochemistry 55:481–504. https://doi.org/10.1016/S0031-9422(00)00235-1

Javadian N, Karimzadeh G, Moieni SMA, Behmanesh M (2017) In vitro polyploidy induction: changes in morphology, podophyllotoxin biosynthesis, and expression of the related genes in Linum album (Linaceae). Planta 245:1165–1178. https://doi.org/10.1007/s00425-017-2671-2

Khoo HE, Azlan A, Tang ST, Lim SM (2017) Anthocyanidins and anthocyanins: colored pigments as food, pharmaceutical ingredients, and the potential health benefits. Food Nutr Res 61:1361779. https://doi.org/10.1080/16546628.2017.1361779

Kimble R, Keane KM, Lodge JK, Howatson G (2019) Dietary intake of anthocyanins and risk of cardiovasculardisease: a systematic review and meta-analysis of prospective cohort studies. Crit Rev Food Sci Nutr 59:3032–3043. https://doi.org/10.1080/10408398.2018.1509835

Landia M, Tattini M, Gouldc KS (2015) Multiple functional roles of anthocyanins in plant-environment interactions. Environ Exp Bot 119:4–17. https://doi.org/10.1016/j.envexpbot.2015.05.012

Lavania UC, Srivastava S, Lavania S, Basu S, Misra NK, Mukai Y (2012) Autopolyploidy differentially influences body size in plants, but facilitates enhanced accumulation of secondary metabolites, causing increased cytosine methylation. Plant J 71:1–11. https://doi.org/10.1111/j.1365-313x.2012.05006.x

Limera C, Wang K, Xu L, Wang Y, Zhu X, Feng H, Sha Y, Gong Y, Liu L (2016) Induction of autotetraploidy using colchicine and its identification in radish (Raphanus sativus L.). J Hortic Sci Biotechnol 91:63–70. https://doi.org/10.1080/14620316.2015.1110993

Liu HF, Chen B (2019) Candidate genes in red pigment biosynthesis of a red-fleshed radish cultivar (Raphanus sativus L.) as revealed by transcriptome analysis. Biochemical Syst Ecol 86:103933. https://doi.org/10.1016/j.bse.2019.103933

Lloyd A, Bomblies K (2016) Meiosis in autopolyploid and allopolyploid Arabidopsis. Curr Opin Plant Biol 30:116–122. https://doi.org/10.1016/j.pbi.2016.02.004

Lv FS, Tao HY, Tan GX, Zeng XX (2015) The characteristics of parents and seed production techniques of red radish "Yanzhihongyihao." Shanxi Agri Sci 61:122–123 ((In China with English abstract))

Mach J (2019) Camelina: A history of polyploidy, chromosome shattering, and recovery. Plant Cell 31:2550–2551. https://doi.org/10.1105/tpc.19.00754

Manolescu BN, Oprea E, Mititelu M, Ruta LL, Farcasanu IC (2019) Dietary anthocyanins and stroke: a review of pharmacokinetic and pharmacodynamic studies. Nutrients 11:1479. https://doi.org/10.3390/nu11071479

McCann D, Barrett A, Cooper A, Crumpler D, Dalen L, Grimshaw K, Kitchin E, Lok K, Porteous PE, Sonuga-Barke E, Warner JO, Stevenson J (2007) Food additives and hyperactive behaviour in 3-year-old and 8/9-yearold children in the community: a randomised, doubleblinded, placebo-controlled trial. Lancet 370:1560–1567. https://doi.org/10.1016/S0140-6736(07)61306-3

Mishra BK, Pathak S, Sharma A, Trivedi PK, Shukla S (2010) Modulated gene expression in newly synthesized auto-tetraploid of Papaver somniferum L. S Afr J Bot 76:447–452. https://doi.org/10.1016/j.sajb.2010.02.090

Park CH, Baskar TB, Park SY, Kim SJ, Valan Arasu M, Al-Dhabi NA, Kim JK, Park SU (2016) Metabolic profiling and antioxidant assay of aetabolites from three radish cultivars (Raphanus sativus). Molecules 21:15. https://doi.org/10.3390/molecules21020157

Pei Y, Yao N, He L, Deng DX, Li Wei, Zhang WP (2019) Comparative study of the morphological, physiological and molecular characteristics between diploid and tetraploid radish (Raphunas sativus L.). Sci Hortic-Amsterdam 257:108739. https://doi.org/10.1016/j.scienta.2019.108739

Santos-Buelga C, Mateus N, De Freitas V (2014) Anthocyanins. plant pigments and beyond. J Agri Food Chem 62:6879–6884. https://doi.org/10.1021/jf501950s

Sattler MC, Carvalho CR, Clarindo WR (2016) The polyploidy and its key role in plant breeding. Planta 243:281–296. https://doi.org/10.1007/s00425-015-2450-x

Schefe JH, Lehmann KE, Buschmann IR, Unger T, Funke-Kaiser H (2006) Quantitative real-time RT-PCR data analysis: current concepts and the novel "gene expression's C T difference" formula. J Mol Med 84:901–910. https://doi.org/10.1007/s00109-006-0097-6

Tan FQ, Zhang M, Xie KD, Fan YJ, Song X, Wang WuXM, Zhang HY, Guo WW (2019) Polyploidy remodels fruit metabolism by modifying carbon source utilization and metabolic flux in Ponkan mandarin (Citrus reticulata Blanco). Plant Sci 289:110276. https://doi.org/10.1016/j.plantsci.2019.110276

Wang LZ, He QW (2005) Chinese radishes. Scientific and Technical Documents Publishing House, Beijing

Xiang ZX, Tang XL, Liu WH, Song CN (2019) A comparative morphological and transcriptomic study on autotetraploid Stevia rebaudiana (bertoni) and its diploid. Plant Physiol Biochem 143:154–164. https://doi.org/10.1016/j.plaphy.2019.09.003

Xing SH, Guo XB, Wang Q, Pan QF, Tian YS, Liu P, Zhao JY, Wang GF, Sun XF, Tang KX (2011) Induction and flow cytometry identification of tetraploids from seed-derived explants through colchicine treatments in Catharanthus roseus (L) G. Don. J Biomed Biotechnol 2011:793198. https://doi.org/10.1155/2011/793198

Yang J, Wang Z, Jiang Y, Fei S (2019) Editorial: Genetics and genomics of polyploid plants. Front Plant Sci 10:934. https://doi.org/10.3389/fpls.2019.00934

Yavari S, Omidbaigi R, Hassani ME (2011) The effects of induction of autotetraploidy on the essential oil content and compositions of dragonhead (Dracocephalum moldavica L). Jeobp 14:484–489. https://doi.org/10.1007/s00425-017-2671-2

Zafar IM, Cheng MJ, Zhao YL, Wen XD, Zhang P, Zhang L, Ali A, Rong TZ, Tang QL (2018) Mysterious meiotic behavior of autopolyploid and allopolyploid maize. Comp Cytogenet 12:247–265. https://doi.org/10.3897/CompCytogen.v12i2.24907

Zhang N, Bao Y, Xie ZL, Huang X, Sun YH, Feng G, Zeng HX, Ren J, Li YH, Xiong JS, Chen W, Yan C, Tang M (2019) Efficient characterization of tetraploid watermelon. Plants 8:419. https://doi.org/10.3390/plants8100419
Acknowledgements
This study was funded by Special Project of Science and Technology Innovation for Social Undertaking and People's Livelihood Guarantee of CSTC (No. cstc2017shms-xdny80074).
Ethics declarations
Conflict of interest
The authors have no conflict of interest to declare.
Additional information
Publisher's Note
Springer Nature remains neutral with regard to jurisdictional claims in published maps and institutional affiliations.
Communicated by Cecile Segonzac.
About this article
Cite this article
Chen, F., Gao, J., Li, W. et al. Colchicine-induced tetraploidy influences morphological and cytological characteristics and enhances accumulation of anthocyanins in a red-fleshed radish (Raphanus sativus L.). Hortic. Environ. Biotechnol. (2021). https://doi.org/10.1007/s13580-021-00363-w
Received:

Revised:

Accepted:

Published:
Keywords
Anthocyanin

Colchicine

RT-qPCR

Red-fleshed radish

Tetraploid