Abstract
Pyrus ussuriensis is the most important cultivated pear in the northeastern, cold areas of China. However, studies on the biological activity of Pyrus ussuriensis fruit are rare in the public domain. The present study compared antioxidant, anti-inflammatory, and antimicrobial activities and chemical composition in tissues from the peel and flesh of nine Pyrus ussuriensis cultivars. The chemical composition differed among cultivars and tissue sources. Phenolics were predominant in peel samples, whereas sugars were predominant in flesh samples. Twenty-one phenolic compounds were identified and quantified, including hydroxycinnamic acids, hydroquinones, flavanols, flavonols, flavones, and anthocyanins (only in peel samples). The total phenolic content ranged between 363.0 and 1734.0 mg kg− 1 FW in the peel and from 28.5 to 182.3 mg kg− 1 FW in the flesh. In addition, cultivars with high total phenolic and flavonoid contents had significantly higher antioxidant activities. The in vitro anti-inflammatory study, performed using an egg albumin denaturation assay, demonstrated that both peel and flesh samples had strong activity, which was comparable with that of the standard anti-inflammatory drug diclofenac sodium. The antimicrobial results showed that 'Jianba' and 'Balixiang' cultivars exhibited strong activity against bacteria strains in the peel and flesh, respectively. The present study provided information for selecting promising Pyrus ussuriensis cultivars with improved health benefits.
Access options
Buy single article
Instant access to the full article PDF.
US$ 39.95
Tax calculation will be finalised during checkout.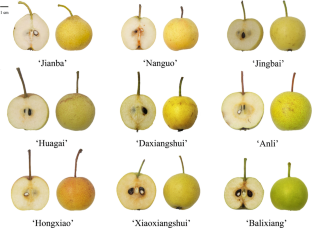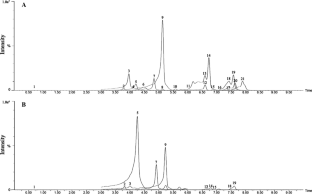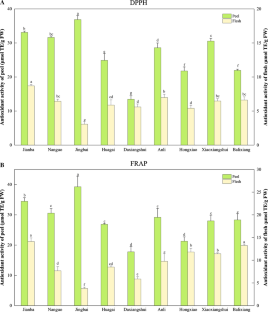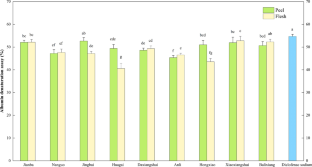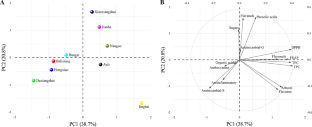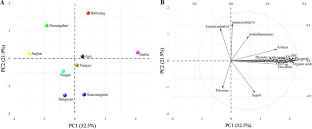 Data availability
The data supporting the findings of this study are available from the corresponding author (Guodong Du) on request.
References
Arzani K, Khoshghalb H, Malakouti MJ, Barzegar M (2008) Postharvest fruit physicochemical changes and properties of Asian (Pyrus serotina Rehd.) and European (Pyrus communis L.) pear cultivars. Hortic Environ Biote 49:244–252

Asencio AD, Serrano M, García-Martínez S, Pretel MT (2018) Organic acids, sugars, antioxidant activity, sensorial and other fruit characteristics of nine traditional Spanish Citrus fruits. Eur Food Res Technol 244:1497–1508

Benzie IF, Strain JJ (1996) The ferric reducing ability of plasma (FRAP) as a measure of "antioxidant power": the FRAP assay. Anal Biochem 239:70–76

Brahem M, Renard CM, Eder S, Loonis M, Ouni R, Mars M, Le Bourvellec C (2017) Characterization and quantification of fruit phenolic compounds of European and Tunisian pear cultivars. Food Res Int 95:125–133

Brand-Williams W, Cuvelier ME, Berset C, L W T (1995) Use of a free radical method to evaluate antioxidant activity. LWT- Food Sci Technol 28:25–30

Chen J, Wang Z, Wu J, Wang Q, Hu X (2007) Chemical compositional characterization of eight pear cultivars grown in China. Food Chem 104:268–275

Cho JY, Kim CM, Lee HJ, Lee SH, Cho JA, Kim WS, Park KH, Moon JH (2013) Caffeoyl triterpenes from pear (Pyrus pyrifolia Nakai) fruit peels and their antioxidative activities against oxidation of rat blood plasma. J Agric Food Chem 61:4563–4569

Dong X, Zheng Y, Cao Y, Tian L, Zhang Y, Qi D, Huo H, Wang D (2018) Evaluation of phenolic composition and content of pear varieties in leaves from China. Erwerbs-Obstbau 60:331–340

El-Hawary SS, El-Tantawi ME, Kirollos FN, Hammam WE (2018) Chemical composition, in vitro cytotoxic and antimicrobial activities of volatile constituents from Pyrus communis L. and Malus domestica Borkh. fruits cultivated in Egypt. J Essent Oil Bear P 21:1642–1651

Galvis Sánchez AC, Gil-Izquierdo A, Gil MI (2003) Comparative study of six pear cultivars in terms of their phenolic and vitamin C contents and antioxidant capacity. J Sci Food Agric 83:995–1003

Gogoi R, Loying R, Sarma N, Munda S, Pandey SK, Lal M (2018) A comparative study on antioxidant, anti-inflammatory, genotoxicity, anti-microbial activities and chemical composition of fruit and leaf essential oils of Litsea cubeba Pers from North-east India. Ind Crop Prod 125:131–139

Hudina M, Stampar F, Orazem P, Petkovsek MM, Veberic R (2012) Phenolic compounds profile, carbohydrates and external fruit quality of the 'Concorde'pear (Pyrus communis L.) after bagging. Can J Plant Sci 92:67–75

Itai A, Tanahashi T (2008) Inhibition of sucrose loss during cold storage in Japanese pear (Pyrus pyrifolia Nakai) by 1-MCP. Postharvest Biol Tec 48:355–363

Kalkisim O, Okcu Z, Karabulut B, Ozdes D, Duran C (2018) Evaluation of pomological and morphological characteristics and chemical compositions of local pear varieties (Pyrus communis L.) grown in Gumushane, Turkey. Erwerbs-Obstbau 60:173–181

Kolniak-Ostek J, Oszmiański J (2015) Characterization of phenolic compounds in different anatomical pear (Pyrus communis L.) parts by ultra-performance liquid chromatography photodiode detector-quadrupole/time of flight-mass spectrometry (UPLC-PDA-Q/ TOF-MS). Int J Mass Spectrom 392:154–163

Kolniak-Ostek J (2016a) Chemical composition and antioxidant capacity of different anatomical parts of pear (Pyrus communis L.). Food Chem 203:491–497

Kolniak-Ostek J (2016b) Content of bioactive compounds and antioxidant capacity in skin tissues of pear. J Funct Foods 23:40–51

Liu Y, Wu Y, Che F, Zhang Z, Chen B (2019) Physical–chemical composition and quality related changes in "Ruaner" pear (Pyrus ussuriensis) during freezing–thawing period. Molecules 24:2611

Li X, Zhang JY, Gao WY, Wang Y, Wang HY, Cao JG, Huang LQ (2012a) Chemical composition and anti-inflammatory and antioxidant activities of eight pear cultivars. J Agric Food Chem 60:8738–8744

Li X, Zhang J, Gao W, Wang H (2012b) Study on chemical composition, anti-inflammatory and anti-microbial activities of extracts from Chinese pear fruit (Pyrus bretschneideri Rehd.). Food Chem Toxicol 50:3673–3679

Li X, Wang T, Zhou B, Gao W, Cao J, Huang L (2014) Chemical composition and antioxidant and anti-inflammatory potential of peels and flesh from 10 different pear varieties (Pyrus spp.). Food Chem 152:531–538

Öztürk A, Demirsoy L, Demirsoy H, Asan A, Gül O (2015) Phenolic compounds and chemical characteristics of pears (Pyrus Communis L.). Int J Food Prop 18:536–546

Park HH, Lee S, Son HY, Park SB, Kim MS, Choi EJ, Singh TSK, Ha JH, Lee MG, Kim JE, Hyun MC, Kwon TK, Kim YH, Kim SH (2008) Flavonoids inhibit histamine release and expression of proinflammatory cytokines in mast cells. Arch Pharm Res 31:1303

Qin G, Tao S, Cao Y, Wu J, Zhang H, Huang W, Zhang S (2012) Evaluation of the volatile profile of 33 Pyrus ussuriensis cultivars by HS-SPME with GC–MS. Food Chem 134:2367–2382

Qiu D, Guo J, Yu H, Yan J, Yang S, Li X, Zhang Y, Sun J, Cong J, He S, Wei D, Qin J (2018) Antioxidant phenolic compounds isolated from wild Pyrus ussuriensis Maxim. fruit peels and leaves. Food Chem 241:182–187

Saidani F, Giménez R, Aubert C, Chalot G, Betrán JA, Gogorcena Y (2017) Phenolic, sugar and acid profiles and the antioxidant composition in the peel and pulp of peach fruits. J Food Compos Anal 62:126–133

Samoticha J, Wojdyło A, Golis T (2017) Phenolic composition, physicochemical properties and antioxidant activity of interspecific hybrids of grapes growing in Poland. Food Chem 215:263–273

Santana-Gálvez J, Cisneros-Zevallos L, Jacobo-Velázquez DA (2017) Chlorogenic acid: Recent advances on its dual role as a food additive and a nutraceutical against metabolic syndrome. Molecules 22:358

Saravanan M, Senthilkumar P, Chinnadurai V, Sakthivel KM, Rajeshkumar R, Pugazhendhi A (2020) Antiangiogenic, anti-inflammatory and their antioxidant activities of Turnera subulata Sm. (Turneraceae). Process Biochem 89:71–80

Shahidi F, Ambigaipalan P (2015) Phenolics and polyphenolics in foods, beverages and spices: Antioxidant activity and health effects–A review. J Funct Foods 18:820–897

Sha S, Li J, Wu J, Zhang S (2011) Characteristics of organic acids in the fruit of different pear species. Afr J Agric Res 6:2403–2410

Tao S, Khanizadeh S, Zhang H, Zhang S (2009) Anatomy, ultrastructure and lignin distribution of stone cells in two Pyrus species. Plant Sci 176:413–419

Ullah HA, Zaman S, Juhara F, Akter L, Tareq SM, Masum EH, Bhattacharjee R (2014) Evaluation of antinociceptive, in-vivo & in-vitro anti-inflammatory activity of ethanolic extract of Curcuma zedoaria rhizome. BMC Complem Altern M 14:346

Wang T, Li X, Zhou B, Li H, Zeng J, Gao W (2015a) Anti-diabetic activity in type 2 diabetic mice and α-glucosidase inhibitory, antioxidant and anti-inflammatory potential of chemically profiled pear peel and pulp extracts (Pyrus spp.). J Funct Foods 13:276–288

Wang X, Li C, Liang D, Zou Y, Li P, Ma F (2015b) Phenolic compounds and antioxidant activity in red-fleshed apples. J Funct Foods 18:1086–1094

Wang X, Liu S, Li C, Liu Y, Lu X, Du G, Lyu D (2020) Biochemical characterization and expression analysis of lignification in two pear (Pyrus ussuriensis Maxim.) varieties with contrasting stone cell content. Protoplasma 257:261–274

Wojdyło A, Carbonell-Barrachina ÁA, Legua P, Hernández F (2016) Phenolic composition, ascorbic acid content, and antioxidant capacity of Spanish jujube (Ziziphus jujube Mill.) fruits. Food Chem 201:307–314

Wojdyło A, Nowicka P, Oszmiański J, Golis T (2017) Phytochemical compounds and biological effects of Actinidia fruits. J Funct Foods 30:194–202

Xu J, Zhang Y, Qi D, Huo H, Dong X, Tian L, Zhang X, Liu C, Cao Y (2018) Postharvest metabolomic changes in Pyrus ussuriensis Maxim. wild accession 'Zaoshu Shanli'. J Sep Sci 41:4001–4013

Yan C, Yin M, Zhang N, Jin Q, Fang Z, Lin Y, Cai Y (2014) Stone cell distribution and lignin structure in various pear varieties. Sci Hortic 174:142–150

Yao G, Zhang S, Cao Y, Liu J, Wu J, Yuan J, Xiao C (2010) Characteristics of components and contents of soluble sugars in pear fruits from different species. Sci Agric Sin 43:4229–4237

Yilmaz KU, Ercisli S, Cam M, Uzun A, Yilmaztekin M, Kafkas E, Pinar H (2015) Fruit weight, total phenolics, acidity and sugar content of edible wild pear (Pyrus elaeagnifolia Pall.) fruits. Erwerbs-Obstbau 57:179–184

Yim SH, Nam SH (2016) Physiochemical, nutritional and functional characterization of 10 different pear cultivars (Pyrus spp.). J. Appl. Bot. Food Qual. 89
Acknowledgements
The research was supported by the National Natural Science Foundation of China (31701865), the Earmarked Fund for the China Agriculture Research System (CARS-28), and the Liaoning Provincial Natural Science Foundation of China (2019-MS-276).
Ethics declarations
Conflict of interest
The authors declare no conflict of interests.
Additional information
Publisher's note
Springer Nature remains neutral with regard to jurisdictional claims in published maps and institutional affiliations.
Communicated by Yong-Bum Kwack, Ph.D.
About this article
Cite this article
Wang, X., Liu, C., Wang, Q. et al. A comparative study on antioxidant, anti‐inflammatory, antimicrobial activities and chemical composition of Pyrus ussuriensis cultivars from northeastern China. Hortic. Environ. Biotechnol. (2021). https://doi.org/10.1007/s13580-020-00322-x
Received:

Revised:

Accepted:

Published:
Keywords
Anti‐inflammatory

Antimicrobial

Phenolics

Pyrus ussuriensis

Organic acids

Sugars