Abstract
This study selected Dendrobium officinale protocorms as the experimental material and used different light-quality treatments and calcium signalling inhibitors to explore the mechanism of the biological response of calcium to light quality. The results indicate that a 1:3 red:blue (R:B) light ratio promotes the accumulation of biomass and polysaccharides in the protocorm. Nevertheless, this effect can be entirely counteracted by calmodulin (CaM) inhibitors and calcium ion-chelating agents. The possible mechanisms of this effect are as follows: (1) The Ca2+-CaM signal-regulated photosynthetic apparatus is improved by the R:B 1:3 light, increasing the CaM content and Ca2+-ATPase activity. Thus, R:B 1:3 light increases the development of the photosynthetic apparatus in the D. officinale protocorm, enhances its photosynthetic productivity, and promotes the activities of sucrose phosphatase; accordingly, biomass and sucrose accumulation increase. (2) R:B 1:3 light enhances Ca2+-CaM signalling and regulates glycometabolic processes to promote the activities of sucrose synthase, thus increasing fructose and glucose levels and providing sufficient synthetic precursors to promote polysaccharide production.
Access options
Buy single article
Instant access to the full article PDF.
US$ 39.95
Tax calculation will be finalised during checkout.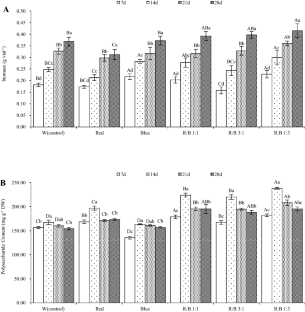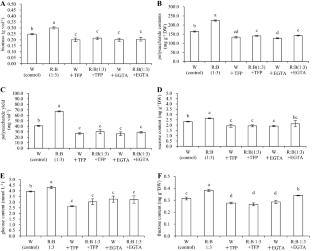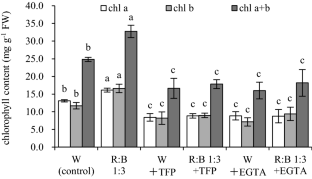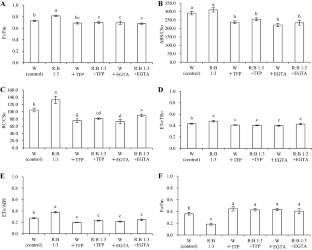 Data availability
The datasets generated during and analyzed during the current study are available from the corresponding author on reasonable request.
References
Axelsen KB, Palmgren MG (1998) Evolution of substrate specificities in the P-Type ATPase. Superfamily J Mol Evol 46:84–101

Bach A, Krol A (2001) Effect of light quality on somatic embryogenesis in Hyacinthus orientalis L. 'Delft's. Blue' Biol Bull Pozn 38:103–107

Carmona R, Vergara JJ, Lahaye M, Niell FX (1998) Light quality affects morphology and polysaccharide yield and composition of Gelidium sesquipedale (Rhodophyceae). J Appl Phycol 10:323–331

Cui HY, Murthy HN, Sang HM, Cui YY, Lee EJ, Paek KY (2014) Production of biomass and bioactive compounds in protocorm cultures of Dendrobium candidum Wall ex Lindl. using balloon type bubble bioreactors. Ind Crop Prod 53:28–33

Dey M, Guha-Mukherjee S (2000) Aspartate metabolism in Cicer immature seeds requires Ca2+, protein phosphorylation and dephosphorylation. Plant Sci 150:85–91

Fan Y, He X, Zhou S, Luo A, He T, Chun Z (2009) Composition analysis and antioxidant activity of polysaccharide from Dendrobium denneanum. Int J Biol Macromol 45:169–173

Gao J, Jin R, Wu Y, Zhang H, Zhang D, Chang Y, Hu Z (2002) Comparative study of tissue cultured dendrobium protocorm with natural Dendrobium candidun on immunological function. J Chin Med Mater 25:487–489

Gao X, Zhang M, Li X, Shi C, Song C, Liu Y (2016) Effects of LED light quality on the growth, metabolism, and energy budgets of. Haliotis discus discus Aquaculture 453:31–39

Gutiérrez D, Gutiérrez E, Pérez P, Morcuende R, Verdejo AL, Martinez-Carrasco R (2009) Acclimation to future atmospheric CO2 levels increases photochemical efficiency and mitigates photochemistry inhibition by warm temperatures in wheat under field chambers. Physiol Plant 137:86–100

Han PP, Shen SG, Wang HY, Sun Y, Dai YJ, Jia SR (2015) Comparative metabolomic analysis of the effects of light quality on polysaccharide production of cyanobacterium Nostoc flagelliforme. Algal Res 9:143–150

Hsieh Y, Chien C, Sk, Liao S, Hung W, Yang W, Lin C, Cheng T, Chang C, Fang J, Wong C (2008) Structure and bioactivity of the polysaccharides in medicinal plant Dendrobium huoshanense. Biorg Med Chem 16:6054–6068

Huang Y, Zhang Y, Gao C, Li Z, Guan Y, Hu W, Hu J (2018) The interactions of plant growth regulators and H2O2 during germination improvement of sweet corn seed through spermidine application. Plant Growth Regul 85:15–26

Hughes MA, Dunn MA (1996) The molecular biology of plant acclimation to low temperature. J Exp Bot 47:291–305

Kobayashi KD, Amore T, Lazaro M (2013) Light-emitting diodes (LEDs) for miniature hydroponic lettuce. Opt Photon J 2013:74–77

Liang W, Wang M, Ai X (2009) The role of calcium in regulating photosynthesis and related physiological indexes of cucumber seedlings under low light intensity and suboptimal temperature stress. Sci Hortic 123:34–38

Lin Y, Li J, Li B, He T, Chun Z (2011) Effects of light quality on growth and development of protocorm-like bodies of Dendrobium officinale in vitro. Plant Cell Tiss Org 105:329–335

Long JC, Jenkins GI (1998) Involvement of plasma membrane redox activity and calcium homeostasis in the UV-B and UV-A/Blue light induction of gene expression in Arabidopsis. Plant Cell 10:2077–2086

Lue MY, Lee HT (1994) Protein phosphatase inhibitors enhance the expression of an α-Amylase GENE, α Amy 3, in cultured rice cells. Biochem Biophys Res Commun 205:807–816

Luo JP, Wang Y, Zha XQ, Huang L (2008) Micropropagation of Dendrobium densiflorum Lindl. ex Wall. through protocorm-like bodies: effects of plant growth regulators and lanthanoids. Plant Cell Tiss Org 93:333–340

Luo QL, Tang ZH, Zhang XF, Zhong YH, Yao SZ, Wang LS, Lin CW, Luo X (2016) Chemical properties and antioxidant activity of a water-soluble polysaccharide from Dendrobium officinale. Int J Biol Macromol 89:219–277

Maevskaya NP, Bukhov NG (2005) Effect of light quality on nitrogen metabolism of radish plants. Russ J Plant Physiol 52:304–310

Malabadi RB, Mulgund GS, Kallappa N (2005) Micropropagation of Dendrobium nobile from shoot tip sections. J Plant Physiol 162:473–478

Martin KP, Madassery J (2006) Rapid in vitro propagation of Dendrobium hybrids through direct shoot formation from foliar explants, and protocorm-like bodies. Sci Hortic 108:95–99

Morenovalenzuela OA, Minerogarcía Y, Chan W, Mayergeraldo E, Carbajal E, Loyolavargas VM (2003) Increase in the indole alkaloid production and its excretion into the culture medium by calcium antagonists in Catharanthus roseus hairy roots. Biotechnol Lett 25:1345–1349

Naik PM, Praveen N, Murthy HN (2010) Effects of sucrose and pH levels on in vitro shoot regeneration from leaf explants of Bacopa monnieri and accumulation of bacoside A in regenerated shoots. Plant Cell Tiss Org 100:235–239

Roelfsema MM, Hba P (2010) Blue light-induced apoplastic acidification of Arabidopsis thaliana guard cells: inhibition by ABA is mediated through protein phosphatases. Physiol Plant 103:466–474

Sanders D, Brownlee C, Harper JF (1999) Communicating with calcium. Plant Cell 11:691–706

Service RF (2012) Looking for a Sugar Rush. Sci 338:321–323

Shiau YJ, Nalawade SM, Hsia CN, Mulabagal V, Tsay HS (2005) In vitro propagation of the chinese medicinal plant, Dendrobium candidum wall. ex lindl., from axenic nodal segments. In Vitro Cell Dev Biol Plant 41:666–670

Shimazaki K, Goh CH, Kinoshita T (2010) Involvement of intracellular Ca2+ in blue light-dependent proton pumping in guard cell protoplasts from Vicia faba. Physiol Plant 105:554–561

Shin DH, Choi MG, Lee HK, Cho M, Choi SB, Choi G, Park YI (2013) Calcium dependent sucrose uptake links sugar signaling to anthocyanin biosynthesis in Arabidopsis. Biochem Biophys Res Commun 430:634–639

Szikra T, Cusato K, Thoreson WB, Barabas P, Bartoletti TM, Krizaj D (2008) Depletion of calcium stores regulates calcium influx and signal transmission in rod photoreceptors. J Physiol 586:4859–4875

Tla M, Fricker M (1999) The role of calcium in blue-light-dependent chloroplast movement in Lemna trisulca L. Plant J 20:461–473

Wade NL (1981) Effects of storage atmosphere, temperature and calcium on low-temperature injury of peach fruit. Sci Hortic 15:145–154

Wang J, Luo J, Zha X, Feng B (2010a) Comparison of antitumor activities of different polysaccharide fractions from the stems of Dendrobium nobile Lindl. Carbohydr Polym 79:114–118

Wang H, Jiang Y, Yu HJ, Xia XJ, Shi K, Zhou YH, Yu JQ (2010b) Light quality affects incidence of powdery mildew, expression of defence-related genes and associated metabolism in cucumber plants. Eur J Plant Pathol 127:125–135

Wang L, Tang D, Shang Y, Liu M, Wang J, Lin Y (2016) Comparison of antibacterial and in vitro antioxidant activities of polysaccharides from Dendrobium candidum protocorms and wild. Dendrobium J Northwest A&F Univ (NatSciEd) 44:167–172

Wang X, Komatsu S (2017) Proteomic analysis of calcium effects on soybean root Tip under flooding and drought Stresses. Plant Cell Physiol 58:1405–1420

Xia L, Liu X, Guo H, Zhang H, Zhu J, Ren F (2012) Partial characterization and immunomodulatory activity of polysaccharides from the stem of Dendrobium officinale (Tiepishihu) in vitro. J Funct Foods 4:294–301

Xing X, Cui SW, Nie S, Phillips GO, Goff HD, Wang Q (2013) A review of isolation process, structural characteristics, and bioactivities of water-soluble polysaccharides from Dendrobium plants. Bioactive Carbohydr Diet Fibre 1:131–147

Yang F, Wei NN, Gao R, Piao XC, Lian ML (2015a) Effect of several medium factors on polysaccharide and alkaloid accumulation in protocorm-like bodies of Dendrobium candidum during bioreactor culture. Acta Physiol Plant 37:94–102

Yang S, Wang F, Guo F, Meng JJ, Li XG, Wan SB (2015b) Calcium contributes to photoprotection and repair of photosystem II in peanut leaves during heat and high irradiance. J Integr Plant Biol 57:486–495

Yu B, Liu Y, Pan Y, Liu J, Wang H, Tang Z (2018) Light enhanced the biosynthesis of terpenoid indole alkaloids to meet the opening of cotyledons in process of photomorphogenesis of Catharanthus roseus. Plant Growth Regul 84:617–626

Zeng Y (2011) Detection of sugar accumulation and expression levels of correlative key enzymes in winterwheat at low temperatures. Master thesis, Northeast Agricultural University

Zhang XY, Li T, Tan GF, Huang Y, Wang F, Xiong AS (2018) Effects of dark treatment and regular light recovery on the growth characteristics and regulation of chlorophyll in water dropwort. Plant Growth Regul 85:293–303

Zhao G, Kan J, Li Z, Chen Z (2005) Structural features and immunological activity of a polysaccharide from Dioscorea opposita Thunb roots. Carbohydr Polym 61:125–131

Zheng Y, Jiang W, Liao F, Lu H (2012) Optimization of light quality for production of alkaloid and polysaccharide in Dendrobium candidum Wall. ex Lindl. J Med Plant Res 6:560–565
Acknowledgements
This work was supported by the National Key R&D Program of China (NO.2018YFD0600105), Sichuan Science and Technology Program (NO. 2018JY0211), and Sichuan Landscape and Recreation Research Center (JGYQ2019024).
Ethics declarations
Conflict of Interest
The authors declare that they do not have any commercial or associative interest that represents a conflict of interest in connection with the work submitted.
Additional information
Publisher's Note
Springer Nature remains neutral with regard to jurisdictional claims in published maps and institutional affiliations.
Communicated by So-Young Park, Ph.D.
About this article
Cite this article
Lei, T., Gao, S., Lin, X. et al. Calcium signalling mediated the regulation of growth and polysaccharide accumulation by light quality in Dendrobium officinale protocorms. Hortic. Environ. Biotechnol. (2021). https://doi.org/10.1007/s13580-020-00304-z
Received:

Revised:

Accepted:

Published:
Keywords
Calcium signal

Dendrobium officinale

Light quality

Polysaccharide

Protocorm