Abstract
This work evaluates new citrus hybrid tolerance to salt stress compared to Carrizo citrange. Growth parameters, ion concentration, photosynthetic parameters, leaf water relation, plant damage and proline concentration were assessed in plants irrigated with 0 (control) or 60 mM of NaCl for 60 days. Some hybrids presented marked salt-stress symptomatology like sharp decreases in plant biomass and RGR parameter, and high leaf burn and abscission percentages. While Cl− accumulation in most salinised genotypes was recorded in all the plant fractions, accumulation occurred in some hybrids only in their aerial organs. Stomatal conductance also lowered under salt conditions in all the hybrids, whereas the internal CO2 concentration (Ci) tended to increase. Salt stress lowered the leaf water potentials in all the 0501 hybrids. As a response, the salinised plants induced proline accumulation. The main trait that improved salt tolerance in some genotypes is apparently linked with the imbalance among Cl−, Na+ and K+ ions, especially enhanced K+ uptake and transport rates which delay plant damage.
Access options
Buy single article
Instant access to the full article PDF.
USD 39.95
Price includes VAT (USA)
Tax calculation will be finalised during checkout.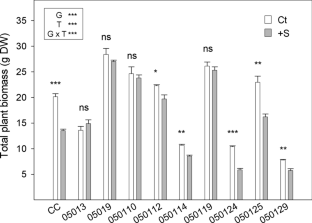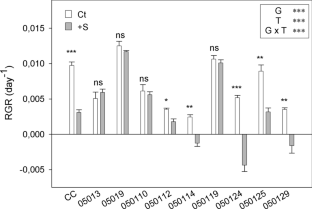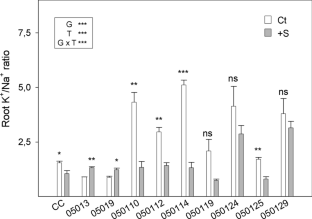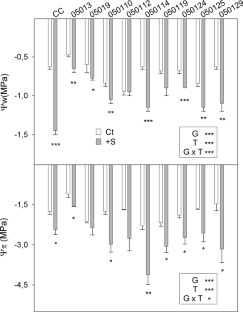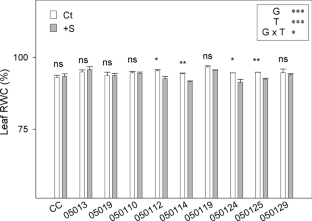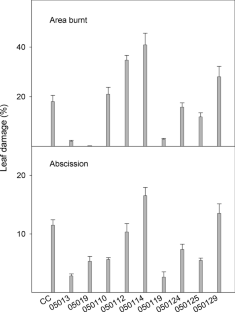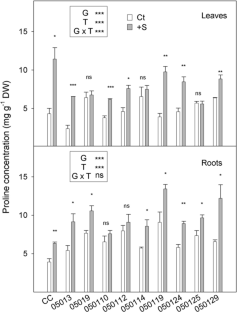 References
Ahmad P, Kumar A, Ashraf M, Akram NA (2012) Salt-induced changes in photosynthetic activity and oxidative defense system of three cultivars of mustard (Brassica juncea L.). Afr J Biotechnol 11:2694–2703

Arbona V, Marco AJ, Iglesias DJ, López-Climent MF, Talón M, Gómez-Cadenas A (2005) Carbohydrate depletion in roots and leaves of salt-stressed potted Citrus clementina L. Plant Growth Regul 46:153–160

Ball MC, Chow WS, Anderson JM (1987) Salinity-induced potassium deficiency causes loss of functional photosystem II in leaves of the grey mangrove, Avicennia marina, through depletion of the atrazine-binding polypeptide. Funct Plant Biol 14:351–361

Bañuls J, Serna MD, Legaz F, Talón M, Primo-Millo E (1997) Growth and gas exchange parameters of citrus plants stressed with different salts. J Plant Physiol 150:194–199

Bates LS, Waldren RP, Teare ID (1973) Rapid determination of free proline for water-stress studies. Plant Soil 39(1):205–207. https://doi.org/10.1007/BF00018060

Brumós J, Colmenero-Flores JM, Conesa A, Izquierdo P, Sánchez G, Iglesias DJ, López-Climent MF, Gómez-Cadenas A, Talón M (2009) Membrane transporters and carbon metabolism implicated in chloride homeostasis differentiate salt stress responses in tolerant and sensitive Citrus rootstocks. Funct Integr Genomic 9:293

Callister AN, Arndt SK, Adams MA (2006) Comparison of four methods for measuring osmotic potential of tree leaves. Physiol Plant 127:383–392

Campbell CR, Plank CO (1998) Preparation of plant tissue for laboratory analysis. In: Kalra YP (ed) Handbook of reference methods for plant analysis, 3. CRC Press, Taylor & Francis Group, Boca Raton, pp 37–49

Claussen W (2005) Proline as a measure of stress in tomato plants. Plant Sci 168:241–248

Cramer GR, Lynch J, Läuchli A, Epstein E (1987) Influx of Na+, K+, and Ca2+ into roots of salt-stressed cotton seedlings effects of supplemental Ca2+. Plant Physiol 83:510–516

Delauney AJ, Verma DPS (1993) Proline biosynthesis and osmoregulation in plants. Plant J 4:215–223

Eissenstat DM, Achor D (1999) Anatomical characteristics of roots of citrus rootstocks that vary in specific root length. New Phytol 141:309–321

Enstone DE, Peterson CA (1992) The apoplastic permeability of root apices. Can J Bot 70:1502–1512

Flexas J, Bota J, Loreto F, Cornic G, Sharkey TD (2004) Diffusive and metabolic limitations to photosynthesis under drought and salinity in C3 plants. Plant Biol 6:269–279

Forner JB, Forner-Giner MA, Alcaide A (2003) Forner-Alcaide 5 and Forner-Alcaide 13: two new citrus rootstocks released in Spain. HortScience 38:629–630

Forner-Giner MA, Primo-Millo E, Forner JB (2009) Performance of Forner-Alcaide 5 and Forner-Alcaide 13, hybrids of Cleopatra mandarin x Poncirus trifoliata, as salinity-tolerant citrus rootstocks. J Am Pom Soc 63:72–80

Forner-Giner MA, Legaz F, Primo-Millo E, Forner JB (2011) Nutritional responses of citrus rootstocks to salinity: performance of the new hybrids, Forner-Alcaide 5 and Forner-Alcaide 13. J Plant Nutr 34:1–16

Gallasch PT, Dalton GS (1989) Selecting salt-tolerant citrus rootstocks. Aust J Agric Res 40(1):137–144

García-Legaz MF, Ortiz JM, Garcí-Lidón A, Cerda A (1993) Effect of salinity on growth, ion content and CO2 assimilation rate in lemon varieties on different rootstocks. Physiol Plant 89:427–432

García-Morales S, Trejo-Téllez LI, Gómez Merino FC, Caldana C, Espinosa-Victoria D, Herrera Cabrera BE (2012) Growth, photosynthetic activity, and potassium and sodium concentration in rice plants under salt stress. Acta Sci-Agron 34:317–324

García-Sanchez F, Syvertsen JP (2006) Salinity tolerance of Cleopatra mandarin and Carrizo citrange citrus rootstocks seedling is affected by CO2 enrichment during growth. J Am Soc Hort Sci 131:24–31

García-Sanchez F, Jifon J, Carvajal M, Syvertsen JP (2002) Gas exchange, chlorophyll and nutrient contents in relation to Na+ and Cl– accumulation in "Sunburst" mandarin grafted on different rootstocks. Plant Sci 162:705–712

García-Sanchez F, Syvertsen JP, Martinez V, Melgar JC (2006a) Salinity tolerance of 'Valencia' orange trees on rootstocks with contrasting salt tolerance is not improved by moderate shade. J Exp Bot 57:3697–3706

García-Sanchez F, Perez-Perez JG, Botia P, Martinez V (2006b) The response of young mandarin trees grown under saline conditions depends on the rootstock. Eur J Agron 24:129–139

García-Sanchez F, Syvertsen JP, Gimeno V, Botia P, Perez-Perez JG (2007) Responses to flooding and drought stress by two citrus rootstock seedlings with different water-use efficiency. Physiol Plant 130:532–542

Gilliam JW (1971) Rapid measurement of chloride in plant material. Proc Soil Sci Soc America 35:512–513

Gimeno V, Syvertsen JP, Simon I, Martinez V, Camara-Zapata JM, Nieves M, Garcia-Sanchez F (2012) Interstock of 'Valencia' orange affects the flooding tolerance in 'Verna' lemon trees. HortScience 47:403–409

Gonzalez-Mas MC, Llosa MJ, Quijano A, Forner-Giner MA (2009) Rootstock effects on leaf photosynthesis in 'Navelina' trees grown in calcareous soil. HortScience 44:280–283

Gómez-Cadenas A, Tadeo FR, Primo-Millo E, Talón M (1998) Involvement of abscisic acid and ethylene in the responses of citrus seedlings to salt shock. Physiol Plant 103:475–484

Gómez-Cadenas A, Iglesias DJ, Arbona V, Colmenero-Flores JM, Primo-Millo E, Talon M (2003) Physiological and molecular responses of citrus to salinity. Recent Res Devel Plant Mol Biol 1:281–298

Grattan SR, Grieve CM (1992) Mineral element acquisition and growth response of plants grown in saline environments. Agr Ecosys Environ 38:275–300

Huang B, Eissenstat DM (2000) Linking hydraulic conductivity to anatomy in plants that vary in specific root length. J Amer Soc Hort Sci 125:260–264

Hussain S, Luro F, Costantino G, Ollitrault P, Morillon R (2012) Physiological analysis of salt stress behaviour of citrus species and genera: low chloride accumulation is an indicator of salt tolerance. S Afr J Bot 81:103–112

Katare DP, Nabi G, Azooz MM, Aeri V, Ahmad P (2012) Biochemical modifications and enhancement of psoralen content in salt-stressed seedlings of Psoralea corylifolia Linn. J Funct Environ Bot 2:65–74

López-Climent MF, Arbona V, Pérez-Clemente RM, Gómez-Cadenas A (2008) Relationship between salt tolerance and photosynthetic machinery performance in Citrus. Env Exp Bot 62:176–184

Maas EV (1992) Salinity and citriculture. In: Tribulato E, Gentile A, Refergiato G (eds) Proc Int Soc Citriculture 3, Acireale, Italy, pp 1290–1301

Martínez-Alcántara B, Martínez-Cuenca MR, Quiñones A, Iglesias DJ, Primo-Millo E, Forner-Giner MA (2015) Comparative expression of candidate genes involved in sodium transport and compartmentation in citrus. Environ Exp Bot 111:52–62

Martínez-Cuenca MR, Martínez-Alcántara B, Quiñones A, Ruiz M, Iglesias DJ, Primo-Millo E, Forner-Giner MA (2015) Physiological and molecular responses to excess boron in Citrus macrophylla W. PloS one 10:e0134372

Martínez-Cuenca MR, Quiñones A, Forner-Giner MA (2016) Screening of 'King' mandarin (Citrus nobilis Lour) × Poncirus trifoliata ((L.) Raf.) hybrids as citrus rootstocks tolerants to iron chlorosis. Sci Hortic 198:61–69. https://doi.org/10.1016/j.scienta.2015.10.038

Munns R, Tester M (2008) Mechanisms of salt tolerance. Annu Rev Plant Biol 59:651–681

Nastou A, Chartzoulakis K, Therios I, Bosabalidis A (1999) Leaf anatomical responses, ion content and CO2 assimilation in three lemon cultivars under NaCl salinity. Adv Hort Sci 13:61–67

Osti F, Di Marco S (2014) Correlations between soil sodicity and foliar symptom of wood decay of kiwifruit. J Plant Pathol 96:121–131

Paranychianakis NV, Chartzoulakis K (2005) Irrigation of Mediterranean crops with saline water: from physiology to management practices. Agric Ecosyst Environ 106:171–187

Perez-Perez JG, Syvertsen JP, Botía P, García-Sanchez F (2007) Leaf water relations and net gas exchange responses of salinized Carrizo citrange seedlings during drought stress and recovery. Ann Bot 100:335–345

Rodriguez-Gamir J, Ancillo G, Legaz F, Primo-Millo E, Forner-Giner MA (2012) Influence of salinity on pip gene expression in citrus roots and its relationship with root hydraulic conductance, transpiration and chloride exclusion from leaves. Environ Exp Bot 78:163–166

Romero-Aranda R, Syvertsen JP (1996) The influence of foliar-applied urea nitrogen and saline solutions on net gas exchange of citrus leaves. J Am Soc Hortic Sci 121:501–506

Romero-Aranda R, Moya JL, Tadeo FR, Legaz F, Primo-Millo E, Talon M (1998) Physiological and anatomical disturbances induced by chloride salts in sensitive and tolerant citrus: beneficial and detrimental effects of cations. Plant Cell Environ 21:1243–1253

Ruiz M, Quiñones A, Martínez-Alcántara B, Aleza P, Morillon R, Navarro L, Primo-Millo E, Martínez-Cuenca MR (2016a) Effects of salinity on diploid (2x) and doubled diploid (4x) Citrus macrophylla genotypes. Sci Hortic 207:33–40

Ruiz M, Quiñones A, Martínez-Cuenca MR, Aleza P, Morillon R, Navarro L, Primo-Millo E, Martínez-Alcántara B (2016b) Tetraploidy enhances the ability to exclude chloride from leaves in carrizo citrange seedlings. J Plant Physiol 205:1–10

Storey R, Walker RR (1987) Citrus and salinity. Sci Hortic 78:39–81

Sudhir P, Murthy SDS (2004) Effects of salt stress on basic processes of photosynthesis. Photosynthetica 42:481–486

Sykes SR (1985) A glasshouse screening procedure for identifying citrus hybrids which restrict chloride accumulation in shoot tissues. Aust J Agric Res 36:779–789

Sykes SR (1992) The inheritance of salt exclusion in woody perennial fruit species. Plant Soil 146:123–129

Syvertsen JP, García-Sanchez F (2014) Multiple abiotic stresses occurring with salinity stress in citrus. Environ Exp Bot 103:128–137

Tian N, Wang J, Xu ZQ (2011) Overexpression of Na+/H+ antiporter gene AtNHX1 from Arabidopsis thaliana improves the salt tolerance of kiwifruit (Actinidia deliciosa). S Afr J Bot 77:160–169

Walker RR (1986) Sodium exclusion and potassium-sodium selectivity in salt treated Trifoliata orange (Poncirus trifoliata) and Cleopatra mandarin (Citrus reticulate) plants. Aust J Plant Physiol 135:293–303

Walker RR, Sedgley M, Blessing MA, Douglas TJ (1984) Anatomy, ultrastructure and assimilate concentrations of roots of citrus genotypes differing in ability for salt exclusion. J Exp Bot 35:1481–1494

Xiong L, Zhu JK (2002) Molecular and genetic aspects of plant responses to osmotic stress. Plant Cell Environ 25:131–139
Acknowledgements
This study was funded by the Instituto Nacional de Investigación y Tecnología Agraria y Alimentaria (RTI2018-098379-R-I00) and the Generalitat Valenciana.
Ethics declarations
Confict of interest
The authors have no conflicting interests.
Additional information
Publisher's note
Springer Nature remains neutral with regard to jurisdictional claims in published maps and institutional affiliations.
Communicated by Heakeun Yun, Ph.D.
About this article
Cite this article
Martínez-Cuenca, MR., Primo-Capella, A. & Forner-Giner, M.A. Screening of 'King' mandarin (Citrus nobilis Lour) × Poncirus trifoliata ((L.) Raf.) hybrids as salt stress-tolerant citrus rootstocks. Hortic. Environ. Biotechnol. 62, 337–351 (2021). https://doi.org/10.1007/s13580-020-00291-1
Received:

Revised:

Accepted:

Published:

Issue Date:
Keywords
Citrus

Leaf water relations

Photosynthesis

Proline

Rootstocks

Salinity