Abstract
Forty-seven apricot genotypes with white and brown seed coats were analyzed by both sensory and instrumental methods. The overall appreciation of apricots was mainly affected by attributes such as aroma, sweetness, juiciness, flesh color, stone color, and fruit shape and size. In terms of these attributes, fruits with white seed coats ranked first, scoring the highest hedonic score for overall appreciation (8.0 ± 0.2). They also had the highest total soluble solid (TSS) (27.5 ± 3.6°Brix), reducing sugar (17.5 ± 1.9%), and total sugar (20.3 ± 1.9%) values, while the moisture content (68.9 ± 8.3%) was the lowest among the analyzed genotypes. Consumers were attracted to the unique white seed coat phenotype. Relationships between data obtained by the sensory panel and instrumental methods were established. Overall appreciation showed positive significant relation with TSS (R2 = 0.177, p ≤ 0.01), TSS/total acid (R2 = 0.118, p ≤ 0.05), reducing sugar (R2 = 0.140, p ≤ 0.01), total sugar (R2 = 0.177, p ≤ 0.01), and fruit weight (R2 = 0.230, p ≤ 0.001). Statistically significant negative relation was observed between overall appreciation and fruit moisture content (R2 = 0.168, p ≤ 0.01). The study demonstrated that white seed coat phenotype can be considered a marker for high-quality apricots in terms of aroma, sweetness, juiciness, and overall appreciation.
Access options
Buy single article
Instant access to the full article PDF.
US$ 39.95
Tax calculation will be finalised during checkout.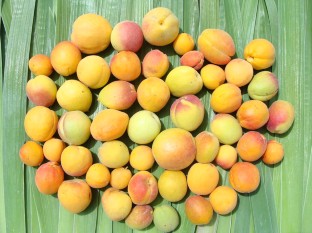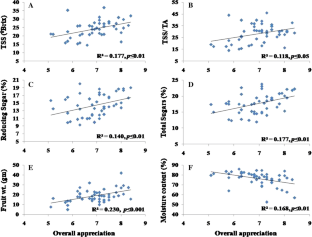 References
Ali S, Masud T, Abbasi KS (2011) Physico-chemical characteristics of apricot (Prunus armeniaca L.) grown in Northern areas of Pakistan. Sci Hortic 130:386–392

Angmo P, Angmo S, Upadhyay SS, Targais K, Kumar B, Stobdan T (2017) Apricots (Prunus armeniaca L.) of trans-Himalayan Ladakh: potential candidate for fruit quality breeding programs. Sci Hortic 218:187–192

Asma BM, Ozturk K (2005) Analysis of morphological, pomological and yield characteristics of some apricot germplasm in Turkey. Genet Resour Crop Evol 52:305–313

Azodanlou R, Darbellay C, Luisier J-L, Villettaz J-C, Amadò R (2003) Development of a model for quality assessment of tomatoes and apricots. LWT 36:223–233

Badenes ML, Martinez-Calvo J, Llacer G (1998) Analysis of apricot germplasm from the European ecogeographical group. Euphytica 102:93–99

Bassi D, Selli R (1990) Evaluation of fruit quality in peach and apricot. Adv Hortic Sci 4:107–112

Bhuhn CM, Feldman N, Garlitz C, Harwood J, Ivans E, Marshall M, Riley A, Thurber D, Williamson E (1991) Consumer perception of quality: apricots, cantaloupes, peaches, pears, strawberries, and tomatoes. J Food Qual 14:187–195

Gatti E, Defilippi BG, Predieri S, Infante R (2009) Apricot (Prunus armeniaca L.) quality and breeding perspectives. J Food Agric Environ 7:573–580

Gurrieri F, Audergon J-M, Albagnac G, Reich M (2001) Soluble sugars and carboxylic acids in ripe apricot fruit as parameters for distinguishing different cultivars. Euphytica 117:183–189

Leccese A, Bartolini S, Viti R (2012) From genotype to apricot fruit quality: the antioxidant properties contribution. Plant Food Hum Nutr 67:317–325

Ledbetter C, Peterson S, Jenner J (2006) Modification of sugar profile in California adapted apricots (Prunus armeniaca L.) through breeding with Central Asian germplasm. Euphytica 148:251–259

Milošević T, Milošević N, Glišić I, Krška B (2010) Characteristics of promising apricot (Prunus armeniaca L.) genetic resources in Central Serbia based on blossoming period and fruit quality. Hortic Sci 37:46–55

Moreau-Rio MA (2006) Perception and consumption of apricots in France. Acta Hortic 701:31–38

Moreau-Rio M, Roty C (1998) L'abricot: perceptions et attentes des consommateurs français. Ctifl-Infos 141:16–21

Naryal A, Acharya S, Bhardwaj AK, Kant A, Chaurasia OP, Stobdan T (2019) Altitudinal effect on sugar contents and sugar profiles in dried apricot (Prunus armeniaca L.) fruit. J Food Compos Anal 76:27–32

Piagnani MP, Castellari L, Sgarbi P, Bassi D (2013) Fruit quality evaluation of diverse apricot cultivars. Asp Appl Biol 119:139–144

Rangana S (1986) Handbook of analysis and quality control for fruit and vegetable products. Tata McGraw-Hill Pub Co., New Delhi, p 1112

Ruiz D, Egea J (2008) Phenotypic diversity and relationships of fruit quality traits in apricot (Prunus armeniaca L.) germplasm. Euphytica 163:143–158

Targais K, Stobdan T, Yadav A, Singh SB (2011) Extraction of apricot kernel oil in cold desert Ladakh, India. Indian J Tradit Knowl 10:304–306
Acknowledgements
The study was supported by the Defence Research and Development Organisation (DRDO), Ministry of Defence, Government of India. AN, SA, and PA are grateful to DRDO for providing a research fellowship.
Additional information
Publisher's Note
Springer Nature remains neutral with regard to jurisdictional claims in published maps and institutional affiliations.
Communicated by Ali Sarkhosh.
About this article
Cite this article
Naryal, A., Angmo, S., Angmo, P. et al. Sensory attributes and consumer appreciation of fresh apricots with white seed coats. Hortic. Environ. Biotechnol. 60, 603–610 (2019). https://doi.org/10.1007/s13580-019-00146-4
Received:

Revised:

Accepted:

Published:

Issue Date:
Keywords
Aroma

Fruit quality

Hedonic

Prunus armeniaca

Sweetness