Abstract
The relationships among species in the genus Eranthis Salisb. were investigated using single nucleotide polymorphisms (SNPs) of the nuclear DNA internal transcribed spacer 1, 2 region (nrITS) and the chloroplast trnL-trnF interspacer region (cpIS). Phylogenetic relationships based on the nrITS and cpIS were inferred with posterior probabilities with STRUCTURE analysis and the neighbor-joining method. Two major clades from nrITS and cpIS were consistent with species with yellow sepals in E. hyemalis, E. cilicica, E. longistipitata and the hybrid E. ×tubergenii; and white sepals in E. sibirica, E. longituba, E. albiflora, E. stellata, E. pungdoensis, E. byunsanensis, and E. pinnatifida. The phylogenetic tree of nrITS formed more subclades than the tree of cpIS, which suggested that nrITS SNPs are useful molecular markers for phylogenetic studies in the genus Eranthis. Only the SNPs of cpIS in E. pungdoensis accessions had a deletion at positions 259–420, and the posterior probability values (PPVs) assigned E. pungdoensis to population 4, which suggested that E. pungdoensis is different from E. byunsanensis. Therefore, E. byunsanensis and E. pungdoensis are considered to be true-to-type based on q-values because the PPVs were greater than 0.9 in both species based on the STRUCTURE analysis of nrITS SNPs. Significant genetic variation in E. stellata collected in Goesan-kun and Mt. Mugap, Korea indicated a potential gene flow among closely related E. byunsanensis, E. pinnatifida, E. sibirica, and E. stellata that could be due to geographic proximity in their distributions. E. stellata from Mt. Mugap showed mixed PPVs for E. stellata and E. byunsanensis, therefore, E. byunsanensis might be a possible hybrid origin for E. stellata collected from Goesan-kun and Mt. Mugap.
Access options
Buy single article
Instant access to the full article PDF.
USD 39.95
Price excludes VAT (USA)
Tax calculation will be finalised during checkout.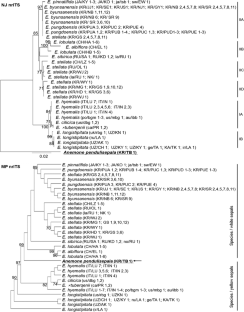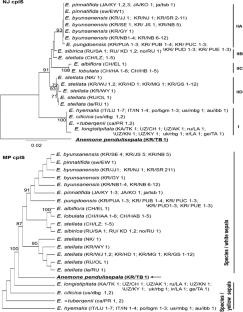 References
Álevrez I, Wendel JF (2003) Ribosomal ITS sequences and plant phylogenetic inference. Mol Phylogenet Evol 29:417–434

Amundsen K, Warnke S (2011) Species relationships in the genus Agrostis based on flow cytometry and MITE-display molecular markers. Crop Sci 51:1224–1231

Baldwin BG (1992) Phylogenetic utility of the internal transcribed spacers of nuclear ribosomal DNA in plants: an example from the compositae. Mol Phylogenet Evol 1:1–16

Boens W (2014) The genus Eranthis, heralds of the end of winter. International Rock Gardener. ISSN 2053-7557, The Scottish Rock Garden Club, UK, pp 2–24

Bortiri E, Oh SH, Jiang J, Baggett S, Grander A, Weeks C, Buckingham M, Potter D, Parfitt DE (2001) Phylogeny and systematics of Prunus (Rosaceae) as determined by sequence analysis of ITS and the chloroplast trnL-trnF spacer DNA. Syst Bot 26:797–807

Duminil J, De Michele M (2009) Plant species delimitation: a comparison of morphological and molecular markers. Plant Biosyst 143:528–542

Evanno G, Regnaut S, Goudet J (2005) Detecting the number of clusters of individuals using the software STRUCTURE: a simulation study. Mol Ecol 14:2611–2620

Felsenstein J (1985) Confidence limits on phylogenies: an approach using the bootstrap. Evol 39:783–791

Gil HY, Lee EH, Choi IY, Roh MS, Chang CS (2011) A genetic study of Pinus parviflora on Ulleung Island of Korea, Compared to P. parviflora of Japan and P. armandii of China. Silvae Genet 60:233–240

Hoot SB, Renznicek AA, Palmer JD (1994) Phylogenetic relationships in Anemone (Ranunculaceae) based on morphology and chloroplast DNA. Syst Bot 19:169–200

Hubisz M, Falush D, Stephens M, Pritchard JK (2009) Inferring weak population structure with the assistance of sample group information. Mol Ecol Resour 9:1322–1332

Joung YH, Suh JK, Lee NS, Eum SM, Choj I-Y, Roh MS (2010) Identification of Hydrangeaceae ccessions of wild origin from Jeju, Korea, using molecular markers. Plant Genet Resour 8:235–241

Komarov VL (1970) Genus 513. Eranthis Salisb. Flora of the USSR (Translated from Russian, Izdatel'stvo Akademii Nauk SSSR Moskva-Leningrad 1937). Vol. 7. Ranales and Rhoeadales (Volume Ed. BK Shishkin), Israel Program for Scientific Translations, Jerusalem, Israel, pp 48–50

Kumar S, Stecher G, Tamura K (2016) MEGA7: molecular evolutionary genetics analysis version 7.0 for bigger datasets. Mol Biol Evol 33:1870–1874

Lee YN (2004) I. New taxa of Korean flora. Bull Korea Pl Res 4:2–4 (in Korean)

Lee Y, Lee CS (2007) Eranthis byunsanensis B. Sun for. disepalis Y.Lee, for nov. Bull Korea Pl Res 7:13

Lee NS, Yeau SH, Park JO, Roh MS (2006) Molecular evidence for hybridization of Ilex × wandoensis (Aquifoliaceae) by RAPD analysis. J Plant Biol 49:491–497

Lee AK, Yuan T, Suh JK, Choi DS, Choi IK, Roh MS, Joung YH, Koh JY, Lee JS (2010) Pulsatilla tongkangensis, a new hybrid swarm population hybridized with P. koreana based on RAPD and SNPs of chloroplast DNA. Hortic Environ Biotechnol 51:409–421

Lee AK, Hong J, Bauchan GR, Park SH, Joung JH (2012a) Confirmation of hybrid origin of Cyrtanthus based on the sequence analysis of internal transcribed spacer. Sci Hortic 144:150–153

Lee CS, Yeau SH, Lee NS (2012b) Taxonomic status and genetic variation of Korean endemic plants, Eranthis byunsanensis and Eranthis pungdoensis (Ranunculaceae) based on nrDNA ITS and cpDNA sequences. J Plant Biol 55:165–177

Lexer C, Joseph JA, Loo M, Barbará T, Heinze B, Bartha D, Castiglione S, Fay MF, Buerkle CA (2010) Genomic admixture analysis in European Populus spp. reveals unexpected patterns of reproductive isolation and mating. Genetics 186:699–712

Li L, Tamura M (2001) Etranthis Salisbury, Trans. Linn. Soc. London 8:303. 1807, nom. cons. Flora China 6:148–149

Linnaeus C (1753) Species Plantarum. Holmiae (Stockholm), impensis. Laurentii Salvii, Sweden

Oh BU, Ji SJ (2009) Eranthis pungdoensis B.U. Oh: a new species of Eranthis (Ranunculaceae) from Korea. Korean J Plant Taxon 39:86–88

Porras-Hurtado L, Ruiz Y, Santos C, Phillips C, Carracedo A, Lareu MV (2013) An overview of STRUCTURE: applications, parameter settings, and supporting software. Front Genet 29:4–98

Pritchard JK, Stephens M, Donnelly P (2000) Inference of population structure using multilocus genotype data. Genetics 155:945–959

Rauscher JT, Doyle JJ, Brown AHD (2002) Interna transcribed spacer repeat-specific primers and the analysis of hybridization in the Glycine tomentella (Leguminosae) polyploid complex. Mol Ecol 11:2691–2702

Rogers SO, Bendich AJ (1987) Ribosomal RNA genes in plants: variability in copy number and in the intergenic spacer. Plant Mol Biol 9:509–520

Salisbury RA (1807) Observations on the Genera of Trollius, Eranthis, Helleborus, Coptis and Isopyrum. Trans R Soc Edinb 8:300–307

Sun BY, Kim CH, Kim T J (1993) A new species of Eranthis (Ranunculaceae) from Korea: E. byunsanensis. Korean J Plant Taxon 23:21–26. (In Korean with English abstract)

Turrili WB (1922) Abnormal flowers in Eranthis. Ann Bot 36:131–133

Vähä JP, Primmer CR (2006) Efficiency of model-based Bayesian methods for detecting hybrid individuals under different hybridization scenarios and with different numbers of loci. Mol Ecol 15:63–72

Wahlsteen E (2015) An Eranthis riddle. Alpine Gardener 83:102–107

Wahlsteen E (2016) The genus Eranthis. http://the-genus-eranthis.blogspot.com. Accessed Oct 20 2016

Wang WT (1987) Notulae de Ranunculaceis sinensibus (XII). Bull Bot Res 7:95–114 (In Chinese with Latin)

Wang WT (1997) Notulae de Ranunculaceis sinensibus (XXI) Guihaih 17(1):1-15. (In Chinese with English summary)

Wang WT, Hsiao PK (1965) Notulae de Ranunculaceis sinensibus II. Acta Phytot Sin 10:49-103 with VI plates. Additamentum I. Published Online: Dec. 1965. (In Chinese with Latin)

Yuan T, Wang LY, Roh MS (2010) Confirmation of Clematis hybrids using molecular markers. Scientia Hortic 125:136–145
Acknowledgements
This project was co-funded in part by the "Cooperative Research Program for Agriculture Science and Technology Development (Project No. PJ01389401)" Rural Development Administration, Republic of Korea awarded to YH Joung and the Swedish Garden Societies (Skånska trädgårdsföreningen, STA Skånekretsen, STA Hallandskretsen, and Trädgårdsamatörerna Göteborg. We thank Dr. Mark S. Roh who had conceived the project, made arrangements for germplasm collection, and worked with all contributors who had in-depth knowledge of all aspects of fieldwork and accession identification. Dr. Roh assisted all authors to prepare the manuscript prior to submission. We thank those who contributed leaf samples for DNA analysis and imaging, and who gave permission to use their images: G.Moen, R. Drew, J. Jilak, B. Żuraw, S. Ritzenfeld, P. Woodward, S.S. Wu, Z-Yu Li, M. Koshioka, J. McKenney, S. Schwartzkopf, S. Pistorello, V. Scariot, V.Zilek, J. Ruksans, JS Chang, JK Lee, EJ Kim, KZ Riu, KH Chung, HJ Yang, NR Cho, and YH Kim. The image of E. pinnatifida was from the internet (http://carex.tumblr.com/post/74793560527/oakapples-winter-aconite-eranthis-hyemalis) and the image of E. stellata is from Is. Sahkalin (SA IS; http://www.wildbulbs.eu/eran.htm. Accessed May 17, 2017). The image of Eranthis ×tubergenii is copyrighted by Paige Woodward, Pacific Rim Native Plant Nursery.
Additional information
Publisher's Note
Springer Nature remains neutral with regard to jurisdictional claims in published maps and institutional affiliations.
Electronic supplementary material
Below is the link to the electronic supplementary material.
About this article
Cite this article
Park, S.Y., Jeon, M.J., Ma, S.H. et al. Phylogeny and genetic variation in the genus Eranthis using nrITS and cpIS single nucleotide polymorphisms. Hortic. Environ. Biotechnol. 60, 239–252 (2019). https://doi.org/10.1007/s13580-018-0113-0
Received:

Revised:

Accepted:

Published:

Issue Date:

DOI: https://doi.org/10.1007/s13580-018-0113-0
Keywords
Chloroplast trnL-trnF interspacer region

Floral morphology

Hybrid origin

Intraspecific variation

Nuclear ITS 1

2 Region

STRUCTURE analysis