Abstract
This study was performed to investigate the role of PTK7 in esophageal squamous cell carcinoma (ESCC) stem-like cells (CSCs). PTK7 expression in ESCCs identified by RT-qPCR, and CSC-like cells were isolated from populations of NEC and TE-1 cells. The CSC-like cells were verified by flow cytometric analyses performed using CD34 and CD133 antibodies, and RT-qPCR and western blot assays were used to examine the self-renewal capability of CSC-like cells. CSC-like cells treated with PTK7 siRNA or a P53-specific inhibitor (PFTα) were analyzed for their sphere formation capacity and their apoptosis and migration/invasion capabilities by sphere formation, flow cytometry, and transwell assay, respectively. Their levels of P53, MKK3, and cleaved caspase 3 expression were examined by western blot analysis. Our results revealed that a majority of the isolated CSC-like cells were CD34+/CD133+ double positive cells. Nango, Sox2, and OCT4 were dramatically increased in the separated CSC-like cells, which had the pluripotency and self-renewal properties of stem cells. Additional, PTK7 was dramatically upregulated in the ESCC tissues and CSC-like cells. An investigation of the function of CSC-like cells revealed that knockdown of PTK7 reduced their sphere formation, promoted apoptosis, and suppressed their migration and invasion abilities, all of which could be significantly reversed by PFTα. Mechanistic studies showed that PFTα could attenuate the upregulation of P53, MKK3, and cleaved caspase 3 expression that was induced by PTK7 knockdown in CSC-like cells. PTK7 increased the malignant behaviors of CSC-like cells derived from ESCC cells by regulating p53. Therefore, this study suggests PTK7 as an underlying target for therapy against ESCC.
Access options
Buy single article
Instant access to the full article PDF.
USD 39.95
Price excludes VAT (USA)
Tax calculation will be finalised during checkout.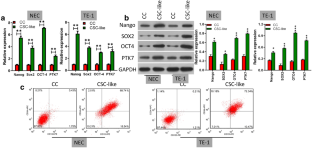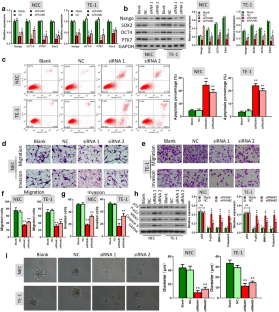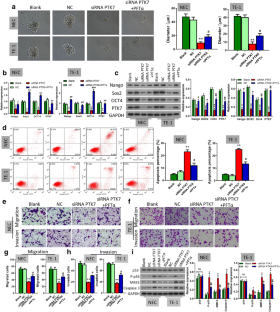 Abbreviations
CSC:

Cancer stem cell

ESCC:

Esophageal squamous cell carcinoma

OCT4:

POU class 5 homeobox 1

PTK7:

Protein tyrosine kinase 7

SOX2:

SRY-box transcription factor 2
References
Short MW, Burgers KG, Fry VTJAFP. Esophageal Cancer. Am Fam Physician. 2017;95:22.

Arnal MJD, Arenas ÁF, Arbeloa ÁL. Esophageal cancer: risk factors, screening and endoscopic treatment in Western and Eastern countries. World J Gastroenterol. 2015;21:7933.

Ohashi S, Miyamoto SI, Kikuchi O, Goto T, Amanuma Y, Muto M. Recent advances from basic and clinical studies of esophageal squamous cell carcinoma. Gastroenterology. 2015;149:1700–15.

Saeki H, Tsutsumi S, Tajiri H, et al. Prognostic significance of postoperative complications after curative resection for patients with esophageal squamous cell carcinoma. Ann Surg. 2017;265:527–33.

Ninomiya I, Okamoto K, Tsukada T, et al. Recurrence patterns and risk factors following thoracoscopic esophagectomy with radical lymph node dissection for thoracic esophageal squamous cell carcinoma. Mol Clin Oncol. 2016;4:278–84.

Liu Q, Cui X, Yu X, et al. Cripto-1 acts as a functional marker of cancer stem-like cells and predicts prognosis of the patients in esophageal squamous cell carcinoma. Mol Cancer. 2017;16:81.

Kojima H, Okumura T, Yamaguchi T, Miwa T, Shimada Y, Nagata T. Enhanced cancer stem cell properties of a mitotically quiescent subpopulation of p75NTR-positive cells in esophageal squamous cell carcinoma. Int J Oncol. 2017;51:49–62.

Batlle E, Clevers H. Cancer stem cells revisited. Nat Med. 2017;23:1124.

Yoshida GJ, Saya H. Therapeutic strategies targeting cancer stem cells. Cancer Sci. 2016;107:5–11.

Rekhtman N, Leighl NB. Somerfield MR Molecular testing for selection of patients with lung cancer for epidermal growth factor receptor and anaplastic lymphoma kinase tyrosine kinase inhibitors: american society of clinical oncology endorsement of the college of american pathologists/international association for the study of lung cancer/association for molecular pathology guideline. J Oncol Pract. 2015;11:135.

Jiao Y, Yin J, He H, Peng X, Gao Q, Duan CJ. Conformationally induced off–on cell membrane chemosensor targeting receptor protein-tyrosine kinases for in vivo and in vitro fluorescence imaging of cancers. J Am Chem Soc. 2018;140:5882–5.

Guenechea G, Gan OI, Dorrell C, Dick JE. Distinct classes of human stem cells that differ in proliferative and self-renewal potential. Nat Immunol. 2001;2:75.

Lhoumeau AC, Martinez S, Boher JM, et al. Overexpression of the promigratory and prometastatic PTK7 receptor is associated with an adverse clinical outcome in colorectal cancer. PLoS One. 2015;10:e0123768.

Tian X, Liang Y, Zhang D, et al. PTK7 overexpression in colorectal tumors: clinicopathological correlation and prognosis relevance. Oncol Rep. 2016;36:1829–36.

Sun J-J, Li H-L, Guo S-J, et al. The increased PTK7 expression is a malignant factor in cervical cancer. Dis markers. 2019;2019:5380197.

Chen R, Khatri P, Mazur PK, et al. A meta-analysis of lung cancer gene expression identifies PTK7 as a survival gene in lung adenocarcinoma. Cancer Res. 2014;74:2892–902.

Beyhan A, Regina A, Ronald K, et al. PTK7 expression in triple-negative breast cancer. Anticancer Res. 2013;33:3759–63.

Lin Y, Zhang LH, Wang XH, et al. PTK7 as a novel marker for favorable gastric cancer patient survival. J Surg Oncol. 2012;106:880–6.

Prebet T, Lhoumeau AC, Arnoulet C, et al. The cell polarity PTK7 receptor acts as a modulator of the chemotherapeutic response in acute myeloid leukemia and impairs clinical outcome. Blood. 2010;116:2315.

Liu K, Song G, Zhang X, et al. PTK7 is a novel oncogenic target for esophageal squamous cell carcinoma. World J Surg Oncol. 2017;15:105.

Park M, Yoon HJ, Kang MC, Kwon J, Lee HW. PTK7 regulates radioresistance through nuclear factor-kappa B in esophageal squamous cell carcinoma. Tumour Biol. 2016;37:14217–24.

Shin WS, Gim J, Won S, Lee ST. Biphasic regulation of tumorigenesis by PTK7 expression level in esophageal squamous cell carcinoma. Sci Rep. 2018;8:8519.

Shin WS, Hong Y, Lee HW, Lee ST. Catalytically defective receptor protein tyrosine kinase PTK7 enhances invasive phenotype by inducing MMP-9 through activation of AP-1 and NF-kappaB in esophageal squamous cell carcinoma cells. Oncotarget. 2016;7:73242–56.

Shin WS, Kwon J, Lee HW, et al. Oncogenic role of protein tyrosine kinase 7 in esophageal squamous cell carcinoma. Cancer Sci. 2013;104:1120–6.

Park M, Yoon HJ, Kang MC, Kwon J, Lee HW. PTK7 regulates radioresistance through nuclear factor-kappa B in esophageal squamous cell carcinoma. Tumor Biol. 2016;37:1–8.

Phi L, Sari IN, Yang YG, et al. Cancer stem cells (CSCs) in Drug resistance and their therapeutic implications in cancer treatment. Stem Cells Int. 2018;2018:1–16.

Butler SJ, Richardson L, Farias N, Morrison J, Coomber BL. Characterization of cancer stem cell drug resistance in the human colorectal cancer cell lines HCT116 and SW480. Biochem Biophys Res Commun. 2017;490:29–35.

Chalbatani GM, Gharaghouzlo E, Fard AAJ. Analysis of Cancer stem cells (CSCs) in the prevention and treatment of cancer. J Cell Immunother. 2017;3:11.

Mashima TJYZ. Cancer stem cells (CSCs) as a rational therapeutic cancer target, and screening for CSC-targeting drugs. Yakugaku Zasshi. 2017;137:129–32.

Lu X, Borchers AG, Jolicoeur C, Rayburn H, Baker JC, Tessier-Lavigne MJN. PTK7/CCK-4 is a novel regulator of planar cell polarity in vertebrates. Nature (London). 2004;430:93.

Kim Y-S, Yi B-R, Kim N-H. Choi K-C Role of the epithelial–mesenchymal transition and its effects on embryonic stem cells. Exp Mol Med. 2014;46:e108.

Damelin M, Bankovich A, Bernstein J, et al. A PTK7-targeted antibody-drug conjugate reduces tumor-initiating cells and induces sustained tumor regressions. Sci Transl Med. 2017;9:eaag2611.

Messerli SM, Hoffman MM, Gnimpieba EZ, Bhardwaj RD. Therapeutic targeting of PTK7 is cytotoxic in atypical teratoid rhabdoid tumors. Mol Cancer Res. 2017;15:973–83.

Liu Q, Zhang C, Yuan J, et al. PTK7 regulates Id1 expression in CD44-high glioma cells. Neuro-Oncology. 2014;17:505–15.

Park M, Yoon H-J, Kang MC, Kwon J, Lee HW. PTK7 regulates radioresistance through nuclear factor-kappa B in esophageal squamous cell carcinoma. Tumor Biol. 2016;37:14217–24.

Jung P, Sommer C, Barriga F, et al. Isolation of human colon stem cells using surface expression of PTK7. Stem Cell Repts. 2015;5:979–87.

van Schaijik B, Davis PF, Wickremesekera AC, Tan ST, Itinteang TJ. Subcellular localisation of the stem cell markers OCT4, SOX2, NANOG, KLF4 and c-MYC in cancer: a review. J Clin Pathol. 2018;71:88–91.

Kim MJ, Lee YS, Han GY, Lee HN, Ahn C, Kim CWJ. Profilin 2 promotes migration, invasion, and stemness of HT29 human colorectal cancer stem cells. Biosci Biotechnol Biochem. 2015;79:1438–46.

Zhou Y, Kipps TJ, Zhang S. Wnt5a Signaling in normal and cancer stem cells. Stem Cells Int. 2017;2017:5295286.

Derijard B, Raingeaud J, Barrett T, et al. Independent human MAP-kinase signal transduction pathways defined by MEK and MKK isoforms. Science. 1995;267:682–5.

Demuth T, Reavie LB, Rennert JL, et al. MAP-ing glioma invasion: mitogen-activated protein kinase kinase 3 and p38 drive glioma invasion and progression and predict patient survival. Mol Cancer Ther. 2007;6:1212–22.

Jia M, Souchelnytskyi N, Hellman U, O'Hare M, Jat PS, Souchelnytskyi S. Proteome profiling of immortalization-to-senescence transition of human breast epithelial cells identified MAP2K3 as a senescence-promoting protein which is downregulated in human breast cancer. Proteomics Clin Appl. 2010;4:816–28.

Gurtner A, Starace G, Norelli G, Piaggio G, Sacchi A, Bossi GJ. Mutant p53-induced Up-regulation of mitogen-activated protein kinase kinase 3 contributes to gain of function. J Biol Chem. 2010;285:14160.

Li G, Niu H, Zhang Y, et al. Haemophilus parasuis cytolethal distending toxin induces cell cycle arrest and p53-dependent apoptosis. PLoS One. 2017;12:e0177199.

Blatter S, Stokar-Regenscheit N, Kersbergen A, Guyader C, Rottenberg SJ. Chemotherapy induces an immunosuppressive gene expression signature in residual BRCA1/p53-deficient mouse mammary tumors. J Mol Clin Med. 2018;1:7–17.
Acknowledgements
This work was supported by the National Science Foundation for Distinguished Young Scholars of China (No. 81903026).
Ethics declarations
Conflict of interest
The authors have no commercial or other associations that might pose a conflict of interest.
Ethical approval
This study was approved by the Ethics Committee of The First Affiliated Hospital of Chongqing Medical University. All study procedures were performed in accordance with the ethical principles stated in the Declaration of Helsinki.
Additional information
Publisher's Note
Springer Nature remains neutral with regard to jurisdictional claims in published maps and institutional affiliations.
About this article
Cite this article
Bie, J., Hu, X., Yang, M. et al. PTK7 promotes the malignant properties of cancer stem-like cells in esophageal squamous cell lines. Human Cell 33, 356–365 (2020). https://doi.org/10.1007/s13577-019-00309-6
Received:

Accepted:

Published:

Issue Date:

DOI: https://doi.org/10.1007/s13577-019-00309-6
Keywords
Esophageal squamous cell carcinoma

Protein tyrosine kinase 7

Cancer stem cells

p53