Abstract
Helicobacter (H.) pylori infection is an important risk factor for gastric cancer that causes gastric inflammation. Inflammatory chemokines such as interleukin (IL)-8 and regulated on activation normal T cell expressed and secreted (RANTES) are elevated in the gastric mucosa by H. pylori. This study aimed to investigate the effects of Lactobacillus paracasei strain 06TCa19, a probiotic strain, on IL-8 and RANTES expression and production induced by H. pylori using human gastric epithelial cell lines. Strain 06TCa19 was shown to suppress H. pylori-mediated elevation of gene expression related to these chemokines in MKN45 cells. The strain also suppressed the increase in IL-8 and RANTES products induced by H. pylori in AGS cells as well as in MKN45 cells. In MKN45 cells inoculated with H. pylori, strain 06TCa19 was shown to downregulate the activation of NF-κB and p38 MAPK signaling pathways. Additionally, the level of the CagA virulence protein of H. pylori in the MKN45 cells and the number of viable H. pylori adhering to MKN45 cells decreased with the addition of strain 06TCa19. Moreover, the strain 06TCa19 notably increased lactic acid in the supernatant of MKN45 cells. Thus, lactic acid released from strain 06TCa19 might have inhibited the adhesion of H. pylori to MKN45 cells and prevented the insertion of H. pylori CagA into the cells, and elevation of IL-8 and RANTES genes and proteins might be suppressed by downregulating the NF-κB and p38 MAPK pathways. Therefore, use of strain 06TCa19 may prevent H. pylori-associated gastric inflammation.
Access options
Buy single article
Instant access to the full article PDF.
USD 39.95
Price excludes VAT (USA)
Tax calculation will be finalised during checkout.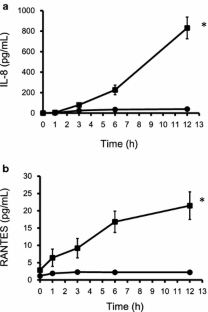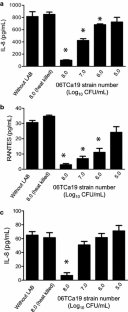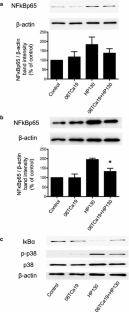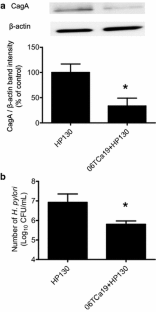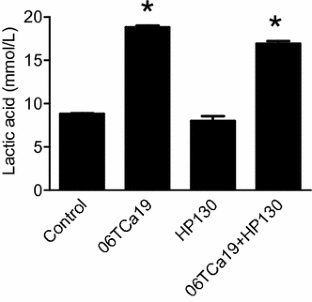 References
de Vries AC, van Driel HF, Richardus JH, et al. Migrant communities constitute a possible target population for primary prevention of Helicobacter pylori-related complications in low incidence countries. Scand J Gastroenterol. 2008;43:403–9.

Yu HJ, Liu W, Chang Z, et al. Probiotic BIFICO cocktail ameliorates Helicobacter pylori induced gastritis. World J Gastroenterol. 2015;21:6561–71.

Sipponen P, Hyvarinen H. Role of Helicobacter pylori in the pathogenesis of gastritis, peptic ulcer and gastric cancer. Scand J Gastroenterol Suppl. 1993;28:3–6.

Graham DY. Pathogenic mechanisms leading to Helicobacter pylori-induced inflammation. Euro J Gastroenterol Hepatol. 1992;4:S9–16.

Huang J, O'Toole PW, Doig P, et al. Stimulation of interleukin-8 production in epithelial cell lines by Helicobacter pylori. Infect Immun. 1995;63:1732–8.

Kudo T, Lu H, Wu JY, et al. Regulation of RANTES promoter activation in gastric epithelial cells infected with Helicobacter pylori. Infect Immun. 2005;73:7602–12.

Mori N, Krensky AM, Geleziunas R, et al. Helicobacter pylori induces RANTES through activation of NF-kappa B. Infect Immun. 2003;71:3748–56.

Cha B, Lim JW, Kim KH, et al. 15-deoxy-D12,14-prostaglandin J2 suppresses RANTES expression by inhibiting NADPH oxidase activation in Helicobacter pylori-infected gastric epithelial cells. J Physiol Pharmacol. 2011;62:167–74.

Malfertheiner P, Mégraud F, O'Morain C, et al. Current concepts in the management of Helicobacter pylori infection—the Maastricht 2-2000 Consensus Report. Aliment Pharmacol Ther. 2002;16:167–80.

Patel A, Shah N, Prajapati JB. Clinical application of probiotics in the treatment of Helicobacter pylori infection-a brief review. J Microbiol Immunol Infect. 2014;47:429–37.

Gerrits MM, van Vliet AH, Kuipers EJ, et al. Helicobacter pylori and antimicrobial resistance: molecular mechanisms and clinical implications. Lancet Infect Dis. 2006;6:699–709.

Cheng A, Sheng WH, Liou JM, et al. Comparative in vitro antimicrobial susceptibility and synergistic activity of antimicrobial combinations against Helicobacter pylori isolates in Taiwan. J Microbiol Immunol Infect. 2015;48:72–9.

Johnson-Henry KC, Nadjafi M, Avitzur Y, et al. Amelioration of the effects of Citrobacter rodentium infection in mice by pretreatment with probiotics. J Infect Dis. 2005;191:2106–17.

Tsai CC, Hsih HY, Chiu HH, et al. Antagonistic activity against Salmonella infection in vitro and in vivo for two Lactobacillus strains from swine and poultry. Int J Food Microbiol. 2005;102:185–94.

Tien MT, Girardin SE, Regnault B, et al. Anti-inflammatory effect of Lactobacillus casei on Shigella-infected human intestinal epithelial cells. J Immunol. 2006;176:1228–37.

Lesbros-Pantoflickova D, Corthésy-Theulaz I, Blum AL. Helicobacter pylori and probiotics. J Nutr. 2007;137:812S–8S.

Tamura A, Kumai H, Nakamichi N, et al. Suppression of Helicobacter pylori-induced interleukin-8 production in vitro and within the gastric mucosa by a live Lactobacillus strain. J Gastroenterol Hepatol. 2006;21:1399–406.

Zhou C, Ma FZ, Deng XJ, et al. Lactobacilli inhibit interleukin-8 production induced by Helicobacter pylori lipopolysaccharide-activated Toll-like receptor 4. World J Gastroenterol. 2008;14:5090–5.

Yang YJ, Chuang CC, Yang HB, et al. Lactobacillus acidophilus ameliorates H. pylori-induced gastric inflammation by inactivating the Smad7 and NFκB pathways. BMC Microbiol. 2012;19:38.

Thiraworawong T, Spinler JK, Werawatganon D, et al. Anti-inflammatory properties of gastric-derived Lactobacillus plantarum XB7 in the context of Helicobacter pylori infection. Helicobacter. 2014;19:144–55.

Takeda S, Yamasaki K, Takeshita M, et al. The investigation of probiotic potential of lactic acid bacteria isolated from traditional Mongolian dairy products. Anim Sci J. 2011;82:571–9.

Takeda S, Fujimoto R, Takenoyama S, et al. Application of probiotics from Mongolian dairy products to fermented dairy products and its effects on human defecation. Food Sci Technol Res. 2013;19:245–53.

Takeda S, Takeshita M, Matsusaki T, et al. In vitro and in vivo anti-Helicobacter pylori activity of probiotics isolated from Mongolian dairy products. Food Sci Technol Res. 2015;21:399–406.

Kabir AM, Aiba Y, Takagi A, et al. Prevention of Helicobacter pylori infection by lactobacilli in a gnotobiotic murine model. Gut. 1997;41:49–55.

Lv D, Zhang Y, Kim HJ, et al. CCL5 as a potential immunotherapeutic target in triple-negative breast cancer. Cell Mol Immunol. 2013;10:303–10.

Tanabe T, Shimokawaji T, Kanoh S, et al. IL-33 stimulates CXCL8/IL-8 secretion in goblet cells but not normally differentiated airway cells. Clin Exp Allergy. 2014;44:540–52.

Yin CY, Lin XL, Tian L, et al. Lobaplatin inhibits growth of gastric cancer cells by inducing apoptosis. World J Gastroenterol. 2014;14:17426–33.

Kikuchi T, Kato K, Ohara S, et al. The relationship between persistent secretion of RANTES and residual infiltration of eosinophils and memory T lymphocytes after Helicobacter pylori eradication. J Pathol. 2000;192:243–50.

Shirasawa Y, Shibahara-Sone H, Iino T, et al. Bifidobacterium bifidum BF-1 suppresses Helicobacter pylori-induced genes in human epithelial cells. J Dairy Sci. 2010;93:4526–34.

Kim JE, Kim MS, Yoon YS, et al. Use of selected lactic acid bacteria in the eradication of Helicobacter pylori infection. J Microbiol. 2014;52:955–62.

Yamaoka Y, Kita M, Kodama T, et al. Chemokines in the gastric mucosa in Helicobacter pylori infection. Gut. 1998;42:609–17.

Seo JH, Lim JW, Kim H. Differential role of ERK and p38 on NF-κB activation in Helicobacter pylori-infected gastric epithelial cells. J Cancer Prev. 2013;18:346–50.

Yamaoka Y, Kwon DH, Graham DY. A M(r) 34,000 proinflammatory outer membrane protein (oipA) of Helicobacter pylori. Proc Natl Acad Sci USA. 2000;97:7533–8.

Backert S, Meyer TF. Type IV secretion systems and their effectors in bacterial pathogenesis. Curr Opin Microbiol. 2006;9:207–17.

Suzuki M, Mimuro H, Kiga K, et al. Helicobacter pylori CagA phosphorylation-independent function in epithelial proliferation and inflammation. Cell Host Microbe. 2009;22:23–34.

Li L, Zhou X, Xiao S, et al. The effect of Helicobacter pylori eradication on the gastrointestinal microbiota in patients with duodenal ulcer. J Gastrointestin Liver Dis. 2016;25:139–46.
Acknowledgements
We thank Mr. Tatsuya Matsusaki (Minami Nihon Rakuno Kyodo Co. Ltd.) for his technical assistance in this study.
Ethics declarations
Conflict of interest
The authors declare that they have no conflicts of interests.
Electronic supplementary material
Below is the link to the electronic supplementary material.
About this article
Cite this article
Takeda, S., Igoshi, K., Tsend-Ayush, C. et al. Lactobacillus paracasei strain 06TCa19 suppresses inflammatory chemokine induced by Helicobacter pylori in human gastric epithelial cells. Human Cell 30, 258–266 (2017). https://doi.org/10.1007/s13577-017-0172-z
Received:

Accepted:

Published:

Issue Date:

DOI: https://doi.org/10.1007/s13577-017-0172-z
Keywords
MKN45 cells

Helicobacter pylori

Probiotics

IL-8

RANTES