Abstract
Tea (Camellia sinensis) has enthralled both consumers and researchers, due to its taste, aroma and its medicinal attributes. Tea consumers concern themselves with the quality of tea in particular, its taste and aroma based on which consumers are willing to pay premium prices for the best quality teas. The quality of tea is undeniably affected by variations in its metabolite composition. In this study, two groups of black tea cultivars were compared using a metabolomics approach. Data were generated via GC–MS and 1H-NMR. The GC–MS differentiated between the two groups, based on carbohydrates. The 1H-NMR differentiated between the two groups, based on caffeine, catechins and amino acids. These metabolites applicability in the discrimination of newly developed cultivars into potentially commercialisable and non-commercialisable groups at an early stage in the tea improvement programme is demonstrated. This may help tea breeders to select promising high quality tea cultivars either for release or further field evaluations.
Access options
Buy single article
Instant access to the full article PDF.
USD 39.95
Price includes VAT (USA)
Tax calculation will be finalised during checkout.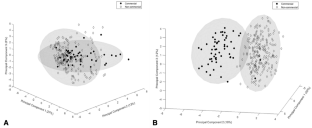 Abbreviations
CI:

Confidence interval

Comm:

Commercial

DT:

Drought tolerant

GC–MS:

Gas chromatography mass spectrometry

NMR:

Nuclear magnetic resonance

NComm:

NonCommercial

PCA:

Principal component analysis

PLS-DA:

Partial least squares discriminant analysis

TRI:

Tea Research Institute
References
Ackermann J, Fischer M, Amado R (1992) Changes in sugars, acids, and amino acids during ripening and storage of apples (cv. Glockenapfel). J Agric Food Chem 40(7):1131–1134

Baeza G, Sarriá B, Bravo L, Mateos R (2016) Exhaustive qualitative LC-DAD-MS n analysis of arabica green coffee beans: Cinnamoyl-glycosides and Cinnamoylshikimic acids as new polyphenols in green coffee. J Agric Food Chem 64(51):9663–9674

Bandurski RS, Schulze A (1977) Concentration of indole-3-acetic acid and its derivatives in plants. Plant Phys 60(2):211–213

Brühl L, Matthäus B, Scheipers A, Hofmann T (2008) Bitter off-taste in stored cold-pressed linseed oil obtained from different varieties. Eur J Lip Sci Technol 110(7):625–631

Buffo RA, Cardelli-Freire C (2004) Coffee flavour, an overview. Flavour Frag J 19(2):99–104

Cabrera C, Artacho R, Giménez R (2006) Beneficial effects of green tea—a review. JACN 25(2):79–99

Chattopadhyay S, Raychaudhuri U, Chakraborty R (2014) Artificial sweeteners–a review. JFST 51(4):611–621

Chaturvedula VSP, Prakash I (2011) The aroma, taste, color and bioactive constituents of tea. J Med Plant Res 5(11):2110–2124

Chin JM, Merves ML, Goldberger BA, Sampson-Cone A, Cone EJ (2008) Caffeine content of brewed teas. J Anal Toxicol 32(8):702–704

Chugh K (2013) Measuring phenotypic and genetic variances and narrow sense heritability in three populations of annual ryegrass (Lolium multiflorum Lam.).

Clifford MN (2000) Chlorogenic acids and other cinnamates–nature, occurrence, dietary burden, absorption and metabolism. J Sci Food Agric 80(7):1033–1043

Cortell JM, Sivertsen HK, Kennedy JA, Heymann H (2008) Influence of vine vigor on Pinot noir fruit composition, wine chemical analysis, and wine sensory attributes. AJEV 59(1):1–10

Dumas M-E, Maibaum EC, Teague C, Ueshima H, Zhou B, Lindon JC, Nicholson JK, Stamler J, Elliott P, Chan Q (2006) Assessment of analytical reproducibility of 1H NMR spectroscopy based metabonomics for large-scale epidemiological research, the INTERMAP study. Anal Chem 78(7):2199–2208

Dutta R, Stein A, Bhagat R (2011) Integrating satellite images and spectroscopy to measuring green and black tea quality. Food Chem 127(2):866–874

Ebbels TM, Lindon JC, Coen M (2011) Processing and modeling of nuclear magnetic resonance (NMR) metabolic profiles. In metabolic profiling, Springer, pp 365–388

Ellinger JJ, Chylla RA, Ulrich EL, Markley JL (2013) Databases and software for NMR-based metabolomics. Curr Metabolomics 1(1):28–40

Ellis SM, Steyn HS (2003) Practical significance (effect sizes) versus or in combination with statistical significance (p-values). Manag Dyn 12(4):51–53

Fall R, Benson AA (1996) Leaf methanol—the simplest natural product from plants. Trends Plant Sci 1(9):296–301

FAO (Food and Agricultural Organisation)., 2015. http, //www.fao.org. Accessed 15.10.19.

Fehsenfeld F, Calvert J, Fall R, Goldan P, Guenther AB, Hewitt CN, Zimmerman P (1992) Emissions of volatile organic compounds from vegetation and the implications for atmospheric chemistry. Global Biogeochem Cy 6(4):389–430

Gramza A, Khokhar S, Yoko S, Gliszczynska-Swiglo A, Hes M, Korczak J (2006) Antioxidant activity of tea extracts in lipids and correlation with polyphenol content. Eur J Lip Sci Technol 108(4):351–362

Habibi Y, Mahrouz M, Marais MF, Vignon MR (2004) An arabinogalactan from the skin of Opuntia ficus-indica prickly pear fruits. Carb Res 339(6):1201–1205

Hamanishi ET, Barchet GL, Dauwe R, Mansfield SD, Campbell MM (2015) Poplar trees reconfigure the transcriptome and metabolome in response to drought in a genotype-and time-of-day-dependent manner. BMC Genomics 16(1):329

Hilton PJ, Palmer-Jones R (1973) Relationship between the flavanol composition of fresh tea shoots and the theaflavin content of manufactured tea. J Sci Food Agric 24(7):813–818

Hoekstra FA, Golovina EA, Buitink J (2001) Mechanisms of plant desiccation tolerance. Trends Plant Sci 6(9):431–438

Holm S (1979) A simple sequentially rejective multiple test procedure. Scand J Stat 6:65–70

Horemans N, Foyer CH, Potters G, Asard H (2000) Ascorbate function and associated transport systems in plants. Plant Phys Biochem 38(7–8):531–540

International Tea Committee (ITC). Annual Bulletin of Statistics, 2019.

Jones PR, Gawel R, Francis IL, Waters EJ (2008) The influence of interactions between major white wine components on the aroma, flavour and texture of model white wine. Food Qual Prefer 19(6):596–607

Kaneko S, Kumazawa K, Masuda H, Henze A, Hofmann T (2006) Molecular and sensory studies on the umami taste of Japanese green tea. J Agric Food Chem 54(7):2688–2694

Kang J, Choi M-Y, Kang S, Kwon HN, Wen H, Lee CH, Park M, Wiklund S, Kim HJ, Kwon SW (2008) Application of a 1H nuclear magnetic resonance (NMR) metabolomics approach combined with orthogonal projections to latent structure-discriminant analysis as an efficient tool for discriminating between Korean and Chinese herbal medicines. J Agric Food Chem 56(24):11589–11595

Kaplan F, Guy CL (2004) β-Amylase induction and the protective role of maltose during temperature shock. Plant Phys 135(3):1674–1684

Kenya National Bureau of Statistics (2018) Kenya facts and figures 2018. Kenya

Kerchev PI, Fenton B, Foyer CH, Hancock RD (2012) Plant responses to insect herbivory, interactions between photosynthesis, reactive oxygen species and hormonal signalling pathways. Plant Cell Environ 35(2):441–453

Khan N, Mukhtar H (2007) Tea polyphenols for health promotion. Life Sci 81(7):519–533

Kobayashi-Hattori K, Mogi A, Matsumoto Y, Takita T (2005) Effect of caffeine on the body fat and lipid metabolism of rats fed on a high-fat diet. Biosci Biotech Bioch 69(11):2219–2223

Koech RK, Malebe PM, Nyarukowa C, Mose R, Kamunya SM, Apostolides Z (2018) Identification of novel QTL for black tea quality traits and drought tolerance in tea plants (Camellia sinensis). Tree Genet Genomes 14(1):9

Kowalsick A, Kfoury N, Robbat A Jr, Ahmed S, Orians C, Griffin T, Cash SB, Stepp JR (2014) Metabolite profiling of Camellia sinensis by automated sequential, multidimensional gas chromatography/mass spectrometry reveals strong monsoon effects on tea constituents. J Chrom a 1370:230–239

Kumar V, Rani A, Goyal L, Pratap D, Billore SD, Chauhan GS (2011) Evaluation of vegetable-type soybean for sucrose, taste-related amino acids, and isoflavones contents. Int J Food Prop 14(5):1142–1151

Kwach BO, Owuor PO, Kamau DM, Msomba SW, Uwimana MA (2016) Variations in the precursors of plain black tea quality parameters due to location of production and nitrogen fertilizer rates in Eastern African clonal tea leaves. Exp Agric 52(2):266–278

Lavarack B, Griffin G, Rodman D (2002) The acid hydrolysis of sugarcane bagasse hemicellulose to produce xylose, arabinose, glucose and other products. Biomass Bioenerg 23(5):367–380

Le Gall G, Colquhoun IJ, Defernez M (2004) Metabolite profiling using 1H NMR spectroscopy for quality assessment of green tea, Camellia sinensis (L.). J Agric Food Chem 52(4):692–700

Ley JP (2008) Masking bitter taste by molecules. Chemosens Percept 1(1):58–77

Lin YL, Juan IM, Chen YL, Liang YC, Lin JK (1996) Composition of polyphenols in fresh tea leaves and associations of their oxygen-radical-absorbing capacity with antiproliferative actions in fibroblast cells. J Agric Food Chem 44(6):1387–1394

Lorist MM, Tops M (2003) Caffeine, fatigue, and cognition. Brain Cogn 53(1):82–94

Ma B, Chen J, Zheng H, Fang T, Ogutu C, Li S, Han Y, Wu B (2015) Comparative assessment of sugar and malic acid composition in cultivated and wild apples. Food Chem 172:86–91

MacDonald RC, Fall R (1993) Detection of substantial emissions of methanol from plants to the atmosphere. A Gen Top 27(11):1709–1713

Marks SC, Mullen W, Crozier A (2007) Flavonoid and chlorogenic acid profiles of English cider apples. J Sci Food Agric 87(4):719–728

Matanjun P, Mohamed S, Mustapha NM, Muhammad K, Ming CH (2008) Antioxidant activities and phenolics content of eight species of seaweeds from north Borneo. J Appl Phycol 20(4):367–373

Mazzafera P, Silvarolla MB (2010) Caffeine content variation in single green Arabica coffee seeds. Seed Sci Res 20(3):163–167

Melgarejo P, Salazar DM, Artes F (2000) Organic acids and sugars composition of harvested pomegranate fruits. Eur Food Res Technol 211(3):185–190

Min LU, Huaming AN, Daoping WANG (2017) Characterization of amino acid composition in fruits of three Rosa roxburghii genotypes. Hortic Plant J 3(6):232–236

Mu W, Zhang W, Feng Y, Jiang B, Zhou L (2012) Recent advances on applications and biotechnological production of D-psicose. Appl Micro Biotech 94(6):1461–1467

Nara K, Kato Y, Motomura Y (2001) Involvement of terminal-arabinose and-galactose pectic compounds in mealiness of apple fruit during storage. Postharvest Biol Tec 22(2):141–150

Naveed M, Brown LK, Raffan AC, George TS, Bengough AG, Roose T, Hallett PD (2017) Plant exudates may stabilize or weaken soil depending on species, origin and time. Eur J Soil Sci 68(6):806–816

Nemecek-Marshall M, MacDonald RC, Franzen JJ, Wojciechowski CL, Fall R (1995) Methanol emission from leaves (enzymatic detection of gas-phase methanol and relation of methanol fluxes to stomatal conductance and leaf development). Plant Phys 108(4):1359–1368

Nitin Seetohul L, Islam M, O'Hare WT, Ali Z (2006) Discrimination of teas based on total luminescence spectroscopy and pattern recognition. J Sci Food Agric 86(13):2092–2098

Nyarukowa C, Koech R, Loots T, Apostolides Z (2016) SWAPDT, A method for Short-time withering assessment of probability for drought tolerance in Camellia sinensis validated by targeted metabolomics. J Plant Phys 198:39–48

Nyarukowa CT, Koech KR, Loots T, Hageman J, Apostolides Z (2018) Prioritising the replanting schedule of seedling tea fields on tea estates for drought susceptibility measured by the SWAPDT method in the absence of historical in-filling records. J Agric Sci 10(7):26–34

Obanda M, Owuor PO, Mang'oka R (2001) Changes in the chemical and sensory quality parameters of black tea due to variations of fermentation time and temperature. Food Chem 75(4):395–404

Oshima H, Kimura I, Izumori K (2006) Psicose contents in various food products and its origin. Food Sci Tech Res 12(2):137–143

Owuor PO, Obanda M (2007) The use of green tea (Camellia sinensis (L.)) leaf flavan-3-ols composition in predicting plain black tea quality potential. Food Chem 100(3):873–884

Pongsuwan W, Fukusaki E, Bamba T, Yonetani T, Yamahara T, Kobayashi A (2007) Prediction of Japanese green tea ranking by gas chromatography/mass spectrometry-based hydrophilic metabolite fingerprinting. J Agric Food Chem 55(2):231–236

Qin Z, Pang X, Chen D, Cheng H, Hu X, Wu J (2013) Evaluation of Chinese tea by the electronic nose and gas chromatography–mass spectrometry, Correlation with sensory properties and classification according to grade level. Food Res Int 53(2):864–874

Rawat R, Gulati A, Babu GK, Acharya R, Kaul VK, Singh B (2007) Characterization of volatile components of Kangra orthodox black tea by gas chromatography-mass spectrometry. Food Chem 105(1):229–235

Renault H, Alber A, Horst NA, Lopes AB, Fich EA, Kriegshauser L, Pineau E (2017) A phenol-enriched cuticle is ancestral to lignin evolution in land plants. Nature Comm 8:14713

Rodrigues CI, Marta L, Maia R, Miranda M, Ribeirinho M, Máguas C (2007) Application of solid-phase extraction to brewed coffee caffeine and organic acid determination by UV/HPLC. J Food Comp Anal 20(5):440–448

Roser DJ, Melick DR, Ling HU, Seppelt RD (1992) Polyol and sugar content of terrestrial plants from continental Antarctica. Antarct Sci 4(4):413–420

Saccenti E, Hoefsloot HC, Smilde AK, Westerhuis JA, Hendriks MM (2014) Reflections on univariate and multivariate analysis of metabolomics data. Metabolomics 10(3):361–374

Sanderson GW, Grahamm HN (1973) Formation of black tea aroma. J Agric Food Chem 21(4):576–585

Sanhueza E, Andreae MO (1991) Emission of formic and acetic acids from tropical savanna soils. Geophys Res Lett 18(9):1707–1710

Schymanski EL, Jeon J, Gulde R, Fenner K, Ruff M, Singer HP, Hollender J (2014) Identifying small molecules via high resolution mass spectrometry, communicating confidence. Environ Sci Technol 48(4):2097–2098

Sokolowsky M, Fischer U (2012) Evaluation of bitterness in white wine applying descriptive analysis, time-intensity analysis, and temporal dominance of sensations analysis. Anal Chim Acta 7(32):46–52

Stephan A, Steinhart H (2000) Bitter taste of unsaturated free fatty acids in emulsions, contribution to the off-flavour of soybean lecithins. Eur Food Res Technol 212(1):17–25

Tan F, Tan C, Zhao A, Li M (2011) Simultaneous determination of free amino acid content in tea infusions by using high-performance liquid chromatography with fluorescence detection coupled with alternating penalty trilinear decomposition algorithm. J Agric Food Chem 59(20):10839–10847

Taylor NW (1928) A physico-chemical theory of sweet and bitter taste excitation based on the properties of the plasma membrane. Protoplasma 4(1):1–17

Toumi I, Gargouri M, Nouairi I, Moschou PN, Salem-Fnayou AB, Mliki A, Ghorbel A (2008) Water stress induced changes in the leaf lipid composition of four grapevine genotypes with different drought tolerance. Biol Plantarum 52(1):161–164

Tripathi A, Parmar D, Patel U, Patel G, Daslaniya D, Bhimani B (2011) Taste masking, a novel approach for bitter and obnoxious drugs. JPSBR 1(3):36–142

Unno K, Tanida N, Ishii N, Yamamoto H, Iguchi K, Hoshino M, Yamada H (2013) Anti-stress effect of theanine on students during pharmacy practice, positive correlation among salivary α-amylase activity, trait anxiety and subjective stress. Pharmacol Biochem Behav 111:128–135

Valpuesta V, Botella MA (2004) Biosynthesis of L-ascorbic acid in plants: new pathways for an old antioxidant. Trends Plant Sci 9(12):573–577

van den Berg RA, Hoefsloot HC, Westerhuis JA, Smilde AK, van der Werf MJ (2006) Centering, scaling, and transformations, improving the biological information content of metabolomics data. BMC Genomics 7(1):142

Vuong QV, Bowyer MC, Roach PD (2011) L-Theanine, properties, synthesis and isolation from tea. J Sci Food Agric 91(11):1931–1939

Warrack BM, Hnatyshyn S, Ott KH, Reily MD, Sanders M, Zhang H, Drexler DM (2009) Normalization strategies for metabonomic analysis of urine samples. J Chromatogr B 877(5–6):547–552

Welti R, Li W, Li M, Sang Y, Biesiada H, Zhou HE, Wang X (2002) Profiling membrane lipids in plant stress responses role of phospholipase Dα in freezing-induced lipid changes in Arabidopsis. J Bio Chem 277(35):31994–32002

Worley B, Halouska S, Powers R (2013) Utilities for quantifying separation in PCA/PLS-DA scores plots. Anal Biochem 433(2):102–104

Xu Y-Q, Zhang Y-N, Chen J-X, Wang F, Du Q-Z, Yin J-F (2018) Quantitative analyses of the bitterness and astringency of catechins from green tea. Food Chem 258:16–24

Yan SH (2007) NIR evaluation of the quality of tea and its market price. Spectr Eur 19(2):16–19

Zhang J, Wang X, Yu O, Tang J, Gu X, Wan X, Fang C (2010) Metabolic profiling of strawberry (Fragaria × ananassa Duch.) during fruit development and maturation. J Exp Bot 62(3):1103–1118

Zhou J, Ho CT, Long P, Meng Q, Zhang L, Wan X (2019) Preventive Efficiency of Green Tea and Its Components on Nonalcoholic Fatty Liver Disease. J Agric Food Chem 67(19):5306–5317
Acknowledgements
The authors acknowledge the financial support to conduct this research, and study grants for CN from James Finlay (Kenya) Ltd., George Williamson (Kenya) Ltd., Sotik Tea Company (Kenya) Ltd., Mcleod Russell (Uganda) Ltd., the TRI of Kenya, and Southern African Biochemistry and Informatics for Natural Products (SABINA). The C. sinensis cultivars used in this study were provided by the TRI of Kenya. Supplementary funding was provided by the Technology and Human Resources for Industry Programme (THRIP), an initiative of the Department of Trade and Industries of South Africa (dti), the National Research Foundation (NRF) of South Africa, and the University of Pretoria South Africa.
Ethics declarations
Conflict of interest
The authors assert that they have no conflicts of interest.
Additional information
Publisher's Note
Springer Nature remains neutral with regard to jurisdictional claims in published maps and institutional affiliations.
About this article
Cite this article
Nyarukowa, C., van Reenen, M., Koech, R. et al. Untargeted metabolomics reveals differences between commercial and non-commercial Camellia sinensis cultivars used in black tea production. J. Plant Biochem. Biotechnol. (2021). https://doi.org/10.1007/s13562-021-00722-9
Received:

Accepted:

Published:
Keywords
Camellia sinensis

Catechin

Metabolomics

Tea quality