Abstract
Using agro-morphological characters and microsatellite markers, advance breeding lines of rice were discriminated for their ability to tolerate drought stress at reproductive stage. Experimental materials consisting of 17 advance breeding lines and a check were evaluated in randomized block design with three replications under irrigated condition and drought condition created under rainout shelter during three consecutive years. An analysis of variance revealed significant differences among the genotypes for all the ten agro-morphological characters evaluated under both the conditions across the years. Principal component analysis showed the relative importance of root length, number of tillers per plant, number of grains per panicle, harvest index and grain yield per plant among agro-morphological characters and stress tolerance level, stress susceptibility index, stress tolerance index and drought tolerance efficiency among drought tolerance indices as the important classification variables. Relative mean performance in respect of grain yield as well as drought tolerance indices reflected remarkably greater degree of drought tolerance in 11 advance breeding lines and the check, discriminating them from remaining entries under evaluation. Utilizing a panel of 32 microsatellite primers, selective amplification of targeted genomic regions revealed that the primers RM 72, RM 163, RM 212, RM 225, RM 231, RM 302, RM 327, RM 518, RM 521, RM 555, RM 1349, RM 3549 and RM 5443 were highly informative with greater gene diversity and discrimination ability. Hierarchical cluster analysis based on molecular profiles discriminated the entries into five genotypic groups and drought tolerant entries were accommodated into three distinct groups with remarkably greater efficiency (85.7%). Principal coordinate analysis based two dimensional plots of microsatellites dependent genetic profiles displayed a very close correspondence with the genotypic clustering pattern revealed from a perusal of dendrogram. Sequential exclusion of primers in cluster analysis led to identification of RM 212, RM 231, RM 324, RM 431, RM 521, RM 3549 and RM 6374 as the most useful primers for discrimination of drought tolerant and susceptible lines of rice. Molecular profiling based on these markers can be utilized as efficient tools for discrimination and identification of drought tolerant lines.
This is a preview of subscription content, log in to check access.
Access options
Buy single article
Instant access to the full article PDF.
US$ 39.95
Price includes VAT for USA
Subscribe to journal
Immediate online access to all issues from 2019. Subscription will auto renew annually.
US$ 99
This is the net price. Taxes to be calculated in checkout.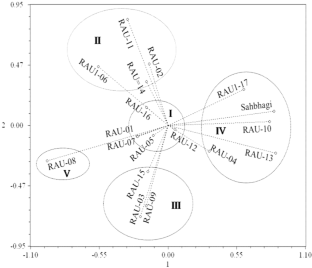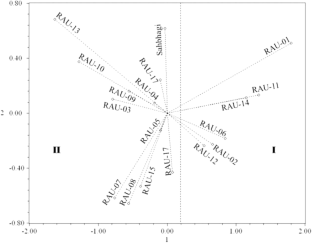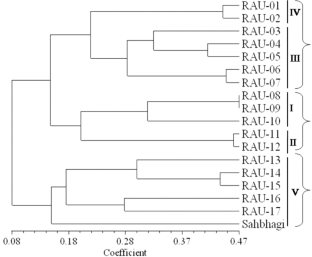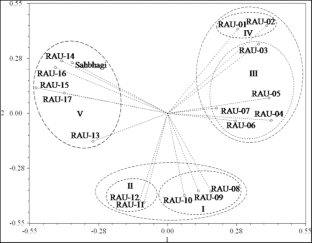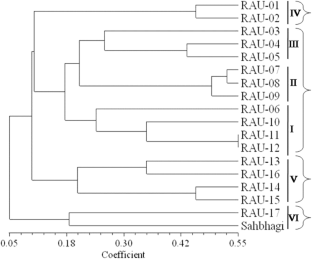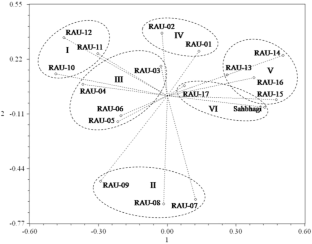 Abbreviations
TOL:

Stress tolerance level

SSI:

Stress susceptibility index

STI:

Stress tolerance index

DTE:

Drought tolerance efficiency

PCA:

Principal component analysis

PCoA:

Principal coordinate analysis
References
Barr HD, Weatherley PE (1962) A re-examination of the relative turgidity technique for estimating water deficits in leaves. Aust Biol Sci 15:413–428

Botstein D, White RL, Skolnick M, Davis RW (1980) Construction of a genetic linkage map in man using restriction fragment length polymorphisms. Am J Hum Genet 32:314–331

Chauhan JS, Tyagi MK, Kumar A, Nashaat NI, Singh M, Singh NB, Jakhar ML, Welham SJ (2007) Drought effects on yield and its components in Indian mustard (Brassica juncea L.). Plant Breed 126:399–402

Dice LR (1945) Measure of the amount of ecologic association between species. Ecology 26:297–302

Fernandez GCJ (1992) Effective selection criteria for assessing plant stress tolerance. In: Kus EG (ed) Adaptation of food crop temperature and water stress. Proceeding of 4th international symposium, Asian Vegetable and Research and Development Center, Shantana, Taiwan, pp 257–270

Fischer RA, Maurer R (1978) Drought resistance in spring wheat cultivars. I. Grain yield responses in spring wheat. Aust J Agric Sci 29:892–912

Fischer KS, Wood G (1981) Breeding and selection for drought tolerance in tropical maize. In: Proceedings symposium on principles and methods in crop improvement for drought resistance with emphasis on rice, IRRI, Philippines

Hanson AD, Peacock WJ, Evans LT, Arntzen CJ, Khus GS (1995) Development of drought resistant cultivars using physiomorphological traits in rice. Field Crops Res 40:67–86

Jayamani P, Negrão S, Martins M, Maçãs B, Oliveira MM (2007) Genetic relatedness of Portuguese rice accessions from diverse origins as assessed by microsatellite markers. Crop Sci 47:879–886

Kumar S, Dwivedi SK, Singh SS, Bhatt BP, Mehta P, Elanchezhian R, Singh VP, Singh ON (2014a) Morpho-physiological traits associated with reproductive stage drought tolerance of rice (Oryza sativa L.) genotypes under rainfed condition of eastern Indo-Gangetic Plain. Indian J Plant Physiol 19(2):87–93

Kumar S, Dwivedi SK, Singh SS, Jha SK, Leekshmy S, Elanchezhian R, Singh ON, Bhatt BP (2014b) Identification of drought tolerant rice genotypes by analyzing drought tolerance indices and morpho-physiological traits. SABRAO J Breed Genet 46(2):217–230

Kumar P, Sharma VK, Prasad BD (2015) Characterization of maintainer and restorer lines for wild abortive cytoplasmic male sterility in indica rice (Oryza sativa L) using pollen fertility and microsatellite (SSR) markers. Aust J Crop Sci 9:384–393

Kumar P, Kumari R, Sharma VK (2018) Choice of microsatellite markers for isolation of fertility restorers of wild abortive (WA) type cytoplasmic male sterility in rice. Indian J Genet 78:202–210

Kumari R, Kumar P, Sharma VK, Kumar H (2016) Molecular characterization for salinity tolerance in rice using microsatellite markers. Int J Agric Environ Biotechnol 9:163–174

Kumari S, Kumar P, Sharma VK (2018) Identification of microsatellite markers for genetic differentiation and authentication of promising aerobic rice genotypes. J Pharmacogn Phytochem 7:2772–2776

Liu K, Muse SV (2005) Power marker: integrated analysis environment for genetic marker data. Bioinformatics 21:2128–2129

Nagy S, Poczai P, Cernak I, Gorji AM, Hegedus G, Taller J (2012) PICcalc: an online program to calculate polymorphic information content for molecular genetic studies. Biochem Genet 50:670–672

Nehvi FA, Tak GM, Khan MN, Singh G (2003) Conservation and evaluation of rice biodiversity under temperate conditions of Kashmir. Ann Agric Res 24:36–39

Park DJ, Im HJ, Kim HG, Yang WH, Yong SH, Choi MS (2018) Physiological responses and effective selection criteria of drought tolerant plants. J Environ Biol 39:507–516

Prakash V (2007) Screening of wheat genotypes under limited moisture and heat stress environments. Indian J Genet 67:31–33

Prathepha P (2011) Microsatellite analysis of weedy rice (Oryza sativa f. spontanea) from Thailand and Lao PDR. Aust J Crop Sci 5:49–54

Price AH, Courtois B (1999) Mapping QTLs associated with drought resistance in rice: progress, problems and prospects. Plant Growth Regul 29:123–133

Rabbani MA, Masood MS, Shinwari ZK, Shinozaki KY (2010) Genetic analysis of basmati and non-basmati Pakistani rice (Oryza sativa L.) cultivars using microsatellite markers. Pak J Bot 42:2551–2564

Rahman M, Ullah I, Ahsraf M, Stewart JK, Zafer Y (2007) Genotypic variation for drought tolerance in cotton. Agron Sustain Dev 28:439–447

Rahman MM, Rasaul MG, Hossain MA, Iftekharuddaula KM, Hasegawa H (2012) Molecular characterization and genetic diversity analysis of rice (Oryza sativa L.) using SSR markers. J Crop Improv 26:244–257

Raju CS, Rao MVB, Reddy GLK, Rao JSP, Reddy KS (2002) Genetic divergence in rice for physiological and quality attributes. Madras Agric J 89:474–478

Raman A, Verulkar S, Mandal NP, Varrier M, Shukla VD, Dwivedi JL, Singh BN, Singh ON, Swain P, Mall AK, Robin S, Chandrababu R, Jain A, Ram TR, Hittalmani S, Haefele S, Piepho HS, Kumar A (2012) Drought yield index to select high yielding rice lines under different drought stress severities. Rice 5:1–12

Rohlf FJ (2000) NTSYSpc: numerical taxonomy and multivariate analysis system. Version 2.1. Exeter Publications, New York

Rosielle AA, Hamblin J (1981) Theoretical aspects of selection for yield in stress and non-stress environments. Crop Sci 21:943–946

Saghai-Maroof MA, Soliman KM, Jorgensen RA, Allard RW (1984) Ribosomal DNA spacer-length polymorphisms in barley: Mendelian inheritance, chromosomal location, and population dynamics. Proc Natl Acad Sci 81:8014–8018

Sajib AM, Hossain MM, Mosnaz ATM, Hossain H, Islam MM, Ali MS, Prodhan SH (2012) SSR marker-based molecular characterization and genetic diversity analysis of aromatic landreces of rice (Oryza sativa, L.). J BioSci Biotechnol 1:107–116

Sakai T, Duque MC, Cabrera FAU, Martinez CR, Ishiant M (2010) Establishment of drought screening protocols for rice under field conditions. Acta Agron 59:338–346

Shamim MZ, Manzar H, Sharma VK, Kumar P (2016) Microsatellite marker based characterization and divergence analysis among rice varieties. Indian J Biotechnol 15:182–189

Singh AK, Kumar R, Singh A, Bansal S, Singh D, Tomar A (2011) Studies on genetic variability in rice using molecular markers. Vegetos 24:123–133

Taleb R, Fayaz F, Naji AM (2009) Effective selection criteria for assessing drought stress tolerance in durum wheat (Triticum durum Desf.). Gen Appl Plant Physiol 35:64–74

Tripathy JN, Zhang J, Robin S, Nguyen HT (2000) QTLs for cell-membrane stability mapped in rice (Oryza sativa L.) under drought stress. Theor Appl Genet 100:1197–1202

Upadhyay P, Singh VK, Neeraja CN (2011) Identification of genotype specific alleles and molecular diversity assessment of popular rice (Oryza sativa L.) varieties of India. Int J Plant Breed Genet 5:130–140

Vanniarajan C, Vinod KK, Pereira A (2012) Molecular evaluation of genetic diversity and association studies in rice. J Genet 91:9–19

Venuprasad R, Lafitte HR, Atlin GN (2007) Response to direct selection for grain yield under drought stress in rice. Crop Sci 47:285–293

Venuprasad R, Dalid CO, Del VM, Bool ME, Zhao L, Espiritu M, Cruz MT, Amante M, Atlin G, Kumar A (2009) Identification and characterization of large-effect quantitative trait loci (QTL) for grain yield under lowland drought stress and aerobic conditions in rice using bulk-segregant analysis (BSA). Theor Appl Genet 120:177–190

Xu YB, Beachell H, McCouch SR (2004) A marker-based approach to broadening the genetic base of rice in the USA. Crop Sci 44:1947–1959

Yue B, Xue W, Xiong L, Yu X, Luo L, Cui K, Jin D, Xing Y, Zhang Q (2006) Genetic basis of drought resistance at reproductive stage in rice: separation of drought tolerance from drought avoidance. Genetics 172:1213–1228
Acknowledgements
The authors gratefully acknowledge the Department of Plant Breeding and Genetics, Dr. Rajendra Prasad Central Agricultural University Pusa, Bihar, India for providing the seed of rice genotypes used in the study.
Ethics declarations
Conflict of interest
The authors declare that they have no conflict of interest.
Additional information
Publisher's Note
Springer Nature remains neutral with regard to jurisdictional claims in published maps and institutional affiliations.
About this article
Cite this article
Choudhary, S.S., Sharma, V.K., Kumar, P. et al. Molecular profiling in relation to drought tolerance in advance breeding lines of rice using microsatellite markers. J. Plant Biochem. Biotechnol. 29, 36–46 (2020). https://doi.org/10.1007/s13562-019-00509-z
Received:

Accepted:

Published:

Issue Date:
Keywords
Rice

Drought tolerance

Principal component analysis

Microsatellite markers

Principal coordinate analysis

Genetic divergence