Abstract
A rapid and efficient protocol is developed for in vitro plantlet regeneration of Populus deltoides clone G48 using petiole explants. The highest frequency of shoot regeneration (74.75%) from petiole was obtained on MS medium supplemented with 0.50 mg/l BAP and 0.20 mg/l IAA. The regenerated shoots started turning brown and necrotic after 10–15 days in culture. To overcome the browning problem, the explants along with the developing shoot buds were transferred to modified MS medium containing 0.50 mg/l BAP, 0.20 mg/l IAA, 15 mg/l AdS, 0.1% PVP, 100 mg/l casein hydrolysate, 50 mg/l L-glutamine, 250 mg/l (NH4)2SO4 and 0.5% agar. Shoot multiplication and elongation took place on the same medium. Indole-3-acetic acid at 0.10 mg/l was most effective for root regeneration. Using the current protocol, it took 2 months to regenerate plantlets. The in vitro regenerated plantlets were successfully acclimatized and established in greenhouse conditions. This regeneration system using petiole explants provides a foundation for Agrobacterium-mediated genetic transformation of P. deltoides clone G48 for incorporation of various silviculturally important traits.
Access options
Buy single article
Instant access to the full article PDF.
USD 39.95
Price excludes VAT (USA)
Tax calculation will be finalised during checkout.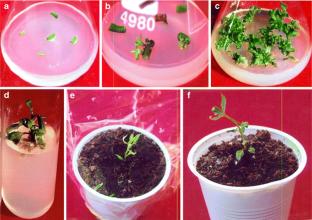 Abbreviations
AdS:

Adenine sulphate

BAP:

6-Benzylaminopurine

IAA:

Indole-3-acetic acid

IBA:

Indole-3-butyric acid

Kn:

Kinetin

MS:

Murashige and Skoog's medium

NAA:

Naphthaleneacetic acid

PVP:

Polyvinylpyrrolidone

TDZ:

Thidiazuron
References
Ahuja MR (1983) Somatic cell differentiation and rapid clonal propagation of aspen. Silvae Genet 32:131–135

Chaturvedi HC, Sharma AK, Agha BQ, Jain M, Sharma M (2004) Production of clonal trees of Populus deltoides through in vitro regeneration of shoots from leaf, stem and root explants and their field cultivation. Indian J Biotech 2:203–208

Dais W, Zong-Ming C, Wayne S (2003) Plant regeneration and Agrobacterium-mediated transformation of two elite aspen hybrid clones from in vitro leaf tissues. In Vitro Cell Dev Biol Plant 39:6–11

Gomez KA, Gomez AA (1984) Statistical procedure for agricultural research. Wiley, New York

Han K, Colletti JP, Gordon MP, Han KH (1994) Adventitious root and shoot regeneration in vitro is under major gene control in a F2 family of hybrid poplar (Populus trichocarpa x P. deltoides). For Genet 1:139–146

Harry IS, Thrope TA (1994) In vitro culture of forest trees. In: Vasil IK, Thrope TA (eds) Plant cell and tissue culture. Kluwer Academic, Dodrecht, pp 539–560

Ide Y, Kurita N, Kang JM (1994) In vitro plant regeneration from petiole culture of poplar hybrids and their competence for adventitious bud formation. Bull Tok Uni For 91:125–135

Jafari MA, Kiss J, Gergacz J, Heszky LE (1995) High efficiency callus induction and plant regeneration in petiole culture of four poplar genotypes. Acta Biol Hung 46:51–59

Jang SS, Lee JJ, Lee JS, Lee SK, Shim SY (1988) Plant regeneration from cell culture of Populus glandulosa Uyeki. Res Rep Inst For Gen 24:107–113

Kang B, Osburn L, Kopsell D, Tuskan GA, Cheng ZM (2009) Micropropagation of Populus trichocarpa 'Nisqually-1': the genotype deriving the Populus reference genome. Plant Cell Tissue Org Cult 99:251–257

Liu C, Shen H, Zhang H, Huang J (2004) Tissue culture techniques of Populus alba L. var. pyramidalis Bge. J Northeast For Uni 32:5–7

Llyod G, McCown BH (1981) Commercially feasible micropropagation of mountain laurel, Kalmia latifolia, by use of shoot-tip culture. Plant Prop Soc Proc 30:421–427

Mehra PN, Cheema GS (1980) Clonal multiplication in in vitro of Himalayan poplar (Populus ciliata). Phytomorpho 30:336–343

Murashige T, Skoog F (1962) A revised medium for rapid growth and bioassays with tobacco tissue cultures. Physiol Plant 15:473–497

Noel N, Leple JC, Pilate G (2002) Optimization of in vitro micropropagation and regeneration for Populus x interamericana and Populus x euramericana hybrids (P. deltoides, P. trichocarpa, and P. nigra). Plant Cell Rep 20:1150–1155

Peternel S, Gabrovsek K, Gogala N, Regvar M (2009) In vitro propagation of European aspen (Populus tremula L.) from axillary buds via organogenesis. Sci Hort 121:109–112

Sumiya K, Sunakawa T, Ishimoto T, Kasai Z (1988) Plant regeneration from long-term cultured callus of poplar (Populus nigra). Mok Gakk J Japan Wood Res Soc 34:354–358

Thakur AK, Srivastava DK (2006) High efficiency plant regeneration from leaf explants of male Himalayan poplar (Populus ciliata Wall.). In Vitro Cell Dev Biol Plant 42:144–147

Thakur S, Handa AK, Khurana DK (1995) A fast and simple technique for in vitro multiplication of poplar hybrids. Indian J Exp Biol 33:803–805

Thakur AK, Sharma S, Srivastava DK (2008) Direct organogenesis and plant regeneration from petiole explant of male Himalayan Poplar (Populus ciliata Wall.). Phytomorpho 58:49–55

Tsvetkov I, Hausman JF, Jouve L (2007) Thidiazuron-induced regeneration in root segments of white poplar (P. alba L.). Bulg J Agri Sci 13:623–626

Xiao DS, Xin NZ, Shi JY, Xu L, Sheng QZ (1996) Effects of growth regulators on leaf callus induction and plantlet regeneration in Populus tomentosa. Ning J Agri For Sci Tech 6:18–20

Yadav R, Arora P, Kumar D, Dilbaghi N, Chaudhury A (2009) High frequency direct plant regeneration from leaf, internode and root segments of Eastern Cottonwood (Populus deltoides). Plant Biotech Rep 3:175–182
Acknowledgements
The authors are thankful to Professor and Head, Department of Biotechnology for providing all the facilities to carry out the research work. The assistance in providing P. deltoides clone G48 plant material by the Head, Department of Tree Improvement and Genetic Resources is highly acknowledged.
About this article
Cite this article
Thakur, A.K., Saraswat, A. & Srivastava, D.K. In vitro plant regeneration through direct organogenesis in Populus deltoides clone G48 from petiole explants. J. Plant Biochem. Biotechnol. 21, 23–29 (2012). https://doi.org/10.1007/s13562-011-0067-0
Received:

Accepted:

Published:

Issue Date:

DOI: https://doi.org/10.1007/s13562-011-0067-0
Keywords
Direct organogenesis

Populus deltoides

Petiole explants

Regeneration