Abstract
Genetic diversity among 42 sorghum accessions representing landraces (19), advanced breeding lines (16), local cultivars (2) and release varieties (5) with 30 simple sequence repeat (SSR) markers revealed 7.6 mean number of alleles per locus showing 93.3% polymorphism and an average polymorphism information content of 0.78 which range from 0.22 (Xtxp12) and 0.91(Xtxp321). The average heterozygosity and effective number of alleles per locus were 0.8 and 6.65 respectively. Cluster analysis based on microsatellite allelic diversity clearly demarcated the accessions into ten clusters. A total of 24 unique alleles were obtained from seven SSR loci in 23 accessions in a size range of 110–380 bp; these unique alleles may serve as diagnostic tools for particular region of the genome of respective genotypes. Selected SSR markers from different linkage groups provided an accurate way of determining genetic diversity at the molecular level.
Access options
Buy single article
Instant access to the full article PDF.
US$ 39.95
Tax calculation will be finalised during checkout.
Subscribe to journal
Immediate online access to all issues from 2019. Subscription will auto renew annually.
US$ 79
Tax calculation will be finalised during checkout.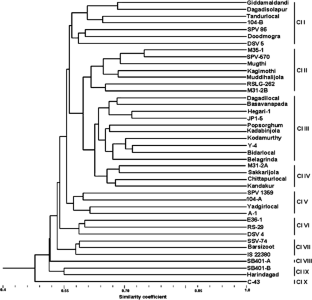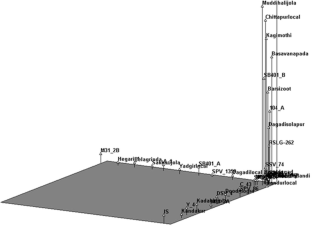 Abbreviations
MDS:

multidimensional scaling

PIC:

polymorphism information content

CTAB:

cetyl trimethyl ammonium bromide

UPGMA:

unweighted pair-group method with arithmetic average

SSR:

simple sequence repeats
References
Abu-Assar AH, Uptmoor R, Abdelmula AA, Salih M, Ordon F, Friedt W (2005) Genetic variation in sorghum germplasm from Sudan, ICRISAT, and USA assessed by simple sequence repeats (SSRs). Crop Sci 45:1636–1644

Agrama HA, Tunistra MR (2003) Phylogenetic diversity and relationships among sorghum accessions using SSR and RAPDs. Afr J Biotechnol 2:334–340

Aldrich PR, Doebley J (1992) Restriction fragment variation in nuclear and chloroplast genomes of cultivated and wild sortghums (Sorghum boicolar (L.) Moench). Theor Appl Genet 85:293–302

Aldrich PR, Doebley J, Schertz KF, Stec A (1992) Patterns of allozyme variation in cultivated sorghum and wild sorghum (Sorghum bicolar L Moench). Theor Appl Genet 85:451–460

Appa-Rao S, Prasada-Rao KE, Mendesha MH, Gopal-Reddy V (1996) Morphological diversity in sorghum germplasm from India. Genet Resour Crop Evol 43:559–567

Ayana A, Bryngelsson T, Bekele E (2000) Genetic variation of Ethiopean and Eritrean sorghum (Sorghum bicolar L Moench) germplasm diversity assessed by random amplified polymorphic DNA (RAPD). Genet Resour Crop Evol 47:471–482

Belaj A, Satovic Z, Cipriani G, Baldoni L, Testolin R, Rallo L, Trujillo I (2003) Comparative study of the discriminating capacity of RAPD, AFLP and SSR markers and of their effectiveness in establish genetic relationships in olive. Theor Appl Genet 107:736–744

Bhattramakki D, Dong J, Chhabra AK, Hart GE (2000) An integrated SSR and RFLP linkage map of Sorghum bicolor (L.) Moench. Genome 43:988–1002

Botstein D, White RL, Skolnick M, Davis RV (1980) Construction of a genetic map in man using restriction fragment length polymorphisms. Am J Hum Genet 32:314–331

Chakravarthy KB, Rambabu N (2006) SSR marker based DNA fingerprinting and diversity study in rice (Oryza sativa L.). Afr J Biotechnol 5:684–688

Chandra S, Huaman Z, Hari Krishna S, Ortiz R (2002) Optimal sampling strategy and core collection size of Andean tetraploid potato based on isozyme data—a simulation study. Theor Appl Genet 104:1325–1334

DeWoody JA, Honeycutt RL, Skow LC (1995) Microsatellite markers in white-tailed deer. J Hered 86:317–319

Dillon SL, Lawrence PK, Henry RJ (2005) The new use of Sorghum bicolor-derived SSR markers to evaluate genetic diversity in 17 Australian Sorghum species. Plant Genet Resour 3:19–28

Dillon SL, Shapter FM, Henry RJ, Cordeiro G, Izquierdo L, Slade LL (2007) Domestication to crop improvement: genetic resources for sorghum and saccharum (Andropogoneae). Ann Bot 100:975–989

Dje Y, Ater M, Lefebvre C, Vekemans X (1998) Patterns of morphological and allozyme variation in sorghum landraces of Northwestern Morocco. Genet Resour Crop Evol 45:541–548

Doggett H (1988) Sorghum, 2nd edn. Wiley, New York

FAOSTAT: agricultural data. http://apps.fao.org, last accessed: October 2006

Harlan JR, Dewet JMJ (1972) A simplified classification of sorghum. Crop Sci 12:172–173

Jayashree B, Ramu P, Prasad P, Bantte K, Hash CT, Chandra S, Hoisington DA, Varshney RK (2006) A database of simple sequence repeats from cereal and legume expressed sequence tags mined in silico: survey and evaluation. In Silico Biol 6:0054

Jordan DR, Tao YZ, Godwin ID, Henzel RG, Cooper M, Mcintyre CL (1998) Loss of genetic diversity associated with selection for resistance to sorghum midge in Australia sorghum. Euphytica 102:1–7

Kruskal JB, Wish M (1978) Multidimensional scaling. Sage, Newbury Park

Kumar S, Mohan A, Balyan HS, Gupta PK (2009) Orthology between genomes of Brachypodium, wheat and rice. BMC Research Notes 2:93

Li W, Gill BS (2002) The colinearity of the Sh2/A1 orthologous region in rice, sorghum and maize is interrupted and accompanied by genome expansion in the triticeae. Genetics 160:1153–1162

Mace ES, Buhariwalla HK, Crouch JH (2003) A high throughput DNA extraction protocol for tropical molecular breeding programs. Plant Mol Biol Rep 21:459a–459h

Marita JM, Rodriguez JM, Nienhuis J (2000) Development of an algorithm identifying maximally diverse core collections. Genet Resour Crop Evol 47:515–526

Menz MA, Klein RR, Mullet JE, Obert JA, Unruh NC, Klein PE (2002) A high-density genetic map of Sorghum bicolor (L.) Moench based on 2926 AFLP®, RFLP and SSR markers. Plant Mol Biol 48:483–499

Morgante M, Oliveri AM (1993) PCR amplified microsatillite as marker in plant genetics. Plant J 3:175–182

Morgante M, Hanafey M, Powell W (2002) Microsatellites are preferentially associated with nonrepetitive DNA in plant genomes. Nat Genet 30:194–200

Nei M, Li WH (1979) Mathematical model for studying genetic variation in terms of restriction endonucleases. Proc Natl Acad Sci (USA) 76:5369–5373

Pejic I, Ajmone-Marsan P, Morgante M, Kozumplick V, Castiglioni P, Taramino G, Motto M (1998) Comparative analysis of genetic similarity among maize inbred lines detected by RFLPs, RAPDs, SSRs, and AFLPs. Theor Appl Genet 97:1248–1255

Rohlf FJ (2002) NTSYS-pc. Numerical taxonomy and multivariate analysis system, version 2.10. Exeter Software, New York

Smith JSC, Kresovich S, Hopkins MS, Mitchell SE, Den RE, Woodman WL, Lee M, Porter K (2000) Genetic diversity among elite sorghum inbred lines assessed with simple sequence repeats. Crop Sci 40:226–232

Swofford DL (2003) PAUP* V4. Phylogenetic analysis using parsimony (*and other methods). Version 4. Sinauer Associates, Sunderland

Tao Y, Manners JM, Ludlow M, Henzel RJ (1993) DNA polymorphisms in grain sorghum (Sorghum bicolor L.). Theor Appl Genet 86:679–688

Tegelstrom H (1992) Detection of mitochondrial DNA fragments. In: Hoelzel AR (ed) Molecular genetic analysis of populations: a practical approach. IRL, Oxford, pp 89–114

Uptmoor R, Wenzel W, Friedt W, Donaldson G, Ayisi K, Ordon F (2003) Comparative analysis on the genetic relatedness of Sorghum bicolor accessions from Southern Africa by RAPDs, AFLPs and SSRs. Theor Appl Genet 106:1316–1325

Varshney RK, Graner A, Sorrells ME (2005) Genic microsatellite markers in plants: features and applications. Trends Biotech 23:48–55

Vierling RA, Xiang Z, Joshi CP, Gilbert ML, Nguyen HT (1994) Genetic diversity among elite sorghum lines revealed by restriction fragment length polymorphisms and random amplified polymorphic DNAs. Theor Appl Genet 87:816–820
Acknowledgements
Financial assistance was from Ministry of Information Technology and Biotechnology, Government of Karnataka, and Department of Biotechnology, Government of India. We are thankful Dr M.Y. Kamatar, and Dr M. G. Palakshappa for providing sorghum accessions and Dr. N. Seetharama, Director, National Research Center for Sorghum, Hyderabad, India, for encouragement. We thank anonymous reviewers for their critical comments which helped improving the scientific merit of the manuscript.
About this article
Cite this article
Thudi, M., Fakrudin, B. Identification of unique alleles and assessment of genetic diversity of rabi sorghum accessions using simple sequence repeat markers. J. Plant Biochem. Biotechnol. 20, 74–83 (2011). https://doi.org/10.1007/s13562-010-0028-z
Received:

Accepted:

Published:

Issue Date:
Keywords
Polymorphism information content

Simple Sequence Repeats (SSR)

Fingerprint

Heterozygosity

Effective number of alleles

Landrace