Abstract
Using the generalized–gradient approximation (GGA) based on density functional theory, we have reported the structural, mechanical, electronic, and lattice dynamical properties of the intermetallic compounds Pd3X (X = Ti, Zr, Hf) with D024 and the L12 structures. The elastic constants were predicted using the stress-finite strain technique. We performed numerical estimations of the bulk modulus, shear modulus, Young's modulus, Poisson's ratio anisotropy factor, G/B ratio, and hardness. Our studies have showed that all Pd3X (X = Ti, Zr, Hf) with D024 and the L12 structures are mechanically stable and relatively hard materials with low compressibility, and they could be considered as ductile systems. Also, the phonon dispersion curves and total and partial density of states were calculated and discussed for Pd3X (X = Ti, Zr, Hf). We finally estimated some thermodynamic properties such as entropy, free energy, and heat capacity at the temperature range 0–1000 K. The calculated phonon frequencies of Pd3X (X = Ti, Zr, Hf) are positive, indicating the dynamical stability of the studied compounds. For the first time, we have performed the numerical estimation of lattice dynamical properties for the compounds and still awaits experimental confirmation. The obtained ground state properties are in good agreement with those of experimental and theoretical studies.
This is a preview of subscription content, log in to check access.
Access options
Buy single article
Instant access to the full article PDF.
US$ 39.95
Price includes VAT for USA
Subscribe to journal
Immediate online access to all issues from 2019. Subscription will auto renew annually.
US$ 99
This is the net price. Taxes to be calculated in checkout.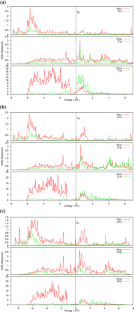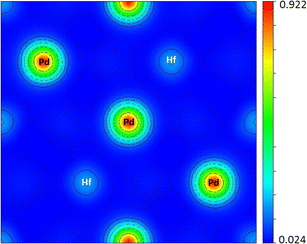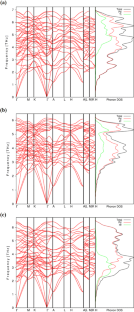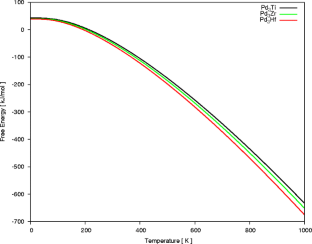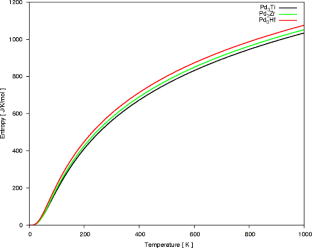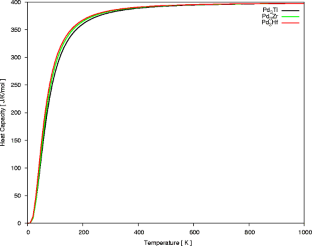 References
1.

M. Ellner, J. Less-Common Met. 60, 15 (1978)

2.

M. Sundareswari, M. Rajagopalan, Eur. Phys. J. B 49, 67–75 (2006)

3.

Y. Terada, K. Ohkubo, S. Miura, J.M. Sanchez, T. Mohri, J. Alloys Compd. 354, 202–207 (2003)

4.

K. Chen, L.R. Zhao, J.S. Tse, J.R. Rodgers, Phys. Lett. A 331, 400–403 (2004)

5.

J.B. Moser, J.H.C. Lin, M. Taira, E.H. Greener, Dent. Mater. 1, 37–40 (1985)

6.

M. Nakagawa, S. Matsuya, Dent. Mater. J. 20, 305–314 (2001)

7.

M. Nishida, T. Hara, Y. Morizono, A. Ikeya, H. Kijima, A. Chiba, Acta Mater. 45, 4847–4853 (1997)

8.

K. Mizuuchi, K. Inoue, K. Yamauchi, K. Enami, M. Itami, Y. Okanda, Mater. Sci. Eng. A 316, 93–101 (2001)

9.

A. Kulińska, P. Wodniecki, Intermetallics 15, 1190–1196 (2007)

10.

R.C. Bowman Jr., A. Attalla, G.C. Abell, J.S. Cantrell, A.J. Maeland, J Less-Common Met. 172–174, 643–651 (1991)

11.

K. Yokoyama, T. Ogawa, K. Asaoka, J. Sakai, J Alloys Compounds. 400, 227–233 (2005)

12.

Z. Werner, J. Piekoszewski, A. Barcz, R. Grötzschel, F. Prokert, J. Stanislawski, W. Szymczyk, Nucl. Inst. Methods Phys. Res. B. 175–177, 767–771 (2001)

13.

J. Oak, A. Inoue, J. Non-Cryst, Solids 354, 1828–1832 (2008)

14.

M. Hwang, M. Meichle, M.B. Salamon, C.M. Wayman, Philos. Mag. 47A, 9–30 (1983)

15.

G.L. Zhao, T.C. Leung, B.N. Harmon, M. Keil, M. Mullner, W. Weber, Phys. Rev. B 40, 7999–8001 (1989)

16.

L.A. Bendersky, R.M. Waterstrat, J. Alloys Compd. 252, L5 (1997)

17.

N. Ohnishi, T. Onozuka, M. Hirabayashi, J. Mater. Sci. 26, 2219–2228 (1991)

18.

K. Cenzual, J.L. Jorda, E. Parthe, Acta Crystallogr. C44, 14–18 (1988)

19.

K. Cenzual, E. Parthe, Acta Crystallogr. C42, 1101–1105 (1986)

20.

L.A. Bendersky, J.K. Stalick, R.M. Waterstrat, J. Alloys Compd. 201, 121–126 (1993)

21.

S.F. Dubinen, A.I. Lotkov, S.G. Teploukhov, V.N. Grishkov, V.P. Skorobogatov, Phys. Met. Metallogr. 73, 401–405 (1992)

22.

B.H. Chen, H.F. Franzen, J Less-Common Met. 153, L13–L19 (1989)

23.

B.H. Chen, H.F. Franzen, J. Less-Common Met. 158, L11 (1990)

24.

R.M. Waterstrat, R. Kuentzler, J. Muller, J Less-Common Met. 167, 169–178 (1990)

25.

J.-Q. Hu, M. Xie, X. Pan, Y.-C. Yang, M- M. Liu, J.-M. Zhang. Comput. Mater. Sci. 51, 1 (2012)

26.

L. Brewer, Acta Metall. 15, 553–556 (1967)

27.

Q. Guo, O.J. Kleppa, J. Alloys Compd. 266, 224 (1998)

28.

M. Ellner, J. Alloys Compd. 366, 222 (2004)

29.

E. Raub, E. Röschel, Z. Metallk. 59 (1968) 112

30.

I.R. Harris, M. Norman, J. Less Common Met. 22, 127 (1970)

31.

H. Schulz, K. Ritapal, W. Bronger, W.Z. Klemm, Anorg Allg Chem 357, 299 (1968)

32.

N. Selhaoui, J.C. Gachon, J. Hertz, J Less Common Met. 154, 137 (1989)

33.

S. Curtarolo, D. Morgan, G. Ceder, Comput Coupling of Phase Diagrams and Thermochem. 29, 163–211 (2005)

34.

P. Villars, K. Cenzual, J.L. Daams, F. Hulliger, H. Okamoto, K. Osaki, A. Prince, Pauling File, Binaries ed., Inorganic Materials Database and Design System, Version 1.0, distributed by Crystal Impact, 2001.

35.

R.F. Minibaev, D.I. Bazhanov, A.A. Katsnel'son, S.E. Kul'kova, D.S. Xu, Q.M. Hu, Y.L. Hao, Journal of Surface Investigation. X-ray, Synchrotron and Neutron Techniques 1 (2007) 754.

36.

P. Mikusik, S. Pick, Solid State Commun. 86, 467 (1993)

37.

S. Pick, P. Mikusik, Solid State Commun. 80(10), 897 (1991)

38.

C. Guo, Z. Du, C. Li, Calphad 30, 482 (2006)

39.

Q. Guo, O.J. Kleppa, J. Alloys Compd. 266, 224 (1998)

40.

X.Q. Chen, C.L. Fu, J.R. Morris, Intermetallics 18, 998 (2010)

41.

S.V. Meschel, P. Nash, X.Q. Chen, J. Alloys Compd. 492, 105 (2010)

42.

X. Bai, J.H. Li, Y. Dai, B.X. Liu, Intermetallics 31, 79 (2012)

43.

G. Surucu, K. Colakoglu, E. Deligoz, N. Korozlu, H. Ozisik, Comput. Mater. Sci. 48, 859–865 (2010)

44.

G. Surucu, K. Colakoglu, E. Deligoz, H. Ozisik, Intermetallics 18, 286 (2010)

45.

G. Kresse, J. Hafner, Phys. Rev. B 47, 558 (1994)

46.

G. Kresse, J. Furthmüller, Comput. Mater. Sci. 6, 15 (1996)

47.

G. Kresse, D. Joubert, Phys. Rev. B 59, 1758 (1999)

48.

G. Kresse, J. Furthmüller, Phys. Rev. B 54, 11169 (1996)

49.

P.E. Blochl, Phys. Rev. B 50, 17953 (1994)

50.

J.P. Perdew, K. Burke, M. Ernzerhof, Phys. Rev. Lett. 77, 3865 (1996)

51.

H. Monkhorst, J. Pack, Phys. Rev. B 13, 5188 (1976)

52.

U.V. Choudary, K.A. Gingerich, L.R. Cornwell, Metall Trans 8A, 1487 (1977)

53.

A.E. Dwight, P.A. Beck, Trans. Metall. Soc. AIME 215, 976 (1959)

54.

A.F. Jankowski, J. Alloys Compd. 182, 35 (1992)

55.

V. Kanchana, G. Vaitheeswaran, A. Svane, A. Delin, J. Phys. Condens. Matter 18, 9615 (2006)

56.

Y.L. Page, P. Saxe, Phys. Rev. B 65, 104104 (2002)

57.

D.C. Wallace, Thermodynamics of crystals (Wiley, New York, 1972)

58.

M. A. Baranov, E.A. Dubov, EPhTJ 1 (2005) 28

59.

B. Mayer, H. Anton, E. Bott, M. Methfessel, J. Sticht, P.C. Schmidt, Intermetallics 11, 23 (2003)

60.

A.A. Maradudin, E.W. Montroll, G.H. Weiss, I.P. Ipatova, Theory of Lattice Dynamics in the Harmonic Approximation, 2nd edn. (Academic, NewYork, 1971)

61.

K. Chen, L.R. Zhao, J. Rodgers, J.S. Tse, J. Phys. D. Appl. Phys. 36, 2725 (2003). doi:10.1088/0022-3727/36/21/021

62.

S.F. Pugh, Philos. Mag. 45, 823 (1953)

63.

X.Q. Chen, H. Niu, D. Li, Y. Li, Intermetallics 19, 1275 (2011)

64.

S.G. Said, H. Ozisik, E. Deligoz, M.B. Kanouni, Semicond. Sci. Technol. 28, 085005 (2013)

65.

P. Ravindran, L. Fast, P.A. Korzhavyi, B. Johansson, J. Wills, O. Eriksson, J. Appl. Phys. 84, 4891 (1998)

66.

N. Miao, B. Sa, J. Zhou, Z. Sun, Comput. Mater. Sci. 50, 1559 (2011)

67.

A. Toga, F. Oba, I. Tanaka, Phys. Rev. B 78, 134106 (2008)

68.

S. Baroni, P. Giannozzi, A. Testa, Phys. Rev. Lett. 58, 1861 (1987)

69.

X. Gonze, J.-P. Vignenon, Phys. Rev. B 39, 13120 (1989)

70.

X. Gonze, D.C. Allan, M.P. Teter, Phys. Rev. Lett. 68, 3603 (1992)

71.

P.K. Jha, Phys. Rev. B 72, 214502 (2005)

72.

R. Wang, S. Wang, X. Wu, T. Song, Int. J. Thermophys. 33, 300 (2012)

73.

K.R. Babu, C.B. Lingam, S. Auluck, S. Tewari, G. Vaitheeswaran, J. Solid Chem. 184, 343 (2011)
About this article
Cite this article
Surucu, G., Colakoglu, K., Ciftci, Y.O. et al. Thermo-Elastic and Lattice Dynamical Properties of Pd3X (X = Ti, Zr, Hf) Alloys: An Ab Initio Study. Braz J Phys 45, 604–614 (2015). https://doi.org/10.1007/s13538-015-0355-6
Received:

Published:

Issue Date:
Keywords
Intermetallics

Thermal properties

Elastic properties

Ab initio calculations

Dynamical properties