Abstract
Unemployment affects future working conditions and job security negatively, thus reducing life satisfaction after reemployment. These employment-related scars of unemployment should not matter anymore when a person has retired. Using German panel data, we analyze unemployed persons' transition into retirement to test whether unemployment leaves scars beyond working life and thus for reasons that are not employment-related. We find that involuntary unemployment between the last job and retirement causes a loss in life satisfaction after retirement. People who influenced or even initiated unemployment, by contrast, show no scarring. The scarring effect goes beyond what can be explained by the income loss originating from reduced pensions. It shows up independently of whether the unemployment spell directly before retirement was the only experience of unemployment in a person's career, or whether she had also experienced unemployment at earlier times. We do not find evidence that early retirement or involuntary retirement are the reasons why formerly unemployed retirees display unemployment scarring.
This is a preview of subscription content,
to check access.
Access this article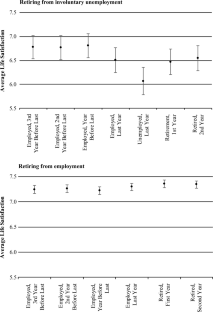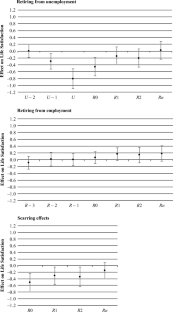 Notes
According to Bender (2012), unemployed people suffer from retirement because they perceive the transition as more involuntary than employees. In our sensitivity analysis, we test whether this explains the scarring effects by comparing employed and unemployed workers who both were likely forced to retire.

For most of the time, the statutory retirement age was 65 years. Since 2012, it has been gradually increased and will be 67 years from the 1964 birth cohort onward.

This group mainly comprises people on so-called mini-jobs, who currently earn no more than 450 euros per month and benefit from reduced taxes and social security contributions.

Incomes hardly vary after retirement. Most people mainly rely on the public pension, which cannot fall and increases with wage growth. If we see that a last unemployment spell reduces current monthly income by x euros after retirement, current income will be lowered by x euros in any month after retirement. The drop in current income is thus proportional to the drop in permanent income. Controlling for the change in income when entering retirement thus also captures the effect of the permanently forgone retirement income due to unemployment.

Using propensity score reweighting instead of EB, we find a scarring effect of –0.396 (p < .05) for the combined treatment group of plant closure and other dismissals and –0.486 (p < .01) for plant closures only.

Here, the EB algorithm no longer converges if we consider age at the last episode of employment as a balancing variable, so that the test relies on regressions only.

Because of low numbers of observations for the lag and lead variables, we cannot focus on unemployment due only to plant closure here.

One year dummy variable is left out of the estimation to account for the collinearity of age and the year dummy variables. A regression with age dummy variables instead of age and age squared yields practically the same results.
References
Arulampalam, W., Gregg, P., & Gregory, M. (2001). Unemployment scarring. Economic Journal, 111, F577–F584.

Bell, D. N. F., & Blanchflower, D. G. (2011). Young people and the Great Recession. Oxford Review of Economic Policy, 27, 241–267.

Bender, K. A. (2012). An analysis of well-being in retirement: The role of pensions, health, and "voluntariness" of retirement. Journal of Socio-Economics, 41, 424–433.

Blanchflower, D. G., & Oswald, A. J. (2004). Well-being over time in Britain and the USA. Journal of Public Economics, 88, 1359–1386.

Bonsang, E., & Klein, T. J. (2012). Retirement and subjective well-being. Journal of Economic Behavior & Organization, 83, 311–329.

Börsch-Supan, A., & Schnabel, R. (1998). Social security and retirement in Germany. In J. Gruber & D. Wise (Eds.), Social security and retirement around the world (pp. 135–180). Chicago, IL: University of Chicago Press.

Brand, J. (2006). The effects of job displacement on job quality: Findings from the Wisconsin Longitudinal Study. Research in Social Stratification and Mobility, 24, 275–298.

Calvo, E., Haverstick, K., & Sass, S. A. (2009). Gradual retirement, sense of control, and retirees' happiness. Research on Aging, 31, 112–135.

Clark, A. E. (2003). Unemployment as a social norm: Psychological evidence from panel data. Journal of Labor Economics, 21, 323–351.

Clark, A. E., Diener, E., Georgellis, Y., & Lucas, R. E. (2008). Lags and leads in life satisfaction: A test of the baseline hypothesis. Economic Journal, 118, F222–F243.

Clark, A. E., & Georgellis, Y. (2013). Back to baseline in Britain: Adaptation in the British Household Panel Survey. Economica, 80, 496–512.

Clark, A. E., Georgellis, Y., & Sanfey, P. (2001). Scarring: The psychological impact of past unemployment. Economica, 68, 221–241.

Cobb-Clark, D. A., & Schurer, S. (2012). The stability of big-five personality traits. Economics Letters, 115, 11–15.

Daly, M., & Delaney, L. (2013). The scarring effect of unemployment throughout adulthood on psychological distress at age 50: Estimates controlling for early adulthood distress and childhood psychological factors. Social Science & Medicine, 80, 19–23.

Destatis. (2017). 11% der 65- bis 74-Jährigen sind erwerbstätig [11% of 65–74 year-olds are employed] [Press Release No. 240/17]. Retrieved from https://www.destatis.de/DE/PresseService/Presse/Pressemitteilungen/2017/07/PD17_240_122.html

Dieckhoff, M. (2011). The effect of unemployment on subsequent job quality in Europe: A comparative study of four countries. Acta Sociologica, 54, 233–249.

Eliason, M., & Storrie, D. (2006). Lasting or latent scars? Swedish evidence on the long-term effects of job displacement. Journal of Labor Economics, 24, 831–856.

Frijters, P., Johnston, D. W., & Shields, M. A. (2014). Does childhood predict adult life satisfaction? Evidence from British Cohort Surveys. Economic Journal, 124, F688–F719.

Hainmueller, J., & Xu, Y. (2013). Ebalance: A Stata package for entropy balancing. Journal of Statistical Software, 54(7), 1–18.

Henning, G., Lindwall, M., & Johansson, B. (2016). Continuity in well-being in the transition to retirement. GeroPsych, 59, 225–237.

Hetschko, C., Knabe, A., & Schöb, R. (2014). Changing identity: Retiring from unemployment. Economic Journal, 124, 149–166.

Hijzen, A., Upward, R., & Wright, P. W. (2010). The income losses of displaced workers. Journal of Human Resources, 45, 243–269.

Kassenboehmer, S., & Haisken-DeNew, J. (2009). You're fired! The causal negative effect of entry unemployment on life satisfaction. Economic Journal, 119, 448–462.

Knabe, A., & Rätzel, S. (2011). Scarring or scaring? The psychological impact of past unemployment and future unemployment risk. Economica, 78, 283–293.

Kroft, K., Lange, F., & Notowidigdo, M. J. (2013). Duration dependence and labor market conditions: Evidence from a field experiment. Quarterly Journal of Economics, 128, 1123–1167.

Lange, T. (2013). Scarred from the past or afraid of the future? Unemployment and job satisfaction across European labour markets. International Journal of Human Resource Management, 24, 1096–1112.

Layard, R., Clark, A. E., Cornaglia, F., Powdthavee, N., & Vernoit, J. (2014). What predicts a successful life? A life-course model of well-being. Economic Journal, 124, F720–F738.

Lüchinger, S., Meier, S., & Stutzer, A. (2010). Why does unemployment hurt the employed? Evidence from the life satisfaction gap between the public and the private sector. Journal of Human Resources, 45, 998–1045.

Luhmann, M., & Eid, M. (2009). Does it really feel the same? Changes in life satisfaction following repeated life events. Journal of Personality and Social Psychology, 97, 363–381.

Luhmann, M., Hofmann, W., Eid, M., & Lucas, R. E. (2012). Subjective well-being and adaptation to life events: A meta-analysis. Journal of Personality and Social Psychology, 102, 592–615.

Lühning, R. (2006). Entwicklung des Leistungsrechts der gesetzlichen Rentenversicherung in der Bundesrepublik Deutschland seit der großen Rentenreform von 1957 (1957–2004) [Development of the benefit legislation of the statutory pension insurance scheme in the Federal Republic of Germany since the Great Pension Reform of 1957 (1957–2004)]. Berlin, Germany: Logos.

Marcus, J. (2013). The effect of unemployment on the mental health of spouses – Evidence from plant closures in Germany. Journal of Health Economics, 32, 546–558.

Nikolova, M., & Graham, C. (2014). Employment, late-life work, retirement, and well-being in Europe and the United States. IZA Journal of European Labor Studies, 3(5). https://doi.org/10.1186/2193-9012-3-5

Ponomarenko, V., Leist, A., & Chauvel, L. (2019). Increases in well-being in the transition to retirement for the unemployed: Catching up with formerly employed persons. Ageing and Society, 39, 254–276.

Preuß, M., & Hennecke, J. (2018). Biased by success and failure: How unemployment shapes locus of control. Labour Economics, 53, 63–74.

Qari, S. (2014). Marriage, adaptation and happiness: Are there long-lasting gains to marriage? Journal of Behavioral and Experimental Economics, 50, 29–39.

Richter, D., Rohrer, J., Metzing, M., Nestler, W., Weinhardt, M., & Schupp, J. (2017). SOEP scales manual [Updated for SOEP-Core v32. 1] (SOEP Survey Papers No. 423, Series C). Berlin, Germany: DIW Berlin.

Schöb, R. (2013). Unemployment and identity. CESifo Economic Studies, 59, 149–180.

Schwerdt, G., Ichino, A., Ruf, O., Winter-Ebmer, R., & Zweimüller, J. (2010). Does the color of the collar matter? Employment and earnings after plant closure. Economics Letters, 108, 137–140.

SGB VI. Sozialgesetzbuch. Sechstes Buch: Gesetzliche Rentenversicherung [Social code—Book VI: Statutory pension insurance] [April 28, 2011 version].

Stanton, C. T., & Thomas, C. (2016). Landing the first job: The value of intermediaries in online hiring. Review of Economic Studies, 83, 810–854.

Stutzer, A., & Lalive, R. (2004). The role of social work norms in job searching and subjective well-being. Journal of the European Economic Association, 2, 696–719.

Van Hoorn, A., & Maseland, R. (2013). Does a Protestant work ethic exist? Evidence from the well-being effect of unemployment. Journal of Economic Behavior & Organization, 91, 1–12.

Wagner, G. G., Frick, J. R., & Schupp, J. (2007). The German Socio-Economic Panel Study (SOEP)—Scope, evolution and enhancements. Schmollers Jahrbuch, 127, 139–169.

Wetzel, M., Huxhold, O., & Tesch-Römer, C. (2016). Transition into retirement affects life satisfaction: Short-and long-term development depends on last labor market status and education. Social Indicators Research, 125, 991–1009.

Winkelmann, L., & Winkelmann, R. (1998). Why are the unemployed so unhappy? Evidence from panel data. Economica, 65, 1–15.

Young, C. (2012). Losing a job: The nonpecuniary cost of unemployment in the United States. Social Forces, 91, 609–634.
Acknowledgments
We thank the Editors and two anonymous referees for their helpful suggestions, and Tom Günther for excellent research assistance. Moreover, we are grateful for comments on a previous version to C. Katharina Spieß; Reto Odermatt; and participants of the SOEP seminar at DIW Berlin (2013), the IAAEU seminar at the University of Trier (2013), the annual conference of the German Economic Association, Hamburg (2014), and the IAB conference Labor Market Prospects of Older Workers, Nuremberg (2014). Clemens Hetschko and Ronnie Schöb acknowledge financial support by the German Science Foundation (DFG) through Project SCHO 1270/5-1.
Additional information
Publisher's Note
Springer Nature remains neutral with regard to jurisdictional claims in published maps and institutional affiliations.
Electronic supplementary material
About this article
Cite this article
Hetschko, C., Knabe, A. & Schöb, R. Looking Back in Anger? Retirement and Unemployment Scarring. Demography 56, 1105–1129 (2019). https://doi.org/10.1007/s13524-019-00778-2
Published:

Issue Date:

DOI: https://doi.org/10.1007/s13524-019-00778-2
Keywords