Abstract
We examine the long-term outcomes for a population of teenage mothers who give birth to their children around the end of high school. We compare the mothers whose high school education was interrupted by childbirth (because the child was born before her expected graduation date) with mothers who did not experience the same disruption to their education. We find that mothers who gave birth during the school year are 5.4 percentage points less likely to complete their high school education, are less likely to be married, and have more children than their counterparts who gave birth just a few months later. The wages for these two sets of teenage mothers are not statistically different, but with a lower likelihood of marriage and more children, the households of the treated mothers are more likely to fall below the poverty threshold. Although differences in educational attainment have narrowed over time, the differences in labor market outcomes and family structure have remained stable.
This is a preview of subscription content, log in to check access.
Access options
Buy single article
Instant access to the full article PDF.
US$ 39.95
Price includes VAT for USA
Subscribe to journal
Immediate online access to all issues from 2019. Subscription will auto renew annually.
US$ 99
This is the net price. Taxes to be calculated in checkout.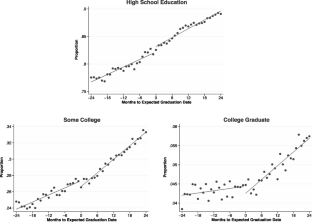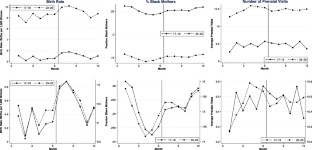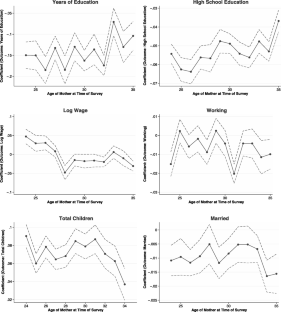 Notes
1.

We only include children who are 18 or younger at survey date.

2.

Because year of birth is not available in the 1980 census data, survey date is important for calculating each mother's age when she gave birth. For example, imagine a mother who was born on April 15, 1950 (Q2) and has a child who was born on May 1, 1965 (Q3). On survey day, the mother is 29, and her child is 14 (neither one has had their birthday yet). Here, it is easy to see that the mother was 15 years old when her child was born. Now, imagine that the mother was born on March 1, 1950 (Q1). In this example, the mother has already turned 30 by April 1, but the child is still 14. Knowing that April 1 falls between their birthdays allows us to accurately calculate that the mother was 15 years old when her child was born, not 16. This is used only in 1980 because the 2000 census and ACS have exact date of birth, so approximating the quarter of birth is not necessary.

3.

We pick ages 23–25 because most women will have completed their education by this age. In a robustness check, we also consider a younger control group.

4.

These are simple differences without controls or clustered standard errors.

5.

"High School Education" is defined as having completed at least 12 years of education or having obtained a General Educational Development (GED) certification.

6.

Summary statistics that have been compiled separately for each survey are available in Tables A1–A3 in the online appendix.

7.

This also includes women who have obtained a GED.

8.

The coefficient is –0.046, and the standard deviation of the number of visits is 4.13. More details are available upon request.

9.

The dependent variable in these regressions is log(wage), so women with zero earnings are excluded from the regression. When wage in dollars is used instead, and women with zero earnings are included, the story remains the same. The coefficients are small and statistically indistinguishable from 0. Given the cross-sectional nature of the wage estimates, we cannot use a longer-term measure of earnings. The short-term measure we use might measure permanent income with more error, possibly attenuating the estimates.

10.

Results are available upon request.
References
Abrahamse, A. F., Morrison, P. A., & Waite, L. J. (1988). Beyond stereotypes: Who becomes a single teenage mother? (Report). Santa Monica, CA: The Rand Corporation.

Ashcraft, A., Fernandez-Val, I., & Lang, K. (2013). The consequences of teenage childbearing: Consistent estimates when abortion makes miscarriage non-random. Economic Journal, 123, 875–905.

Buckles, K. S., & Hungerman, D. M. (2013). Season of birth and later outcomes: Old questions, new answers. Review of Economics and Statistics, 95, 711–724.

Card, J. J., & Wise, L. L. (1978). Teenage mothers and teenage fathers: The impact of early childbearing on the parents' personal and professional lives. Family Planning Perspectives, 10, 199–205.

Chung, Y., Downs, B., Sandler, D. H., & Sienkiewicz, R. (2017). The parental gender earnings gap in the United States (CES Working Paper No. 17-68). Washington, DC: U.S. Census Bureau, Center for Economic Studies.

Clark, D., & Martorell, P. (2014). The signaling value of a high school diploma. Journal of Political Economy, 122, 282–318.

Ellwood, D. (1989). Poor support. New York, NY: Basic Books.

Geronimus, A. T., & Korenman, S. (1992). The socioeconomic consequences of teen childbearing reconsidered. Quarterly Journal of Economics, 107, 1187–1214.

Guldi, M. (2016). Title IX and the education of teen mothers. Economics of Education Review, 55, 103–116.

Hayes, C. D. (Ed.). (1987). Risking the future: Adolescent sexuality, pregnancy, and childbearing (Vol. I). Washington, DC: National Academy Press.

Hotz, V. J., McElroy, S. W., & Sanders, S. G. (2005). Teenage childbearing and its life cycle consequences: Exploiting a natural experiment. Journal of Human Resources, 40, 683–715.

Jaeger, D. A., & Page, M. E. (1996). Degrees matter: New evidence on sheepskin effects in the returns to education. Review of Economics and Statistics, 78, 733–740.

Kearney, M. S., & Levine, P. B. (2015). Investigating recent trends in the U.S. teen birth rate. Journal of Health Economics, 41, 15–29.

Kuka, E., Shenhav, N., & Shih K. (2018). Do human capital decisions respond to the returns to education? Evidence from DACA (NBER Working Paper No. 24315). Cambridge, MA: National Bureau of Economic Research.

Lang, K., & Weinstein, R. (2015). The consequences of teenage childbearing before Roe v. Wade. American Economic Journal: Applied Economics, 7(4), 169–197.

Lu, Y., Wang, J. S.-H., & Han, W.-J. (2017). Women's short-term employment trajectories following birth: Patterns, determinants, and variations by race/ethnicity and nativity. Demography, 54, 93–118.

Olsen, R. J., & Farkas, G. (1989). Endogenous covariates in duration models and the effect of adolescent childbirth on schooling. Journal of Human Resources, 24, 39–53.

Staff, J., & Mortimer, J. T. (2012). Explaining the motherhood wage penalty during the early occupational career. Demography, 49, 1–21.

Stange, K. (2011). A longitudinal analysis of the relationship between fertility timing and schooling. Demography, 48, 931–956.

Trussell, J. (1988). Teenage pregnancy in the United States. Family Planning Perspectives, 20, 262–272.

Tyler, J. H., Murnane, R. J., & Willett, J. B. (2000). Estimating the labor market signaling value of the GED. Quarterly Journal of Economics, 115, 431–468.

Upchurch, D. M., & McCarthy, J. (1990). The timing of a first birth and high school completion. American Sociological Review, 55, 224–234.

U.S. Census Bureau. (1980). Decennial census 1980 [Data file]. Retrieved from https://www.census.gov/fsrdc

U.S. Census Bureau. (2000). Decennial census 2000 [Data file]. Retrieved from https://www.census.gov/fsrdc

U.S. Census Bureau. (2005–2014). American Community Survey 2005–2014 [Data file]. Retrieved from https://www.census.gov/fsrdc
Acknowledgments
We thank Marianne Page, Hilary Hoynes, Scott Carrell, Jeremy Moulton, Jason Lindo, Martha Stinson, Marie Hull, Julie Cullen, Amanda Gaulke, four anonymous referees, and seminar participants at UC Davis, The Vienna Institute of Demography Colloquium, The University of Kentucky, the Southern Economic Association, South Carolina Applied Micro Day, and the Society of Labor Economists annual meetings for their helpful comments and suggestions. Any opinions and conclusions expressed herein are those of the authors and do not necessarily represent the views of the U.S. Census Bureau. All results have been reviewed to ensure that no confidential information is disclosed.
Additional information
Publisher's Note
Springer Nature remains neutral with regard to jurisdictional claims in published maps and institutional affiliations.
Electronic supplementary material
About this article
Cite this article
Schulkind, L., Sandler, D.H. The Timing of Teenage Births: Estimating the Effect on High School Graduation and Later-Life Outcomes. Demography 56, 345–365 (2019). https://doi.org/10.1007/s13524-018-0748-6
Keywords
Teenage childbearing

Signaling value

Education

Family structure