Abstract
Much research on cohabitation has focused on transitions from cohabitation to marriage or dissolution, but less is known about how rapidly women progress into cohabitation, what factors are associated with the tempo to shared living, and whether the timing into cohabitation is associated with subsequent marital transitions. We use data from the 2006–2013 National Survey of Family Growth to answer these questions among women whose most recent sexual relationship began within 10 years of the interview. Life table results indicate that transitions into cohabitation are most common early in sexual relationships; nearly one-quarter of women had begun cohabiting within six months of becoming sexually involved. Multivariate analyses reveal important social class disparities in the timing to cohabitation. Not only are women from more-advantaged backgrounds significantly less likely to cohabit, but those who do cohabit enter shared living at significantly slower tempos than women whose mothers lacked a college degree. In addition, among sexual relationships that transitioned into cohabiting unions, college-educated women were significantly more likely to transition into marriage than less-educated women. Finally, although the tempo effect is only weakly significant, women who moved in within the first year of their sexual relationship demonstrated lower odds of marrying than did women who deferred cohabiting for over a year. Relationship processes are diverging by social class, contributing to inequality between more- and less-advantaged young adults.
This is a preview of subscription content, log in to check access.
Access options
Buy single article
Instant access to the full article PDF.
US$ 39.95
Price includes VAT for USA
Subscribe to journal
Immediate online access to all issues from 2019. Subscription will auto renew annually.
US$ 99
This is the net price. Taxes to be calculated in checkout.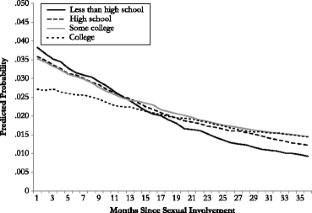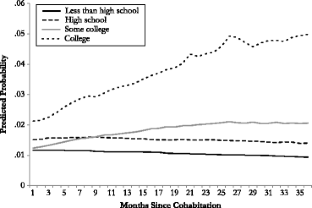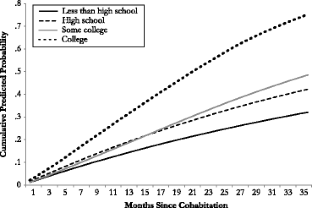 Notes
1.

The meaning of "dating" was left up to the respondent; no information was obtained about when the sexual relationship began. These were retrospective reports of relationships that began, on average, in the mid-1980s and early 1990s.

2.

Compared with women, men reported shorter durations between dating and spending the night, and between spending the night and officially living together, but a longer duration from cohabitation until marriage. Couple-level disagreement over start times of different stages was common.

3.

In the 2006–2010 NSFG, 90 % of women reported having at least one sexual partner in the past 12 months, as did 85 % of the women in the 2011–2013 NSFG.

4.

The NSFG defines living together as having a sexual relationship while sharing the same usual residence. This specification results in a smaller proportion of cohabitors than found in some other nationally representative samples (e.g., Sassler and Joyner 2011).

5.

Estimating the duration to cohabitation results in a number of women with negative durations between first sex and cohabitation because of inconsistencies in reported dates (n = 306). After consulting with researchers at the NSFG, we adjusted 84 cases for which the difference between the date of first sex and the move-in date was one month, assuming that these two events happened at approximately the same time. We adjusted another 64 cases where the dates of first sex and move-in resulted in a negative duration because when respondents were asked how old they were at each of these events, a positive duration was calculated between date of first sex and date of cohabitation/marriage. Finally, we adjusted two cases for which a negative duration resulted from imputing the season of first sex or move-in when respondents did not report a precise month. All told, we adjusted 150 cases following these NSFG guidelines.

6.

Additional analyses using narrower windows (five or eight years, for example) revealed that the main results were quite similar, although given fewer transitions, often did not reach conventional levels of significance.

7.

Using six-month intervals yielded the lowest Bayesian information criterion (BIC), when compared with a linear or quadratic function of duration, and therefore provided the best model fit of the data.

8.

More than 90 % had entered their cohabiting union within 40 months; the remaining 5 % were sexually involved for more than 45 months before entering into shared living, with the longest duration between sexual involvement and coresidence being 119 months.
References
Allison, P. D. (1984). Event history analysis. Beverly Hills, CA: Sage.

Amato, P. R. (2005). The impact of family formation change on the cognitive, social, and emotional well-being of the next generation. Future of Children, 15(2), 75–96.

Aquilino, W. S. (1991). Family-structure and home-leaving: A further specification of the relationship. Journal of Marriage and the Family, 53, 999–1010.

Astone, N. M., & McLanahan, S. S. (1991). Family structure, parental practices and high school completion. American Sociological Review, 56, 309–320.

Bound, J., Lovenheim, M. F., & Turner, S. (2012). Increasing time to baccalaureate degree in the United States. Education Finance and Policy, 7, 375–424.

Brown, S. L. (2000). Union transitions among cohabitors: The significance of relationship assessments and expectations. Journal of Marriage and the Family, 62, 833–846.

Bumpass, L., & Lu, H. H. (2000). Trends in cohabitation and implications for children's family contexts in the United States. Population Studies, 54, 29–41.

Busby, D. M., Carroll, J. S., & Willoughby, B. J. (2010). Compatibility or restraint? The effects of sexual timing on marriage relationships. Journal of Family Psychology, 24, 766–774.

Carlson, M., McLanahan, S., & England, P. (2004). Union formation in fragile families. Demography, 41, 237–261.

Cavanagh, S. E. (2007). Puberty and the education of girls. Social Psychology Quarterly, 70, 186–198.

Cavanagh, S. E. (2011). Early pubertal timing and the union formation behaviors of young women. Social Forces, 89, 1217–1238.

Cavanagh, S. E., Crissey, S. R., & Raley, R. K. (2008). Family structure history and adolescent romance. Journal of Marriage and Family, 70, 698–714.

Cherlin, A. J. (1995). Parental divorce in childhood and demographic outcomes in young adulthood. Demography, 32, 299–318.

Cherlin, A. J. (2009). The marriage-go-round. New York, NY: Random House.

Clarkberg, M. (1999). The price of partnering: The role of economic well-being in young adults' first union experiences. Social Forces, 77, 945–968.

Cohen, L. L., & Shotland, R. L. (1996). Timing of first sexual intercourse in a relationship: Expectations, experiences, and perceptions of others. Journal of Sex Research, 33, 291–299.

Cooksey, E. C., Mott, F. L., & Neubauer, S. A. (2002). Friendships and early relationships: Links to sexual initiation among American adolescents born to young mothers. Perspectives on Sexual and Reproductive Health, 34, 118–126.

Ermisch, J. F., & Francesconi, M. (2001). Family structure and children's achievements. Journal of Population Economics, 14, 249–270.

Finer, L. B. (2007). Trends in premarital sex in the United States, 1954–2003. Public Health Reports, 122, 73–78.

Furstenberg, F. F. (2008). The intersections of social class and the transition to adulthood. New Directions for Child and Adolescent Development, 2008(119), 1–10.

Glenn, N. D. (2002). A plea for greater concern about the quality of marital matching. In A. J. Hawkins, L. D. Wardle, & D. O. Coolidge (Eds.), Revitalizing the institution of marriage for the twenty-first century (pp. 46–58). Westport, CT: Praeger.

Goldscheider, F. K., & Goldscheider, C. (1998). The effects of childhood family structure on leaving and returning home. Journal of Marriage and the Family, 60, 745–756.

Goldstein, J. R., & Kenney, C. T. (2001). Marriage delayed or marriage forgone? New cohort forecasts of first marriage for U.S. women. American Sociological Review, 66, 506–519.

Graefe, D. R., & Lichter, D. T. (1999). Life course transitions of American children: Parental cohabitation, marriage, and single motherhood. Demography, 36, 205–217.

Guzzo, K. B. (2014). Trends in cohabitation outcomes: Compositional changes and engagement among never married young adults. Journal of Marriage and Family, 76, 826–842.

Halpern-Meekin, S., & Tach, L. (2013). Discordance in couples' reporting of courtship stages: Implications for measurement and marital quality. Social Science Research, 42, 1143–1155.

Harknett, K., & Kuperberg, A. (2011). Education, labor markets and the retreat from marriage. Social Forces, 90, 41–64.

Hayford, S. R., & Morgan, S. P. (2008). Religiosity and fertility in the United States: The role of fertility intentions. Social Forces, 86, 1163–1188.

Hymowitz, K. S., Caroll, J. S., Wilcox, W. B., & Kaye, K. (2013). Knot yet: The benefits and costs of delayed marriage in America (National Marriage Project report). Retrieved from http://twentysomethingmarriage.org

Jamison, T. B., & Ganong, L. (2011). We're not living together: Stayover relationships among college-educated emerging adults. Journal of Social and Personal Relationships, 28, 536–557.

Kalbfleisch, J. D., & Prentice, R. L. (2002). The statistical analysis of failure time data (2nd ed.). Hoboken, NJ: Wiley-Interscience.

Kennedy, S., & Bumpass, L. L. (2008). Cohabitation and children's living arrangements: New estimates from the United States. Demographic Research, 19(article 47), 1663–1692. https://doi.org/10.4054/DemRes.2008.19.47

Kuo, J. C.-L., & Raley, R. K. (2016). Diverging patterns of union transition among cohabitors by race/ethnicity and education: Trends and marital intentions in the United States. Demography, 53, 921–935.

Lareau, A. (2003). Unequal childhoods: Class, race, and family life. Berkeley: University of California Press.

Lichter, D. T., Qian, Z., & Mellott, L. M. (2006). Marriage or dissolution? Union transitions among poor cohabiting women. Demography, 43, 223–240.

Lichter, D. T., Turner, R. N., & Sassler, S. (2010). National estimates of the rise in serial cohabitation. Social Science Research, 39, 754–765.

Lu, B., Qian, Z., Cunningham, A., & Li, C.-L. (2012). Estimating the effect of premarital cohabitation on timing of marital disruption: Using propensity score matching in event history analysis. Sociological Methods & Research, 41, 440–466.

Manning, W. D. (2013). Trends in cohabitation: Over twenty years of change, 1987–2010 (NCFMR Family Profiles, FP-13-12). Available from http://ncfmr.bgsu.edu

Manning, W. D., Brown, S. L., & Payne, K. K. (2014). Two decades of stability and change in age at first union formation. Journal of Marriage and Family, 76, 247–260.

Manning, W. D., & Smock, P. J. (1995). Why marry? Race and the transition to marriage among cohabitors. Demography, 32, 509–520.

Manning, W. D., & Smock, P. J. (2005). Measuring and modeling cohabitation: New perspectives from qualitative data. Journal of Marriage and Family, 67, 989–1002.

McLanahan, S. (2004). Diverging destinies: How children are faring under the second demographic transition. Demography, 41, 607–627.

Pearson, J., Muller, C., & Frisco, M. L. (2006). Parental involvement, family structure, and adolescent sexual decision making. Sociological Perspectives, 49, 67–90.

Preston, S. H., Heuveline, P., & Guillot, M. (2001). Demography: Measuring and modeling population processes. Oxford, UK: Blackwell Publishers.

Regnerus, M., & Ueker, J. (2011). Premarital sex in America: How young Americans meet, mate, and think about marrying. New York, NY: Oxford University Press.

Rindfuss, R. R., & VandenHeuvel, A. (1990). Cohabitation: A precursor to marriage or an alternative to being single? Population and Development Review, 16, 703–726.

Sandberg-Thomas, S. E., & Kamp Dush, C. M. (2014). Casual sexual relationships and mental health in adolescence and emerging adulthood. Journal of Sex Research, 51, 121–131.

Sassler, S. (2004). The process of entering into cohabiting relationships. Journal of Marriage and Family, 66, 491–505.

Sassler, S. (2010). Partnering across the life course: Sex, relationships, and mate selection. Journal of Marriage and Family, 72, 557–575.

Sassler, S., Addo, F. R., & Lichter, D. T. (2012). The tempo of sexual activity and later relationship quality. Journal of Marriage and Family, 74, 708–725.

Sassler, S., & Joyner, K. (2011). Social exchange and the progression of sexual relationships in emerging adulthood. Social Forces, 90, 223–245.

Sassler, S., & McNally, J. (2003). Cohabiting couples' economic circumstances and union transitions: A re-examination using multiple imputation techniques. Social Science Research, 32, 553–578.

Sassler, S., Michelmore, K., & Holland, J. A. (2016). The progression of sexual relationships. Journal of Marriage and Family, 73, 587–597.

Sassler, S., & Miller, A. J. (2011). Class differences in cohabitation processes. Family Relations, 60, 163–177.

Sassler, S., & Miller, A. J. (2017). Cohabitation nation: Gender, class, and the remaking of relationships. Berkeley: University of California Press.

Sawhill, I. V. (2014). Generation unbound: Drifting into sex and parenthood without marriage. Washington, DC: Brookings Institution Press.

Smock, P. J., Manning, W. D., & Porter, M. (2005). "Everything's there except money": How money shapes decisions to marry among cohabitors. Journal of Marriage and Family, 67, 680–696.

Spencer, J. L., & Beattie, B. A. (2012). Reassessing the link between women's premarital cohabitation and marital quality. Social Forces, 91, 635–662.

Stanley, S. M., Rhoades, G. K., & Markman, H. J. (2006). Sliding versus deciding: Inertia and the premarital cohabitation effect. Family Relations, 55, 499–509.

Stanley, S. M., Rhoades, G. K., & Whitton, S. W. (2010). Commitment: Functions, formation, and the securing of romantic attachment. Journal of Family Theory and Review, 2, 243–257.

Teachman, J. (2003). Childhood living arrangements and the formation of coresidential unions. Journal of Marriage and Family, 65, 507–524.

Thornton, A. (1991). Influence of marital history of parents on the marital and cohabitational experiences of children. American Journal of Sociology, 96, 868–894.
Acknowledgments
An earlier version of this article was presented at the 2012 National Survey of Family Growth Research Conference and at the 2013 annual meeting of the Population Association of America.
About this article
Cite this article
Sassler, S., Michelmore, K. & Qian, Z. Transitions From Sexual Relationships Into Cohabitation and Beyond. Demography 55, 511–534 (2018). https://doi.org/10.1007/s13524-018-0649-8
Keywords
Cohabitation

Marriage

Tempo

Relationship progression

Young adults