Abstract
Conventional wisdom holds that births following the colloquially termed "shotgun marriage"—that is, births to parents who married between conception and the birth—are nearing obsolescence. To investigate trends in shotgun marriage, we matched North Carolina administrative data on nearly 800,000 first births among white and black mothers to marriage and divorce records. We found that among married births, midpregnancy-married births (our preferred term for shotgun-married births) have been relatively stable at about 10 % over the past quarter-century while increasing substantially for vulnerable population subgroups. In 2012, among black and white less-educated and younger women, midpregnancy-married births accounted for approximately 20 % to 25 % of married first births. The increasing representation of midpregnancy-married births among married births raises concerns about well-being among at-risk families because midpregnancy marriages may be quite fragile. Our analysis revealed, however, that midpregnancy marriages were more likely to dissolve only among more advantaged groups. Of those groups considered to be most at risk of divorce—namely, black women with lower levels of education and who were younger—midpregnancy marriages had the same or lower likelihood of divorce as preconception marriages. Our results suggest an overlooked resiliency in a type of marriage that has only increased in salience.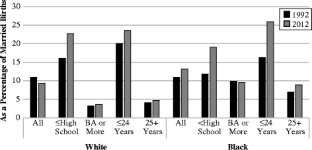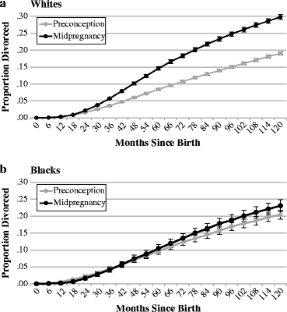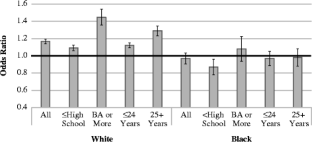 Notes
1.

As a phrase, "shotgun-married births" is outdated and does not accurately represent the context under which these marriage decisions are made. We prefer the term "midpregnancy-married births."

2.

Results for postbirth marriages were right-censored; nevertheless, demographic characteristics were consistent with previous studies on couples who marry after a child is born (Rackin and Gibson-Davis 2012).

3.

Results for women with some college fell between results for the low- and high-education groups (results available upon request).
References
Akerlof, G. A., Yellen, J. T., & Katz, M. L. (1996). An analysis of out-of-wedlock childbearing in the United States. Quarterly Journal of Economics, 111, 278–317.

Amato, P. R. (2010). Research on divorce: Continuing trends and new developments. Journal of Marriage and Family, 72, 650–666.

Bachu, A. (1999). Trends in premarital childbearing (Current Population Reports, No. P23–197). Washington, DC: U.S. Census Bureau.

Belsky, J., Lang, M. E., & Rovine, M. (1985). Stability and change in marriage across the transition to parenthood: A second study. Journal of Marriage and Family, 47, 855–865.

Brown, S. L. (2010). Marriage and child well‐being: Research and policy perspectives. Journal of Marriage and Family, 72, 1059–1077.

Carlson, M. J., McLanahan, S., & England, P. (2004). Union formation in fragile families. Demography, 41, 237–261.

Cherlin, A. J. (2009). The marriage-go-round: The state of marriage and the family in America today. New York, NY: Alfred A. Knopf.

Compton, J., & Pollak, R. A. (2015). Proximity and co-residence of adult children and their parents in the United States: Descriptions and correlates. Annals of Economics and Statistics, 2015(117–118), 91–114.

Dew, J., & Wilcox, W. B. (2011). If momma ain't happy: Explaining declines in marital satisfaction among new mothers. Journal of Marriage and Family, 73, 1–12.

Edin, K., & Kefalas, M. J. (2005). Promises I can keep: Why poor women put motherhood before marriage. Berkeley: University of California Press.

Ellwood, D. T., & Jencks, C. (2004). The uneven spread of single-parent families: What do we know? Where do we look for answers? In K. Neckerman (Ed.), Social inequality (pp. 3–77). New York, NY: Russell Sage Foundation.

England, P., Shafer, E. F., & Wu, L. L. (2012). Premarital conceptions, postconception ("shotgun") marriages, and premarital first births: Education gradients in U.S. cohorts of white and black women born 1925–1959. Demographic Research, 27(article 6), 153–166. doi:10.4054/DemRes.2012.27.6

England, P., Wu, L. L., & Shafer, E. F. (2013). Cohort trends in premarital first births: What role for the retreat from marriage? Demography, 50, 2075–2104.

Gassman-Pines, A., Yoshikawa, H., & Nay, S. L. (2006). Can money buy you love? The relationship between dynamic employment characteristics and entry into marriage. In H. Yoshikawa, T. S. Weisner, & E. Lowe (Eds.), Making it work: Low-wage employment, family life and child development (pp. 206–231). New York, NY: Russell Sage.

Gibson-Davis, C. M. (2009). Money, marriage, and children: Testing the financial expectations and family formation theory. Journal of Marriage and Family, 71, 146–161.

Gibson-Davis, C. M., & Rackin, H. (2014). Marriage or carriage? Trends in union context and birth type by education. Journal of Marriage and Family, 76, 506–519.

Ginther, D. K., & Zavodny, M. (2001). Is the male marriage premium due to selection? The effect of shotgun weddings on the return to marriage. Journal of Population Economics, 14, 313–328.

Hayford, S. R., Guzzo, K. B., & Smock, P. J. (2014). The decoupling of marriage and parenthood? Trends in the timing of marital first births, 1945–2002. Journal of Marriage and Family, 76, 520–538.

Jencks, C., & Peterson, P. E. (2001). The urban underclass. Washington, DC: Brookings Institution Press.

Kennedy, S., & Bumpass, L. (2008). Cohabitation and children's living arrangements: New estimates from the United States. Demographic Research, 19(article 47), 1663–1692. doi:10.4054/DemRes.2008.19.47

Kim, H. S. (2011). Consequences of parental divorce for child development. American Sociological Review, 76, 487–511.

Lichter, D. T. (2012). Childbearing among cohabiting women: Race, pregnancy, and union transitions. In A. Booth, S. L. Brown, N. S. Landale, W. D. Manning, & S. M. McHale (Eds.), Early adulthood in a family context (pp. 209–220). New York, NY: Springer.

Lichter, D. T., Sassler, S., & Turner, R. N. (2014). Cohabitation, post-conception unions, and the rise in nonmarital fertility. Social Science Research, 47, 134–147.

Manning, W. D., Brown, S., & Stykes, J. B. (2015). Trends in births to single and cohabiting mothers, 1980–2013 (Brief #FP-15-03). Bowling Green, OH: National Center for Family & Marriage Research.

Martin, J. A., Hamilton, B. E., Osterman, M. J. K., Curtin, S. C., & Mathews, T. J. (2015). Births: Final data for 2013 (National Vital Statistics Reports, Vol. 64, No. 1). Hyattsville, MD: National Center for Health Statistics.

Musick, K., & Michelmore, K. (2015). Change in the stability of marital and cohabiting unions following the birth of a child. Demography, 52, 1463–1485.

Rackin, H., & Gibson-Davis, C. M. (2012). The role of pre- and postconception relationships for first time parents. Journal of Marriage and Family, 74, 526–539.

Raley, R. K. (2001). Increasing fertility in cohabiting unions: Evidence for the second demographic transition in the United States? Demography, 38, 59–67.

Ribar, D. C. (2015). Why marriage matters for child wellbeing. Future of Children, 25(2), 11–27.

Smock, P. J., & Greenland, F. R. (2010). Diversity in pathways to parenthood: Patterns, implications, and emerging research directions. Journal of Marriage and Family, 72, 576–593.

Smock, P. J., Manning, W. D., & Porter, M. (2005). "Everything's there except money": How money shapes decisions to marry among cohabitors. Journal of Marriage and Family, 67, 680–696.

Su, J. H., Dunifon, R., & Sassler, S. (2015). Better for baby? The retreat from mid-pregnancy marriage and implications for parenting and child well-being. Demography, 52, 1167–1194.

Wilson, W. J. (1987). The truly disadvantaged: The inner city, the underclass, and public policy. Chicago, IL: The University of Chicago Press.

Wilson, W. J., & Neckerman, K. A. (1986). Poverty and family structure: The widening gap between evidence and public policy issues. In S. H. Danziger & D. H. Weinberg (Eds.), Fighting poverty: What works, and what doesn't (pp. 232–259). Cambridge, MA: Harvard University Press.
Acknowledgments
Support for this project was provided by grants from the Duke Population Research Institute and the Duke Social Science Research Institute's Education and Human Development Incubator. We are grateful to the North Carolina Department of Vital Statistics for the provision of the data.
About this article
Cite this article
Gibson-Davis, C.M., Ananat, E.O. & Gassman-Pines, A. Midpregnancy Marriage and Divorce: Why the Death of Shotgun Marriage Has Been Greatly Exaggerated. Demography 53, 1693–1715 (2016). https://doi.org/10.1007/s13524-016-0510-x
Keywords
Midpregnancy

Shotgun marriages

Birth rates

Divorce

Preconception marriages