Abstract
Couples in Turkey exhibit son preference through son-biased differential stopping behavior that does not cause a sex ratio imbalance in the population. Demand for sons leads to lower ratios of boys to girls in larger families but higher ratios in smaller families. Girls are born earlier than their male siblings, and son-biased fertility behavior is persistent in response to decline in fertility over time and across households with parents from different backgrounds. Parents use contraceptive methods to halt fertility following a male birth. The sibling sex composition is associated with gender disparities in health. Among third- or later-born children, female infant mortality is 1.5 percentage points lower if the previous sibling is male. The female survival advantage, however, disappears if the previous sibling is female. Having an older female sibling shifts the gender gap in infant mortality rate by 2 percentage points in favor of males. The improvement in infant mortality is strongest in favor of males who have no older male siblings.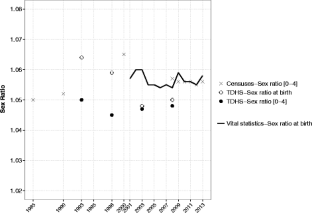 Notes
1.

2.

Death of a child younger than 1 year.

3.

Females are less likely to die from infections and respiratory ailments because of their stronger immune system (Drevenstedt et al. 2008).

4.

The abortion law was passed in 1983 and remains with slight modifications up to the present time.

5.

Because 77.2 % of deaths in the sample occurred within the first year after birth, sex ratios for children who are alive seem to be accurate approximations of the actual sibling sex composition.

6.

The annual average GDP per capita growth was around 2.71 % between 1993 and 2008, which corresponds with an increase in real GDP per capita from 5,435 to 7,730 in constant 2005 U.S. dollars. The World Bank estimated that the total fertility rate declined from 2.8 births per woman in 1993, to 2.1 in 2008, corresponding to a 25 % decline in the total fertility rate (http://data.worldbank.org).

7.

In the survey, pregnancy termination is defined as having a miscarriage, an abortion, or stillbirth.

8.

Table S1 in Online Resource 1 documents the results from the OLS regressions with and without adjustment for covariates.

9.

See Table S2 in Online Resource 1 for the full set of individual coefficients.

10.

Traditional methods include coitus interruptus, periodic abstinence, and vaginal douche. Modern methods include oral contraceptives, the Pill, injections, female or male condom, intrauterine device, and sterilization.

11.

Specifically, the survey question asked the following: "Has the respondent had ever had a pregnancy that was terminated by a miscarriage, abortion, or stillbirth, i.e., did not result in a live birth?"

12.

See Abadie et al. (2013) for the detailed description of the methodology.

13.

14.

Coefficients for death of a child under age 5 are not reported but are available upon request from the author.

15.

See Online Resource 1, Table S8, for the results.
References
Abadie, A., Chingos, M. M., & West, M. R. (2013). Endogenous stratification in randomized experiments (NBER Working Paper No. 19742). Cambridge, MA: National Bureau of Economic Research.

Basu, D., & De Jong, R. (2010). Son targeting fertility behavior: Some consequences and determinants. Demography, 47, 521–536.

Becker, G. S., & Lewis, H. G. (1974). Interaction between quantity and quality of children. In T. W. Schultz (Ed.), Economics of the family: Marriage, children, and human capital (pp. 81–90). Chicago, IL: University of Chicago Press.

Black, S. E., Devereux, P. J., & Salvanes, K. G. (2005). The more the merrier? The effect of family size and birth order on children's education. Quarterly Journal of Economics, 120, 669–700.

Chung, W., & Gupta, M. D. (2007). The decline of son preference in South Korea: The roles of development and public policy. Population and Development Review, 33, 757–783.

Clark, S. (2000). Son preference and sex composition of children: Evidence from India. Demography, 37, 95–108.

Coale, A. J. (1991). Excess female mortality and the balance of the sexes in the population: An estimate of the number of "missing females." Population and Development Review, 17, 517–523.

Dahl, G. B., & Moretti, E. (2008). The demand for sons. Review of Economic Studies, 75, 1085–1120.

Drevenstedt, G. L., Crimmins, E. M., Vasunilashorn, S., & Finch, C. E. (2008). The rise and fall of excess male infant mortality. Proceedings of the National Academy of Sciences, 105, 5016–5021.

Duflo, E. (2012). Women empowerment and economic development. Journal of Economic Literature, 50, 1051–1079.

Ebenstein, A. (2007). Fertility choices and sex selection in Asia: Analysis and policy (SSRN Working Paper No. 965551). doi:10.2139/ssrn.965551

Edlund, L., & Lee, C. (2013). Son preference, sex selection and economic development: The case of South Korea (NBER Working Paper No. 18679). Cambridge, MA: National Bureau of Economic Research.

Filmer, D., Friedman, J., & Schady, N. (2009). Development, modernization, and child-bearing: The role of family sex composition. World Bank Economic Review, 23, 371–398.

Guilmoto, C. Z., & Duthé, G. (2013). Masculinization of birth in Eastern Europe. Population and Societies, 506, 1–4.

Hesketh, T., & Xing, Z. W. (2006). Abnormal sex ratios in human populations: Causes and consequences. Proceedings of the National Academy of Sciences, 103, 13271–13275.

Jayachandran, S. (2014). Fertility decline and missing women (NBER Working Paper No. 20272). Cambridge, MA: National Bureau of Economic Research.

Jensen, R. T. (2003). Equal treatment, unequal outcomes? Generating sex inequality through fertility behavior (Working paper). Cambridge, MA: School of Government, Harvard University.

Lee, J. (2007). Sibling size and investment in children's education: An Asian instrument. Journal of Population Economics, 21, 855–875.

Park, C. B. (1983). Preference for sons, family size, and sex ratio: An empirical study in Korea. Demography, 20, 333–352.

Park, C. B., & Cho, N.-H. (1995). Consequences of son preference in a low-fertility society: Imbalance of the sex ratio at birth in Korea. Population and Development Review, 21, 59–84.

Pham, B. N., Adair, T., Hill, P. S., & Rao, C. (2012). The impact of the stopping rule on sex ratio of last births in Vietnam. Journal of Biosocial Science, 44, 181–196.

Qian, N. (2008). Missing women and the price of tea in China: The effect of sex-specific earnings on sex imbalance. Quarterly Journal of Economics, 123, 1251–1285.

Rosenblum, D. (2013). The effect of fertility decisions on excess female mortality in India. Journal of Population Economics, 26, 147–180.

Seidl, C. (1995). The desire for a son is the father of many daughters. Journal of Population Economics, 8, 185–203.

Sen, A. (1990). More than 100 million women are missing. New York Review of Books. Retrieved from http://www.nybooks.com/articles/1990/12/20/more-than-100-million-women-are-missing/

World Bank. (2011). World development report 2012: Gender equality and development. Washington, DC: World Bank.

Yamaguchi, K. (1989). A formal theory for male-preferring stopping rules of childbearing: Sex differences in birth order and in the number of siblings. Demography, 26, 451–465.

Yount, K. M., Langsten, R., & Hill, K. (2000). The effect of gender preference on contraceptive use and fertility in rural Egypt. Studies in Family Planning, 31, 290–300.
Acknowledgments
I thank three anonymous referees who provided insightful comments on earlier versions of the manuscript. I received valuable input from Ted Joyce, Wim Vijverberg, Stephen O'Connell, Mike Grossman, David Jaeger, and Alper Dinçer. Seminar participants at CUNY Institute for Demographic Research, The Graduate Center, Bahçeşehir University, Hunter College, and Koç University provided extensive and helpful comments. Special thanks go to the Schindler sisters for their editorial feedback.
Electronic supplementary material
Below is the link to the electronic supplementary material.
About this article
Cite this article
Altindag, O. Son Preference, Fertility Decline, and the Nonmissing Girls of Turkey. Demography 53, 541–566 (2016). https://doi.org/10.1007/s13524-016-0455-0
Keywords
Son preference

Stopping rules

Turkey

Infant health