Abstract
Over the past several decades, U.S. fertility has followed a trend toward the postponement of motherhood. The socioeconomic causes and consequences of this trend have been the focus of attention in the demographic literature. Given the socioeconomic advantages of those who postpone having children, some authors have argued that the disadvantage experienced by certain groups would be reduced if they postponed their births. The weathering hypothesis literature, by integrating a biosocial perspective, complicates this argument and posits that the costs and benefits of postponement may vary systematically across population subgroups. In particular, the literature on the weathering hypothesis argues that, as a consequence of their unique experiences of racism and disadvantage, African American women may experience a more rapid deterioration of their health which could offset or eventually reverse any socioeconomic benefit of postponement. But because very few African American women postpone motherhood, efforts to find compelling evidence to support the arguments of this perspective rely on a strategy of comparison that is problematic because a potentially selected group of older black mothers are used to represent the costs of postponement. This might explain why the weathering hypothesis has played a rather limited role in the way demographers conceptualize postponement and its consequences for well-being. In order to explore the potential utility of this perspective, we turn our attention to the UK context. Because first-birth fertility schedules are similar for black and white women, we can observe (rather than assume) whether the meaning and consequences of postponement vary across these population subgroups. The results, obtained using linked UK census and birth record data, reveal evidence consistent with the weathering hypothesis in the United Kingdom and lend support to the arguments that the demographic literature would benefit from integrating insights from this biosocial perspective.
This is a preview of subscription content, log in to check access.
Access options
Buy single article
Instant access to the full article PDF.
US$ 39.95
Price includes VAT for USA
Subscribe to journal
Immediate online access to all issues from 2019. Subscription will auto renew annually.
US$ 99
This is the net price. Taxes to be calculated in checkout.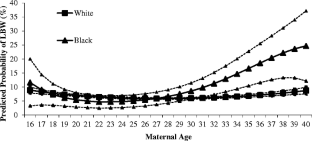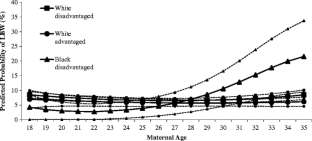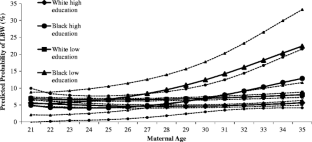 Notes
1.

2.

3.

Losses to the sample occur because of death and out-migration of LS members, but the sample is maintained through addition of immigrants and new births with LS "birthdates."

4.

When this research was conducted, 2009 was the last available year of vital registration data in the ONS LS.

5.

U.S.-born blacks have a similar lineage to the native-born black Caribbean in the United Kingdom (Muennig and Murphy 2011; Peach 2005), who have a less-recent migration history than the black African population (which is also a demographically mixed group). Sample size issues meant that black African and Caribbean mothers could not be analyzed separately and similarly to other studies (Muennig and Murphy 2011); they are grouped into a single category.

6.

Registration into the LS occurs via registration to NHS.

7.

The Carstairs Index is an unweighted combination of four census variables: unemployment, overcrowding, car ownership, and low social (occupational) class (Morgan and Baker 2006).

8.

We classify mothers as having low (less than A-levels) or high (A-levels and above) education. A-levels in England and Wales are studied over a two-year period from approximately age 17 to 18. They are the standard for assessing the suitability of students for progressing to higher education and are, under the international ISCED codes, categorized as "above secondary education."

9.

Model fit tests indicate that adding a cubic term for age significantly improves the model fit when estimating the models for black mothers. For consistency, we estimate the models for white mothers with a cubic specification as well.

10.

We conducted a series of robustness checks, which are discussed (but not shown) in Online Resource 1.

11.

Results not shown here reveal that although the mean prevalence of LBW is higher for black Caribbean than for black Africans, it markedly increases with maternal age for both groups.

12.

Specifically, 9.2 % of births to black mothers occur after age 35 (N = 24).

13.

The significant result is driven by group differences at both younger and older ages, although the latter is of greater interest for this study.

14.

Similarly to what we argue in the previous paragraph, the distribution of first births of these two groups is also different, with the black sample placed between the advantaged and disadvantaged white mothers.

15.

10.7 % (N = 29) and 5.9 % (N = 16) of births to black educated mothers occur, respectively, after age 35 and before age 21.

16.

Geronimus et al. (1994) analyzed the association between (young) maternal age and child well-being by looking at children's cognitive and behavioral outcomes. Their analyses controlled for, but were not stratified by, ethnicity.

17.
References
Amini, S. B., Catalano, P. M., Dierker, L. J., & Mann, L. I. (1996). Births to teenagers: Trends and obstetric outcomes. Obstetrics & Gynecology, 87, 668–674.

Bécares, L., Nazroo, J., Jackson, J., & Heuvelman, H. (2012). Ethnic density effects on health and experienced racism among Caribbean people in the US and England: A cross-national comparison. Social Science & Medicine, 75, 2107–2115.

Boardman, J. D., Powers, D. A., & Hummer, R. A. (2002). Low birth weight, social factors, and developmental outcomes among children in the United States. Demography, 39, 353–368.

Bowling, B., & Phillips, C. (2003). Policing ethnic minority communities. In T. Newburn (Ed.), Handbook of policing (pp. 528–555). Devon, UK: Willan Publishing.

Chyu, L., & Upchurch, D. M. (2011). Racial and ethnic patterns of allostatic load among adult women in the United States: Findings from the National Health and Nutrition Examination Survey 1999–2004. Journal of Women's Health, 20, 575–583.

Colen, C. G., Geronimus, A. T., Bound, J., & James, S. A. (2006). Maternal upward socioeconomic mobility and black-white disparities in infant birthweight. American Journal of Public Health, 96, 2032–2039.

Do, D. P., Frank, R., & Finch, B. K. (2012). Does SES explain more of the black/white health gap than we thought? Revisiting our approach toward understanding racial disparities in health. Social Science & Medicine, 74, 1385–1393.

Geronimus, A. T. (1992). The weathering hypothesis and the health of African-American women and infants: Evidence and speculations. Ethnicity & Disease, 2, 207–221.

Geronimus, A. T. (1996). Black/white differences in the relationship of maternal age to birthweight: A population-based test of the weathering hypothesis. Social Science & Medicine, 42, 589–597.

Geronimus, A. T., Hicken, M., Keene, D., & Bound, J. (2006). "Weathering" and age patterns of allostatic load scores among blacks and whites in the United States. American Journal of Public Health, 96, 826–833.

Geronimus, A. T., Korenman, S., & Hillemeier, M. M. (1994). Does young maternal age adversely affect child-development? Evidence from cousin comparisons in the United States. Population and Development Review, 20, 585–609.

Geronimus, A. T., Neidert, L. J., & Bound, J. (1993). Age patterns of smoking in US black and white women of childbearing age. American Journal of Public Health, 83, 1258–1264.

Geronimus, A. T., & Thompson, J. P. (2004). To denigrate, ignore or disrupt: Racial inequality in health and the impact of a policy-induced breakdown of African American communities. Du Bois Review: Social Science Research on Race, 1, 247–279.

Goisis, A. (2011, September). The consequences of childbearing postponement: How are children of older mothers faring? Paper presented at the British Society for Population Studies (BSPS) Conference, University of York, York, UK.

Gorman, B. K. (2002). Birth weight and cognitive development in adolescence: Causal relationship or social selection? Biodemography and Social Biology, 49(1–2), 13–34.

Hattersley, L., & Creeser, R. (1995). Longitudinal study 1971–1991: History, organisation and quality of data. London, UK: Office of Population Censuses and Survey.

Hills, J., Brewer, M., Jenkins, S., Lister, R., Lupton, S., Machin, C., & Riddell, S. (2010). An anatomy of economic inequality in the UK: Report of the National Equality Panel (Case Report 60). London, UK: Government Equalities Office.

Hobcraft, J., & Kiernan, K. (2001). Childhood poverty, early motherhood and adult social exclusion. The British Journal of Sociology, 52, 495–517.

Holzman, C., Eyster, J., Kleyn, M., Messer, L. C., Kaufman, J. S., Laraia, B. A., & Elo, I. T. (2009). Maternal weathering and risk of preterm delivery. American Journal of Public Health, 99, 1864–1871.

Jayaweera, H., Hockley, C. A., Redshaw, M. E., & Quigley, M. A. (2007). Demographic and socio-economic characteristics of ethnic minority mothers in England (Millennium Cohort Study report). London, UK: Centre for Longitudinal Studies.

Johnston, D. W., & Lordan, G. (2012). Discrimination makes me sick! An examination of the discrimination–health relationship. Journal of Health Economics, 31, 99–111.

Khoshnood, B., Wall, S., & Lee, K.-s. (2005). Risk of low birth weight associated with advanced maternal age among four ethnic groups in the United States. Maternal and Child Health Journal, 9, 3–9.

Kiernan, K. E., & Mensah, F. (2010). Partnership trajectories, parent and child well-being. In J. P. Hansen, H. Joshi, & S. Dex (Eds.), Children of the 21st century (Vol. 2, pp. 77–94). Bristol, UK: The Policy Press.

Lindley, J. K., Dale, A., & Dex, S. (2006). Ethnic differences in women's employment: The changing role of qualifications. Oxford Economic Papers, 58, 351–378.

Love, C., David, R. J., Rankin, K. M., & Collins, J. W. (2010). Exploring weathering: Effects of lifelong economic environment and maternal age on low birth weight, small for gestational age, and preterm birth in African-American and white women. American Journal of Epidemiology, 172, 127–134.

Martin, S. P. (2004). Women's education and family timing: Outcomes and trends associated with age at marriage and first birth. In K. M. Neckerman (Ed.), Social inequality (pp. 79–119). New York, NY: Russell Sage Foundation.

Martinson, M. (2012). Income inequality in health at all ages: A comparison of the United States and England. American Journal of Public Health, 102, 2049–2056.

McEwen, B. S. (1998). Protective and damaging effects of stress mediators. New England Journal of Medicine, 338, 171–179.

McEwen, B. S. (2000). Allostasis and allostatic load: Implications for neuropsychopharmacology. Neuropsychopharmacology, 22, 108–124.

McGrady, G. A., Sung, J. F. C., Rowley, D. L., & Hogue, C. J. R. (1992). Preterm delivery and low birth weight among first-born infants of black and white college graduates. American Journal of Epidemiology, 136, 266–276.

McLanahan, S. (2004). Diverging destinies: How children are faring under the second demographic transition. Demography, 41, 607–627.

Meadows, S. O., Beckett, M., Elliott, M., & Petersen, C. (2013). Maternal health status and early childbearing: A test of the weathering hypothesis. Applied Demography and Public Health, 3, 169–188.

Morgan, O., & Baker, A. (2006). Measuring deprivation in England and Wales using the 2001 Carstairs scores. Health Statistics Quarterly, 31, 28–33.

Mosley, W. H., & Chen, L. C. (1984). An analytic framework for the study of child survival in developing countries. Population and Development Review, 10(Suppl), 25–45.

Muennig, P., & Murphy, M. (2011). Does racism affect health? Evidence from the United States and the United Kingdom. Journal of Health Politics Policy and Law, 36, 187–214.

Office for National Statistics (ONS). (2011). Live births in England and Wales by characteristics of mother 1, 2010 (Statistical Bulletin). London, UK: ONS.

Peach, C. (2005). Social integration and social mobility: Spatial segregation and intermarriage of the Caribbean population in Britain. In G. C. Loury, T. Modood, & S. M. Teles (Eds.), Ethnicity, social mobility and public policy (pp. 178–203). Cambridge, UK: Cambridge University Press.

Pearson, J. A. (2008). Can't buy me whiteness. Du Bois Review: Social Science Research on Race, 5, 27–47.

Rauh, V. A., Andrews, H. F., & Garfinkel, R. S. (2001). The contribution of maternal age to racial disparities in birthweight: A multilevel perspective. American Journal of Public Health, 91, 1815–1824.

Reichman, N. (2005). Low birth weight and school readiness. Future of Children, 15(1), 91–116.

Reichman, N., & Pagnini, D. L. (1997). Maternal age and birth outcomes: Data from New Jersey. Family Planning Perspectives, 29, 268–295.

Rendall, M. S., Ekert-Jaffé, O., Joshi, H., Lynch, K., & Mougin, R. (2009). Universal versus economically polarized change in age at first birth: A French–British comparison. Population and Development Review, 35, 89–115.

Rich-Edwards, J. W., Buka, S. L., Brennan, R. T., & Earls, F. (2003). Diverging associations of maternal age with low birthweight for black and white mothers. International Journal of Epidemiology, 32, 83–90.

Robson, K., & Berthoud, R. (2006). Age at first birth and disadvantage among ethnic groups in Britain. Ethnic and Racial Studies, 29, 153–172.

Shmueli, A., & Cullen, M. R. (1999). Birth weight, maternal age, and education: New observations from Connecticut and Virginia. Yale Journal of Biology and Medicine, 72, 245–258.

Sigle-Rushton, W., & Perrons, D. (2006). Employment transitions over the life cycle: A statistical analysis (EOC Working Paper No. 46). Manchester, UK: Equal Opportunities Commission.

Smith, G. D., Chaturvedi, N., Harding, S., Nazroo, J., & Williams, R. (2000). Ethnic inequalities in health: A review of UK epidemiological evidence. Critical Public Health, 10, 375–408.

Taylor, P., Cohn, D., Livingston, G., Wang, W., & Dockterman, D. (2010). The new demography of American motherhood (A Social & Demographic Trends Report). Washington, DC: Pew Research Center.

Teitler, J. O., Reichman, N., Nepomnyaschy, L., & Martinson, M. (2007). A cross-national comparison of racial and ethnic disparities in low birth weight in the United States and England. Pediatrics, 120, e1182–e1189. doi:10.1542/peds.2006-3526

Wildsmith, E. M. (2002). Testing the weathering hypothesis among Mexican-origin women. Ethnicity & Disease, 12, 470–479.

Williams, D. R. (1999). Race, socioeconomic status and health. Annuals of the New York Academy for Sciences, 896, 173–188.

Williams, D. R., & Mohammed, S. (2009). Discrimination and racial disparities in health: Evidence and needed research. Journal of Behavioral Medicine, 32, 20–47.
Acknowledgments
The permission of the Office for National Statistics to use the Longitudinal Study is gratefully acknowledged (ONS clearance number 30143), as is the help provided by staff of the Centre for Longitudinal Study Information and User Support (CeLSIUS). CeLSIUS is supported by the ESRC Census of Population Programme (Award Ref: RES-348-25-0004). The authors alone are responsible for the interpretation of the data. Census output is Crown copyright and is reproduced with the permission of the Controller of HMSO and the Queen's Printer for Scotland. Goisis gratefully acknowledges the support of the ESRC ES/H013253/1 and the LSE Titmuss Meinhardt funding. Sigle-Rushton gratefully acknowledges the support of ESRC RES-177-25-0016 Children's Health Disparities in the U.S. and the UK: The Role of the Family. We thank Alicia Adsera, Kathleen Kiernan, Sarah McLanahan, Mike Murphy, Lucinda Platt, Rebecca Sear, and Marta Tienda for useful comments and suggestions.
Electronic supplementary material
Below is the link to the electronic supplementary material.
About this article
Cite this article
Goisis, A., Sigle-Rushton, W. Childbearing Postponement and Child Well-being: A Complex and Varied Relationship?. Demography 51, 1821–1841 (2014). https://doi.org/10.1007/s13524-014-0335-4
Keywords
Childbearing postponement

Maternal age

Weathering hypothesis

Low birth weight

Ethnicity