Abstract
We provide new evidence on the long-run labor market penalty of teenage overweight and obesity using unique and large-scale data on 150,000 male siblings from the Swedish military enlistment. Our empirical analysis provides four important results. First, we provide the first evidence of a large adult male labor market penalty for being overweight or obese as a teenager. Second, we replicate this result using data from the United States and the United Kingdom. Third, we note a strikingly strong within-family relationship between body size and cognitive skills/noncognitive skills. Fourth, a large part of the estimated body-size penalty reflects lower skill acquisition among overweight and obese teenagers. Taken together, these results reinforce the importance of policy combating early-life obesity in order to reduce healthcare expenditures as well as poverty and inequalities later in life.
Access options
Buy single article
Instant access to the full article PDF.
USD 39.95
Price excludes VAT (USA)
Tax calculation will be finalised during checkout.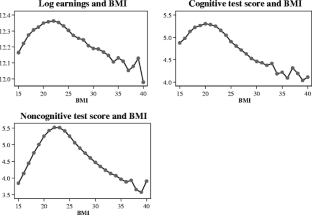 Notes
The WHO has estimated that the health consequences of obesity represent between 2 % and 7 % of total healthcare costs for several developed countries (WHO 2000).

We interchangeably use "family" and "sibling fixed effects" throughout the text.

An alternative mechanism would be that children who lack social skills to begin with have fewer friends and therefore play less, which increases the risk of obesity. This scenario implies that the causal arrow goes in the opposite direction. Nevertheless, it would hardly explain why the link between obesity and noncognitive skills occurs as early as age 2 or 3.

Case and Paxson (2008), however, challenged this argument. They showed, using the same data as Persico et al. (2004), that the relation between height and earnings mainly reflected the positive relationship between height and cognitive skill that exists during childhood and adolescence. Lundborg et al. (2014) used Swedish data and showed that both cognitive and noncognitive skills are of importance for the height premium.

The individuals had to live in Sweden during 1999 because many important variables—for example, the enlistment information and the family information—were collected for the 1999 population data.

For a detailed description of the measure of noncognitive skills, see Lindqvist and Vestman (2011), who used the same measure of noncognitive skills and found it to be a somewhat stronger predictor of adult earnings than cognitive skills.

The NCDS is a longitudinal study of approximately 17,000 individuals born in Great Britain in the week of March 3–9, 1958, who have been followed up several times, with the last being 2004, when they were 46 years old. For details, see Lundborg et al. (2010).

Averett and Korenman (1996) and Cawley (2004) also used the NLSY79 and related the respondent's weight, classified into discrete intervals, seven years back in time to the respondent's contemporary wage. Averett and Korenman used weight in 1981 and wages in 1988, whereas Cawley pooled data for the period 1981–2000, with weight being measured at t – 7. The reason for using lagged measures of obesity in these studies was to address reverse causality between wages and obesity. Averett and Korenman (1996), controlling for a number of background variables (e.g., years of schooling), showed that obese workers have a statistically significant 8 % wage penalty compared with normal-weight workers. This penalty is lowered to 3 % if contemporary weight is used instead. A similar result was obtained in Cawley's study.

The reason for bringing in height is that being overweight or obese might be associated with shorter stature. In this case, the omission of height could downwardly bias the coefficient on overweight or obesity because it is well established that height is positively associated with earnings (Case and Paxson 2008; Lundborg et al. 2014; Persico et al. 2004).

These are 17 indicators of rank within the military, ranging from different officer ranks to squad leaders, soldiers, and seamen. In addition, we include a dummy variable for those with missing rank.

The choice of setting the threshold at 120,000 SEK (approximately US$18,500 or 13,300 euros) is somewhat arbitrary, but it has been shown that by analyzing earnings above this threshold using Swedish tax record data, one receives a return to schooling similar to the one obtained from analyzing hourly wages; see Antelius and Björklund (2000). Additional sensitivity analyses of earning specifications and thresholds are presented in Online Resource 1.
References
Antelius, J., & Björklund, A. (2000). How reliable are register data for studies of the return on schooling? An examination of Swedish data. Scandinavian Journal of Educational Research, 44, 341–355.

Averett, S., & Korenman, S. (1996). The economic reality of the beauty myth. Journal of Human Resources, 31, 304–330.

Borghans, L., Duckworth, A., Heckman, J., & ter Weel, B. (2008). The economics and psychology of personality traits. Journal of Human Resources, 43, 972–1059.

Brown, H. S., III, Pérez, A., Li, Y. P., Hoelscher, D. M., Kelder, S. H., & Rivera, R. (2007). The cost-effectiveness of a school-based overweight program. International Journal of Behavioral Nutrition and Physical Activity, 4, 47. doi:10.1186/1479-5868-4-47

Brunello, G., & D'Hombres, B. (2007). Does body weight affect wages? Evidence from Europe. Economics and Human Biology, 5, 1–19.

Burkhauser, R. V., & Cawley, J. (2008). Beyond BMI: The value of more accurate measures of fatness and obesity in social science research. Journal of Health Economics, 27, 519–529.

Case, A., & Paxson, C. (2008). Stature and status: Height, ability, and labor market outcomes. Journal of Political Economy, 116, 499–532.

Cawley, J. (2004). The impact of obesity on wages. Journal of Human Resources, 39, 451–474.

Cawley, J., & Danziger, S. (2005). Morbid obesity and the transition from welfare to work. Journal of Policy Analysis and Management, 24, 727–743.

Cawley, J., Heckman, J., & Vytlacil, E. (2001). Three observations on wages and measured cognitive ability. Labour Economics, 8, 419–442.

Cawley, J., & Maclean, J. C. (2012). Unfit for service: The implications of rising obesity for US military recruitment. Health Economics, 21, 1348–1366.

Cawley, J., & Spiess, C. (2008). Obesity and skill attainment in early childhood. Economics and Human Biology, 6, 388–397.

Cole, T. J., Bellizzzi, M. C., Flegal, M. K., & Dietz, W. H. (2000). Establishing a standard definition for child overweight and obesity worldwide: International survey. British Medical Journal, 320, 1240–1243.

Conley, D., & Glauber, R. (2006). Gender, body mass and economic status: New evidence from the PSID. In K. Bolin & J. Cawley (Eds.), Advances in health economics and health services research, Vol. 17: The economics of obesity (pp. 253–275). New York, NY: Elsevier.

Cramer, P., & Steinwert, T. (1998). Thin is good, fat is bad: How early does it begin? Journal of Applied Developmental Psychology, 19, 429–451.

Currie, J., Della Vigna, S., Moretti, E., & Pathania, V. (2010a). The effect of fast food restaurants on obesity and weight gain. American Economic Journal: Economic Policy, 2(3), 32–63.

Currie, J., Manivong, P., Roos, L., & Stabile, M. (2010b). Child health and young adult outcomes. Journal of Human Resources, 45, 517–548.

Cutler, D. M., Glaeser, E. L., & Shapiro, J. M. (2003). Why have Americans become more obese? Journal of Economic Perspectives, 17, 93–118.

Dietz, W. H. (1994). Critical periods in childhood for the development of obesity. American Journal of Clinical Nutrition, 59, 955–959.

Duckworth, A. L., Tsukayama, E., & Geier, A. B. (2010). Self-controlled children stay leaner in the transition to adolescence. Appetite, 54, 304–308.

Elias, M. F., Elias, P. K., Robbins, M. A., Wolf, P. A., & D'Agostino, R. B. (2001). Cardiovascular risk factors and cognitive functioning: An epidemiological perspective. In S. R. Waldstein & M. F. Elias (Eds.), Neuropsychology of cardiovascular disease (pp. 83–104). Mahwah, NJ: Lawrence Erlbaum.

Finkelstein, E. A., Trogdon, J. G., Cohen, J. W., & Dietz, W. (2009). Annual medical spending attributable to obesity: Payer- and service-specific estimates. Health Affairs, 28, 822–831.

Fletcher, J., & Lehrer, S. (2009). The effects of adolescent health on educational outcomes: Causal evidence using genetic lotteries between siblings. Forum for Health Economics & Policy, 12(2). doi:10.2202/1558-9544.1180

Francis, L. A., & Susman, E. J. (2009). Self-regulation and rapid weight gain in children from age 3 to 12 years. Archives of Pediatrics and Adolescent Medicine, 163, 297–302.

Freedman, D. S., Khan, L. K., Dietz, W. H., Srinivasan, S. R., & Berenson, G. S. (2001). Relationship of childhood obesity to coronary heart disease risk factors in adulthood: The Bogalusa Heart Study. Pediatrics, 108, 712–718.

French, S. A. (2003). Pricing effects on food choices. Journal of Nutrition, 133, 841–843.

French, S. A., Story, M., Jeffery, R. W., Snyder, P., Eisenberg, M., Sidebottom, A., & Murray, D. (1997). Pricing strategy to promote fruit and vegetable purchase in high school cafeterias. Journal of the American Diet Association, 97, 1008–1010.

Fryar, C. D., Carroll, M. D., & Ogden, C. L. (2012). Prevalence of obesity among children and adolescents: United States, trends 1963–1965 through 2009–2010 (National Center for Health Statistics report). Retrieved from www.cdc.gov/nchs/data/hestat/obesity_child_09_10/obesity_child_09_10.pdf

Griliches, Z. (1979). Sibling models and data in economics: Beginnings of a survey. Journal of Political Economy, 87, 37–64.

Grilo, C. M., & Pogue-Geile, M. F. (1991). The nature of environmental influences on weight and obesity: A behavioral genetic analysis. Psychological Bulletin, 110, 520–537.

Grossman, M., & Kaestner, R. (2009). Effect of weight on children's educational achievement. Economics of Education Review, 28, 651–661.

Gustafson, D., Lissner, L., Bengtsson, C., Björkelund, C., & Skoog, I. (2004). A 24-year follow-up of body mass index and cerebral atrophy. Neurology, 63, 1876–1881.

Gustafson, D., Rothenberg, E., Blennow, K., Steen, B., & Skoog, I. (2003). An 18-year follow-up of overweight and risk of Alzheimer disease. Archives of Internal Medicine, 163, 1524–1528.

Han, E., Norton, E., & Powell, L. M. (2011). Direct and indirect effects of body weight on adult wages. Economics and Human Biology, 9, 381–392.

He, Q., & Karlberg, J. (2001). BMI in childhood and its association with height gain, timing of puberty, and final height. Pediatric Research, 49, 244–251.

Hebebrand, J., Hennighausen, K., Nau, S., Himmelmann, G. W., Schulz, E., Schäfer, H., & Remschmidt, H. (1997). Low body weight in male children and adolescents with schizoid personality disorder or Asperger's disorder. Acta Psychiatrica Scandinavica, 96, 64–67.

Heckman, J. (2008). Schools, skills, and synapses. Economic Inquiry, 46, 289–324.

Heckman, J., & Rubinstein, Y. (2001). Importance of noncognitive skills: Lessons from the GED testing program. American Economic Review, 91, 145–149.

Heckman, J., Stixrud, J., & Urzua, S. (2006). The effects of cognitive and noncognitive abilities on labor market outcomes and social behavior. Journal of Labor Economics, 24, 411–482.

Janssen, I., Craig, W. M., Boyce, W. F., & Pickett, W. (2004). Associations between overweight and obesity with bullying behaviors in school-aged children. Pediatrics, 113, 1187–1194.

Jia, H., & Lubetkin, E. (2010). Trends in quality-adjusted life-years lost contributed by smoking and obesity. American Journal of Preventive Medicine, 38, 138–144.

Kautiainen, S. (2005). Trends in adolescent overweight and obesity in the Nordic countries. Scandinavian Journal of Nutrition, 49, 4–14.

Lawlor, D. A., Windmeijer, F., & Davey Smith, G. (2008). Is Mendelian randomization "lost in translation"? Statistics in Medicine, 27, 2750–2755.

Lindqvist, E., & Vestman, R. (2011). The labor market returns to cognitive and noncognitive ability: Evidence from the Swedish enlistment. American Economic Journal: Applied Economics, 3, 101–128.

Lobstein, T., Baur, L., Uauy, R., & IASO International Obesity Task Force. (2004). Obesity in children and young people: A crisis in public health. Obesity Reviews, 5(l1), 4–104.

Luder, E., & Alton, I. (2005). The underweight adolescent. In J. Strang & M. Story (Eds.), Guidelines for adolescent nutrition services (pp. 93–100). Minneapolis: University of Minnesota.

Lumeng, J., Forrest, P., Appugliese, D. P., Kaciroti, N., Corwyn, R. F., & Bradley, R. H. (2010). Weight status as a predictor of being bullied in third through sixth grades. Pediatrics, 125, 1301–1307.

Lundborg, P., Lindeboom, M., & van der Klaauw, B. (2010). Assessing the impact of obesity on labor market outcomes. Economics and Human Biology, 8, 309–319.

Lundborg, P., Nilsson, A., & Rooth, D. (Forthcoming). Early life health and adult earnings: Evidence from a large sample of siblings and twins Journal of Health Economics.

Lundborg, P., Nystedt, P., & Rooth, D. (2014). Height and earnings: The role of cognitive and non-cognitive skills. Journal of Human Resources, 49, 141–166.

Lusky, A., Barell, V., Lubin, F., Kaplan, G., Layani, V., Shohat, Z., & Wiener, M. (1996). Relationship between morbidity and extreme values of body mass index in adolescents. International Journal of Epidemiology, 25, 829–834.

Mårild, S., Bondestam, M., Bergström, R., Ehnberg, S., Hollsing, A., & Albertsson-Wikland, K. (2004). Prevalence trends of obesity and overweight among 10-year-old children in Western Sweden and relationship with parental body mass index. Acta Paediatrica, 93, 1588–1595.

Must, A., Spadano, J., Coakley, E. H., Field, A. E., Colditz, G., & Dietz, W. H. (1999). The disease burden associated with overweight and obesity. Journal of the American Medical Association, 282, 1523–1529.

Must, A., & Strauss, R. S. (1999). Risk and consequences of childhood and adolescent obesity. International Journal of Obesity Related Metabolic Disorders, 23, 2–11.

Oreopoulos, P., Stabile, M., Walld, R., & Roos, L. L. (2008). The short-, medium-, and long-term effects of poor infant health: An analysis using siblings and twins. Journal of Human Resources, 43, 88–138.

Persico, N., Postlewaite, A., & Silverman, D. (2004). The effect of adolescent experience on labor market outcomes: The case of height. Journal of Political Economy, 112, 1019–1053.

Puhl, R., & Latner, J. (2006). Stigma, obesity, and the health of the nation's children. Psychological Bulletin, 133, 557–580.

Rooth, D. (2009). Obesity, attractiveness and differential treatment in hiring—A field experiment. Journal of Human Resources, 44, 710–735.

Salm, M., & Schunk, D. (2012). The relationship between childhood health, developmental gaps, and parental education: Evidence from administrative data. Journal of the European Economic Association, 10, 1425–1449.

Sargent, J. D., & Blanchflower, D. G. (1994). Obesity and stature in adolescence and earnings in young adulthood. An analysis of a British birth cohort. Archives of Pediatrics and Adolescent Medicine, 148, 681–687.

Schwimmer, J. B., Burwinkle, T. M., & Varni, J. W. (2003). Health-related quality of life of severely obese children and adolescents. Journal of the American Medical Association, 289, 1813–1819.

Shalikashvili, J. M., & Shelton, H. (2010, April 30). The latest national security threat: Obesity. The Washington Post. Retrieved from http://www.washingtonpost.com/wp-dyn/content/article/2010/04/29/AR2010042903669.html

Sjöberg, L., Moraeus, A., Yngve, E., Poortvliet, U., & Al-Ansari, L. L. (2011). Overweight and obesity in a representative sample of schoolchildren—Exploring the urban-rural gradient in Sweden. Obesity Reviews, 5, 305–314.

Thomas, D., & Strauss, J. (1997). Health and wages: Evidence on men and women in urban Brazil. Journal of Econometrics, 77, 159–185.

Tsukayama, E., Toomey, S. L., Faith, M. S., & Duckworth, A. L. (2010). Self-control as a protective factor against overweight status in the transition from childhood to adolescence. Archives of Pediatrics and Adolescent Medicine, 164, 631–635.

Wang, Y., & Lobstein, T. (2006). Worldwide trends in childhood overweight and obesity. International Journal of Pediatric Obesity, 1, 11–25.

Whitaker, R. C., Wright, J. A., Pepe, M. S., Seidel, K. D., & Dietz, W. H. (1997). Predicting obesity in young adulthood from childhood and parental obesity. New England Journal of Medicine, 337, 869–873.

World Health Organization. (2000). Obesity: Preventing and managing the global epidemic (WHO Technical Report Series 894). Geneva, Switzerland: WHO.
Acknowledgments
We thank John Cawley, Andrew Clark, Gordon Dahl, Fabrice Etile, Pierre-Yves Geoffard, John Komlos, Fabian Lange, Inas Rashad, and participants at the 9th IZA-SOLE conference, the workshop on the Economics of Obesity at the Paris School of Economics, the 3rd ASHE conference, the Seminar at the Centre for Economic Demography, Lund University, and anonymous referees for useful comments. Research grants from the Centre for Economic Demography at Lund University and the Swedish Council for Working Life and Social Research are gratefully acknowledged.
Electronic supplementary material
Below is the link to the electronic supplementary material.
About this article
Cite this article
Lundborg, P., Nystedt, P. & Rooth, DO. Body Size, Skills, and Income: Evidence From 150,000 Teenage Siblings. Demography 51, 1573–1596 (2014). https://doi.org/10.1007/s13524-014-0325-6
Published:

Issue Date:

DOI: https://doi.org/10.1007/s13524-014-0325-6
Keywords