Abstract
Understanding how having children influences parents' subjective well-being ("happiness") has great potential to explain fertility behavior. We study parental happiness trajectories before and after the birth of a child, using large British and German longitudinal data sets. We account for unobserved parental characteristics using fixed-effects models and study how sociodemographic factors modify the parental happiness trajectories. Consistent with existing work, we find that happiness increases in the years around the birth of a first child and then decreases to before-child levels. Moreover, happiness increases before birth, suggesting that the trajectories may capture not only the effect of the birth but also the broader process of childbearing, which may include partnership formation and quality. Sociodemographic factors strongly modify this pattern. Those who have children at older ages or who have more education have a particularly positive happiness response to a first birth; and although having the first two children increases happiness, having a third child does not. The results, which are similar in Britain and Germany, suggest that having up to two children increases happiness, and mostly for those who have postponed childbearing. This pattern is consistent with the fertility behavior that emerged during the second demographic transition and provides new insights into low and late fertility.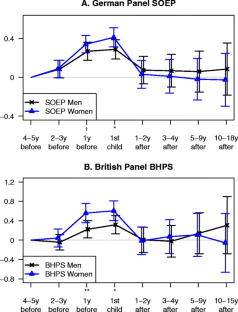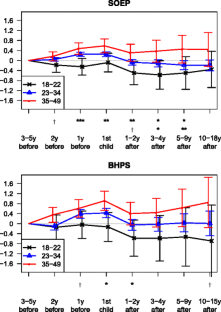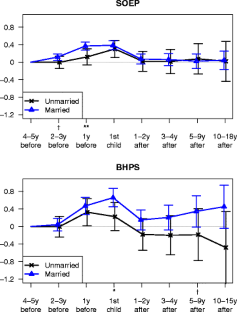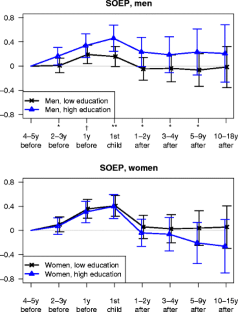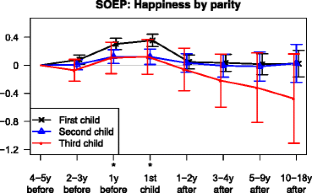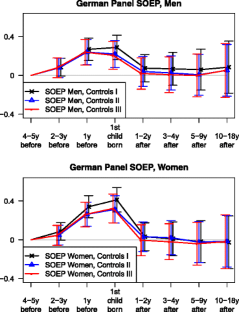 Notes
1.

Part of the gap between desired and actual fertility is explained by measurement: desired fertility is a cohort concept, but fertility behavior is often measured on a period basis. However, even accounting for this, a gap of 0.34 children remains in the European Union (Sobotka and Lutz 2011).

2.

Perelli-Harris et al. (2009) reported that 18 % of first births in the United Kingdom in 1995–2005 were to single women; in West Germany and among women born in 1971–1973, who were in their prime childbearing years at ages 22–34 in 1995–2005, 11 % of first births were to single women. In 2008, 32 % of German mothers with children younger than age 3 were working; in the United Kingdom, the corresponding proportion was 52 % (OECD 2012).

3.

The differences in the questions provide external validity. Research on happiness has been criticized for being sensitive to measurement, but we find our results to be robust to the way the life satisfaction question is framed.

4.

After this transformation, the distributional characteristics are similar. The median, mean, and standard deviation of well-being are 7.3 , 7.1, and 1.7, respectively, in the SOEP; these values for the BHPS are 6.7, 6.8, and 1.9, respectively.

5.

Clark et al. (2008) estimated two equations: one for the happiness trajectory before the event, and another for after the event. A resulting problem is two baselines. We circumvent this problem by combining the equations.

6.

In BHPS, post-birth follow-up ends in 15 years. Thus, in the BHPS analysis, we replace A 10–18 with A 10–15.

7.

We also considered linear, quadratic, and cubic age specifications. The results did not change.

8.

We avoid the age-period-cohort identification problem by combining three time periods for which descriptive statistics suggested no differences. Alternative ways to identify the model (e.g., using quadratic age) did not influence the results.

9.

Kohler et al. (2005) analyzed fertility and happiness among twins to get at the causal relationship. This avoids many problems present in standard OLS approaches, although even here unobserved life events may have shaped the twins so that they differ from each other in ways that influence both fertility and subjective well-being; this could bias the results.

10.

Excluding cohabiters would decrease the proportion in the British data below that observed in the German data. However, the regression results for partnership status (Fig. 4) are not sensitive to whether cohabiters are combined with the married.

11.

Parents aged 17 or younger are excluded because (1) teenage childbearing is a different process than having children at young adult ages; (2) our samples include very few people who had children before turning age 18; and (3) it is difficult to construct a meaningful pre-birth baseline happiness for teen parents.

12.

As a reviewer recommended, we considered instrumental variables regressions. We first used the birth of twins as an instrument for having two children. Results for twins were not statistically different from 0. The 95 % confidence intervals overlapped also with the happiness trajectories observed for the first and second birth. We then used sex distribution of children as an instrument for having additional children. Having a boy versus girl did not predict parity progression, but having the first two children of the same sex increased the likelihood of having a third child. Regressions in which the birth of a third child was instrumented with the sex distribution of the first two children were also statistically indistinguishable from 0 and from the noninstrumented happiness trajectory for the third child. In our data, the commonly used instruments of sex distribution and multiple births had too little statistical power to establish any results. Data on miscarriages, another possible instrument, were not available.
References
Aassve, A., Goisis, A., & Sironi, M. (2012). Happiness and childbearing across Europe. Social Indicators Research, 108, 65–86.

Adema, W., & Whiteford, P. (2007). Babies and bosses: Reconciling work and family life: A synthesis of findings for OECD countries (Vol. 4). Paris, France: Publications de l'OECD.

Adserà, A. (2004). Changing fertility rates in developed countries. The impact of labor market institutions. Journal of Population Economics, 17, 17–43.

Alvergne, A., Jokela, M., & Lummaa, V. (2010). Personality and reproductive success in a high-fertility human population. Proceedings of the National Academy of Sciences, 107, 11745–11750.

Angeles, L. (2010). Adaptation and anticipation effects to life events in the United Kingdom (Department of Economics Discussion Paper 08). Glasgow, Scotland, UK: University of Glasgow.

Avison, W. R., & Davies, L. (2005). Family structure, gender, and health in the context of the life course. The Journals of Gerontology Series B: Psychological Sciences and Social Sciences, 60(Special Issue 2), S113–S116.

Baranowska, A., & Matysiak, A. (2011). Does parenthood increase happiness? Evidence for Poland. Vienna Yearbook of Population Research, 2011, 307–325.

Billari, F. C. (2009, May). The happiness commonality: Fertility decisions in low-fertility settings. Keynote address at Conference on How Generations and Gender Shape Demographic Change: Toward Policies Based on Better Knowledge, UNECE, Geneva, Switzerland. Retrieved from www.unece.org/fileadmin/DAM/pau/_docs/ggp/2008/GGP_2008_GGConf_Publ_1_Chapter-1.pdf

Blundell, R., Brewer, M., Haan, P., & Shephard, A. (2009). Optimal income taxation of lone mothers: An empirical comparison of the UK and Germany. The Economic Journal, 119, F101–F121.

Brickman, P., & Campbell, D. T. (1971). Hedonic relativism and planning the good society. In M. H. Appley (Ed.), Adaptation-level theory (pp. 287–305). New York, NY: Academic Press.

Callan, V. J. (1985). Choices about children. Melbourne, Australia: Longman Cheshire.

Cartwright, A. (1976). How many children? London, UK: Routledge and Kegan Paul.

Clark, A. E., Diener, E., Georgellis, Y., & Lucas, R. E. (2008). Lags and leads in life satisfaction: A test of the baseline hypothesis. The Economic Journal, 118, F222–F243.

Clark, A. E., & Georgellis, Y. (2013). Back to baseline in Britain: Adaptation in the British Household Panel Survey. Economica, 80, 496–512.

Cleary, P. D., & Mechanic, D. (1983). Sex differences in psychological distress among married people. Journal of Health and Social Behavior, 24, 111–121.

Davies, L., Avison, W. R., & McAlpine, D. D. (1997). Significant life experiences and depression among single and married mothers. Journal of Marriage and the Family, 59, 294–308.

Della Giusta, M., Jewell, S. L., & Kambhampati, U. S. (2011). Gender and life satisfaction in the UK. Feminist Economics, 17(3), 1–34.

De Neve, J. (2011). Functional polymorphism (5-HTTLPR) in the serotonin transporter gene is associated with subjective well-being: Evidence from a U.S. nationally representative sample. Journal of Human Genetics, 56, 456–459.

Edin, K., & Kefalas, M. (2005). Promises I can keep: Why poor woman put motherhood ahead of marriage. Berkeley, CA: University of California Press.

European Commission. (2006). The demographic future of Europe—From challenge to opportunity (Unit E.1). Luxembourg, Belgium: Office for Official Publications of the European Communities.

Ferrer-i-Carbonell, A., & Frijters, P. (2004). How important is methodology for the estimates of the determinants of happiness? The Economic Journal, 114, 641–659.

Feyrer, J., Sacerdote, B., & Stern, A. D. (2008). Will the stork return to Europe and Japan? Understanding fertility within developed nations. Journal of Economic Perspectives, 22(3), 3–22.

Frijters, P., Johnston, D. W., & Shields, M. A. (2011). Life satisfaction dynamics with quarterly life event data. Scandinavian Journal of Economics, 113, 190–211.

Gauthier, A. H. (2007). The impact of family policies on fertility in industrialized countries: A review of the literature. Population Research and Policy Review, 26, 323–346.

Georgellis, Y., Lange, T., & Tabvuma, V. (2012). The impact of life events on job satisfaction. Journal of Vocational Behavior, 80, 464–473.

Gregory, E. (2007). Ready: Why women are embracing the new later motherhood. New York, NY: Basic Books.

Harknett, K., & Knab, J. (2007). More kin, less support: Multipartnered fertility and perceived support among mothers. Journal of Marriage and Family, 69, 237–253.

Hayford, S. R., & Guzzo, K. B. (2010). Age, relationship status, and the planning status of births. Demographic Research, 23(article 13), 365–398. doi:10.4054/DemRes.2010.23.13

Heffner, L. J. (2004). Advanced maternal age—How old is too old? New England Journal of Medicine, 351, 1927–1929.

Hobcraft, J. (2006). The ABC of demographic behaviour: How the interplays of alleles, brains, and contexts over the life course should shape research aimed at understanding population processes. Population Studies, 60, 153–187.

Jensen, T. K., Joffe, M., Scheike, T., Skytthe, A., Gaist, D., & Christensen, K. (2005). Time trends in waiting time to pregnancy among Danish twins. Human Reproduction, 20, 955–964.

Kohler, H. P., Behrman, J. R., & Skytthe, J. R. (2005). Partner children = happiness? The effects of partnerships and fertility on well-being. Population and Development Review, 31, 407–445.

Konietzka, D., & Kreyenfeld, M. (2002). Women's employment and non-marital childbearing: A comparison between East and West Germany in the 1990s. Population-E, 57, 331–358.

Koropeckyj-Cox, T., Pienta, A. M., & Brown, T. H. (2007). Women of the 1950s and the "normative" life course: The implications of childlessness, fertility timing, and martial status for psychological well-being in late midlife. International Journal of Aging and Human Development, 64, 299–330.

Larsen, R. J. (2000). Toward a science of mood regulation. Psychological Inquiry, 11, 129–141.

Lovell-Troy, L. A. (1983). Anomia among employed wives and housewives: An exploratory analysis. Journal of Marriage and the Family, 45, 301–310.

Lykken, D., & Tellegen, A. (1996). Happiness is a stochastic phenomenon. Psychological Science, 7, 186–189.

Macdonald, C. L. (2011). Shadow mothers: Nannies, au pairs, and the micropolitics of mothering. Oakland: University of California Press.

Margolis, R., & Myrskylä, M. (2011). A global perspective on happiness and fertility. Population and Development Review, 37, 29–56.

McDonald, P. (2000). Gender equity in theories of fertility transition. Population and Development Review, 26, 427–439.

McLanahan, S., & Adams, J. (1987). Parenthood and psychological well-being. Annual Review of Sociology, 13, 237–257.

Montgomery, M. R., & Casterline, J. B. (1996). Social learning, social influence, and new models of fertility. Population and Development Review, 22(Suppl.), 151–175.

Morgan, S. P., & King, R. B. (2001). Why have children in the 21st century? Biological predisposition, social coercion, rational choice. European Journal of Population, 17, 3–20.

Myrskylä, M., Goldstein, J. R., & Cheng, Y. A. (2013). New cohort fertility forecasts for the developed world: Rises, falls, and reversals. Population and Development Review, 39, 31–56.

Nelson, S. K., Kushlev, K., English, T., Dunn, E. W., & Lyubomirsky, S. (2013). In defense of parenthood: Children are associated with more joy than misery. Psychological Science, 34, 3–10.

Newman, L. (2008). How parenthood experiences influence desire for more children in Australia: A qualitative study. Journal of Population Research, 25, 1–27.

Nomaguchi, K. M., & Brown, S. L. (2011). Parental strains and rewards among mothers: The role of education. Journal of Marriage and Family, 73, 621–636.

OECD. (2011). Mean age of mothers at first childbirth (OECD Family Database). Paris, France: OECD Social Policy Division. Retrieved from http://www.oecd.org/dataoecd/62/49/41919586.pdf

OECD. (2012). Maternal employment rates (OECD Family Database). Paris, France: OECD Social Policy Division. Retrieved from http://www.oecd.org/els/family/38752721.pdf

O'Hara, M. W. (2009). Postpartum depression: What we know. Journal of Clinical Psychology, 65, 1258–1269.

Perelli-Harris, B., Kreyenfeld, M., Sigle-Rushton, W., Keizer, R., Lappegard, T., Jasilioniene, A., . . . Koppen, K. (2009). The increase in fertility in cohabitation across Europe: Examining the intersection between union status and childbearing (MPIDR Working Paper WP-2009-021). Rostock, Germany: Max Planck Institute for Demographic Research.

Presser, H. B. (2001). Comment: A gender perspective for understanding low fertility in post-traditional societies. Population and Development Review, 27, 177–183.

Rempel, J. (1985). Childless elderly: What are they missing? Journal of Marriage and the Family, 47, 343–348.

Rogers, J. L., Kohler, H. P., Kyvik, K. O., & Christensen, K. (2001). Behavior genetic modeling of human fertility: Findings from a contemporary Danish twin study. Demography, 38, 29–42.

Ross, C. E., & Huber, J. (1985). Hardship and depression. Journal of Health and Social Behavior, 26, 312–327.

Rotter, J. B. (1954). Social learning and clinical psychology. Englewood Cliffs, NJ: Prentice-Hall.

Ruspini, E. (1999). Social rights of women with children: Lone mothers and poverty in Italy, Germany and Great Britain. South European Society and Politics, 4, 89–121.

Ryan, R. M., & Deci, E. D. (2001). On happiness and human potentials: A review of research on hedonic and eudaimonic well-being oxytocin. Annual Review of Psychology, 52, 141–166.

Simon, R. W. (1992). Parental role strains, salience of parental identity and gender differences in psychological distress. Journal of Health and Social Behavior, 33, 25–35.

Sobotka, T. (2004). Is lowest-low fertility in Europe explained by the postponement of childbearing? Population and Development Review, 30, 195–220.

Sobotka, T., & Lutz, W. (2011). Misleading policy messages derived from the period TFR: Should we stop using it? Comparative Population Studies–Zeitschrift Für Bevölkerungswissenschaft, 35, 637–664.

Thévenon, O. (2011). Family policies in OECD countries: A comparative analysis. Population and Development Review, 37, 57–87.

van de Kaa, D. (2003). Second demographic transition. In P. Demeny & G. McNicoll (Eds.), Encyclopedia of population (pp. 555–557). New York, NY: Macmillan Reference USA.

Wagner, G. G., Frick, J. R., & Schupp, J. (2007). The German Socio-Economic Panel Study (SOEP)—Scope, evolution and enhancements. Schmollers Jahrbuch, 127(1), 139–169. Retrieved from http://schmollersjahrbuch.diw.de/schmollersjahrbuch/webcontent/2007/Wagner%20et%20al.pdf
Acknowledgments
This research was supported by the European Research Council Grant 2013-StG-336475 and an Insight Development grant from the Social Sciences and Humanities Research Council of Canada. We are grateful for comments and suggestions that we have received at the 2012 annual meeting of the Population Association of America and at seminars at Stockholm University, University of Hohenheim, Max Planck Institute for Demographic Research, McGill University, and Bowling Green State University. We also acknowledge helpful comments from Josh Goldstein, Jan Hoem, Elizabeth Gregory, Bill Avison, Debby Carr, Sam Preston, Michaela Kreyenfeld, Francesco Billari, Arnstein Aassve, and Carl Schmertmann.
About this article
Cite this article
Myrskylä, M., Margolis, R. Happiness: Before and After the Kids. Demography 51, 1843–1866 (2014). https://doi.org/10.1007/s13524-014-0321-x
Keywords
Fertility

Happiness

Life course

Parenthood