Abstract
Determining whether population dynamics provide competing explanations to place effects for observed geographic patterns of population health is critical for understanding health inequality. We focus on the working-age population—the period of adulthood when health disparities are greatest—and analyze detailed data on residential mobility collected for the first time in the 2000 U.S. census. Residential mobility over a five-year period is frequent and selective, with some variation by race and gender. Even so, we found little evidence that mobility biases cross-sectional snapshots of local population health. Areas undergoing large or rapid population growth or decline may be exceptions. Overall, place of residence is an important health indicator; yet, the frequency of residential mobility raises questions of interpretation from etiological or policy perspectives, complicating simple understandings that residential exposures alone explain the association between place and health. Psychosocial stressors related to contingencies of social identity associated with being black, urban, or poor in the United States may also have adverse health impacts that track with structural location even with movement across residential areas.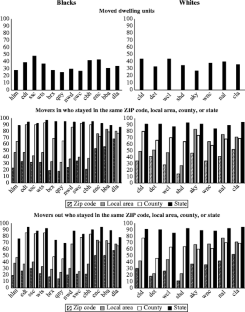 Notes
1.

Some epidemiological studies follow sample members for two or more time points; however, samples are often selective, including healthy participants at baseline in order to note whether their disease status changes over the course of the study.

2.

The Latino health paradox refers to the epidemiological descriptive finding that some Latino immigrants to the United States appear to have health outcomes that are comparable to their U.S. white counterparts even though, on average, Latino immigrants have lower SES than U.S. whites according to conventional measures. (See Palloni and Arias (2004) and Pearson (2008) for critiques of this paradox.)

3.

Current residence has and continues to be coded to even lower levels of aggregation, such as census tract or block group. Regarding previous residence, however, in earlier censuses, the census designated place (CDP) was the smallest level of aggregation. From a research perspective, CDP aggregations are arbitrary. For example, in New York City, Greenwich Village is a CDP, but Harlem is not. City or township of prior residence was the next smallest level and was too large for studying migration between types of neighborhoods within cities.

4.

Sample size considerations limited our choices to major northern cities with large black populations or to rural areas around the Mississippi Delta. Major southern cities had large, diverse black populations, but not concentrated poverty areas of sufficient size. Other Southern rural areas had black populations that although often poor, were dispersed rather than concentrated.

5.

Nationally, approximately 2 % of respondents reported being multiracial. Given the geographic, age, and socioeconomic patterning of our sample, 2 % is likely to be a generous upper bound on the percentage in our focal areas who reported being multiracial. The preponderance of those reporting being multiracial were children younger than age 15 and Asian Pacific Islanders; monoracial respondents were disproportionately adult residents of the Deep South, Appalachia, and the Midwest (Farley 2002).

6.

Because the health measures were reported in 2000, we do not know whether movers between 1995 and 2000 were in poor health at the time they moved. This would be highly problematic if our primary research interest was in the causal impact of health on migration. However, our interest lies in whether migration patterns influence cross-sectional snapshots of the health profiles of study areas. We can address research Questions 2 and 3 about the potential association between residential mobility and health limitations knowing only the health of migrants and nonmigrants in 2000 because we are interested in comparing the health profile of areas in 2000 with what they would have been had no migration occurred.

7.

We conducted all analyses first by combining answers to all these questions, counting any persons as health-limited if they report any impairment or disability. We then experimented with alternative coding schemes involving subsets of these questions. We were particularly interested in schemes excluding the work disability question, out of concern that responses might differ systematically with local labor market variations. Disability levels were somewhat higher when we included the work disability question, but patterns of results were robust to our choice of disability measures.

8.

In the 2000 population, we could have included those who were living in the local area as of 2000 and had moved since 1995 but had missing ZIP codes. Rather than doing this, we exclude movers with missing or invalid ZIP codes in order to make our measurement of the health profile of the population in 2000 more comparable to our measurement of the population in 1995. Essentially, our procedure involves comparing the health profile of those who moved in with those who moved out. If the health profiles of these two populations are quite different or if the size of these two populations is quite different, our estimates will show migration affecting the health profile.

9.

For those interested in the severity of functional limitations or disabilities per se, legitimate concerns have been raised about the validity of the census impairment and disability items, which are based on a mail-back questionnaire, are sometimes filled out by proxy respondents, and contain only general questions rather than specific measures of ADLs or IADLs collected in some surveys. Andresen et al. (2000) found that responses to the more global census questions did not correspond precisely to responses to narrow questions about specific ADLs or IADLs. This finding is neither surprising nor particularly pertinent to our analysis. For us, the important question is whether differences across areas in responses to census questions accurately reflect differences across areas in the age-specific health status of the respective populations.

10.

Hayward and Heron (1999) and Geronimus et al. (2001) used census disability measures successfully for similar analytic purposes. British studies of the role of selective migration in understanding the sources of the geographic distribution of the healthy population across local areas (Brimblecombe et al. 1999, 2000; Norman et al. 2005) used a combination of vital statistics data and self-reported functional limitation measures similar to those available in the census. Findings using the different measures were similar, supporting the notion that in the context of studies such as our own, data based on self-reports of functional limitations allow for valid inferences with respect to health-selective migration.

11.

Limitation rates rise with age. Older Americans are more likely than younger ones to suffer multiple limitations. African Americans have higher impairment and disability rates than whites, with racial disparities most pronounced in young through middle adulthood. Limitations in young through middle adulthood are disproportionately work-related limitations, with those in mobility and personal care increasing in magnitude in old age. Each of these patterns is consistent with expectations based on what is known about age and racial patterns of health-induced limitations from other sources.

12.

We focus on education rather than income because education is a less volatile measure of socioeconomic position and, unlike income, is likely to be a permanent feature of an adult and less subject to the threat of reverse causality.

13.

Here and in most of the article, we age-standardized because there are clear health and education differences across age groups, reflecting a combination of age and cohort effects on these outcomes. We did not also standardize on education because educational differences across areas could reflect differential migration.

14.

Our strategy is in line with the kinds of strategy suggested by Horowitz and Manski (1995).

15.

Thus, for example, we calculated the average maximum possible error for those living in one of our four poor black urban areas to be 10 %. Conducting a similar analysis for county again showed bounds that were qualitatively similar to the fraction reported in Fig. 1. In this case, we calculated the average maximum possible error for those living in one of our four poor black areas to be 12 %. Extreme bounds for whether individuals moved from within the same local area were, for obvious reasons, less tight but were still informative. For example, using records with valid ZIP code information, we calculated that 53 % of those in Harlem who had moved dwelling units between 1995 and 2000 had moved into Harlem from someplace else, with most of these moving from within Manhattan. Including those with missing ZIP codes in the analysis and using all reported information, we can bound the fraction of movers who moved in from outside of Harlem to between 49 % and 71 %. Although this range is not as tight as we might have liked, it remains clear that most moves are short-distance moves.

16.

These might include from the delayed expression of epigenetic modifications resulting from previous environmental conditions, including childhood and prenatal contexts. If life-threatening disease onset is a direct product of "fetal programming," as some have hypothesized (Gluckman et al. 2008), then short of longitudinal data beginning at conception and continuing through midlife, no time horizon would be sufficiently long to capture these effects. However, evidence is weak that any prenatal conditions are more important to adult and later-life health than post-uterine environmental conditions (Geronimus 2013).

17.
References
Alba, R. D., Logan, J. R., & Bellair, P. (1994). Living with crime: The implications of racial and ethnic differences in suburban location. Social Forces, 73, 395–434.

Andresen, E. M., Fitch, C. A., McLendon, P. M., & Meyers, A. R. (2000). Reliability and validity of disability questions for US Census 2000. American Journal of Public Health, 90, 1297–1299.

Beard, J. R., Blaney, S., Cerda, M., Frye, V., Lovasi, G. S., Ompad, D., & Vlahov, D. (2009). Neighborhood characteristics and disability in older adults. Journals of Gerontology, 64B, 252–257.

Brimblecombe, N., Dorling, D., & Shaw, M. (1999). Mortality and migration in Britain, first results from the British Household Panel Survey. Social Science & Medicine, 49, 981–988.

Brimblecombe, N., Dorling, D., & Shaw, M. (2000). Migration and geographical inequalities in health in Britain. Social Science & Medicine, 50, 861–878.

Charles, C. Z. (2003). The dynamics of racial residential segregation. Annual Review of Sociology, 29, 167–207.

Colen, C. G., Geronimus, A. T., Bound, J., & James, S. A. (2006). Maternal upward socioeconomic mobility and black–white disparities in infant birthweight. American Journal of Public Health, 96, 2032–2039.

Cozier, Y. C., Palmer, J. R., Horton, N. J., Fredman, L., Wise, L. A., & Rosenberg, L. (2007). Relation between neighborhood median housing value and hypertension risk among black women in the United States. American Journal of Public Health, 97, 718–724.

Crowder, K. D. (2001). Racial stratification in the actuation of mobility expectations: Microlevel impacts of racially restrictive housing markets. Social Forces, 79, 1377–1396.

Crowder, K., Pais, J., & South, S. J. (2012). Neighborhood diversity, metropolitan constraints, and household migration. American Sociological Review, 77, 325–353.

Crowder, K. D., Tolnay, S. E., & Adelman, R. M. (2001). Intermetropolitan migration and locational improvement for African American males, 1970–1990. Social Science Research, 30, 449–472.

Davey Smith, G., Hart, C., Watt, G., Hole, D., & Hawthorne, V. (1998a). Individual social class, area-based deprivation, cardiovascular disease risk factors, and mortality: The Renfrew and Paisley study. Journal of Epidemiology and Community Health, 52, 399–405.

Davey Smith, G., Shaw, M., & Dorling, D. (1998b). Shrinking areas and mortality. Lancet, 352, 1439–1440.

Diez-Roux, A. V. (2001). Investigating area and neighborhood effects on health. American Journal of Public Health, 91, 1783–1789.

Diez-Roux, A. V. (2007). Neighborhoods and health: Where are we and where do we go from here? Revue d'Epidémiologie Santé Publique, 55, 13–21.

Elo, I., & Preston, S. (1996). Educational differentials in mortality: United States, 1979–85. Social Science & Medicine, 42, 47–57.

Farley, R. (2002). Race reporting in the census of 2000: How do multiracial groups compare to monoracial groups on key characteristics? (PSC Research Report No. 02-516). Ann Arbor: Institute for Social Research, University of Michigan.

Findley, S. E. (1988). The directionality and age selectivity of the health-migration relation: Evidence from sequences of disability and mobility in the United States. International Migration Review, 22(3), 4–29.

Fitzpatrick, K., & LaGory, M. (2011). Unhealthy cities: Poverty, race, and place in America (2nd ed.). London, UK: Routledge.

Freedman, V. A., Grafova, I. B., & Rogowski, J. (2011). Neighborhoods and chronic disease onset in later life. American Journal of Public Health, 101, 79–86.

Frey, W. H. (1998). Black migration to the South reaches record highs in 1990s. Population Today, 26(2), 1–3.

Frey, W. H. (2001). Census 2000 shows large black return to the South, reinforcing the region's "white-black" demographic profile (PSC Research Report, 01-473). Ann Arbor: University of Michigan.

Fullilove, M. (2004). Root shock: How tearing up city neighborhoods hurts America and what we can do about it. New York, NY: Balantine Books.

Galea, S., & Vlahov, D. (2005). Handbook of urban health: Populations, methods, and practice. New York, NY: Springer.

Geronimus, A. T. (1992). The weathering hypothesis and the health of African American women and infants. Ethnicity and Disease, 2, 207–221.

Geronimus, A. T. (2000). To mitigate, resist, or undo: Addressing structural influences on the health of urban populations. American Journal of Public Health, 90, 867–872.

Geronimus, A. T. (2013). Jedi public health: Leveraging contingencies of social identity to grasp and eliminate racial health inequality. In L. E. Gomez & N. Lopez (Eds.), Mapping "race": Critical approaches to health disparities research (pp. 163–178). New Brunswick, NJ: Rutgers University Press.

Geronimus, A. T., Bound, J., & Colen, C. (2011). Excess black mortality in the United States and selected black and white high poverty areas, 1980–2000. American Journal of Public Health, 101, 720–729.

Geronimus, A. T., Bound, J., Keene, D., & Hicken, M. (2007). Black-white differences in age trajectories of hypertension prevalence among adult women and men, 1999–2002. Ethnicity and Disease, 17, 40–48.

Geronimus, A. T., Bound, J., & Ro, A. (2008). Validity of the migration ZIP code variable in the 2000 census (Technical report). Washington, DC: U.S. Census Bureau.

Geronimus, A. T., Bound, J., & Waidmann, T. A. (1999). Poverty, time and place: Variation in excess mortality across selected U.S. populations, 1980–1990. Journal of Epidemiology and Community Health, 53, 325–334.

Geronimus, A. T., Bound, J., Waidmann, T. A., Colen, C. G., & Steffick, D. (2001). Inequality in life expectancy, functional status, and active life expectancy across selected black and white populations in the United States. Demography, 38, 227–251.

Geronimus, A. T., Bound, J., Waidmann, T. A., Hillemeier, M., & Burns, P. (1996). Excess mortality among blacks and whites in the United States. New England Journal of Medicine, 335, 1552–1558.

Geronimus, A. T., Hicken, M., Keene, D., & Bound, J. (2006). "Weathering" and age patterns of allostatic load scores among blacks and whites in the United States. American Journal of Public Health, 96, 826–833.

Geronimus, A. T., & Thompson, J. P. (2004). To denigrate, ignore, or disrupt: The health impact of policy-induced breakdown of urban African American communities of support. Du Bois Review, 1, 247–279.

Gluckman, P. D., Hanson, M. A., Cooper, C., & Thornburg, K. L. (2008). Effect of in utero and early-life conditions on adult health and disease. New England Journal of Medicine, 359, 61–73.

Halliday, T. J., & Kimmitt, M. C. (2008). Selective migration and health in the USA, 1984–93. Population Studies, 62, 321–334.

Hayward, M. D., & Heron, M. (1999). Racial inequality in active life among adult Americans. Demography, 36, 77–91.

Hayward, M. D., Pienta, A. M., & McLaughlin, D. K. (1997). Inequality in men's mortality: The socioeconomic status gradient and geographic context. Journal of Health and Social Behavior, 38, 313–330.

Horowitz, J. L., & Manski, C. F. (1995). Identification and robustness with contaminated and corrupted data. Econometrica, 63, 281–302.

Hunt, L. L., Hunt, M. O., & Falk, W. W. (2008). Who is headed South? U.S. migration trends in black and white, 1970–2000. Social Forces, 87, 95–119.

Idler, E., & Benyamini, Y. (1997). Self-rated health and mortality: A review of twenty-seven community studies. Journal of Health and Social Behavior, 39, 21–37.

Inzlicht, M., & Schmader, T. (2012). Stereotype threat: Theory, process, and application. Oxford, UK: Oxford University Press.

Jackson, M. I., & Mare, R. D. (2007). Cross-sectional and longitudinal measurements of neighborhood experience and their effects on children. Social Science Research, 36, 590–610.

James, S. A. (1994). John Henryism and the health of African Americans. Culture, Medicine and Psychiatry, 18, 163–182.

Jargowsky, P. A. (2003). Stunning progress, hidden problems: The dramatic decline of concentrated poverty in the 1990s. Washington, DC: Brookings Institute.

Johnson, R. J., & Wolinsky, F. D. (1993). The structure of health status among older adults: Disease, disability, functional limitation, and perceived health. Journal of Health and Social Behavior, 34, 105–121.

Keene, D., & Geronimus, A. T. (2010). "Weathering" HOPE VI: The importance of evaluating the population health impact of public housing demolition and displacement. Journal of Urban Health, 88, 417–435.

Keene, D., Padilla, M., & Geronimus, A. T. (2010). Leaving Chicago for Iowa's "fields of opportunity": Community dispossession, rootlessness, and the quest for somewhere to "be OK. Human Organization, 69, 275–284.

Long, L. (1987). Migration and residential mobility in the United States. New York, NY: Russell Sage Foundation.

Longino, C. F., Jr., Bradley, D. E., Stoller, E. P., & Haas, W. H., III. (2008). Predictors of non-local moves among older adults: A prospective study. Journals of Gerontology, 63B, S7–S14.

Longino, C. F., Jackson, D. J., Zimmerman, R. S., & Bradsher, J. E. (1991). The second move: Health and geographic mobility. Journal of Gerontology, 46, S218–S224.

Manning, W., Newhouse, J., & Ware, J., Jr. (1982). The status of health in demand estimation, or beyond excellent, good, fair and poor. In V. Fuchs (Ed.), Economic aspects of health (pp. 143–184). Chicago, IL: University of Chicago Press.

Massey, D. S., & Denton, N. A. (1987). Trends in the residential segregation of blacks, Hispanics, and Asians. American Sociological Review, 52, 802–825.

Massey, D. S., & Denton, N. A. (1993). American apartheid: Segregation and the making of the underclass. Cambridge, MA: Harvard University Press.

Massey, D. S., Gross, A. B., & Shibuya, K. (1994). Migration, segregation, and the geographic concentration of poverty. American Sociological Review, 59, 425–445.

Nordstrom, C. K., Diez-Roux, A. V., Jackson, S. A., & Gardin, J. M. (2004). The association of personal and neighborhood socioeconomic indicators with subclinical cardiovascular disease in an elderly cohort. The Cardiovascular Health Study. Social Science & Medicine, 59, 2139–2147.

Norman, P., Boyle, P., & Rees, P. (2005). Selective migration, health and deprivation: A longitudinal analysis. Social Science & Medicine, 60, 2655–2771.

Osypuk, T. L., & Acevedo-Garcia, D. (2008). Are racial disparities in preterm birth larger in hypersegregated areas? American Journal of Epidemiology, 167, 1295–1304.

Palloni, A., & Arias, E. (2004). Paradox lost: Explaining the Hispanic adult mortality advantage. Demography, 41, 385–415.

Pearson, J. A. (2008). Can't buy me whiteness. DuBois Review, 5, 27–48.

Shih, R., Ghosh-Dastidar, B., Margolis, K. L., Slaughter, M. E., Jewell, A., Bird, C. E., & Espeland, M. A. (2011). Neighborhood socioeconomic status and cognitive function in women. American Journal of Public Health, 101, 1721–1728.

South, S. J., & Crowder, K. D. (1997a). Escaping distressed neighborhoods: Individual, community, and metropolitan influences. American Journal of Sociology, 102, 1040–1084.

South, S. J., & Crowder, K. D. (1997b). Residential mobility between cities and suburbs: Race, suburbanization, and back-to-the-city moves. Demography, 34, 525–538.

South, S. J., Crowder, K., & Chavez, E. (2005). Exiting and entering poor neighborhoods: Latinos, blacks, and Anglos compared. Social Forces, 84, 873–900.

Speare, A., Avery, R., & Lawton, L. (1991). Disability, residential mobility, and changes in living arrangements. Journal of Gerontology, 46, S133–S142.

Tolnay, S. E. (2003). The African American "Great Migration" and beyond. Annual Review of Sociology, 29, 209–232.

Viruell-Fuentes, E. A. (2007). Beyond acculturation: Immigration, discrimination, and health research among Mexicans in the United States. Social Science & Medicine, 65, 1524–1535.

Wallace, D., & Wallace, R. (1998). A plague on your houses: How New York was burned down and national public health crumbled. London, U.K.: Verso.

Weisstein, E. W. (2012). Bonferroni correction. In MathWorld (A Wolfram Web Resource). Retrieved from http://mathworld.wolfram.com/BonferroniCorrection.html

Wilson, W. J. (1996). When work disappears: The world of the new urban poor. New York, NY: Vintage.

Wodtke, G. T., Harding, D. J., & Elwert, F. (2011). Neighborhood effects in temporal perspective: The impact of long-term exposure to concentrated disadvantage on high school graduation. American Sociological Review, 76, 713–736.
Acknowledgments and Disclaimer
We are grateful for funding from the Eunice Kennedy Shriver National Institute of Child Health and Human Development (Grant No. R21 HD056307) and the National Institute of Aging (Grant No. 5 T32 AG00221), as well as to the Center for Advanced Study in the Behavioral Sciences at Stanford University and the University of California's President's Postdoctoral Fellowship program. Support for this research at the RDC from NSF (ITR-0427889) is also gratefully acknowledged. We also thank seminar participants at the University of Minnesota RDC and three anonymous reviewers for helpful comments on earlier versions of this article. Any opinions and conclusions expressed herein are those of the author(s) and do not necessarily represent the views of the U.S. Census Bureau. All results have been reviewed to ensure that no confidential information is disclosed.
About this article
Cite this article
Geronimus, A.T., Bound, J. & Ro, A. Residential Mobility Across Local Areas in the United States and the Geographic Distribution of the Healthy Population. Demography 51, 777–809 (2014). https://doi.org/10.1007/s13524-014-0299-4
Keywords
Place and health

Residential mobility

Race and health

SES

Urban/rural