Abstract
Previous studies suggest that access to modern contraceptives can reduce breast-feeding rates because women who had been using breast-feeding to avoid pregnancy substitute away from it. This article shows that contraceptive use can also have a positive effect on breast-feeding. A mother often weans a child if she becomes pregnant again, which can occur sooner than desired if she lacks access to contraceptives. Thus, by enabling longer birth spacing and preventing unwanted pregnancies, contraceptive use allows for a longer duration of breast-feeding. This positive effect should primarily affect infants who are past the first few months of life because their mothers are more fecund then, and the negative effect should affect infants who are very young because the contraceptive property of breast-feeding is strongest then. I test for these dual effects using Demographic and Health Survey data for Indonesia. I find evidence of the positive birth-spacing effect: contraceptive use increases the likelihood that children continue to be breast-fed past age 1. There is also suggestive evidence of a negative substitution effect among infants age 3 months and younger.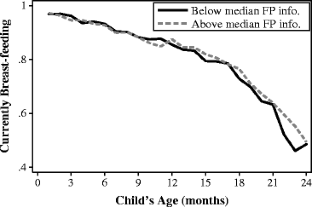 Notes
1.

Another reason why breast-feeding reduces fertility (but not fecundity) in some societies is if there is a taboo against sexual intercourse for a nursing mother (Bleek 1976).

2.

Estrogen-containing contraception can reduce the amount of breast milk, which is another way in which contraception can cause a decline in breast-feeding, even without the mother's awareness (Kelsey 1996).

3.

4.

In actuality, breast-feeding does not make a woman completely infertile during the first year, and it still reduces fertility to some degree after the first year.

5.

Modeling two types rather than a continuum of preferences captures the essential difference between mothers who want to breast-feed per se and those for whom the contraceptive properties are dispositive in their decision to breast-feed. Some women with a sufficiently high cost of breast-feeding would not breast-feed even though they value its contraceptive property; these women would not breast-feed in either time period, regardless of the availability of contraception.

6.

In reality, some mothers will want to have a shorter birth interval; the predictions presented here are applicable to those mothers who want to space births relatively far apart.

7.

The two pre-1994 DHS waves for Indonesia lack the same data on FP information; the four waves used are the largest set with consistent data on FP information.

8.

A child is defined as, say, 7 months old if she is strictly more than 6 months (or roughly 183 days) old but less than or equal to 7 months (or roughly 213 days) old. The age in months is calculated using the year, month, and day of the child's birth as well as the month and year of the interview. The day of the interview is treated as the 15th. If the birth month and year are available but the day is not, I impute the day of birth as the 15th.

9.

In analyses reported in the Online Resource 1, I examine the correlation between the control variables and FP information. InfoFP is positively correlated with the PSU's level of development—in particular, with the PSU's average frequency of listening to the radio and watching television.

10.

For example, the breast-feeding rate among children age 6 months is 93 % in the Indonesian sample compared with 76 % in Cebu. At age 12 months, the rate is 86 % in Indonesia and 64 % in Cebu; at age 24 months, the rate is 46 % in Indonesia and 14 % in Cebu (Zohoori et al. 1993).

11.

The coefficient for ages 4–6 months and 7–12 months are larger in magnitude with the alternative IV, and the implied effect sizes are large given that the rate of breast-feeding is high for these age groups. The first stage is not as strong with the alternative IV, which suggests that the sum of exposure to FP information from the different channels may not be the correct functional form because, for example, there are diminishing returns to receiving FP information through multiple channels.

12.

I reestimate the results, including the 1,021 deceased children who would have been under age 24 months at the time of the survey, making extreme assumptions about their breast-feeding status had they lived in order to bound the coefficients. If they had been weaned by the time of death (which is recorded in the survey), I treat them as not currently breast-feeding. If they had not been weaned, I first assume that 100 % of them would have been nursing at the time of the survey and reestimate the models. Second, I reestimate the models assuming that none of them would have been nursing. In both cases, the coefficients are similar to the main estimates.

13.

Although statistically indistinguishable from each other, the effect size for subsequent fertility is smaller than the effect size for breast-feeding. One possible explanation is that many mothers are not aware they are pregnant early on, and thus might report in the DHS that they are not pregnant. Meanwhile, the fact that they are actually pregnant might nonetheless precipitate weaning. For example, the mother might produce less milk because calories are being diverted to the fetus (Feldman 2000).
References
American Academy of Family Physicians (AAFP). (2008). Breastfeeding, family physicians supporting (Position paper). Leawood, KS: AAFP.

Angrist, J. D., & Pischke, J.-S. (2008). Mostly harmless econometrics: An empiricist's companion. Princeton, NJ: Princeton University Press.

Becker, S., & Ahmed, S. (2001). Dynamics of contraceptive use and breastfeeding during the post-partum period in Peru and Indonesia. Population Studies, 55, 165–179.

Bhutta, Z. A., Ahmed, T., Black, R. E., Cousens, S., Dewey, K., Giugliani, E., & Maternal and Child Undernutrition Study Group. (2008). What works? Interventions for maternal and child undernutrition and survival. Lancet, 371, 417–440.

Blackburn, S. T. (2007). Postpartum period and lactation physiology. In Maternal, fetal, and neonatal physiology: A clinical perspective (pp. 153–172). St. Louis, MO: Saunders.

Bleek, W. (1976). Spacing of children, sexual abstinence and breast-feeding in rural Ghana. Social Science & Medicine, 10, 225–230.

Feldman, S. (2000). Nursing through pregnancy. New Beginnings, 17, 116–118, 145.

Frankenberg, E., Sikoki, B., & Suriastini, W. (2003). Contraceptive use in a changing service environment: Evidence from Indonesia during the economic crisis. Studies in Family Planning, 34, 103–116.

Grummer-Strawn, L. M. (1996). The effect of changes in population characteristics on breastfeeding trends in fifteen developing countries. International Journal of Epidemiology, 25, 94–102.

Huffman, S., Ford, K., Allen, H., & Streble, P. (1987). Nutrition and fertility in Bangladesh: Breastfeeding and post-partum amenorrhoea. Population Studies, 41, 447–462.

Hugo, G. J., Hull, T. H., Hull, V. J., & Jones, G. W. (1995). The demographic dimension Indonesian development. New York, NY: Oxford University Press.

Jain, A., & Bongaarts, J. (1981). Breastfeeding: Patterns, correlates and fertility effects. Studies in Family Planning, 2, 79–99.

Jayachandran, S., & Kuziemko, I. (2011). Why do mothers breastfeed girls less than boys: Evidence and implications for child health in India. Quarterly Journal of Economics, 126, 1485–1538.

Jones, G., Steketee, R. W., Black, R. E., Bhutta, Z. A., & Morris, S. S. (2003). How many child deaths can we prevent this year? Lancet, 362, 65–71.

Kelsey, J. J. (1996). Hormonal contraception and lactation. Journal of Human Lactation, 12, 315–318.

Kim, J. (2010). Women's education and fertility: An analysis of the relationship between education and birth spacing in Indonesia. Economic Development and Cultural Change, 58, 739–774.

Lerman, C., Molyneaux, J., Moeljodihardjo, S., & Pandjaitan, S. (1989). The correlation between family planning program inputs and contraceptive use in Indonesia. Studies in Family Planning, 20, 26–37.

Marquis, G. S., Penny, M. E., Diaz, J. M., & Marin, R. M. (2002). Postpartum consequences of an overlap of breastfeeding and pregnancy: Reduced breast milk intake and growth during early infancy. Pediatrics, 109, e56. doi:10.1542/peds.109.4.e56

Meredith, J. A., Menken, J. A., & Chowdhury, A. K. M. A. (1987). The effects of breastfeeding and nutrition on fecundability in rural Bangladesh: A hazards-model analysis. Population Studies, 41, 433–446.

Millman, S. (1985). Breastfeeding and contraception: Why the inverse association? Studies in Family Planning, 16, 61–75.

Molyneaux, J., & Gertler, P. (2000). The impact of targeted family planning programs in Indonesia. Population and Development Review, 26, 61–85.

Pitt, M. M., Rosenzweig, M. R., & Gibbons, D. (1993). The determinants and consequences of placement of government programs in Indonesia. World Bank Economic Review, 7, 319–348.

Pritchett, L. H. (1994). Desired fertility and the impact of population policies. Population and Development Review, 20, 1–55.

Ross, J. A., & Frankenberg, E. (1993). Findings from two decades of family planning research. New York, NY: Population Council.

Rous, J. J. (2001). Is breast-feeding a substitute for contraception in family planning? Demography, 38, 497–512.

Salway, S. (2001). Why is contraceptive use inversely associated with lactational amenorrhoea? Qualitative and quantitative insights from Bangladesh. Journal of Population Research, 18, 155–176.

Verd, S., Moll, J., & Villalonga, B. (2008). Miscarriage rate in pregnancy-breastfeeding overlap. Contraception, 78, 348–349.

Weis, P. (1993). The contraceptive potential of breastfeeding in Bangladesh. Studies in Family Planning, 24, 100–108.

Zohoori, N., Popkin, B. M., & Fernandez, M. E. (1993). Breast-feeding patterns in the Philippines: A prospective analysis. Journal of Biosocial Science, 25, 127–138.

Zurayk, H. (1981). Breastfeeding and contraceptive patterns postpartum: A study in south Lebanon. Studies in Family Planning, 12, 237–247.
Acknowledgments
I am grateful to Adriana Lleras-Muney and two anonymous referees for helpful comments. Alexander Persaud and Suanna Oh provided excellent research assistance.
Electronic Supplementary Material
Below is the link to the electronic supplementary material.
About this article
Cite this article
Jayachandran, S. Does Contraceptive Use Always Reduce Breast-feeding?. Demography 51, 917–937 (2014). https://doi.org/10.1007/s13524-014-0286-9
Keywords
Breast-feeding

Contraception

Family planning

Birth spacing