Abstract
Using individual data from the restricted version of the American Community Survey, we examined the displacement locations of pre–Hurricane Katrina adult residents of New Orleans in the year after the hurricane. More than one-half (53 %) of adults had returned to—or remained in—the New Orleans metropolitan area, with just under one-third of the total returning to the dwelling in which they resided prior to Hurricane Katrina. Among the remainder, Texas was the leading location of displaced residents, with almost 40 % of those living away from the metropolitan area (18 % of the total), followed by other locations in Louisiana (12 %), the South region of the United States other than Louisiana and Texas (12 %), and elsewhere in the United States (5 %). Black adults were considerably more likely than nonblack adults to be living elsewhere in Louisiana, in Texas, and elsewhere in the South. The observed race disparity was not accounted for by any of the demographic or socioeconomic covariates in the multinomial logistic regression models. Consistent with hypothesized effects, we found that following Hurricane Katrina, young adults (aged 25–39) were more likely to move further away from New Orleans and that adults born outside Louisiana were substantially more likely to have relocated away from the state.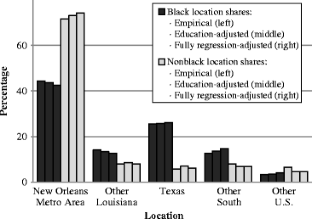 Notes
1.

Oklahoma, Arkansas, Tennessee, Mississippi, Kentucky, Alabama, West Virginia, Virginia, South Carolina, North Carolina, Maryland, Georgia, Florida, the District of Columbia, and Delaware.
References
Bates, D. C. (2002). Environmental refugees? Classifying human migrations caused by environmental change. Population and Environment, 23, 465–477.

Briggs, X. (2006). After Katrina: Rebuilding lives and places. City and Community, 5, 119–128.

DiNardo, J., Fortin, N. M., & Lemieux, T. (1996). Labor market institutions and the distribution of wages, 1973–1992. Econometrica, 64, 1001–1044.

Ellison, D. (2006, September 19). Katrina's aftermath: A tale of two cities. Houston Chronicle. Retrieved from http://www.chron.com/news/houston-texas/article/Moving-on-proves-easier-for-evacuees-in-Atlanta-1649800.php

Frey, W. H., Singer, A., & Park, D. (2007). Resettling New Orleans: The first full picture from the census (Metropolitan Policy Program report). Washington, DC: The Brookings Institution.

Fussell, E., Sastry, N., & VanLandingham, M. (2010). Race, socioeconomic status, and return migration to New Orleans after Hurricane Katrina. Population and Environment, 31, 20–42.

Geist, C., & McManus, P. A. (2008). Geographical mobility over the life course: Motivations and implications. Population, Space, and Place, 14, 283–303.

Greenwood, M. J. (1985). Human migration: Theory, models, and empirical studies. Journal of Regional Science, 25, 521–544.

Greenwood, M. J. (1993). Internal migraion in developed countries. In M. Rosenzweig & O. Stark (Eds.), Handbook of population and family economics (Vol. 1A, pp. 647–740). New York, NY: Elsevier.

Groen, J. A., & Polivka, A. E. (2010). Going home after Hurricane Katrina: Determinants of return migration and changes in affected areas. Demography, 47, 821–844.

Gurak, D. T., & Kritz, M. M. (2000). Interstate migration of U.S. immigrants: Individual and contextual determinants. Social Forces, 78, 1017–1039.

Hori, M., Schafer, M. J., & Bowman, D. J. (2009). Displacement dynamics in southern Louisiana after Hurricanes Katrina and Rita. Population Research and Policy Review, 28, 45–65.

Hunter, L. M. (2005). Migration and environmental hazards. Population and Environment, 26, 273–302.

Kamel, N. (2012). Social marginalization, federal assistance, and repopulation patterns in the New Orleans metropolitan area following Hurricane Katrina. Urban Studies, 49, 3211–3231.

Kritz, M. M., & Nogle, J. M. (1994). Nativity concentration and internal migration among the foreign-born. Demography, 31, 509–524.

Landry, C. E., Bim, O., Hindsley, P., Whitehead, J. C., & Wilson, K. (2007). Going home: Evacuation-migration decisions of Hurricane Katrina survivors. Southern Economic Journal, 74, 326–343.

Lee, E. S. (1966). A theory of migration. Demography, 3, 47–57.

Li, W., Airriess, C. A., Chen, A. C.-C., Leong, K. J., & Keith, V. (2010). Katrina and migration: Evacuation and return by African Americans and Vietnamese Americans in an eastern New Orleans suburb. Professional Geographer, 62, 103–118.

Long, L. (1992). Changing residence: Comparative perspectives on its relationship to age, sex, and marital status. Population Studies, 46, 141–158.

Morrow-Jones, H. A., & Morrow-Jones, C. R. (1991). Mobility due to natural disaster: Theoretical considerations and preliminary analyses. Disasters, 15, 126–132.

Myers, C. A., Slack, T., & Singelmann, J. (2008). Social vulnerability and migration in the wake of a disaster: The case of Hurricanes Katrina and Rita. Population and Environment, 29, 271–291.

National Academy of Sciences. (2007). Tools and methods for estimating populations at risk from natural disasters and complex humanitarian crises. Washington, DC: National Academy Press.

Nigg, J. M., Barnshaw, J., & Torres, M. R. (2006). Hurricane Katrina and the flooding of New Orleans: Emergent issues in sheltering and temporary housing. Annals of the American Academy of Political and Social Science, 604, 113–128.

Paxson, C., & Rouse, C. E. (2008). Returning to New Orleans after Hurricane Katrina. American Economic Review, 98, 38–42.

Plyer, A., Bonaguro, J., & Hodges, K. (2010). Using administrative data to estimate population displacement and resettlement following a catastrophic U.S. disaster. Population and Environment, 31, 150–175.

Rogers, A., & Belanger, A. (1990). The importance of place of birth in migration and population redistribution analysis. Environment and Planning A, 22, 193–210.

Rosenbaum, P. R., & Rubin, D. B. (1983). The central role of the propensity score in observational studies for causal effects. Biometrika, 70, 41–55.

Sastry, N., & Gregory, J. (2012). Returning to New Orleans in the year after Hurricane Katrina: Disparities by race and the effects of flooding (Working paper). Ann Arbor: Population Studies Center, University of Michigan.

Sjaastad, L. A. (1962). The costs and returns of human migration. Journal of Political Economy, 70, 80–93.

Smith, S. K., & McCarty, C. (1996). Demographic effects of natural disasters: A case study of Hurricane Andrew. Demography, 33, 265–275.

Solecki, W. D. (1999). Environmental hazards and interest group coalitions: Metropolitan Miami after Hurricane Andrew. In J. K. Mitchell (Ed.), Crucibles of hazard: Mega-cities and disasters in transition (pp. 428–472). New York, NY: United Nations University Press.

Stallings, R. A. (2006). Methodological issues. In H. Rodríguez, E. L. Quarantelli, & R. R. Dynes (Eds.), Handbook of disaster research (pp. 55–82). New York, NY: Springer.

Stark, O., & Bloom, D. E. (1985). The new economics of labor migration. American Economic Review, 75, 173–178.

Tizon, T. A., & Smith, D. (2005, December 12). Evacuees of Hurricane Katrina resettle along a racial divide. Los Angeles Times. Retrieved from http://articles.latimes.com/2005/dec/12/nation/na-migration12

U.S. Census Bureau. (2000). Decennial census. Retrieved from http://www.census.gov

U.S. Census Bureau. (2001). Census 2000 Summary File 1 [Louisiana]. Retrieved from http://www.census.gov/census2000/sumfile1.html

U.S. Census Bureau. (2005, September 7). American factfinder. Retrieved from http://www.factfinder2.census.gov

U.S. Census Bureau. (2006). Design and methodology: American Community Survey. Washington, DC: U.S. Government Printing Office.

Weber, L., & Peek, L. (Eds.). (2012). Displaced: Life in the Katrina diaspora. Austin: University of Texas Press.
Acknowledgments
The authors gratefully acknowledge support for this research from the Eunice Kennedy Shriver National Institute of Child Health and Human Development (HD59087), the Russell Sage Foundation (83-08-02), and the National Science Foundation (ITR-0427889). Helpful comments were provided by Michael Rendall. Cathy Sun provided valuable programming assistance. The authors also thank Clint Carter and Maggie Levenstein of the Michigan Census Research Data Center for their help at various stages of the project, and Deborah Griffin of the Census Bureau for information on ACS field procedures. This article reports the results of research and analysis undertaken while the authors were research affiliates of the Center for Economic Studies at the U.S. Census Bureau. It has undergone a Census Bureau review more limited in scope than that given to official Census Bureau publications. Research results and conclusions expressed are those of the authors and do not necessarily indicate concurrence by the Census Bureau. It has been screened to ensure that no confidential information is revealed.
Electronic supplementary material
Below is the link to the electronic supplementary material.
About this article
Cite this article
Sastry, N., Gregory, J. The Location of Displaced New Orleans Residents in the Year After Hurricane Katrina. Demography 51, 753–775 (2014). https://doi.org/10.1007/s13524-014-0284-y
Keywords
Hurricane Katrina

New Orleans population

Migration

Displacement

Disaster