Abstract
Previous studies have shown that the risk of divorce is low during the first months of marriage; it then increases, reaches a maximum, and thereafter begins to decline. Some researchers consider this pattern consistent with the notion of a "seven-year itch," while others argue that the rising-falling pattern of divorce risk is a consequence of misspecification of longitudinal models because of omitted covariates or unobserved heterogeneity. The aim of this study is to investigate the causes of the rising-falling pattern of divorce risk. Using register data from Finland and applying multilevel hazard models, the analysis supports the rising-falling pattern of divorce by marriage duration: the risk of marital dissolution increases, reaches its peak, and then gradually declines. This pattern persists when I control for the sociodemographic characteristics of women and their partners. The inclusion of unobserved heterogeneity in the model leads to some changes in the shape of the baseline risk; however, the rising-falling pattern of the divorce risk persists.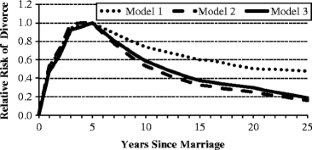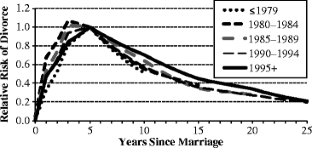 Notes
1.

I conducted experiments to investigate the sensitivity of residual variance to the share of population with repeated episodes. As expected, the estimate for the residual variance depended little on how large the share of population with repeated episodes was (100 %, 50 %, 25 %, 10 %, and 5 %) in the context where the intraclass correlation was moderate to strong (i.e., the durations of an individual were positively correlated).

2.

The identification of the model with unobserved heterogeneity was thus based on the existence of multiple marriages (and divorces) for some women. It is likely that there were more disruption-prone women (or women with unmeasured characteristics that made them disruption-prone) among this group than among women who had been married only once. Therefore, some assumptions of my statistical model might not be fully met (e.g., normality of the residuals), and I might overestimate or underestimate the true amount of heterogeneity in the population (e.g., unmeasured individual values or personality traits that made some women more and others less likely of experiencing divorce). However, the proposed approach was the only way of estimating unobserved heterogeneity from the data without imposing strong assumptions on data. Alternatively, one could have used all women to identify unobserved heterogeneity; however, this approach would have required strong assumptions about distribution of both the residuals and the baseline risk (i.e., the risk of divorce by marriage duration), the shape of which is the main interest of this study. My approach was thus well justified; I also tested sensitivity of the results to underestimation and overestimation of the amount of unobserved heterogeneity in the population (see footnote 3).

3.

I conducted additional analysis to explore how sensitive the shape of the baseline was to the estimates for the residual variance/standard deviation. The shape of the baseline became less pronounced with an increase in the variance/standard deviation, as expected (see Fig. S1 in Online Resource 1). However, the value of 3.0 for the standard deviation (9.0 for the variance) was needed to substantially modify the shape of the baseline. This suggests that a woman with unmeasured characteristics that place her at 1 standard deviation above the average had 20 times higher hazard of separation (exp(3.0) = 20.1) than a woman with average unobserved characteristics (e.g., in the middle in the liberal-conservative scale), while a woman at 1 standard deviation below the average had a 95 % lower risk of divorce (exp(–3.0) = 0.05). Empirical analysis gave no support to (or even no indication of) the existence of such enormous unobserved heterogeneity in the data.
References
Aalen, O. O. (1994). Effects of frailty in survival analysis. Statistical Methods in Medical Research, 3, 227–243.

Amato, P. R. (2010). Research on divorce: Continuing trends and new developments. Journal of Marriage and Family, 72, 650–666.

Andersson, G. (1995). Divorce-risk trends in Sweden 1971–1993. European Journal of Population, 11, 293–311.

Andersson, G., & Philipov, D. (2002). Life-table representations of family dynamics in Sweden, Hungary and 14 other FFS countries: A project of description of demographic behaviour. Demographic Research, 7(article 4), 67–144. doi:10.4054/DemRes.2002.7.4

Blossfeld, H.-P., & Rohwer, G. (1995). Techniques of event history modeling: New approaches to causal analysis. Mahwah, NJ: Lawrence Erlbaum Associates.

Brien, M. J., Lillard, L. A., & Waite, L. J. (1999). Interrelated family building behaviors: Cohabitation, marriage, and nonmarital conception. Demography, 36, 531–551.

Chan, T. W., & Halpin, B. (2003). Union dissolution in the United Kingdom. International Journal of Sociology, 32, 76–93.

Cherlin, A. J. (2010). Demographic trends in the United States: A review of research in the 2000s. Journal of Marriage and Family, 72, 403–409.

Diekmann, A., & Engelhardt, H. (1999). The social inheritance of divorce: Effects of parent's family type in postwar Germany. American Sociological Review, 64, 783–793.

Diekmann, A., & Mitter, P. (1984). A comparison of the "sickle function" with alternative stochastic models of divorce rates. In A. Diekmann & P. Mitter (Eds.), Stochastic models of social processes (pp. 123–153). Orlando, FL: Academic Press.

Erlangsen, A., & Andersson, G. (2001). The impact of children on divorce risks in first and later marriages (MPIDR Working Paper WP-2001-033). Rostock, Germany: Max Planck Institute for Demographic Research.

Finnäs, F. (1997). Social integration, heterogeneity, and divorce: The case of the Swedish-speaking population in Finland. Acta Sociologica, 40, 263–277.

Galler, H. P., & Poetter, U. (1990). Unobserved heterogeneity in models of unemployment duration. In K. U. Mayer & N. B. Tuma (Eds.), Event history analysis in life course research (pp. 226–240). Madison: University of Wisconsin Press.

Hoem, B., & Hoem, J. M. (1992). The disruption of marital and non-marital unions in contemporary Sweden. In J. Trussell, R. Hankinson, & J. Tilton (Eds.), Demographic applications of event history analysis (pp. 61–93). Oxford, UK: Clarendon Press.

Hoem, J. M. (1987). Statistical analysis of a multiplicative model and its application to the standardization of vital rates: A review. International Statistical Review, 55, 119–152.

Hoem, J. M. (1990). Identifiability in hazard models with unobserved heterogeneity: The compatibility of two apparently contradictory results. Theoretical Population Review, 37, 124–128.

Hoem, J. M. (1993). Classical demographic models of analysis and modern event-history techniques. In IUSSP: 22nd International Population Conference, Montreal, Canada (Vol. 3, pp. 281–291). Paris, France: IUSSP.

Hoem, J. M. (1997). Educational gradients in divorce risks in Sweden in recent decades. Population Studies, 51, 19–27.

Hougaard, P. (1995). Frailty models for survival data. Lifetime Data Analysis, 1, 255–273.

Jalovaara, M. (2013). Socioeconomic resources and the dissolution of cohabitations and marriages. European Journal of Population, 29, 167–193.

Kiernan, K. (1999). Cohabitation in Western Europe. Population Trends, 96, 25–32.

Kulu, H. (2005). Migration and fertility: Competing hypotheses re-examined. European Journal of Population, 21, 51–87.

Kulu, H., & Boyle, P. J. (2010). Premarital cohabitation and divorce: Support for the "trial marriage" theory? Demographic Research, 23(article 31), 879–904.

Kulu, H., & Steele, F. (2013). Interrelationships between childbearing and housing transitions in the family life course. Demography, 50, 1687–1714.

Kurdek, L. A. (1999). The nature and predictors of the trajectory of change in marital quality for husbands and wives over the first 10 years of marriage. Development Psychology, 5, 1283–1296.

Levinger, G. (1983). Development and change. In H. H. Kelley, E. Berscheid, A. Christensen, J. H. Harvey, T. L. Huston, G. Levinger, E. McClintock, L. A. Peplau, & D. R. Peterson (Eds.), Close relationships (pp. 315–359). New York, NY: Freeman.

Lillard, L. A. (1993). Simultaneous equations for hazards: Marriage duration and fertility timing. Journal of Econometrics, 56, 189–217.

Lillard, L. A., Brien, M. J., & Waite, L. J. (1995). Premarital cohabitation and subsequent marital dissolution: A matter of self-selection? Demography, 32, 437–457.

Lillard, L. A., & Panis, C. W. A. (2003). aML: Multilevel multiprocess statistical software, version 2.0. Los Angeles, CA: EconWare.

Lindgren, J., Ritamies, M., & Miettinen, A. (1992). Consensual unions and their dissolution among Finnish women born in 1938–1969. Yearbook of Population Research in Finland, 30, 33–43.

Lyngstad, T. H. (2011). Does community context have an important impact on divorce risk? A fixed-effects study of twenty Norwegian first-marriage cohorts. European Journal of Population, 27, 57–77.

Lyngstad, T. H., & Jalovaara, M. (2010). A review of the antecedents of union dissolution. Demographic Research, 23(article 10), 257–292. doi:10.4054/DemRes.2010.23.10

Rootalu, K. (2010). The effect of education on divorce risk in Estonia. Trames: Journal of the Humanities and Social Sciences, 14, 21–33.

Schoen, R. (1975). California divorce rates by age at first marriage and duration of first marriage. Journal of Marriage and the Family, 37, 548–555.

Steele, F., Kallis, C., & Joshi, H. (2006). The formation and outcomes of cohabiting and marital partnerships in early adulthood: The role of previous partnership experience. Journal of the Royal Statistical Society A, 169, 757–779.

Sternberg, R. J. (1986). The triangular theory of love. Psychological Review, 93, 119–135.

Thornton, A., & Rodgers, W. L. (1987). The influence of individual and historical time on marital dissolution. Demography, 24, 1–22.

Tzeng, J. M., & Mare, R. D. (1995). Labor market and socioeconomic effects on marital stability. Social Science Research, 24, 329–351.

Vaupel, J. W., Manton, K. G., & Stallard, E. (1979). The impact of heterogeneity in individual frailty on the dynamics of mortality. Demography, 16, 439–454.

Vaupel, J. W., & Yashin, A. I. (1985). Heterogeneity's ruses: Some surprising effects of selection on population dynamics. The American Statistician, 39, 176–185.

Vikat, A. (2004). Women's labor force attachment and childbearing in Finland. Demographic Research, Special Collection 3(article 8), 177–212. doi:10.4054/DemRes.0.S8.3
Acknowledgments
The author is grateful to three anonymous referees and former Editor Stewart Tolnay for valuable comments and suggestions on a previous version of this article. The author also thanks Statistics Finland for providing the register data used in this study, as well as Mrs. Marianne Johnson for valuable suggestions when preparing the data order. The analyses made in this study are based on the Statistics Finland Register Data at the Max Planck Institute for Demographic Research (TK-53-1662-05).
Electronic supplementary material
Below is the link to the electronic supplementary material.
About this article
Cite this article
Kulu, H. Marriage Duration and Divorce: The Seven-Year Itch or a Lifelong Itch?. Demography 51, 881–893 (2014). https://doi.org/10.1007/s13524-013-0278-1
Keywords
Divorce

Marriage

Multilevel hazard models

Finland